As a web designer, you should already know about the strong competition out there. There is a big number of web designers and developers providing the same kind of services that you do – not necessarily with the same quality – and, sometimes, for an insanely small fee. And you might have come up with an idea that you need to distinguish yourself by building and growing your personal brand.
Presenting yourself unique and professional to potential clients will help them understand that you are the best option available and that doing what you do is worth their budget. People get to know you for what you do and the influence you have, and your image help control what people think of you and your work. This will increase the number and quality of your connections and let you meet people in similar fields and more clients.
But how to do it considering that you probably want to spend on this zero dollars? In this post, you'll discover the major steps that anyone can apply so that before you start any public activity, you'll know exactly what to do – and what mistakes to avoid.

What is a Personal Brand and Why Is It Important?
Your personal brand is your online image. It is how the audience sees you and people perceive you. It is the unique mix of your skills, individuality, and experience that comes together to create your online persona and differentiate you from your peers and competitors.
You may think that marketing yourself is not what you want to do. Web design is what you love. Digital promotion and boosting your virtual image are probably something you are least interested in. But you should remember and motivate yourself by fact, that while marketing may not be the thing you have a natural affinity for, it is certainly something you should work on to set yourself apart in the ultra-competitive tech world and open up a million opportunities as well.
As a web designer, you cannot underestimate the significance of having a strong digital presence. A great online presence and a distinguishable personal image is a tool that every web designer needs to have that can open up a box full of good chances.
Hitting the recruiters' radars and getting job offers is just the top of the iceberg of opportunities. When everything is done right, personal branding has reportedly led developers to receive lucrative jobs, just based on their online image.
It has even helped web designers define themselves as entrepreneurs through their personal brands. Here's the guide you need to follow to make sure that your personal brand stands out from the rest, creates your brand, and ensures that you land in a goldmine of opportunities.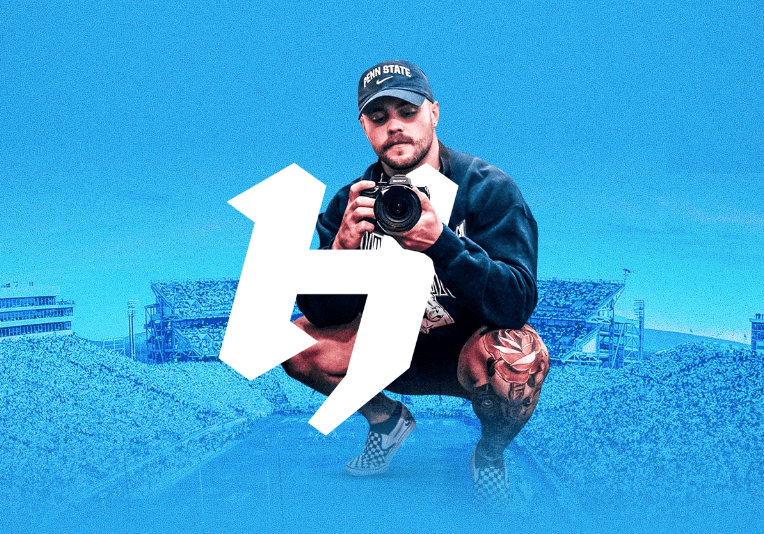 How Should I Start Building a Personal Brand?
Define Your Brand
The first thing you will have to do so you can start creating your personal brand is to realize what it really means. In other words, what you are been asked here is to choose how you want to be perceived by your prospects and which promises you will be selling.
For beginners, you should focus on your strengths and experience. What makes you the best designer to work with? What value you can bring to your clients?
Make a list with all possible options: best pricing, fast delivery to the use of specific techniques or software, an outstanding portfolio, 5-star reviews from your clients, etc. Write down everything you think makes you unique and skilled as a web designer, so you can use it on your personal branding messages.
Remember, that even big enterprises invest in their leaders' personal branding, so, as a freelancer, you shouldn't ignore it. But it's important to realize that you are selling yourself. Faking or exaggerating who you are might bring some clients in the beginning, but they will leave you as soon as they notice the fraud. And, most likely, they will leave a very bad review behind them, which is even worse in the long-term prospect. So always be yourself, tell the truth and find your own style.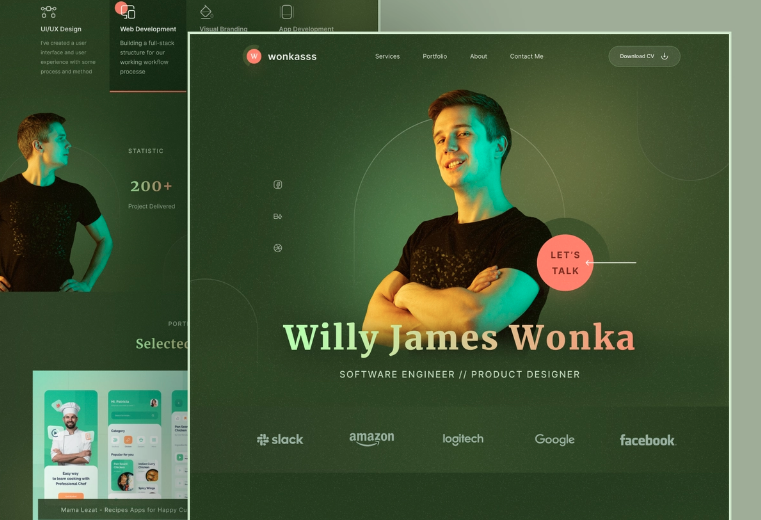 Find Your Niche
In web design, there are different directions you can specialize in, such as website design, illustrative web design, typography design, minimalist web design, and so much more.
As an individual, it is best to be focused on a particular field, so you can keep on developing your expertise over time.
Finding your specialization basically involves identifying the field you are skilled in, and knowing where you can show the best results.
Create a Bio
A bio is a description of your work. It doesn't really matter how long it is, as long as you get the information across.
Your bio should cover your full name, occupation, some of your accomplishments, and some areas of your personal life (if you want). Having a bio is important for your image, as it gives an overall picture of who you are.
Analyze Your Target Audience
Now that you know which type of service you are providing, it is time to decide who is interested in it. Think about your potential clients and their characteristics, and what they expect from and want to see in a web designer.
Do they work in a specific industry, in case you have specialized in just a few of them? Are they used to contract freelancers, or will you have to explain to them the advantages of collaborating with you as a remote worker? Most importantly, where can you find them? And which is the most appropriate channel and way to communicate with them?
On the other way round, spend some time trying to figure out how to communicate with your clients in a more effective way as well. So when they contact you, you won't miss any contract because of some misinterpretation.
Figure Out How Much Time You Have
We all have busy days nowadays, but, if you want to create your personal brand, you will have to find time for it. Still, it is obvious that you will need to be realistic here, as you need to finish up the projects you already have in your hands, and that you probably have a life as well.
So, determine what time you can spend to create and grow your personal image as a web designer. Consider, for example, that it is not just a question of publishing things online, but also creating the content, and answering comments and emails as fast as you can. Plus, you will have to track and analyze your metrics and mentions in the media.
Good news! You have a good option to save some time and delegate part of this work.
Create Your Portfolio
A portfolio is your personal gallery that showcases projects that you've created. It is mainly a way of putting together your projects and making them easily reachable.
Creating a portfolio and presenting it there lets the audience see your experience and how skilled you are. This helps you promote yourself and illustrate your expertise.
You can either create one from scratch or use website some online website builders. In every case you choose, your portfolio has to be creative and well-organized.
You can also add your CV, skills, reviews, and links to your social media profiles on your portfolio.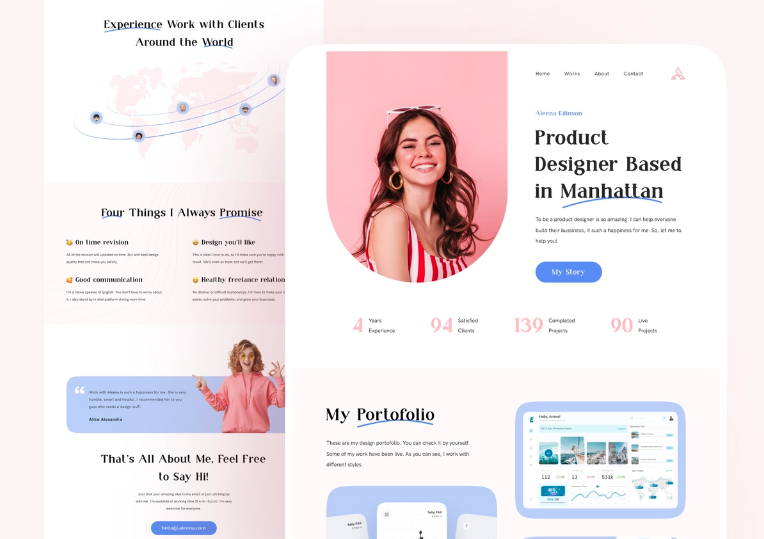 Build Your Online Presence
The fastest and easiest way to create a personal brand these days is through a strong online presence. Especially in your case, as a web designer, not having accounts in the most important social media networks, plus a well-crafted online portfolio is almost a professional murder.
Check out that:
Your LinkedIn page is updated, as many potential clients might want to check your resume there.
Your Twitter is full of links and tips about web design.
The Instagram grid is filled with the best works and Stories are full of relevant content every day.
You are using all opportunities of Pinterest to showcase your portfolio.
You have, as a minimum, a basic website with your bio and portfolio.
Your private Facebook posts are hidden to publicity if you want to use them for professional purposes.
You use the social media apps, to schedule all your weekly posts, so won't waste time posting every day.
In addition, you may strengthen your Instagram impact by having a verification. Having a blue Instagram badge will give you a big advantage. This tiny blue checkmark you see next to some names on Instagram proves the account belongs to the right person. This adds credibility to your account and enhances your brand value. PRnews.io – an efficient service that helps you with gaining mentions in local and international publications to go through the verification process on Instagram and get the coveted blue checkmark. For getting it you need posts on trusted resources about you. And this service will help you share your story and PR content with the appropriate news publishers and influencers worldwide.
Write about Web Design (and Publish It)
If you want to be seen as an influencer in your industry, you need to let them know that. Meaning that you will have to showcase off your expertise and write articles or posts about graphic design.
You can either have your own blog, possibly linked to your website, or search for a guest blogging guide, so you can gain from other sites' established reputations, high traffic, and loyal audience. And nothing shouldn't stop you from trying both either. You can also publish texts directly on LinkedIn and other social media platforms.
In order to do it, make sure that you know the latest trends in digital marketing, so your texts will be relevant and useful. And don't forget to share your post on your social media pages, and to comment on special web design websites, blogs, and forums.
Don't be afraid if you are new to this business, and think that you don't have much to say. Share the new web design skills, and trends, you have been learning (because this is what should be your top priority) so far, and people will treat and respect you the same way.
Build or Join a Community
A community means a group of people with the same interests and goals you have. It's impossible to overestimate the importance of being part of a tech community – you'll find so many advantages, including:
Career growth and offers.
A source to share issues and find solutions.
A way to find mentors to guide you.
A way to impact people and get inspired from other people's experiences.
A Tech Community can be an international (global) community or a small group of web designers, such as a local meetup. Join a couple, depending on your location and expertise. You can either start one with some other colleagues or join an existing community.
Try Some Offline Channels as Well
Despite the fact that you work remotely, it shouldn't stop you from making the most of the offline possibilities to broaden your personal brand. Congresses, web summits, mass-media publications, workshops, and conferences can all give you many clients and turn you into an authority overnight.
So if there is a chance for you to get an article published by a local media, to give an interview to a radio station, or for a presentation in a congress, do it without any hesitation. Or create such an opportunity yourself, by using the PRNEWS.IO service. PRNEWS.IO is a budget-friendly service for creating content, and distributing your content to local and international publications. PRNEWS.IO has years of copywriting and journalism experience in crafting engaging posts and professional press releases. They guarantee to have your content written, checked, approved by you, and sent out within a short period.
Take some old-fashioned business cards with you and distribute them to as many people as possible.
And also don't ignore small events. If you are invited to talk to a small group of students about what is to be a web designer, visit it with great enthusiasm.

To Sum Up: personal brand designer
Building and growing your personal brand as a web designer might seem challenging, but you can easily reach this goal. You just need to make sure that you know your strengths and that you make people know all of them as well.
Keep everything coherent and don't be afraid to present your skills ad experience. With a bit of time and money, you can attract the best clients out there.
Read more: