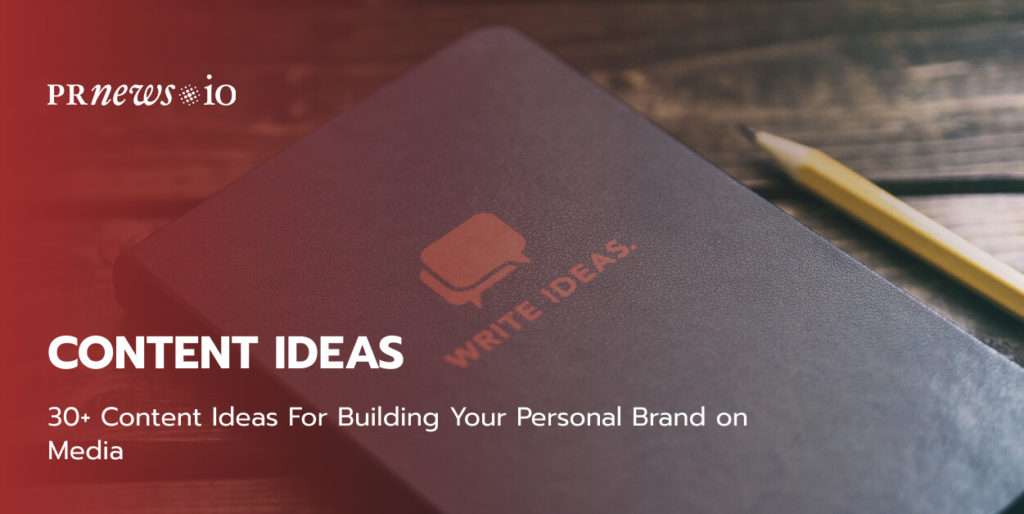 Do you struggle with generating content ideas for your brand?
There are thousands of ways you can promote your brand online through content marketing. Producing quality content is an integral part of building a personal brand. However, many professionals become overwhelmed at the thought of creating content.
We've prepared tips and tricks to create quality content for your personal brand on media.
How to Create Content for Your Brand
Before creating your very first content, you should research who you are trying to target as an audience. You should know your audience demographics: location, age, gender, devices they use the most, climate, etc.
Put yourself in the reader's shoes. Then ask the basic journalism questions about the subject of your blog: who, what, when, where, and how. Above all, always be curious about everything.
You need to figure out what tone of voice to use, what language is more understandable for your audience (official/friendly/slang), and everything should be appropriate. Also, the audience loves activities (surveys/sweepstakes / special promotions). The more the brand interacts with it, the more loyal and faithful the audience will be to the brand.
Know your goals. What do you want to achieve with your content? Whether it's increasing brand awareness, generating leads, or driving sales, make sure you have a clear goal in mind before you start creating content.
Content. Your content should be harmonious and diverse at the same time. But be careful! If you publish everything chaotically, believe me, you will only ruin your personal brand. PS: Competitor analysis is important!
Try to niche down your content. It will keep you looking professional and reward you with loyal followers who can later be your future customers/clients.
Analyze your results. Regularly check in on your content to see how it's performing. Which pieces are getting the most views, shares, and engagement? Use this data to inform your future content strategy.

Guest Posting — a Way to Attract a New Audience to Your Brand
By using the audiences other bloggers already have, you are immediately seen by a significantly wider audience. The easiest way to find the right media and to be published there is to use the PRNEWS.IO service.
Here you can see a huge list of media outlets. So you can choose what audience is more relevant for you and maximize your conversion rate. PRNEWS.IO has years of copywriting and journalism expertise in creating featured articles, advertising posts, and press releases.
Content Ideas for Building Your Personal Brand:
Tell a story:
Storytelling is getting other people to imagine an experience they haven't had.
The ability to learn from stories gave our emerging species an enormous advantage over the rest of the animal kingdom. Other animals can communicate. Bees, for example, can perform elaborate 'dances' to tell fellow bees where to find abundant nectar. But we can communicate an immense variety of complex and useful things. This is extraordinarily useful.
Share your personal career or business story.
Post about a lesson you learned that would be relatable and valuable for your audience.
How did you get to the job role you currently hold, or how did you grow your business to this point.
What were you doing 5, or even 10 years ago today?
What makes you different from competitors?
A recent challenge you've experienced.
The hardest day in your business life.
Write blog posts about the latest trends in your industry and how your product can help businesses stay ahead of the curve.
10 *Your niche* trends 2022
7 Trends you Need to Follow
What new tools will be popular in your niche next year?
Misconceptions
Discus a common misconception in your industry.
Common myths about *your niche* which are misleading
Mistakes to avoid​​
Behind-the-scenes
Show your office or home-working set-up
A day in the life
What is in your pocket
Describe your company's work culture
Share behind-the-scenes insight into your process‍
Persuasive content
Why freelancer/ teacher/ singer (choose your niche) need health insurance
Practical tips for doing something better or more efficiently
How-tos
Industry insight and expertise
Thought leadership content
A tip you'd like to give someone just starting in your industry.
Top 10 tools you use
Top 10 influencers to follow
Inspiration
This is one of the essential tips for intelligent, relevant, authoritative, and expert content. You can leverage the expertise of industry peers and market leaders to discuss new solutions for existing pain points of customers in creating content.
Who inspires you?
Share your learnings from the last event you attended
Share productivity tips
Comment on industry news

Conclusion
By creating content, professionals can gain credibility and build trust with consumers – both of which are necessary to grow a business in this digital age.
And yet … You need to understand that working on content is a difficult task that requires patience and perseverance from you. However, if you work in a well-organized and systematic way, the results will come with time. Therefore, track your activities monthly: set tasks, analyze the results, and supplement them with ideas. This way, you will understand what exactly is happening with your brand and what needs to be done.
Good luck!
Content Marketing Platform
100,000+ media publications;
get backlinks to your product;
scale work with content distribution.
Read More: