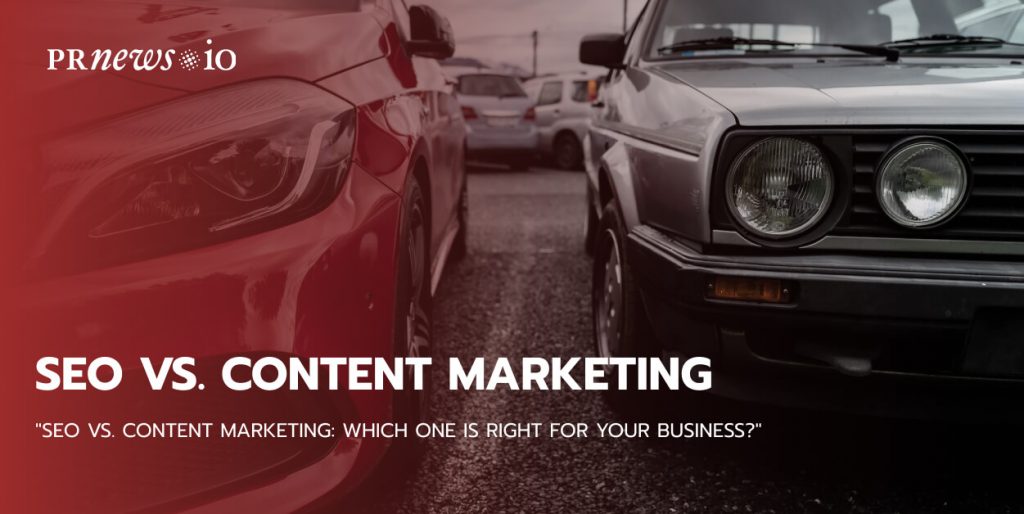 Content marketing and SEO have different but complementary roles in improving a website's search rankings. While SEO optimization focuses on improving positions in search results, content marketing is effective for increasing the semantics and the number of key phrases in search results.
Although search is not the only marketing channel, it is still an important one for many businesses. The effectiveness of search as a marketing channel depends on factors such as the level of competition, available resources, and expertise.
In today's digital landscape, SEO and content marketing are interdependent and should work together to achieve optimal results. Google's goal for SEO is to provide the best possible content for the selected keywords to its users, and if the content resonates with users, it will be ranked higher in search results. Thus, SEO and content marketing are complementary strategies that should be integrated for maximum impact.
SEO or Search Engine Optimization
SEO optimization means giving search engines what search engines want. It means writing articles that are search engine friendly. Yes, this is what search engine optimization is.
The most important aspect of search engine optimization is to optimize your site for your visitors. A better user experience is achieved through optimizing for users. The longer consumers stay on your site and get the information they need, the more likely they become your leads.
Because search engines like Google recognize this, if you optimize for people, your site will rank higher in search results. The following are some of the most important elements of SEO:
Integration and keyword research
Improving page speed
Responsive design
Link building
Now, how to make articles search engine friendly?
Use the right Keywords. Keywords help articles in becoming search engine friendly. The right keyword will help you rank your article in a google search. Also, it will help your website.
Create user-friendly articles. Articles should be user-friendly as well. Making articles interesting and informative enough is the key. The more the article is educational, the more it is searched.
Use the right format. Always make sure you use the right format for the content inside your article. Based on the purpose of your article, make it interesting, with the help of various formats available online for editing.
Answer user/reader's question. Make sure your article has a purpose. Its purpose is to answer questions of the reader and also tell search engines, you have what people are looking for.
If this is done right, the article will be SEO optimized with the least amount of effort.
Keeping in mind the basic concepts of content creation will definitely help you create a top-notch SEO-optimized article.
Making your site search engine-friendly allows your pages to appear higher in search results. Your website will receive more organic traffic and conversions as a result of the increased visibility that comes with better rankings.
Content Marketing
The goal of content marketing is to create high-quality material that will interest your audience and give them useful information. By sharing your industry knowledge and skills, you establish authority and trust with your audience.
The following are some examples of content marketing:
Website articles
Blog entries
Posts on social media
Advertisements for searches
Advertisements on social media
Advertisements on display
Media Emails (images, infographics, videos, GIFs, etc.)
Content that lives alone, dies alone. So, stick to one topic, and build a cohesive evergreen library of content that covers that topic from every angle. The content should be well organized and build off itself. Tactically, this will help you in search engines and grow in your knowledge of that topic.
Understand that compounding growth is the only growth. For SaaS companies, SEO is your unfair advantage, however, there are no shortcuts. Invest in evergreen content and plan to stick with it long enough to see the returns.
Write to pay the bills. This means: write engaging content but make sure you focus on the fundamentals: write to your target market, write about your product, optimize for keywords and optimize for conversions (e.g., capture emails).
Nail the writing/promotion ratio. Spend more time promoting in the early days. As you gain traction, it's easier to get articles ranked.
Content promotion is mostly asking favors from people you've built goodwill with. Share other people's articles before they ask Offer helpful feedback about their writing, SEO, design, etc. Ask people for quotes and link back to their sites refer customers their way Sing their praises on social media (without pandering).
Content Marketing Platform
100,000+ media publications;
get backlinks to your product;
scale work with content distribution.
SEO vs. Content Marketing
The best strategy depends on your goals and the nature of your business. SEO (Search Engine Optimization) and Content Marketing are both important aspects of digital marketing and can work together to help you achieve your goals.
SEO focuses on optimizing your website and online content to rank higher in search engine results pages (SERPs). It involves strategies such as keyword research, on-page optimization, link building, and technical SEO. SEO can help increase visibility and drive more organic traffic to your website.
Content marketing, on the other hand, focuses on creating and distributing valuable content to attract and engage your target audience. It involves strategies such as blog posts, social media updates, videos, podcasts, and other types of content. Content marketing can help establish your brand as a thought leader in your industry, build trust with your audience, and drive leads and sales.
While SEO and content marketing have different focuses, they can work together to improve your online presence and drive results. For example, by creating high-quality, keyword-rich content, you can improve your SEO rankings and drive more organic traffic to your website. At the same time, by optimizing your website for SEO, you can help ensure that your content is easily discoverable by your target audience.
Ultimately, the best strategy is to use a combination of both SEO and content marketing to achieve your goals. By creating valuable content that is optimized for search engines, you can attract and engage your target audience while also improving your online visibility and driving more traffic to your website.
Online Publicity Workbook
100+ content ideas for your B2B startup;
ideal for do-it-yourself publicity plans;
schedule your PR campaign in advance.
Conclusion: Which is the Best Strategy
The best strategy for Content Marketing is writing stellar content consistently. SEO is a part of it. But not what makes content marketing successful.
Consider SEO like an enzyme. It will help jumpstart things. But you overdo it, and it will spoil everything.
So, the best strategy is to write well and write a lot with the reader's perspective in place.
Combining SEO, content marketing, and the real human-centered approach will bring the best long-term results.