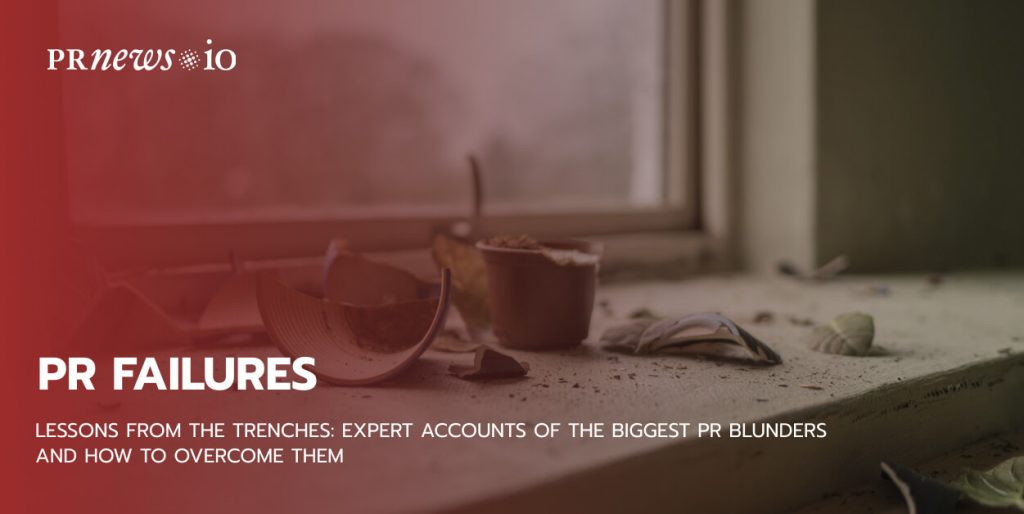 Even the most seasoned professionals encounter challenges and make mistakes along their journey. We've gathered insights from leading experts in the field of public relations, who have graciously shared their experiences. From renowned CEOs and agency founders to SEO specialists and brand marketers, this article unveils some of the most significant professional mistakes made by PR professionals and the transformative lessons that emerged from them.
Join us as we delve into their stories and gain valuable insights into the world of PR.
Featured Experts:
Jason Mudd, CEO/Managing Partner at Axia Public Relations
Blair Nicole, CEO & Founder of Media Moguls PR
Joe Karasin, Chief Marketing Officer & Founder at Karasin PPC
Hollie Boodram, Public Relations Account Manager at SimplyBe. Agency
Christopher Gillispie, CEO & Head of PR of Red Heifer Media
Chrissy Bernal, Founder of Be a Better Brand
Matt Yanofsky, Vice President – PR and Advertising at The Moment Lab
Amore Philip, Chief Executive Officer at Apples & Oranges Public Relations
Insights from PR Experts: Exploring Noteworthy PR Failures
Jason Mudd, CEO/Managing Partner at Axia Public Relations
In 2023, Jason Mudd was honored by the World Communication Forum as the top PR leader in North America. He holds the esteemed role of a trusted advisor and dynamic strategist for some of the most admired and rapidly-growing companies in the United States. These include American Airlines, Budweiser, Dave & Buster's, H&R Block, Hilton, HP, Miller Lite, New York Life, Pizza Hut, Southern Comfort, and Verizon. Jason serves as the CEO and managing partner of Axia Public Relations, an agency recognized by Forbes magazine as one of America's Best PR Agencies. Alongside his successful career, he is also a professional public speaker, accredited public relations practitioner, published author, podcaster, and entrepreneur.
PR Mistake #1: Mass Pitching and Lack of Personalization
Blair Nicole, CEO & Founder of Media Moguls PR
I'm the CEO & Founder of Media Moguls PR, a 12 year old whitelabel PR agency that serves dozens of agencies and hundreds of brands around the globe. My agency actually uses PRNEWS.IO almost every month.
I'm also a member of the Forbes Agency Council, have been interviewed on national TV (Cheddar) about crisis PR, and have been featured in Entrepreneur, HuffPost, PR Daily, Forbes and dozens of others.
When I first started freelancing 13 years ago, I knew absolutely nothing about PR and media outreach. I had a client ask me to pitch the media for them, and I readily agreed. On my very first email pitch ever, I made the terrible mistake of not only mass pitching the media contacts, but CC'ing everyone on the email! I received dozens of scathing emails back from reporters and bloggers who were angry about being mass pitched.
I have never forgotten that lesson and have used it as a learning experience in my PR agency ever since. I committed to learning everything I could learn about media relations, working with media contacts, and learning how to pitch the right way. Since then, I've had a very strict NO mass pitching policy in my agency. These days our entire media strategy rests upon building real relationships with reporters and journalists, and I've taught over 1200 other PR pros how to win in PR without ever mass pitching.
PR Mistake #2: Inadequate Research and Misaligned Press Pitching
Joe Karasin, Chief Marketing Officer & Founder at Karasin PPC
I am Joe Karasin, an SEO specialist with a focus on PR and the acquisition of high-quality backlinks. With over 11 years of experience in digital marketing, I have had the privilege of working with clients across various industries and verticals.
I would say the biggest mistake I have made in my PR career has been not researching a press outlet more thoroughly before pitching a client. This led to some very misaligned earned media, and the client was none too pleased.
I learned 2 things from this: One, that the adage that "all press is good press" is NOT true. The other lesson was to learn more about the press outlet and be sure it aligns with the client's brand and mission prior to pitching.
PR Mistake #3: Securing Misaligned Coverage and Failing to Align with Strategic Objectives
Hollie Boodram, Public Relations Account Manager at SimplyBe. Agency
I am a Public Relations manager and media relations director with experience in various industries including business, tech, lifestyle, beauty, and fashion. Throughout my career, I have had the privilege of working with clients who have been featured in renowned publications such as BLOOMBERG, Forbes, Entrepreneur, TODAY, iHeart Radio, Fortune, BUSTLE, and others. Building a strong and trustworthy relationship with my clients is of utmost importance to me, and I constantly adapt my communication goals and strategies to align with their evolving brand.
One of the most significant mistakes that can be made in the field of public relations, and something I have personally encountered, is securing misaligned coverage. This refers to obtaining media coverage that does not effectively support the client's brand goals and may even detract from them. It is a common pitfall to succumb to the pressure of delivering "top tier" or "high tier" coverage, which refers to securing placements in widely recognized publications with millions of readers. The quickest way to gain access to such publications is by capitalizing on newsworthy events and aligning the client's messaging with current affairs through commentary or by inserting them into relevant news stories. However, in my experience, this approach can sometimes lead to coverage that doesn't perfectly align with the client's strategic objectives.
I recall a particular instance where a client was pressuring for top-tier coverage within a tight timeline. In an attempt to meet their expectations, I provided a comment on their behalf for a news story that ultimately landed in high-tier media. While the coverage did not have a catastrophic impact on the client's brand or reputation, it did show up prominently in search engine results when their name was googled. This unexpected exposure ended up diverting attention away from the client's intended goals and necessitated additional efforts to secure media placements with higher search engine optimization (SEO) value in order to filter out the less aligned coverage.
While this was not a grave mistake that I personally made, I recall a situation from a previous company I worked for that serves as a cautionary tale. In an attempt to create a viral campaign, the company released a compromising video of a political client that quickly garnered attention from major news networks, including being featured on SNL. While such a move could have been considered PR genius for a regular person or a figure in pop culture, it turned out to be detrimental for the political client. The lack of a well-defined roadmap and a comprehensive framework for how to release the content in a strategic and beneficial manner ultimately caused significant harm to the client's campaign.
PR Mistake #4: Failure to Adapt to Changing Dynamics and Emerging Platforms
Christopher Gillispie, CEO & Head of PR of Red Heifer Media
As someone who thrives on structure and finds success as an entrepreneur, I have come to realize that one of the biggest mistakes I've had to learn from is not adapting to change quickly enough. While structure has served me well in my entrepreneurial endeavors, I have recognized its limitations when it comes to my responsibilities as a publicist.
The realm of public relations demands a keen sense of adaptability, as there are numerous areas where it can greatly impact my effectiveness. One area is keeping up with social trends. Failing to promptly recognize and embrace social media trends can limit the reach of a campaign and hinder the ability to engage with a broader audience.
Additionally, relying solely on established platforms without embracing new ones can impede my ability to connect with evolving audiences. It is essential for publicists to stay abreast of emerging platforms and technologies that provide unique opportunities for engaging with our target demographics. By embracing these new platforms, we broaden our reach and enhance our chances of successfully conveying our clients' messages.
Moreover, adaptability extends to the very core of messaging and content creation. Being inflexible in these areas can result in missed opportunities to resonate effectively with my client's intended audience. It is crucial to tailor my messaging and content to suit different mediums and target audiences, ensuring that we are able to convey my clients' stories in a compelling and relatable manner.
PR Mistake #5: Pursuing Publicity without Clarity of Message and Vision
Chrissy Bernal, Founder of Be a Better Brand, and Brand Management & PR Agency for Authors, Podcasters, and Entrepreneurs
A big mistake I've seen in PR is when people try to get publicity without clarity.
Before a brand starts its PR efforts, it should be clear on its message, its offer, and its vision.
PR Mistake #6: Lack of Proper Planning and Permitting in Unexpected Situations
Matt Yanofsky, Vice President – PR and Advertising at The Moment Lab
I specialize in various aspects of marketing, ranging from market analysis and strategic planning to brand building, viral social campaigns, and publicity stunts. Additionally, I have experience in talent management and digital content creation. I approach each project with a deep passion and unwavering determination, seeing it through from start to finish.
As a prominent celebrity and brand marketer, I am well-versed in the field of public relations.
Expect the unexpected. Having done many stunts through the years, there's lessons that I learned from each which allowed for growth through the years.
One of my first ever music videos was being done in whittier California with the late, great Coolio. Being young and dumb, I wasn't aware of proper permitting and brought in a crew that consisted of 10 people plus 4 models, and Coolio himself. An hour into the shoot ,the cops showed up and shut us down. Realizing that I had a lot to learn I felt dejected that I wasted my clients money and all these people's time.
I begged the crew to meet in a grocery store parking lot down the street while I called every person in LA I knew. Luckily my good friend Stu's friend allowed us to shoot the music video in his backyard in the valley and the rest is history.
Lesson learned that everything needs to be meticulously planned and all laws adhered to.
PR Mistake #7: Lack of Strategic Client Selection and Focus on Revenue Over Agency Building
Amore Philip, Chief Executive Officer at Apples & Oranges Public Relations
I would say that my biggest mistake is this:
Despite my intuition and doubts, I have taken on PR projects as I was focusing on revenue instead of building an agency
My actions were that of someone who needed to generate revenue, so I said yes to most or anyone who wanted to hire me at the time. As a result, I worked with companies and projects that provided little value to my growth as a PR practitioner and even less value to my creativity and bottom line. In the long run, some of these projects drained me mentally and spiritually, creating substantial financial issues for my company.
A few years ago, I decided to do things differently. I outlined my mission and vision and decided to work with clients that align with that, with no exceptions.
I have since created a methodology and scoring system to evaluate potential clients and assess their PR readiness during the discovery phase. This has changed the game for me. I now have fewer clients, but the ones I do have, add value to the growth of my agency, as well as their business and endeavors.
Lastly, what I would say to aspiring PR pros is this:
Before you say yes, consider the following:
The Stage of the business – are they a start-up, established, or emerging brand? When you assess the stage of the company, it helps you understand where they are as a business and whether they are ready for PR.
Finances and budget should be a part of the conversation; does this potential client have the financial resources to allocate a budget for at least six months to a year? This way, they can pay the monthly retainer.
Progress – PR-pros must ask themselves whether or not this partnership will result in growth (revenue, case studies, influence, etc.)
I only say yes to opportunities that bring me and my team joy and satisfaction and pass on ones that drain creative energy and resources.
---
By the way, we have an episode of our podcast about bad and good PR. If you have the time and inspiration, feel free to listen to it:
Most Popular PR mistakes Table
| PR Mistake | Description |
| --- | --- |
| Lack of Crisis Management | Failing to anticipate and plan for potential crises, leaving the company ill-prepared to handle negative situations. |
| Poor Communication | Ineffective or misleading messaging that fails to properly convey the company's values, leading to misunderstandings or negative perceptions. |
| Ignoring Feedback | Neglecting to listen to and address feedback from customers, stakeholders, or the public, which can result in reputation damage and missed opportunities for improvement. |
| Lack of Transparency | Withholding important information from the public or stakeholders, eroding trust and credibility. |
| Social Media Blunders | Posting inappropriate, offensive, or insensitive content on social media platforms, leading to public backlash and reputational harm. |
| Misaligned Branding | Inconsistent messaging or a mismatch between the brand's stated values and actions, creating confusion and distrust among audiences. |
| Overpromising | Making unrealistic or exaggerated claims about products or services, which can lead to disappointment, customer dissatisfaction, and damage to the brand's reputation. |
| Mishandling Influencers | Failing to effectively collaborate with influencers or mismanaging influencer partnerships, resulting in ineffective or negative brand exposure. |
| Lack of Media Relations | Neglecting to build and maintain positive relationships with journalists and media outlets, leading to missed opportunities for positive coverage or difficulties in managing negative press. |
| Failure to Adapt to Digital Age | Ignoring the importance of digital platforms and strategies, such as social media and online reputation management, and not keeping up with evolving PR practices. |
Content Marketing Platform
100,000+ media publications;
get backlinks to your product;
scale work with content distribution.
Conclusion
Learning from PR failures is vital for effective reputation management. By recognizing common pitfalls such as lack of crisis planning, poor communication, and social media blunders, organizations can take proactive measures to avoid these errors. Embracing transparency, actively seeking feedback, and adapting to the digital age are essential for building and maintaining a positive brand image.
By leveraging the lessons learned from PR failures, businesses can enhance their strategies, foster stronger relationships with stakeholders, and navigate the ever-evolving PR landscape with confidence. Ultimately, by embracing a culture of continuous improvement and learning, organizations can mitigate risks, protect their reputation, and thrive in today's competitive environment.
Read more: