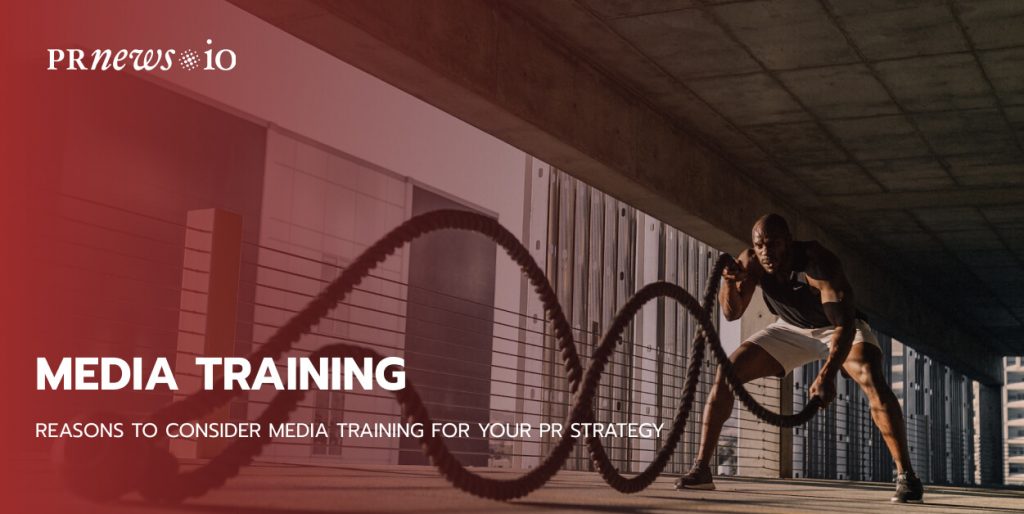 Media training is vital to a solid PR strategy for your business. Media presence has become more important for companies than ever before. It provides an excellent opportunity to broadcast your message to a broader audience via various media platforms. Understanding your company's goals, objectives, and target audience spiced up with good media relationships is all good for a solid social media presence. A well-structured media training program helps individuals and businesses shine in the media field. What are other reasons for considering media training and how to build an effective media program? Let's find it out! 
What is media training?
Media training is a process of preparing individuals or organizations to effectively communicate with the media.
Media training is a communication instruction designed for individuals likely to engage with media outlets. This training aims to equip participants with the necessary skills and knowledge to present themselves, their brands, or their companies to the media in the best possible light. Through media training, individuals are taught how to effectively and professionally discuss pertinent topics, ensuring that they remain engaging and informative to the audience.
Moreover, media training provides ample opportunities for participants to practice different interview situations and formats. The training covers various media engagements, from television appearances to magazine interviews. This ensures that individuals are well-prepared and confident, regardless of the media format they encounter.
Media training benefits many individuals and organizations likely to interact with the media. Here are some common use cases for media training:
Media training is crucial for spokespersons who represent an organization. They must convey key messages clearly and effectively, handle difficult questions, and maintain a positive image for the organization.
Executives and business leaders frequently need to communicate with the media to promote their companies, products, or services. Media training can assist them in developing the skills and confidence required to handle media interactions in a way that enhances their brand and reputation.
Politicians, government officials, and other public servants frequently interact with the media to communicate policy decisions, respond to current events, and answer questions from constituents. Media training can help them stay on message, handle tough questions, and maintain a positive public image.
Experts and thought leaders in various fields may be called upon to share their insights and opinions with the media. Media training can help them communicate complex ideas clearly and concisely, and establish them as trusted sources of information.
Non-profit organizations must frequently communicate with the media to raise awareness of their causes, attract donations, and advocate for their missions. Media training can help them develop compelling stories and messages that resonate with the media and the public.
Generally speaking, media training can benefit everyone looking forward to improving their communication skills and feeling more confident in communicating with media resources.

Media training components
Media training programs can be adjusted based on your or your company's individual needs, brand, industry, and interview format. In most cases, media training programs are comprised of the following components.
Education
Understanding how the media operates is crucial to effective communication. This includes how reporters capture quotes and soundbites and their deadlines. Every media outlet and publication has different focus areas, such as business, education, or lifestyle.
A media training program equips individuals for interviews by covering essential topics such as:
Communicating the key messages you want the readers/viewers/listeners to understand is crucial in any interview, including any calls to action.
Your presentation reflects your brand, from body language to what you wear. The way you present yourself can influence how your message is received.
There are several types of interview formats for various media platforms. Knowing the story goal and interview setting will help you feel prepared for any questions.
In addition to these topics, each organization should have an internal media policy that outlines protocols for media interviews. This policy is an essential reference point for all employees who engage with the media.
Practice
As the saying goes, practice makes perfect, which applies to media interviews. The most polished spokespeople and CEOs have significant media experience but also know how to prepare.
Preparation involves reviewing key messages and points of emphasis and developing a list of potential questions. It's also important to consider the topic and environment when choosing an outfit, and any props or products should be readily available if they're part of the conversation.
Reporters, editors, anchors, and producers conduct interviews in various formats:
TV: Stand-up, sit-down, in-studio, or video call;
Print: In person, by email, or via telephone;
Radio: In-studio or via telephone;
Online: Video call or telephone.
During media training, practice sessions consist of simulated interviews about a specific scenario. Reporters may provide a few questions in advance, but oftentimes the conversation is free-flowing and does not follow a script. Practice helps to prepare for both expected and unexpected questions.
Review
Upon completion of media training's mock interviews, participants are provided with a chance to self-evaluate their performance. Observing oneself on television is an effective method to identify potential areas of improvement.
Another aspect that needs attention during the review is body language. Participants may only realize their hand gestures or posture if they look for it specifically. It is also essential to have a smiling countenance before and after responding to the questions, if appropriate for the topic.
Two media relations techniques that help convey the message effectively have proven beneficial for the participants. Both ensure that the best soundbites are featured in the news:
Bridging. The interviewees acknowledge the reporter's question and redirect their response to the key message.
Flagging. The interviewees use keywords that draw the journalists' attention to an important fact, phrase, or message.
Tips for practical media training
If you're preparing for a media appearance, consider these tips to make the most out of it:
Before engaging with any media outlet, it's important to conduct thorough research about the company. Ensure you only accept appearance requests from media outlets with a reputation for treating their interviewees respectfully.
Prioritize authenticity to create positive impressions of your brand or company. Authenticity is crucial when interacting with the media. Platforms and their audiences typically appreciate communicators who come across as genuine.
Although journalists and reporters might have a list of questions they want to ask, remember that your answers can also guide the conversation. Practice guiding the dialogue during your media training so it comes naturally during a public interaction.
Practice providing short, concise answers that directly state your point, ensuring tour message is clear to the audience. Consider writing a bulleted list of the main topics you want to discuss if you're interviewing on the radio, over the phone, or for a newspaper.
Practicing your responses can help you feel calm and confident when communicating with the media. It's essential to practice in the context of the media outlet.
Dressing appropriately can boost your confidence, especially for television appearances. Wear professional attire that makes you feel comfortable and represents your personality and brand as best as possible.
Act politely during the interview to represent yourself, your company or your brand well in the media. Media training can help you interact politely during media appearances. This includes allowing others to finish their thoughts and being interested in the interviewer's comments.
Commit to the ongoing process of sharpening your skills during media training to make significant progress. Continuously learn new skills and methods for media appearances, as this may help ensure your interactions with the media are successful.

Reasons to consider media training
Here are five compelling reasons why you should consider media training:
Media training can teach you how to use your words, tone, and body language to deliver your message powerfully. Speaking on television requires more than just words; your body language and facial expressions play an equally significant role. Media training can help you develop your confidence in speaking with the media, even in live interviews, making it a powerful form of marketing and PR for your business.
Defining your key messages is crucial to know precisely what you want to convey during the interview. Your key messages should be original, short, focused on your audience, and highlight the benefits of your product or service, using the language that suits your audience. By keeping your messages clear and concise, you can keep returning to them throughout the interview to reinforce your points.
Journalists may ask questions that are challenging to answer or put you on the spot. Media training can prepare you for such difficult questions, so you're prepared for any unexpected twists or turns in the interview. By preparing yourself for challenging questions, you can feel more confident and in control during the interview.
While the journalist will ask you questions, you control the interview. Media training can teach you to maintain composure throughout the interview and create the desired outcome. This essential skill can be learned through media training and practice.
Lack of clarity around your key messages or feeling under-prepared for difficult questions can increase the likelihood of being misquoted or saying the wrong thing during the interview. Media training can help you avoid this possibility by teaching you clear, concise, and effective communication skills.
Content Marketing Platform
100,000+ media publications;
get backlinks to your product;
scale work with content distribution.
Bottom Line
It's essential to connect with the media and express your willingness to offer your expert opinions and insights on current issues if you wish to establish your company as a pioneer in your chosen market. However, to ensure that your company is represented best, it's crucial to undergo fundamental media training and develop the skills to interact with journalists and respond to their inquiries effectively. The tips and use cases we've discussed in this blog post should guide you through how to master basic media training skills to enhance your company's reputation.