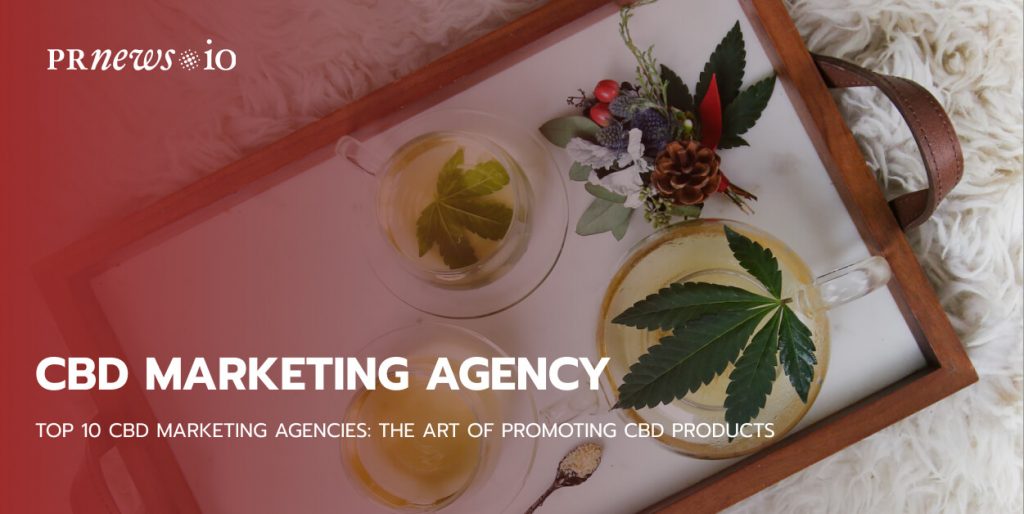 Let's take a look at the cannabis marketplace. In many countries around the world, this marketplace is more competitive than ever before. These days, more and more companies are striving to become the next best CBD company. If you plan to work in this sphere, you need to realize that achieving fast positive results is very challenging without using the services of high-quality cannabis marketing agencies. A creative team is ready for you to express creativity and attract the attention of CBD consumers and people who are allowed to smoke it. Before you start your CBD business, it is essential to make a person feel beautiful, relaxed, etc.
Below, you will find a list of the top 10 cannabis branding agencies that can help you propel your own cannabis brand. The majority of the presented agencies have some of the brightest and most creative minds in the industry. We recommend that you deal with the ones that have worked with well-known brands, as we will need to focus on the cannabis space. Besides, you will need to learn how to prioritize CBD marketing agencies with a personal and transparent approach. Every agency provides a bio that talks about their founders and the people behind their agency.
Top 10 CBD Marketing Agencies
Are you wondering whether it is the right time for the CBD business? Remember it is never too late to enter any kind of business. Your success will depend on the most current market trends and the right marketing strategy. The following agencies can show you the way to make your CBD business successful.
Studio Linear is one of the best cannabis branding agencies worldwide. This women-owned cannabis branding agency cooperates with many well-known brands in the CBD industry, such as Houseplant, Leune, Rebel Blends, Para, Pufs, Butacake, Ganja Girls, Flora + Fauna CBD, etc. The agency provides the following services: brand strategy/discovery, brand identity/messaging, visuals, web design, copywriting, merch design, social media design, and art.
Hybrid is a well-known digital marketing agency. The team will help you promote your CBD products. Your brand will stand out from the crowd by means of the most innovative approaches for their clients. Hybrid Marketing Co. have all the services for your business. The team cooperates with the following brands Lightshade, Mobius, Sol Flower, Everest Cannabis Co., Botani, Leaf411, etc. You can order these services: rebranding, brand development, email marketing, SEO, web design, copywriting, social media advertising, video/photography, animation, events, shows, and B2C services.
Budder Creative agency is the right choice for the cannabis-related industry. The highly-experienced team has cooperated with some well-known cannabis brands. You can fully trust the agency with more than 20 years of branding and marketing experience. The agency has such clients as Dosist, Jaunt, Haus of Jayne, Apothecanna, Cloud Cannabis Co., etc. The list of services includes the following: branding, marketing, digital design, packaging, trade events/shows, etc.
Green Street is a reliable cannabis-focused marketing agency. This creative agency knows how to present your cannabis and find the right target audience for your final product. Green Street agency belongs to Gary Vaynerchuk and has been working for the marketing industry since 2013. The team is proud to be one of the main representatives of the huge Cookies and Bhang. It is a wonderful team with whom you will appreciate having business.
We encourage you to visit the official website, which demonstrates creative approach and high-class style. The website is user friendly and easy to manipulate. You can check the portfolios to be sure that ordering services are safe there. The team has some well-known clients, such as Top 40 under 40 in Marijuana Venture Magazine, Award Winners, etc.You can order these services: branding, video production, advertising, consulting, etc.
Puf Creative Is known as a cannabis-related agency.
Use its services every time you want to improve your online presence. You can order the following services: SEO assistance, social media management, web design, etc. Puf Creativ has an excellent application, which is attractive to many clients. The team has many rewards, 2020 ADCANN Cannabis Advertising Awards winner for Agency of the Year, 2020 ADCANN Marketer of the Year winner, 2021 ADCANN Agency of the Year winner, 2021 ADCANN Campaign of the Year winner. As for the cae, then you van get packaging, web design, social media management, mobile app design, video production, etc.
Stoned Fox is a reliable marketing agency, which knows how to step outside of the box. The team is known for bringing cannabis ideas to life. Stoned Fox has worked with a lot of well-known names in the cannabis-related industry. Here are just a few known names with whom the agency cooperated: Circa 420, Stone Road, Supreme Organics, Tonic, Soko, Quill, Proof CBD, etc. You will not find a better agency that provides services in creative consulting, ad campaigns, video production, branding/marketing, labeling, social media marketing, cannabis-focused influencers, etc.
Cannabis Creative is known as a pro advertising firm with a team that knows how to create clean, eye-catching, and beautiful web designs. The goal is to help clients get their point across. With Cannabis Creative, you know exactly what the brand offers. The agency was honored with the Top 25 cannabis digital marketing agencies in the U.S by Strain Insider. Services, which are available: branding identity, printing design, web design, digital advertising, etc.
The Potency has one of the best reputations. Clients appreciate straightforward and simplistic ways to do business. Popular Brands the agency cooperates with: Worked With: Select, Magic Hour Cannabis, Upward Cannabis, Yerba Oregon, etc. The following services are available: branding, identity development, design, marketing, and PR.
If you need to find a creative agency, High Hopes is what you need. Their website speaks for itself and demonstrates the vision and approach. The team has been working with well-known cannabis brands since 2016. By ordering the services of High Hopes, you will help your brand to stand out and win the competition. Well-known clients are the following: Yummi Karma, Nuvata, VidaCann, Wunder, Double Delicious, Casa Verde Capital, and Bespoke Financial.
Boosting Your CBD Brand with PRNEWS.IO's Press Release Distribution Services
PRNEWS.IO is a platform that can help promote CBD through its press release distribution service. By using PRNEWS.IO, you can write a press release about your CBD product, service, or company and have it distributed to various media outlets, including newspapers, magazines, websites, and blogs. This can help increase visibility and awareness of your CBD brand among potential customers and investors.
PRNEWS.IO also offers a database of media contacts, which can be useful for reaching out to journalists and editors who may be interested in writing about your CBD product or company. Additionally, the platform provides analytics and reporting tools, which can help you track the success of your press releases and monitor your brand's online reputation.

Overall, PRNEWS.IO can be a valuable tool in promoting your CBD brand and getting your message out to a wider audience.
Final Thoughts
When you look for a reliable CBD-related marketing agency, the most important is to pay attention to the list of known clients. Make sure the agency you deal with is transparent and has a personal story to tell. It is essential for a company to manage without a story. is a company without a path, and branding agencies are all about storytelling. Every one of the cannabis branding agencies on this list is high-quality, trustworthy, and has the uniquely creative vision you may need to further your own cannabis brand.