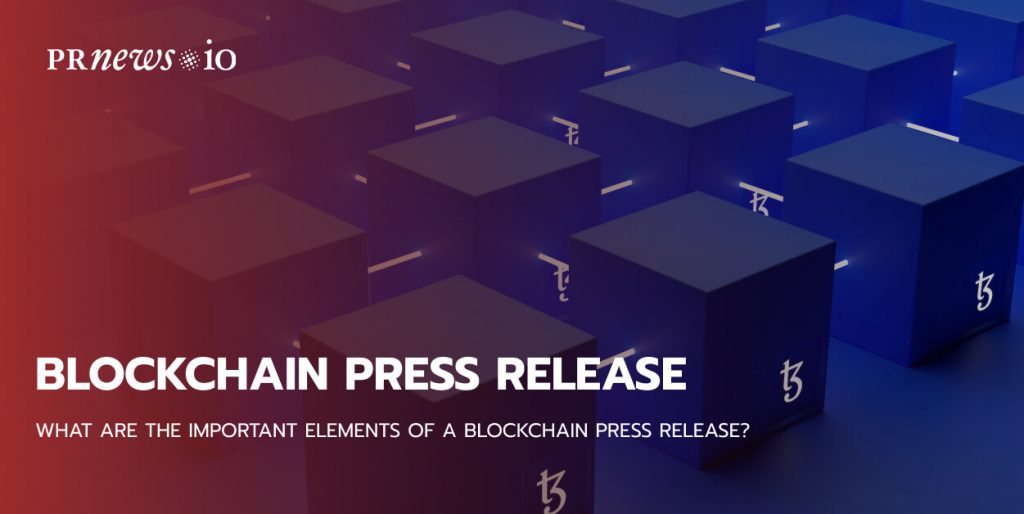 A blockchain press release is a press release that is published and distributed on a blockchain-based platform. Unlike traditional press releases that are typically published on centralized platforms, such as news wires or social media sites, blockchain press releases are decentralized and offer a range of unique benefits.
No matter what industry you work in or how much you spend on advertising, one of the best ways to get your name out there is a press release. A press release service can do wonders for boosting your business and getting noticed by influential journalists.
A press release is a great way for blockchain company to boost their name and make sure they are seen by those who need to see it.
In this blog post you'll find out how to write & distribute blockchain press releases.
What are the Important Elements of a Blockchain Press Release?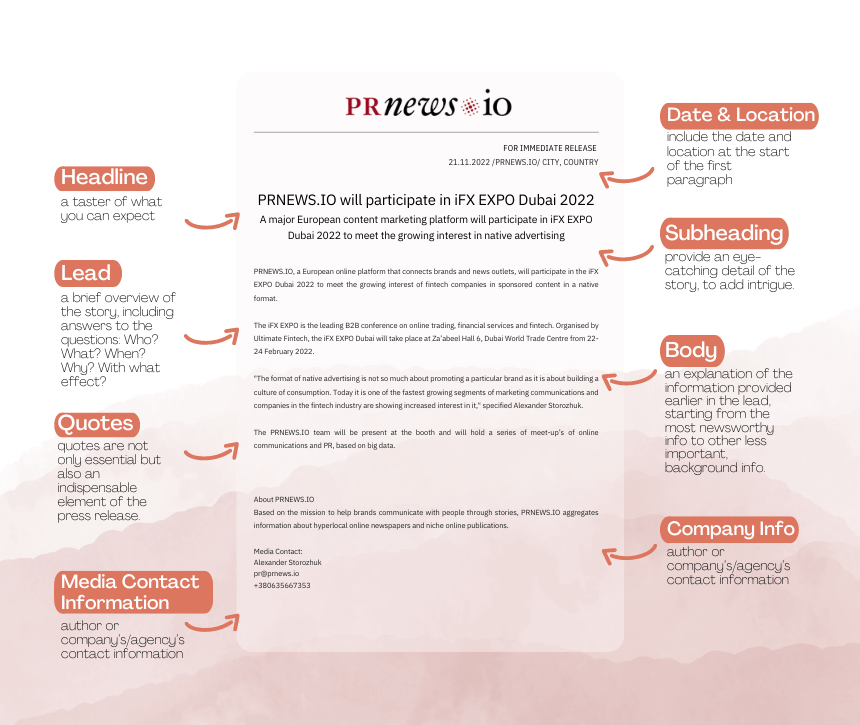 The structure of a blockchain press release is similar to that of a traditional press release, with a few key differences. Here are the typical elements of a blockchain press release:
First things first, your press release needs to have a catchy headline in order to be successful. It's the first thing people will read, and based on that, they will make their decision whether they want to read the whole thing or not.
The second most important part of writing a press release is crafting the lead. That's exactly where the impatient ones will find the answers to the most important questions, including the five W's: what the news is about, who is involved, when and where it happened, and why it is important.
Then, it's time to give your readers the essential details. And by details, we mean the basic information that is necessary to figure out why this press release is newsworthy. You don't want to write a novel, just give a brief explanation and get the reporters excited about something they'll write about.
Including a quote from a company spokesperson can add credibility to the announcement and provide a human touch.
Is there anything else you need to add? If so, this is the time to do it—without actually overdoing it. Remember, sometimes less is more, and that's definitely the case when it comes to writing a good press release. Consider adding quotes and visuals to make the story more interesting.
Don't forget to add contact details so journalists will know how to reach you, or anyone else worth contacting. It's important because they might want to ask some additional questions about the story. If you forget about this part, the chances of getting your release published are basically slim to none.
In case you're asking yourself how to end a press release, here's your answer: have a boilerplate (The boilerplate is a brief paragraph at the end of the press release that provides general information about the company, such as its mission statement or key accomplishments).
If you caught the journalists' attention and they kept on reading until this place, most likely they want to know more about you. The boilerplate is exactly the place where they will find any additional information about your company or you.
Request Blockchain Press Release Service
We are highly experienced when it comes to writing, editing, and creating new content. PRNEWS.IO has worked in the industry for over ten years doing PR for high tech and emerging industries, including NFTs, finance, blockchain technology, business, and more.
By selecting our service, you will be guaranteed:
An expertly written, SEO-optimized press release.
A release title + subtitle.
A copyright-cleared press release.
Revisions.
Expert suggestions & recommendations.
That being said, when it comes to writing a press release on the topic of blockchain, it is important to keep a few things in mind. First and foremost, you should ensure that your press release is clear, concise, and easy to understand for both industry experts and those who may be less familiar with blockchain technology.
It is also important to highlight the benefits and unique features of your blockchain-based product or service, and to provide data or other evidence to support your claims. This can help build credibility and attract attention from potential customers, investors, and other stakeholders.
Blockchain Press Release Distribution
PRNEWS.IO is a press release distribution service that can be a great option for companies looking to distribute press releases on the topic of blockchain using the power of the blockchain. With PRNEWS.IO, you can easily create and distribute press releases to a variety of news outlets, including major publications and niche blogs that focus on blockchain and cryptocurrency.
One of the key benefits of using PRNEWS.IO for blockchain press release distribution is the ability to target specific audiences based on their interests and location. This means that your press release is more likely to be seen by people who are interested in blockchain and cryptocurrency, and who are more likely to engage with your content.
Broadcast your crypto & blockchain news with guaranteed coverage, in industry-leading publications. Our blockchain and crypto wire service guarantees media coverage thanks to direct integrations with our crypto publication partners. Get your story seen from the moment it's released.
Select media from our catalog
Write or order your press release
Watch the coverage instantly roll in
We have been working in the crypto space with hundreds of companies. Our goal is to combine our platform with the latest crypto news, and provide guaranteed coverage effortlessly. Our team of professionals will help to form the most effective strategy for claiming your business online. We are building a better future together with you.
Distribute Your News to These Crypto News Sites
At PRNEWS.IO, we're proud of our publishing ecosystem that we've developed over the last decade. Our partners are top-notch blockchain and crypto news websites. Each website is directly connected to the PRNEWS.IO system so every release gets guaranteed coverage.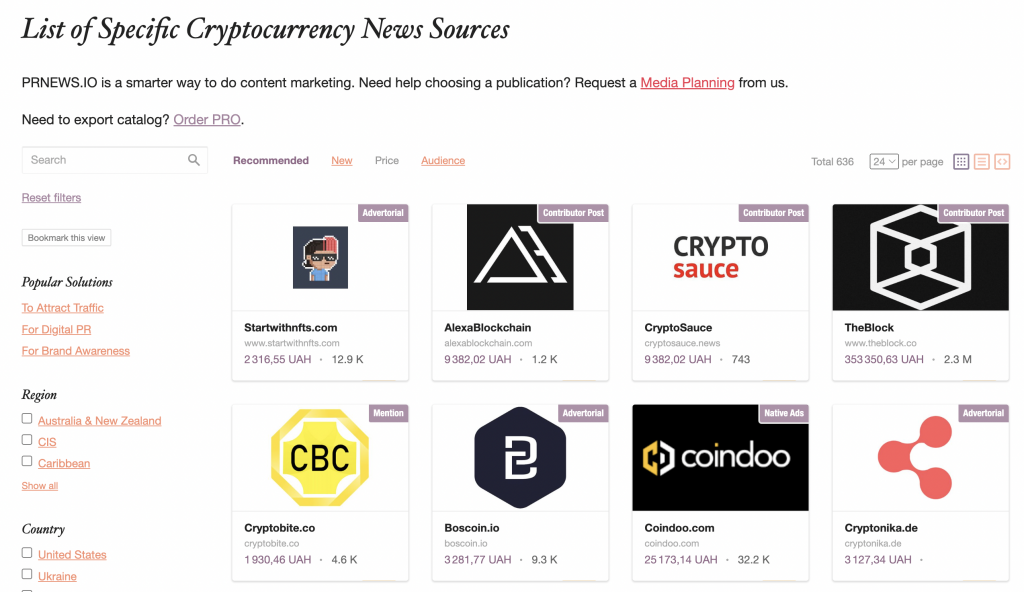 Sample Blockchain Press Release
Here's a sample blockchain press release for a fictional company:
Headline: ABC Company Launches New Blockchain-Powered Payment Platform
Subheadline: New Platform Provides Secure and Transparent Payment Processing for Businesses of All Sizes
Dateline: New York, NY – January 15, 2022
Introduction:
ABC Company, a leading provider of financial services for small and medium-sized businesses, today announced the launch of its new blockchain-powered payment platform. The new platform offers businesses a secure and transparent way to process payments, helping to reduce fraud and increase efficiency.
Body:
The new payment platform is powered by blockchain technology, which ensures that all transactions are secure and tamper-proof. The platform uses smart contracts to automate the payment process, reducing the need for manual intervention and minimizing the risk of errors or fraud.
In addition to its security features, the platform also offers a range of benefits for businesses, including real-time settlement, lower transaction fees, and instant verification of payments. The platform is compatible with a range of payment methods, including credit cards, digital wallets, and bank transfers, making it easy for businesses to accept payments from their customers.
Quote:
"We're excited to launch our new blockchain-powered payment platform, which we believe will revolutionize the way businesses process payments," said John Smith, CEO of ABC Company. "With its secure and transparent architecture, our platform provides businesses of all sizes with a reliable and efficient way to process payments, while also reducing the risk of fraud and errors."
Conclusion:
With its advanced security features and user-friendly design, ABC Company's new blockchain-powered payment platform is poised to become a game-changer for businesses looking to process payments more efficiently and securely. To learn more about the platform and how it can benefit your business, visit the ABC Company website.
Boilerplate:
ABC Company is a leading provider of financial services for small and medium-sized businesses, offering a range of products and solutions to help businesses grow and succeed.
Blockchain Verification:
This press release has been verified on the Ethereum blockchain, providing an immutable and transparent record of its content and publication.
Content Marketing Platform
100,000+ media publications;
get backlinks to your product;
scale work with content distribution.
Are Press Releases Worth It?
In the digital age, is a press release really necessary? In this day and age, media outlets are bombarded with news as it happens. It seems as though every company is producing a press release or two on a daily basis. Not to mention that many people these days have access to the Internet. So if someone wants information on a new product, they can simply google it and read about it online.
There are countless tools and strategies available to help you reach your audience, but one of the most effective strategies is press release distribution. It's a perfect opportunity for you to tell people about new products or services, introduce yourself, or go on record with some information you want people to know.
Working with press release distribution service is an excellent way to get the word out about your business.
Content Marketing Platform
100,000+ media publications;
get backlinks to your product;
scale work with content distribution.
Advantages of Cooperation with PRNEWS.IO
Modern PR-agencies all over the world offer their services to business representatives in various directions, but not everyone can achieve their goals. Our team of experts stands out in the market due to:
Use innovative strategies to promote and claim the brand, goods, services and so on;
Cooperation with world-known world publications with the possibility of placing quality press releases;
Exit to foreign sites;
Forming a package of services on mutually beneficial terms, which provides the customer with optimal prices for promotion on the Internet;
Transparency of the functional and user-friendly interface of our virtual platform.
We comprehensively contribute to achieving your goals in the development of online business.
100% Guaranteed Coverage. Results are published on crypto and blockchain websites based on your campaign spend. Simply set your parameters and watch the coverage roll in!
Network of Connections. With over 10 years in the crypto industry, we have fostered a community of editors and journalists at top media publications.
Effortless Results. PRNEWS.IO directly integrates with tons of publishers and blogs. This allows for quick and automatic press release distribution.
Knowledge Part
The concept of "blockchain"
Blockchain is a chain of blocks representing a digital register that stores information about transactions, contracts, virtual transactions with crypto currency. This technology has become the basis for building Bitcoin. Today, an increasing number of large corporations are beginning to use this technology to store corporate, sensitive and valuable information (for example, data on loans issued, property rights and the like). The key advantage and powerful advantage of the blocking system is the fact that such a virtual registry is not tied to a physical location. All the blocks are distributed among thousands of PCs around the world. All users who have access to the current version of the blocks can see the data contained in them.
The peculiarity of such chains of blocks can be called the possibility of fixing any events, from transactions with bitcoins, airs, lightcoins and other types of crypto-currency, ending with reports of violations of traffic rules. It is also worth noting that the data is regularly updated and points to the source (earlier file saving). If someone wants to add or delete some files by fraud, then the system will start to access thousands of versions of this registry and all inconsistencies to the structure will be detected.
Principle of operation
The standard blockchain system is a continuously increasing order of information modules that can be shared among participants through networks used by a large number of Internet users to download torrents.
All modules are equipped with short-term marks, called "hash-sums", which can be compared with a "fingerprint". The chain is created strictly in a certain order, which excludes the possibility of breaking the sequence of blocks.
For greater security of the system from making unwanted adjustments to time stamps and recounting hash sums, blockchain activates the following protection methods:
PoW (Proof of Work), that is, proof of work;
PoS (Proof of Stake), that is proof of possession.
This once again confirms the maximum safety and security of valuable information. When a new block is formed, it becomes impossible to make any changes to all previous ones.
Importance of technology
To date, the use of the Internet in commercial matters has become a familiar matter. However, the transfer of funds from most people is associated with centralized financial institutions (banks). All existing electronic payment systems (for example, PayPal) require integration with a settlement or credit account opened with a bank.
Thanks to the technology of blocking, we can get rid of the third component. This chain allows you to combine all the functions of the financial services sector into one:
Registration of financial transactions;
Confirmation of the authenticity of the person;
Conclusion of a contract.
This approach can significantly increase the efficiency index in the sphere of material services all over the world.
Conclusion
Overall, PRNEWS.IO is a great service for companies looking to distribute press releases on the topic of blockchain, whether they are launching a new product, announcing a partnership, or sharing other news related to the blockchain industry.