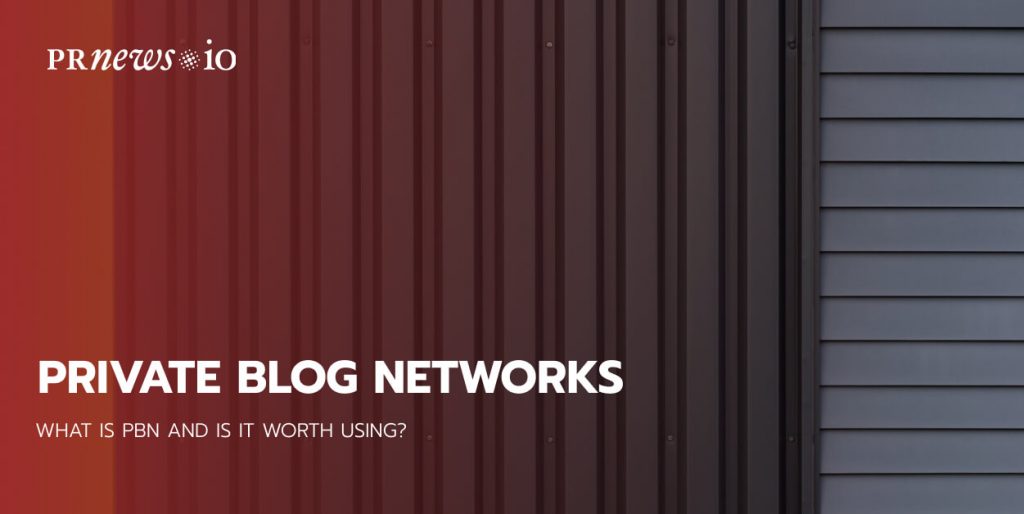 While improving SEO on your website, you could have read about Private Blog Networks (PBNs) before, but you may not know what they are, why they exist, and if you should use them or not. The concept isn't very difficult to understand, but with a lot of information out there, you might be conflicted if it's effective or not. In this article we'll explain to you the definition of PBNs, its pros and cons, and if it's worth your effort.
What is PBN?
PBN stands for Private Blog Network. In other words, it's a group of websites that a webmaster or SEO expert owns for the only one reason of boosting the rank of his other websites.
In the past, many PBN owners applied "black hat SEO" techniques within their PBNs such as keyword stuffing. This led to its penalization by search engines, causing it to lose domain authority (DA) and domain ratings (DR) and consequently to drop in ranks significantly. While the main website was increasing in rankings after "support" of the previous websites.
However, things got harder as search engines like Google improved their bots and technology and strict their guidelines, which affected PBNs for obvious reasons and jeopardized the authority of the main website as well. Google and other search engines increased the quality scoring factors for expired domains as well, which are used to build PBNs.
In addition, as the definition says PBNs are generally groups of sites created by one person or company, separate individuals who are linked to one another could also be considered a PBN. On condition that there are many repeated links to the same sites or pages across several different groups of websites.

Are PBNs White Hat SEO or Black Hat SEO?
In content, everything is about quality. To get high rankings you have to provide high-quality organic content to your visitors and build high-quality natural links on external publishing websites.
If you're building a PBN for the only one reason of manipulating your search rankings, you'll be penalized by Google's terms of service. Before 2014, PBNs were effective. Its performance was high and everyone started using them. Everyone wanted to get in for the ride. That was until Google totally ruined a few PBN services and some popular marketing bloggers' PBNs. Back in the day, Google used manual actions against PBNs to limit or stop their activity and deter webmasters from building them.
But today everyone can report such websites and networks. And Google uses smart bots to identify and act against PBNs.
Nevertheless, there are some ways for customization and improvement in PBNs. You could build a small PBN of just one or two extra sites, and spend a lot of time filling in those sites with high-quality content, valuable to its readers. In this scenario, your websites would function as independently helpful, self-sustaining units. And in this case, the backlinks to your website will be a pleasant bonus. In this case, such PBN could mostly be considered "gray hat" SEO that still is out of regulations. Google explicitly encourages SEO experts not to engage in PBNs.
PBN Advantages & Risks
PBN SEO technique belongs to Black or Grey Hat SEO. Anyway, we will list them, just to make sure you'll know everything about them.
Advantages of Using PBNs
High ranking
Of all the BlackHat SEO tactics, PBNs are probably the most efficient. The results are coming faster.
Harder to get caught
Also, it will take some time until you are penalized, if you get noticed. You'll have to be always ready for this.
Easy in theory
You may buy expired domains at a domain auction, create websites, publish content there, cover up all traces, and link to the main sites.
Extra profit
You could also earn money from PBNs by selling links to other websites. As long as they're not direct competitors, it doesn't really matter.
Full control
You can manage your links and remove the websites when you wish.
Risks and Disadvantages of Using PBNs
The rewards offered by private blog networks are looking good. It is a quick way of building backlinks that yield results before. Today it involves more risks, than pleasant results.
Let's check out some of the risks of using a private blog network.
Your Site Can Be Penalized
The most important risk of using PBN is that Google may discover this network and penalize your main website. According to Google, any link-building tactic that is intended to manipulate search rankings is considered a violation of its regulations.
Your Links Would Be Ignored
Google can also choose to ignore your PBN links and not allow them to influence your site rankings. It is called an algorithmic adjustment.
Any links that Google considers artificial or suspicious, can be just ignored without giving you any warnings.
You Would Weaken Your Link Profile
Another risk is that the links earned by this technique are of bad quality. So, you may create a lot of low-quality links and that may give a temporary boost, but it will not bring you the results in the long term.
By creating too many low-quality links to your profile, you may weaken it.
High cost
At first, it might sound affordable. Some shared hosting, a couple of IPs, some domain names, and some content. But for high competitiveness, you need to buy 10-25 expired domains that have a high authority. And they are not the cheapest ones.
Takes a long time
Although when you start linking your main website the results come fast, the whole PBNs building process is time-consuming.
Difficult to manage
You'll also have to take care of your network on a regular basis. In addition to the content creation, each site is required to protect it from SPAM, and hackers, pay bills, and do it under a different name, IP, and probably device as well.
How to Identify Private Blog Networks
The key to discovering that your website is participating in a PBN is the cross-site "footprint".
These days, PBNs are much more sophisticated and may be harder for webmasters to notice because the sites are dedicated to different industries and topics. To identify that a site is part of a PBN consider the following:
Hosting
Check out if they are at the same IP. There are many services to identify what sites are hosted with any other site.
Site design
If the websites have a similar design, navigation, and color scheme it's one of the signs to be a part of PBN. WordPress designs sometimes have the theme name in the code. Look at its source code in your browser.
Site Ownership
Check the WHOIS database for the contact information of the owner of the sites. If you see hidden WHOIS data it is another warning for you. If all of the site owners are the same, it's clear the blogs are connected.
Duplicated Content
Check out for plagiarism to see if the content exists on other sites.
Backlink Profile
Check the backlink profile in Ahrefs, Majestic, or other services to find how much interlinking is there between sites.
Images and Videos
Since unique videos and images are difficult and expensive to get, most commonly they are duplicated on other sites. Use Google image search or video search to find them.
A Similar Backlink Profile
If multiple sites have the same link profile, or if they all link to one website many times (especially where it seems to be irrelevant), then the site is likely part of a PBN. Google's Penguin algorithm, which now runs in real-time as part of the core ranking algorithm, can identify it and devalue your website rankings or get another type of penalization as a result.
However, simply owning several different websites doesn't mean you are a private blog network. For example, big and multiproduct companies may have several sites and link to them in all website footers. It doesn't mean a PBN.
How Can You Protect Your Site from PBNs?
Reliable SEO consultants won't recommend private blog networks for link building or increasing website traffic. Sometimes your site may become part of a PBN without you even knowing it, especially if you outsourced the link-building activities to a third party. Buying links on sites like Fiverr or through other similar platforms may bear such risks.
Strong knowledge of link-building activities will help you. Learn which practices Google considers to be link schemes, and ensure that people who help you with SEO for building links avoid such Black Hat techniques. Reputable link builders have to be transparent about the links they are getting for you.
What are the Safe Ways to Use a Private Blog Network
If you want to build backlinks in the right way, there are many other ways to use a private blog network.
Here are some white hat link-building techniques that you can use to build high-quality backlinks from relevant and authoritative sources:
1. Guest Posting
Create relevant and useful guest posts for other websites and blogs in your niche. It is a long-term strategy that takes time and effort to pay off, but posting on other high-quality sites gives you access to their audience, which should be your target audience. If you do a good job, they will follow your links and visit your website.
This helps build links, increase referral traffic, establish authority, and even improve the domain authority in the long term.
2. Infographics
Creating and posting infographics is a quick and effective way to get multiple backlinks from authoritative sites, without too much effort.
Unlike guest blogging, you don't need to create fresh and unique content for each site. You can offer the same infographic on multiple sites.
3. Answering Questions on Online Communities
If you are looking for quick link-building methods that require minimal effort, then this one is a good alternative to using a private blog network:
Become a member of online communities like Quora and Reddit
Look for questions associated with your niche or area of expertise
Answer questions that are helpful to the readers
Add a link to a relevant resource on your website that gives more detailed information about a particular question
4. Writing HARO Answers
This activity is similar to the previous tip, except you need to join the HARO (help a reporter out) platform. The difference is that it's not an online community.
HARO is a platform where journalists are looking for expert advice and answers for topics that they're writing about. As an expert in your niche, you can join the platform and choose your areas of expertise. You will then be able to see questions that reporters have posted within your niche, leave your valuable comments, and add a link to a relevant resource within your answer.
5. Earning Editorial Links
This is probably the hardest way to earn backlinks, but the most efficient as well.
Editorial links are links that other sites put freely because they find your content helpful for their readers. Such links are earned and you can't buy them. That's why they are considered the most difficult types of backlinks.
Try to receive editorial backlinks from popular credible sites within your industry or niche. For this create share-worthy content that organically gets links and mentions. Here are the types of content you can offer:
Detailed evergreen content
Helpful guides
Ebooks
Free and useful tools
Whitepapers and original research
Survey results
Compilation of statistics
Remember, that you can't buy editorial links but it doesn't mean you can't let people know that you've created some share-worthy content that they should check out. So, reach authoritative sites, and offer your content and resources to earn editorial links.
How Can You Identify and Remove Spammy Links?
Use a tool like Semrush or Ahrefs to carry out a thorough backlink audit of your website on a regular basis. These services will help you analyze your backlink profile, estimate its authority, and flag unnatural or toxic links. To do it correctly, check out our detailed guide "A Step-by-Step Guide to Disavow the Links".
Wrapping Up
So, is PBN worth your time or not? The final decision is yours, but we tend to think that participating in pure PBNs simply isn't worth the time or money. Your efforts are better spent on more sustainable strategies, like content development, publisher relationship development, and link outreach.
Content Marketing Platform
100,000+ media publications;
get backlinks to your product;
scale work with content distribution.