Reciprocal linking is more than just a simple link exchange between two websites. Some SEO experts believe that today it's almost impossible to place a link without giving a link back. But, isn't that against Google's Guidelines?
In this guide, we're going to show what reciprocal linking is and if it can help or hurt your website's search engine optimization (SEO). Let's begin.
What is a Reciprocal Link
Reciprocal links in SEO appear when two different websites refer to each other's pages. Nowadays it is considered an extremely popular way of link building. For this to benefit, both participants must be within the same industry or niche and offer complementary products.
For example, if your site sells decorations for a wedding, a site offering a wedding photo service would be the ideal candidate. All you need to do is place the other party's link in one of your articles. They'll also place your link once you've agreed on the specifics.
As a result, their visitors can be your visitors, which is good for your SEO performance. Although there are a lot of disputes about reciprocal links, they can actually be advantageous to your SEO itself provided it's done correctly. Two high-quality reciprocal linking make it easier for Google to provide its users with the best possible results. 

Are Reciprocal Links Good or Bad for Your SEO?
Now comes a crucial question: will it help or hurt your website? The answer is – it depends on your implementation. Let's take a closer look at its advantages and disadvantages.
Pros of Reciprocal Link Building
It Increases Traffic
As mentioned earlier, when a website refers to you, their traffic can be your traffic. For instance, if you're selling mobile accessories and your partners repair mobile phones, they can share their audience with you. So, if it's a high-authority website, you can advantage of its huge traffic.
It Enhances Your SEO Ranking
Usually, links play a vital role in your SEO performance. Search engines often use them as a good signal of authority, trust, and credibility. Building high-quality reciprocal links with various credible websites can improve this side of your SEO. remember, though, that link building doesn't belong to a ranking factor, but its influence on the same is undeniable.
It's Cost Effective
Typical ink building can be very expensive, especially if you're buying links for the new website. Nevertheless, with reciprocal link building, you don't have to spend a fortune to have a high-quality site referral to your business.
It's Good For The Website Visitors
Link exchange isn't just good for the website owners alone. Apart from them, it may be helpful and convenient of visiting a linked store without having to separately search for it on the search engine. Plus, a good link-building strategy guarantee that the audience gets all the information they need without leaving your article and initiating another search.
Cons of Reciprocal Link Building
As you start your reciprocal link-building project, it's important that you also understand the risks your site may be faced in. Here are some of them:
Site Penalization
The main risk of using the link-building sub-tactic is the possibility of Google penalization applied to your site. Google link exchanges are one of the prohibited link spamming activities. As a consequence, this could cause a huge problem, especially for your search engine ranking, if you will do it poorly.
So, your goal should be to ensure the links appear as natural as possible. This way, you can escape the penalties.
Decrease In Site Authority and Rankings
If you're linking to external sites that don't fit your content and are not from your niche, your page might experience a drop in site authority or SERP rankings.
Before linking, ensure that the content is relevant and take a look at the site's domain authority.
In some cases, you may link back to low-authority sites, but excessively linking to such sites will not improve your own website's authority.
Boosting SEO For Direct Competition
In case you're partnering with websites that are using the same target keywords and phrases as your website, your chances of having that link reciprocated are low.
At the end of the day, you're only helping your competition's SEO, not your own.
Loss Of Trust
We're sure, you don't want to lose the trust of search engines. But reciprocal links can cause this to happen in two situations:
You include on your website a lot of one-to-one links.
The anchor text of your links is continually suspicious or wholly irrelevant to your content.
Sharing Customers
Receiving traffic from the secondary site is one of your goals, but sharing customers might hurt your sales. Therefore, building reciprocal links may encourage your readers to visit those competitor sites. Consequently, you may experience reduced sales.
Analyze complementary sites before choosing to partner with them. Check the goods they're selling or service they offer and other partner sites they may have.
Reciprocal Links: How to Use Them
Follow these best practices to find out how to use the reciprocal links correctly, and watch as they potentially lead to a boost in your SEO.
1. Make sure to place your link in the relevant content
Linking to higher-quality sites that are in some way relevant to your particular content will not only improve your customer's experience but also increase engagement and SEO.
On the other side, linking to irrelevant content will make you look bad to your readers and potential customers.
For every link you consider, first, ask the following questions:
Would the reciprocal link be a natural fit for your readers?
Will it fit your content marketing strategy?
All the answers to these questions have to be positive.
2. Ensure the linking content adds value
Help your readers solve a problem or learn more by linking to content that is helpful to them. By linking to high-quality content, you receive the additional benefit of becoming a trusted and credible resource for them.
If you feel difficulties in finding high-quality or relevant to your content resources, contact the PRNEWS.IO team. They have easy-to-use filters to pick up the best partners for you.
Online Publicity Workbook
100+ content ideas for your B2B startup;
ideal for do-it-yourself publicity plans;
schedule your PR campaign in advance.
3. Check SEO metrics of linking site
To increase the effectiveness of your reciprocal linking and positively impact your SEO, check the SEO metrics of the partner's site. If you see that its SEO metrics are good and this website is a high-authority website, you may link with them, expecting to receive benefits for you. If not, go on with your search to find the better one.
4. Build authentic relationships
The key to successful reciprocal links is the building of authentic relationships as the first step. You can start the relationship-building process by linking to another source without expectations of anything in return.
You may link to the site because they offer good and relevant content that will be of value to your readers.
At a certain point, the other site may link back to you, supporting an authentic relationship.
5. Reach out to bloggers and influences
Blogger and influencer outreach is another strategy to put your reciprocal linking activities. By doing this you build a relationship, and add value for your readers, improving your reputation and showing your expertise. Finally, they will also share your link.
6. Avoid linking to competitor sites
Make sure that who you are linking to is not a direct competitor. Avoid linking to the same target keywords.
If you hyperlink with them, rarely will you receive a reciprocal link. Instead, you are helping boost their website traffic and pushing them up in search engine rankings.
7. Analyze reciprocal link requests
At some point, you will likely start receiving requests to place reciprocal links. Before submitting them, always analyze these requests and how they can affect your SEO and site authority.
Think about the following before you agree to the reciprocal linking.
Is it a link scheme?
Is it a natural fit for your project?
Will this external link relationship lead to an increase in website traffic?
Do you want Google to associate your business with this other site?
If you decide the relationship will be mutually beneficial, then go for it.
8. Guest blogging
Guest blogging is without doubt a good idea when it comes to getting reciprocal links and increasing your audience and organic traffic. Businesses and individuals should use guest blogging when they want to share information about their brand through white-hat online marketing tactics. It basically means that they're creating original, high-quality content that really is interesting and valuable for the readers and doesn't try to trick Google's algorithm.
9. Be a guest on podcasts
Being a guest on podcasts is yet another thing you could do to build links back to your site without grey methods.
When you're taking part in other people's podcasts, you're basically expanding your network and showing yourself, your work, and your business to a bigger audience. In addition, you share your link to contact you or some appropriate to the podcast content.
10. Organize expert roundups
An expert roundup is an offline or online meeting (and blog post about it) that requires the participation of a number of industry experts that share their opinions and expertise on a specific topic. The roundup can be arranged to share valuable insight with viewers while also bringing together many professionals that definitely know a thing or two about online communities.
Having so many people featured on your website can lead to social shares (which is also a positive signal for search engines like Google) and, of course, backlinks.
11. Apply a three-way link exchange
It's important to say that reciprocal link building is against the rules according to Google's link spam policies. So your site can be penalized if Google notices the unnatural integration of links in your content. Some professionals apply a three-way link exchange.
Unlike the simple link exchange with two web pages, this one involves three parties. Site 1 links to site 2 in exchange for a link from site 3. As a result, site 1 will be linked to site 3 but not directly.
This tactic works because it shows Google's algorithm that there's no artificial link exchange going on.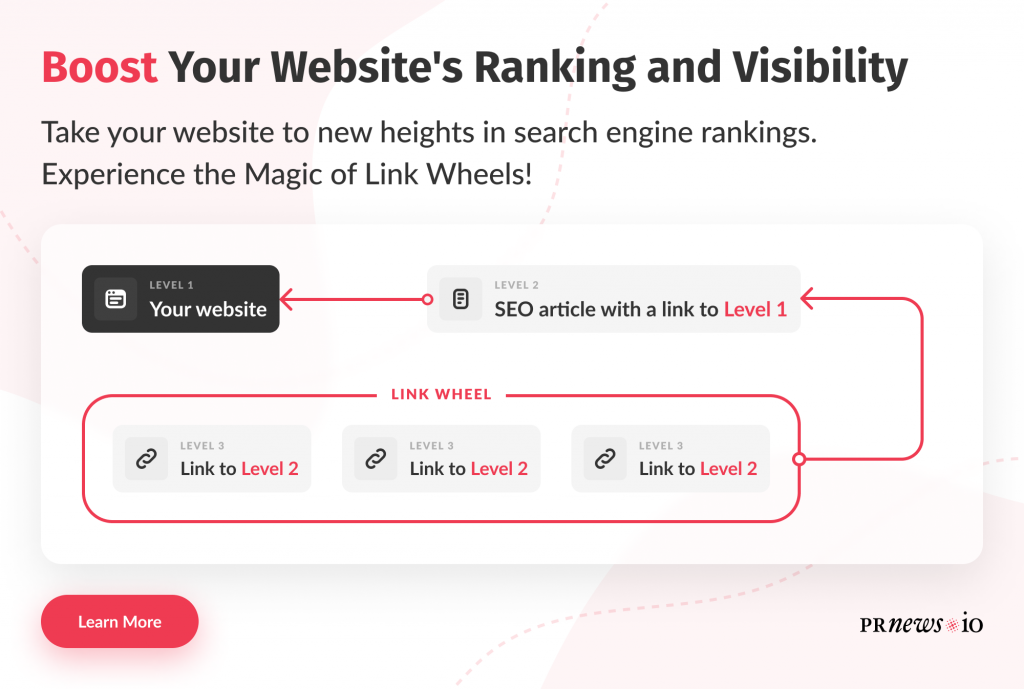 Wrapping Up
When done correctly, reciprocal linking is a good tactic to boost your website's reach. If you are new to this concept, act carefully and wisely. Partnering with high-quality websites is the key. Link your website to relevant and trusted sites to build a brand and a huge audience base.
Content Marketing Platform
100,000+ media publications;
get backlinks to your product;
scale work with content distribution.