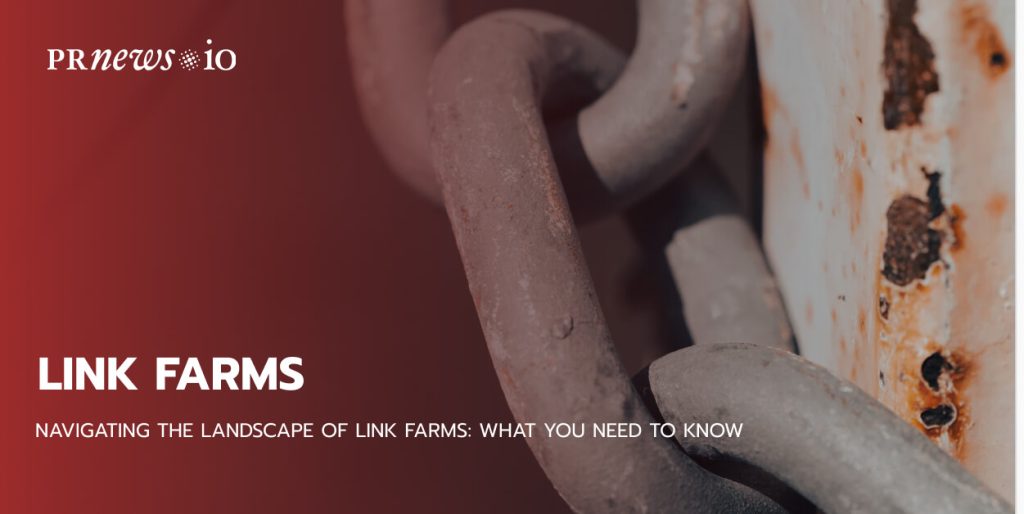 Imagine the internet as a big popularity contest where websites want to be well-known and liked by search engines like Google. To become popular, websites need votes, and these votes are like links from other websites pointing to them. These votes are called backlinks, and they help websites show up higher in search results.
Now, think of a link farm like a cheating strategy in this popularity contest. It's like a group of people who agree to vote for each other even if they don't really like each other's content. They create lots of links between their websites, trying to trick the search engines into thinking they're popular. It's kind of like fake friends who only pretend to like each other to win a contest.
Search engines don't like this cheating. They want to show the best and most trustworthy websites to people searching for information. So, they've become smarter at catching these link farms and penalizing them. It's like the contest organizers finding out about the fake friends and not giving them prizes.
In the end, link farms are like trying to take shortcuts to win the popularity contest, but it usually backfires because search engines prefer real, genuine popularity earned through good content and real connections.

How link farms operate
Link farms work by creating a bunch of links between the websites in the group. These links might not have anything to do with the actual content of the websites. For example, a website about cooking might have links to websites about cars or gardening, even though they're not related at all. This is done to try to trick search engines into thinking these websites are really popular and important.
Common characteristics of link farms
Link farms often have a few things in common. They might have many websites that all link to each other in a very unnatural way. The websites might not have much real content, or the content might be very low quality. Sometimes, the websites might even look the same or use similar designs. This is because their main goal is to create lots of links quickly, not to provide useful information.
Here's a list of common characteristics often associated with link farms:
Unnatural Link Patterns
Link farms often exhibit an unnatural pattern of links. Websites within the farm will link to each other in a way that doesn't make logical sense from a content or context perspective.
Irrelevant Content
The content on link farm websites is often unrelated to one another. For example, you might find links between websites about finance, pets, and gardening, even though these topics have no connection.
Low-Quality Content
Link farms frequently host poor-quality content that lacks value for users. Articles might be spun, meaning they're just slightly reworded versions of existing content, or they might be overly stuffed with keywords to attract search engines.
Cookie-Cutter Design
Websites within link farms might look very similar in terms of design and layout. This can indicate that the sites are being mass-produced with minimal effort put into creating unique and valuable content.
Rapid Link Building
Link farms tend to generate a large number of links quickly. This sudden influx of links is often a red flag for search engines, as it suggests an attempt to manipulate rankings rather than natural linking.
Inorganic Anchor Text
Anchor text is the clickable text of a hyperlink. In link farms, you might notice repetitive and irrelevant anchor text, which is another attempt to artificially boost search engine rankings.
Minimal User Engagement
Since link farm websites often lack valuable content, they tend to have low user engagement metrics such as high bounce rates and short time spent on the site.
Overuse of Ads and Affiliate Links
Link farms might prioritize ads and affiliate links over actual content, as their main goal is to generate revenue through clicks and views, rather than providing useful information.
Lack of Social Signals
Legitimate websites often have a presence on social media platforms. Link farms, however, usually lack a genuine social media presence, as their content isn't meant to be shared or interacted with.
Unreliable Outbound Links
In addition to manipulating inbound links, link farms might also have unreliable or broken outbound links. This further contributes to their lack of credibility.
Absence of Niche Relevance
Links in link farms aren't tied to a specific niche or topic. They might link to anything and everything, regardless of whether it's relevant to the content or not.
It's important to note that these characteristics serve as warning signs, but not all websites exhibiting these traits are necessarily part of link farms. However, these indicators can help webmasters and SEO professionals identify and avoid engaging with potentially harmful websites.
Search engine algorithm updates targeting link farms
Search engines like Google caught on to these tricks. They realized that some websites were trying to game the system by using link farms. To make sure they were showing the best and most relevant results to users, search engines started updating their rules. One of these updates was called Google's Penguin update. It aimed to find and penalize websites that were using link farms and other unfair tactics to get ahead in search results.
Here is a list of some notable search engine algorithm updates that have specifically targeted link farms:
Google Penguin Update (April 2012): The Penguin update was one of the most significant changes to Google's algorithm in terms of combating link spam. It aimed to penalize websites that used manipulative link-building techniques, including link farms. The update targeted over-optimized anchor text, low-quality backlinks, and other practices that violated Google's guidelines.
Google Penguin 2.0 Update (May 2013): This update built upon the original Penguin update, further targeting link manipulation and spammy link-building tactics. It continued to penalize websites that were involved in link farms or unnatural linking schemes.
Google Penguin 3.0 Update (October 2014): This iteration of the Penguin update focused on refreshing the algorithm's impact on search results. It continued to penalize websites with low-quality and spammy backlinks, including links from link farms.
Google Penguin 4.0 Update (September 2016): Unlike the previous Penguin updates, this version was integrated into Google's core algorithm. It allowed for more real-time assessment of backlinks, which meant that penalties could be applied or lifted more quickly. This update continued to discourage link farms and manipulative linking practices.
Google Penguin 4.0 Real-Time Update (October 2016): This update further emphasized the real-time nature of Penguin's impact on search rankings. It made penalties and recoveries quicker, ensuring that websites could see the effects of their link-building practices sooner.
Bing Search Penalty Algorithm Update (March 2012): While not as widely known as Google's updates, Bing also made efforts to tackle link manipulation and link farms. This update aimed to improve the quality of search results by penalizing websites that engaged in such practices.
Yandex Baden-Baden Update (December 2015): Yandex, a popular search engine in Russia, introduced the Baden-Baden update to combat various spam tactics, including link farms. It aimed to provide more relevant and trustworthy search results for users.
These algorithm updates underscore search engines' ongoing efforts to ensure that websites with genuine, high-quality content are rewarded in search rankings while penalizing those attempting to manipulate the system through link farms and other spammy tactics. As a result, website owners and SEO professionals need to stay informed about these updates to maintain ethical and effective SEO strategies.
The Dark Side of Link Farms
Negative Impact on SEO
Devaluation of Backlinks from Link Farms Backlinks are like votes of confidence from one website to another. However, search engines have become smarter at recognizing when these votes are genuine and when they're being manipulated. Backlinks from link farms are often considered spammy and irrelevant, which can lead search engines to devalue them. Instead of helping a website's SEO, such backlinks can actually harm its credibility and ranking.
Risk of Ranking Penalties by Search Engines Search engines, especially Google, are dedicated to providing users with accurate and valuable results. When they detect websites engaging in shady practices like link farming, they can impose penalties. These penalties can cause a website's search rankings to drop significantly or even result in removal from search results altogether. Such penalties can be difficult to recover from, requiring substantial effort to clean up the link profile.
Potential Impact on Organic Traffic and Visibility A lower search ranking and reduced visibility mean fewer people will find the website. This can lead to a sharp decline in organic traffic, which is the visitors a site gets from search engines. Reduced traffic can have a negative impact on a website's business goals, brand awareness, and revenue.
User Experience Concerns
Irrelevant and Low-Quality Content Link farms often host poor-quality content that lacks value. This can be frustrating for users who click on a link expecting helpful information, only to find irrelevant or badly written content. This diminishes the user's experience and erodes trust in the website's credibility.
Manipulative Tactics Affecting Trustworthiness When users visit a website associated with a link farm, they might quickly realize that the content is there just to generate clicks or promote unrelated products. This manipulative approach damages the website's trustworthiness and can lead to a negative perception of the brand behind it.
How Users Perceive Websites Associated with Link Farms Users are becoming more discerning online. If they encounter a website that's part of a link farm or exhibits signs of manipulation, they might see it as untrustworthy and potentially harmful. This negative perception can spread, and users might avoid sharing or interacting with such websites, leading to a decrease in genuine engagement.
In conclusion, the dark side of link farms includes damaging consequences for both SEO and user experience. Search engines penalize websites involved in these manipulative practices, and users quickly recognize and avoid websites associated with link farms due to their negative impact on trust and content quality. It's essential for website owners and marketers to focus on ethical, sustainable link-building strategies and user-centered content to avoid these pitfalls.
Conclusion
Link farms, deceptive networks of websites artificially linking to one another, aim to manipulate search engines into believing they're popular and trustworthy.
Their negative impact on SEO includes the devaluation of backlinks, the risk of ranking penalties by search engines, and the potential decline in organic traffic and visibility.
To navigate the online landscape responsibly, it's crucial to adopt ethical and sustainable link-building strategies:
Prioritize Quality over Quantity: Focus on obtaining high-quality, relevant backlinks from reputable websites. These genuine connections provide more value than a multitude of artificial links.
Diversify Your Backlink Portfolio: Build links from a variety of sources, such as industry-related blogs, authoritative forums, and respected news sites. A diverse backlink profile appears more natural to search engines.
Invest in User-Centric Content: The heart of a successful online presence lies in content that addresses users' needs, provides valuable insights, and fosters trust. Prioritizing your audience leads to more organic engagement and authentic backlink acquisition.
By following ethical practices and adapting to the evolving SEO landscape, you can safeguard your online presence from the pitfalls of link farms and position yourself for sustainable success. Remember, authenticity and user value will always be the cornerstones of effective digital strategies.
Content Marketing Platform
100,000+ media publications;
get backlinks to your product;
scale work with content distribution.