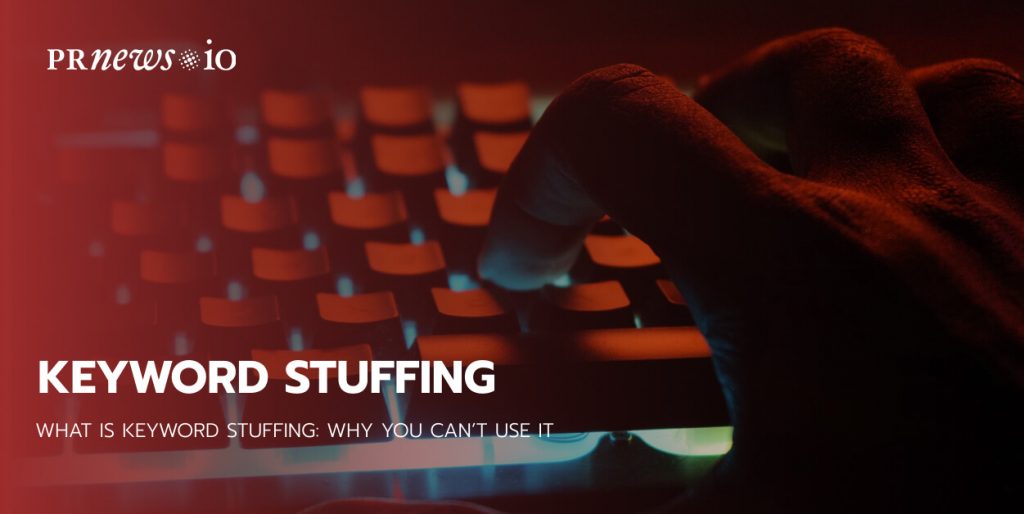 Top rankings for your website, blogs, and landing pages mean that more users find you, visit your site, and can become your clients. There are a number of ways you can apply to achieve this, including relevant and regularly updated content, good metadata, and relevant links. But some methods belong to Black Hat SEO, like keyword stuffing, cloaking, spinning, and others.
In this article, we'll focus on what keyword stuffing is, how it could negatively affect your website, and tips to avoid it.
What is Keyword Stuffing?
Keyword Stuffing is the extreme use of keywords, a tactic that consists of trying to appear in the first results of Google by overly including the same word or phrase on a website. It is usually easy to notice and it will push readers back.
There are two types of keyword stuffing:
1. Visible
To the visible keyword stuffing belong the next activities:
Unnecessary use of words and phrases throughout all your content. For example, if you were selling the best coffee, you would want to be cautious about how often you used words like 'coffee' or 'best'.
Use of keywords or phrases that are not relevant to your topic, product, or service.
Using the same word repeatedly in one text.
2. Invisible
However, not all keyword stuffing is visible. If you also input keywords in your CMS's backend, then that can also be noticed by search engines. The banned methods are:
Trying to hide those keywords by using a white font on a white background. While visitors may not see this, crawlers on search engines will.
Repeating the same keywords and phrases in your alt text.
Hiding repeated keywords in the code of your webpage.
Overusing any words or phrases in your meta and comment tags.
So, be careful of situations where a website can be accused of keyword stuffing. But does it really cause any harm? Let's see.

Why Keyword Stuffing Is Bad?
The purpose of search engines is to provide content that satisfies users' search intentions. That's why flooding your website with phrases like 'best printing service' at the beginning might seem like a good idea if you want to increase your online visibility. However, doing this might hurt your rankings or even result in the removal of your site from search results.
Google Recommendation
From Google's point of view, content creators and SEO experts should avoid keyword stuffing (filling up one's pages with keywords without distinction) because it can be extremely harmful to the position of the page in SERP.
The user experience may worsen significantly since the content is no longer readable because of the frequent use of the same keywords and becomes irrelevant to the user. Google recommends creating valuable content for website users and not focusing on tricks such as hidden text or other unauthorized techniques. Since the Penguin update, Google has been actively working to struggle against this technique and trying to identify and penalize pages discovered by the algorithm.
Benefits for SEO
There is no positive SEO effect. To implement on-page optimization today, webmasters and SEOs should pay more attention to the semantic context of content on the website and focus less on keywords.
Google can identify unique content from duplicated content, poor content, and web spam better and better. The gibberish score helps with that. Google even got that patented in 2009.
How to Check for Keyword Stuffing and Over-Optimization?
One way to check for keyword stuffing and over-optimization is to use SEO tools and software that can analyze your content and provide feedback and suggestions. Some examples of such tools are Yoast SEO, SEMrush, Moz, and Ahrefs. These tools can help you measure your keyword density, keyword difficulty, keyword ranking, content quality, content length, readability, and other optimization factors.
Another way to check for keyword stuffing and over-optimization is to use your own judgment and common sense. Read your content aloud, ask yourself if it sounds natural and relevant, and compare it with other similar content in your niche. Ask for feedback from your peers, colleagues, or clients, and see if they find your content useful, informative, and engaging.
How You Can Avoid It
To follow the White Hat SEO tactics for optimizing your website, you can follow a couple of simple tips to keep your works free of stuffing and as clear and rankable as possible:
1. Conduct Quality and In-Depth Keyword Research
Researching your target market, finding out what is popular, and analyzing keyword difficulty are all important elements of good keyword research.
Understanding keyword popularity is crucial because it shows how often a keyword is searched for.
Estimating keyword difficulty is important too. The higher this metric is, the harder it is to rank on the first page of SERP. When analyzing keyword difficulty check out the following parameters:
Domain authority
Page Authority
The trustworthiness of the site
2. Write for humans, not machines
Finally, remember that your content should be appealing to humans, not just search engines. While it's best practice to follow industry SEO standards, keep in mind that stuffing your copy with keywords does not read naturally to a human eye.
Positive user experience is an essential contributing ranking factor, so it's worth putting effort into SEO copywriting. Basically, you should use your keywords so that they mix naturally with the rest of your article, rather than artificially forcing them into the text in ways when they don't fit.
Remember that the visitors will leave your site if your content is difficult or time-wasting to read. For that reason, it's better to keep users engaged with clear and valuable content that helps them find a solution to their questions.
3. Extend Your Word Count
A good way to prevent keyword stuffing is to enlarge your body of text. This allows you to input keywords more naturally, rather than forcing them into every other sentence. It will improve the user experience.
4. Measure Your Keyword Density
The perfect keyword density is below 2%. Keyword Density Checkers (or other services) can help you make sure you stay below this percentage and keep your content sounding natural.
5. Give Each Page a Primary Keyword
Find one target keyword for each page. This keyword or phrase should be closely related to the content of this page. Choosing a low-competition keyword will allow you to rank quicker but won't pull you back from higher competition.
And remember, choose a different primary keyword for each page on your website.
6. Choose the Right Part
Once you've chosen your focus keyword, make sure to use it strategically. Normally, it's best to insert it in the following parts of the text:
Page or post title
At least one subheading
Meta description (tutorial here and some examples)
First paragraph of the body copy
Close to the end of the page or in the final part
At least one image alt text
Take into account that your body copy should be at least 300 words. Otherwise, search engines may not be able to assess your content's quality. Short posts could also show that your article provides less value to potential readers, so it's better and wiser to write long-form articles on your blog.
7. Use the Synonyms
The use of plurals does not avoid falling into the massive use of the same keyword. However, the use of synonyms does.
You can make a list of words with the same meaning as the keyword you want to insert and other secondary keywords. Use them to improve your content and help Google understand and index them properly. Always remember to use a natural language.
8. Use Long Tail Words
Long tail words usually have a lower search volume, but their use is highly recommended. In this way, you will be able to improve your content, provide more context, and even position in Google's rich snippets for people who carry out said searches.
Wrapping Up
We're sure you don't want your site to be penalized for banned practices. Your users should be your primary focus and engage them with good and useful content while supporting them with great service.
Be attentive and careful when implementing your SEO strategy. Overloading your content with repeating keywords and phrases may seem like a quick fix, but it is more likely will cause you big harm and lead to losing your ranking positions and users.
Content Marketing Platform
100,000+ media publications;
get backlinks to your product;
scale work with content distribution.