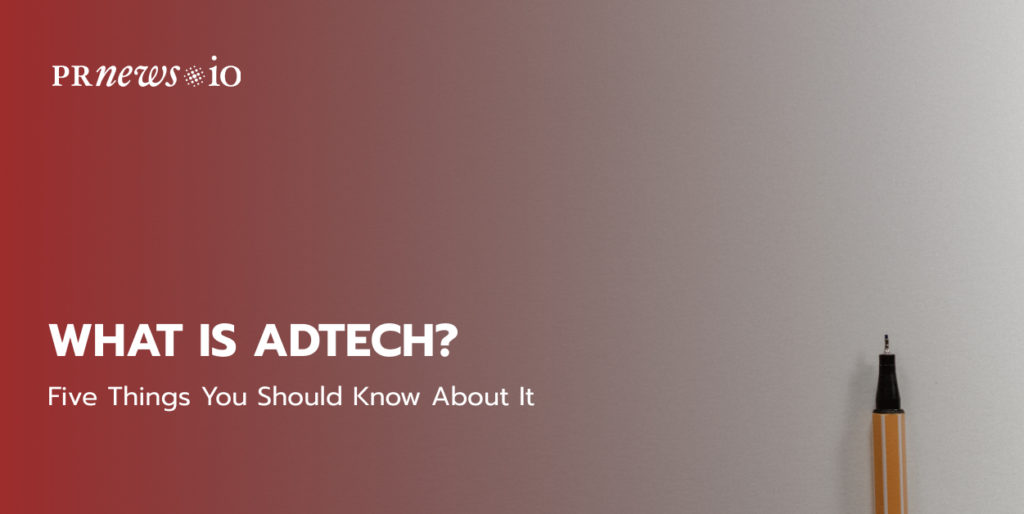 What is adtech? The rules for the data privacy game are changing, and whatever the market requires, we need to stay tuned to it. It's a challenging time for businesses, but it's incredibly enlightening too. The continued rise of PRTech and AI in marketing, widespread use of voice search, connected TV, expanded use of digital spaces, you name it. Whether you're a key player on the market or just stepping your way out, it's smart to keep your eyes open for what to expect from 2023.
There has been so much change in digital advertising in the past year. Moreover, there is no end in sight to what expect for the future. Yet, the benefit is obvious for both customers and businesses. To some, that is access to the goods and services they need; to companies, that means providing that. As a result, it's safe to say that this digital transformation helps drive recovery and growth.
PRNEWS.IO is a user-friendly PR platform to share your news in just few steps.
AdTech Definition and Why It Is Important
In general, AdTech definition is a more umbrella term that stands for advertising technology. It includes all the stack of software and tools advertisers, ad agencies, or publishers use to manage and monetize their ad campaigns. If simple, the goal is to ease interaction, buy and sell ads, and optimize advertising efforts.
At the very beginning, media buying and advertising looked different from what we have today. It was a complex manual process that required time and effort. Then, things had changed when research and metrics took the key role in that.
Some leading industry players use AdTech tools like a pro, making billions in revenue. They know that a successful ad campaign starts with the consumer at heart. The good news is that PRNEWS.IO is no exception. The company makes the list of the top five successful AdTech companies today.
When it comes to the importance of AdTech in marketing, numbers speak for themselves. In 2019, eMarketer forecasted that the budget spent on digital displays would reach 83% by 2020. The reality is it has reached 86%. In 2021, the percentage increased to 89, and the market is forecasted to continue its growth, as high as 91% in 2022. As Statista reports, $155 is an expected figure for companies to invest in AdTech tools in 2021.
If you want to get a piece of that market pie, it's smart to take advantage of AdTech solutions to create brand awareness. Below, you'll find some ways to use AdTech to benefit your business.
Content Marketing Platform
100,000+ media publications;
get backlinks to your product;
scale work with content distribution.
The AdTech Industry: Who Needs It and Why
So, what's AdTech do?
It helps personalize the buying journey to drive a specific number of impressions. Better if that happens at the right time and in the right context.
AdTech can help:
optimize the monetization activities through advertising for publishers;
execute media buying and advertising optimization for organizations;
deliver ads to the target audiences for advertisers
gather audience insights (who is your prospect, his activity and behaviour);
collect and monetize audience data (data that you have and not have, and the way you can use it to improve your marketing campaign);
gather data on marketing you deploy (type of successful ad/channels and partners that help monetize those).
The benefits of AdTech are:
Ability to scale
Real-time flexibility
Targeting capabilities
Efficiency
AdTech: What You Can Do Today to Benefit Your Business
#1 Start With a Clean First-Party Data Set
The key component of personalization is user data. Understanding your user's activity and behavior can help set your marketing campaign to success. User data is essential to deliver the right ad to the right person and at the right time. The more you research, the better your bottom line will look. Dove well, it can drive 17 percent more revenue. The more users refer to your ads, the more those holy gravy clicks you can get. That's simple.
Since consumers have the upper hand in doing business today, the rules of the data game have changed. Today and in the future, first-party data becomes a priority. Email subscriptions, social media channels, landing pages, e-books, the list of valuable resources for data collection has no end in sight. Find your way to set up a successful ad campaign and expect a better result. The good news is that you can customize messaging in line with your customers' preferences. If in doubt, think of 63 percent of consumers that prefer personalized ad experiences when they are to the needs of their household.
#2 Say Goodbye to Linear TV. Say Hello to CTV
Streaming services have overtaken linear TV since the lockdown came into play. With over 200 hundred streaming services to choose from, consumers got highly engaged. To talk numbers, CTV ad spending has reached an estimated $21B in 2021 in the US. Further, it's more. The forecast promises it to grow at an annual rate of about 23 percent through 2030, to about $100B that year. Huge, right?
In contrast to linear TV targeted at broad demographics and/or metropolitan areas, CTV changes the rule of the game. It can be targeted directly to the individual household or user. The concept has only begun to scale itself, but gains viewers and ad dollars. So you're not taking advantage of it; the time is now.
#3 Focus on Authentic Content, not Harsh Sales
How to prove to your customers why you know best and why your product or services will help them? Authentic content can help. It is not a new concept, yet, it's one of the powerful marketing tools to build brand awareness.
A website is a digital spot for your business that promotes your products the way you like them. But that's not enough. It needs to communicate your products or services' benefits. Also, it's a way to show your expertise and prove yourself as a leader in the industry.
Authentic content shows you care more about your audience rather than a sale. That message should be visible from the first words. That can be a social media post, a blog, or an email blast; the content should speak the benefits of your products or services, providing valuable value for your users. Thus, you can build trust and boost interest and engagement among your target audience.
The content creation and distribution is not as complex as it sounds. The more, you can always make that process effective as possible using PRNEWS.IO services. What does this mean for you? That's an opportunity to tap into new markets and audiences on your own terms.
#4 Take Voice Search off the Back Burner
There's no limit to what you can do with your mobile devices. From one-click purchases to engaging voice services, there are plenty. Voice search is the other AdTech option where your business can stand out among your competitors. Putting your business on the online map increases the chance people find you via voice search. With over 50 percent of searches done from mobile, 20 make up voice ones. And that is expected to continue its growth in 2022 and beyond.
As a marketer, you need to adapt your content strategy to follow that approach. And the best way to do that is by providing clear answers to the FAQs that consumers ask about products or services. The biggest part of voice search queries is moving toward a more conversational style, so it's smart to follow that pattern if you haven't yet.
#5 Data Analytics Remain Crucial for Success
Astronomical amounts of data are the other barrier to your business success. How do you know where you are if you struggle to make sense of it? Want to translate raw data into valuable insights? Then AdTech tools can help. It's a way to get better transparency over your data.
Research what's available on the market. The number of tools available out there is big. The choice depends on your business goals indeed. Want to reduce costs or improve customer experience? Maybe you are looking for a way to optimize existing processes? Well, there are plenty.
Keep in mind that analytics is no longer an option. It's a necessity. Your task is to identify the right tool as a must-have for your business growth. Otherwise, you can drive productivity.
Ready to Grow Your Business with AdTech in 2023?
So here you have it, for your business to succeed, you need to act swiftly, think creatively, and embrace AdTech flexibility. Sure, Rome wasn't built in a day, and you need to get used to those changes. But it is the best way to drive outcomes from spending, like a sale. So if you want your business to survive and thrive, stay in tune with the best practices. Knowing where to spend ad budget effectively can help you make the best of 2022.