To generate profits, any business needs to create, update, and expand its customer base. The challenge lies in the pursuit of potential customers amidst high competition. Other companies are increasing their marketing and advertising budgets, building good customer service, and introducing new products to the market.
In order for two small brands to become visible alongside larger ones or for a manufacturer with a long history to attract a new audience, the marketing director should consider using the partner's customer base, which is called cross-promotion. This is a technique of promoting a product or service where two or more brands implement joint programs that increase recognition, stimulate sales, and boost profits.
The use of this promotional tool has the following advantages:
Accessibility of expensive advertising formats: You can divide the promotion formats so that your partner takes care of expensive advertising methods like billboards while you advertise your products on social media.
Saving on advertising budget: This way, you spend less money on promotion but can still achieve the desired result.
Increasing sales volume by attracting the partner's customer base.
Utilizing the marketing resources of the partner: You don't have to come up with the idea and find ways to implement it on your own.
Increasing brand recognition through omnichannel marketing (utilizing all possible channels for product or service promotion).
Creating a unique selling proposition that did not exist before.
Attracting customers who are tired of information overload.
To make cross-promotion work, you need to carefully choose a potential partner based on their values, methods of audience interaction, and customer behavior. In online collaborations, it is important to know about website conversion rates, the number of social media subscribers, sales volume, and distribution channels.
What mistakes do brands make when trying to use a partner's customer base?
Cross-promotion can work with different businesses regardless of market peculiarities and size. However, some mistakes can make collaboration with partners disadvantageous. Here are five cases where brands do something wrong:
Failing to conduct prior research on a potential partner and then trying to fix a tarnished reputation.
Attempting to parasitize on a successful big brand without offering anything valuable in return.
Accepting all incoming proposals without evaluating potential benefits.
Proposing collaboration without having an idea.
Approaching direct competitors instead of paying attention to other companies with similar values and target audience but offering different products or services.
By avoiding these mistakes, you increase your chances of success when attempting to leverage a partner's customer base.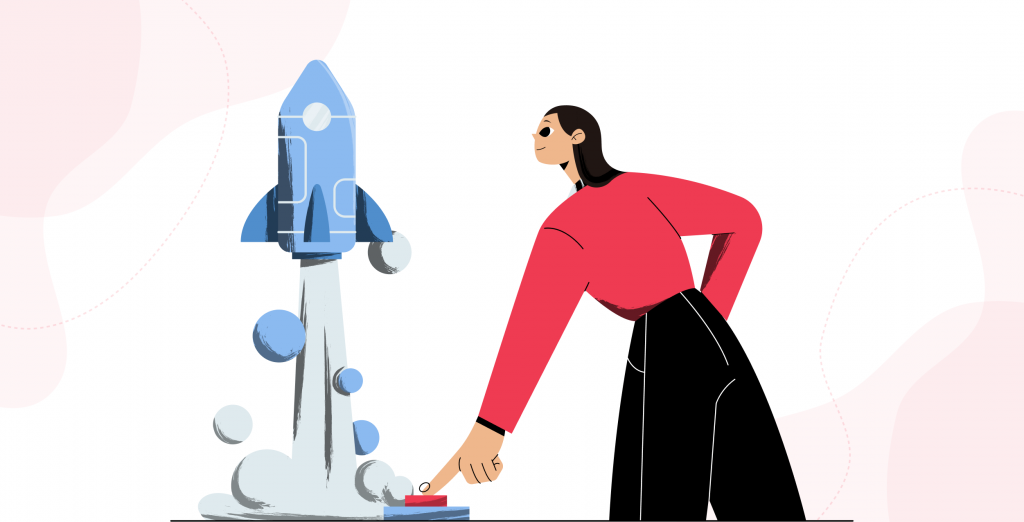 How to turn a partner's customer base to your advantage?
The key to successful cross-promotion is choosing the right brand to collaborate with for promotion. It is important to consider reputation, sales, the size of a loyal audience, advertising opportunities, and more.
Don't be competitors but have a shared target audience. Cross-promotion is often used as a technique for promoting additional products. This way, you can sell glasses along with wine bottles, offer snacks with beer, or recommend laundry detergent when selling a new washing machine.
Choose promotion formats based on the partner's characteristics. If you offer glasses for wine, you can create a banner on an online store's website, collaborate on publishing an article in a thematic publication, send out email newsletters, mention it on social media, or create entertaining TikTok videos. However, creating infographics for a website or conducting webinars might not be effective.
Maintain balance. The integration with a partner is news that you can convey to your audience. While utilizing the partner's customer base, it's important not to focus solely on promoting someone else's business.
Monitor the fulfillment of obligations. In a collaboration, one brand might put in 100% effort while the other only contributes 10%. Avoid situations where your reputation and loyal audience are exploited, and also refrain from such temptations yourself, as rumors spread quickly in business circles.
Make sure the potential partner is trustworthy. If there are reputational risks and unpleasant situations during cross-promotion, you'll have to restore your own honest name.
Don't accept proposals that don't interest you just because they come from a well-known brand. However, don't hesitate to propose collaboration to companies with millions of customers, even if you have just over 10,000. If you can justify your proposal and demonstrate the advantages in other aspects (such as a loyal social media audience or the opportunity to add a new promotion channel), your offer can be beneficial and accepted.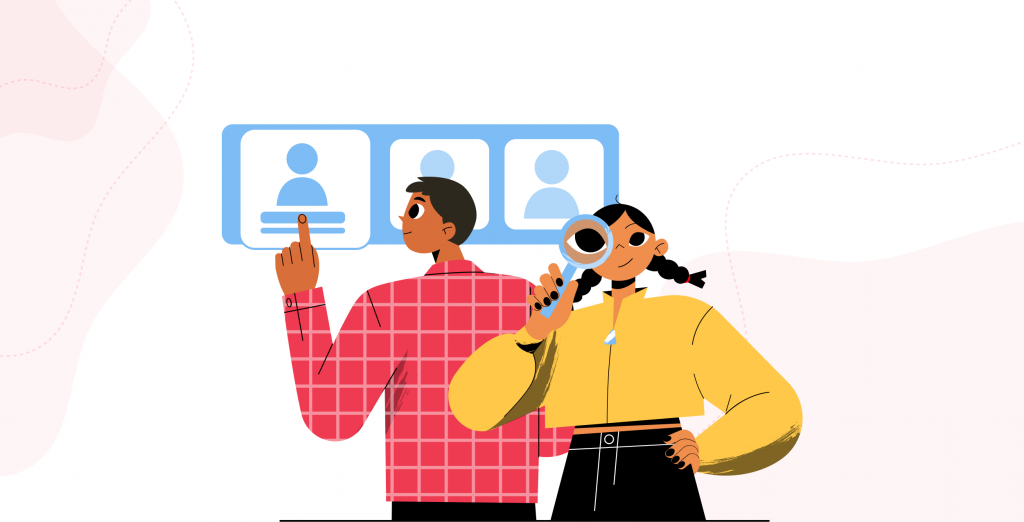 Example of a successful cross-promotion and your involvement in it
If your business is related to the PR, advertising, marketing niche, or if you offer any services for entrepreneurs who have just registered and started their activities, then right now you might experience a cross-promotion that you will tell your grandchildren about.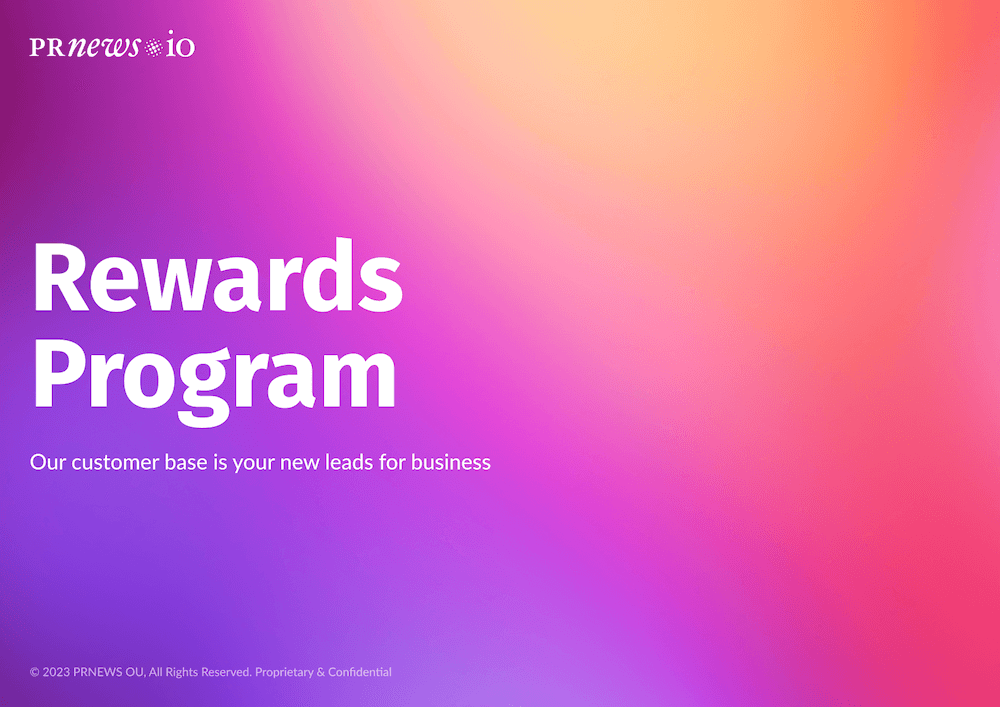 The PRNEWS.IO Rewards program offers participation in cross-promotion to small and medium-sized businesses that work in exports and are related to our fields of activity.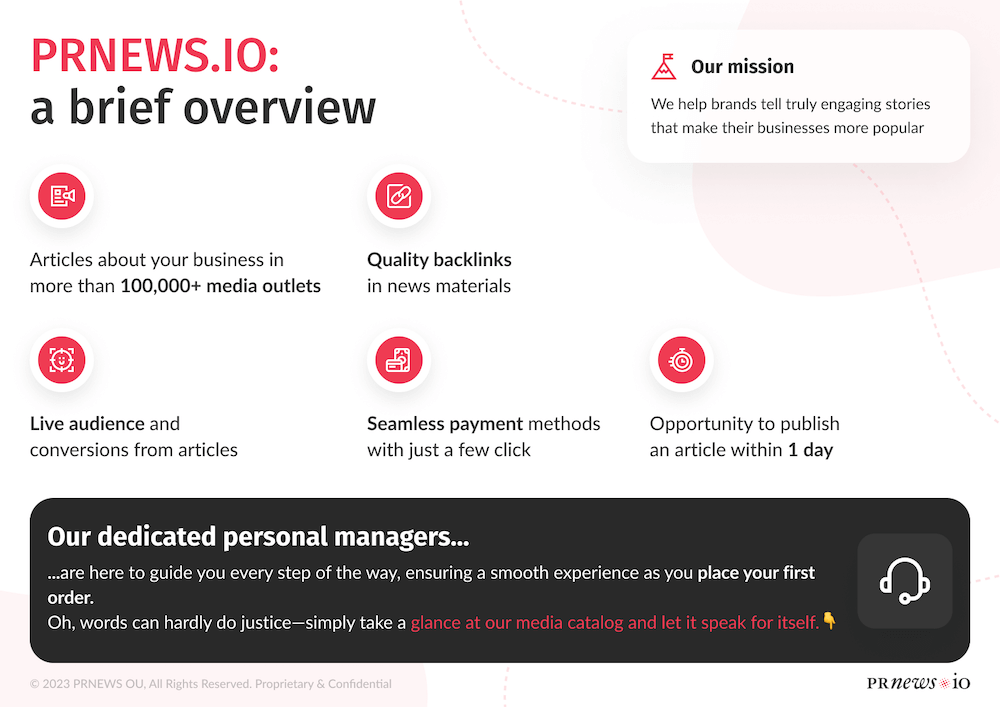 Just in case, let us remind you who we are so that it's clear how we can be helpful to you. For over 15 years, we have been helping brands tell truly great stories in the media, which increase the popularity of their businesses. Previously, the opportunity to get a publication in top media outlets with millions of coverage within one day was only available to large businesses, but now, well, take a look.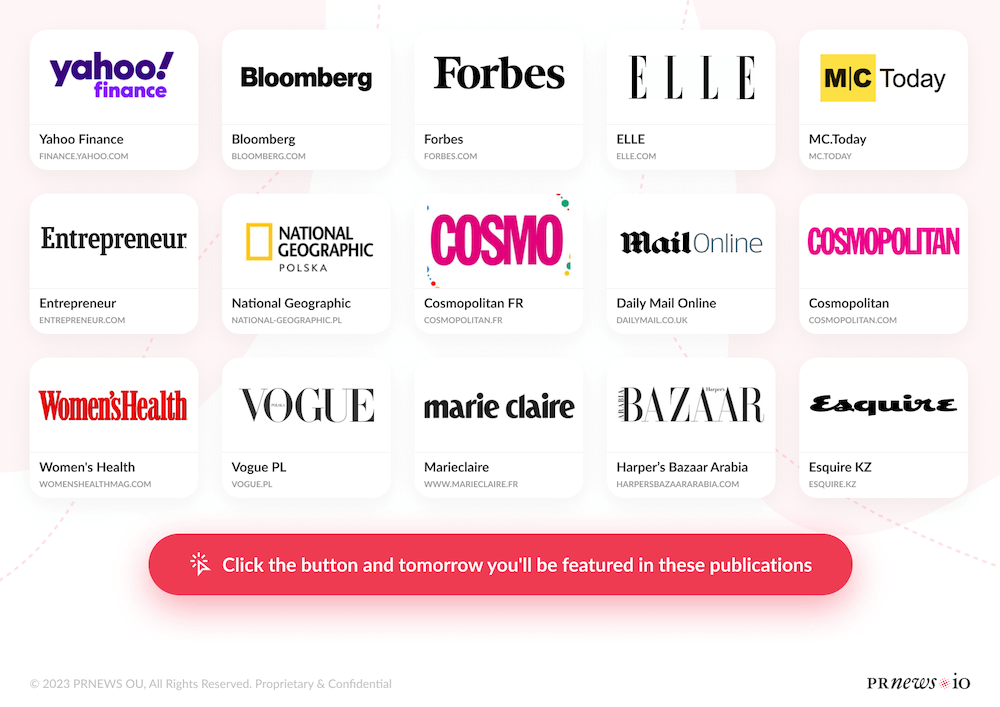 A few clicks, and an article about your business in any of these media outlets. And maybe even on all of them at once.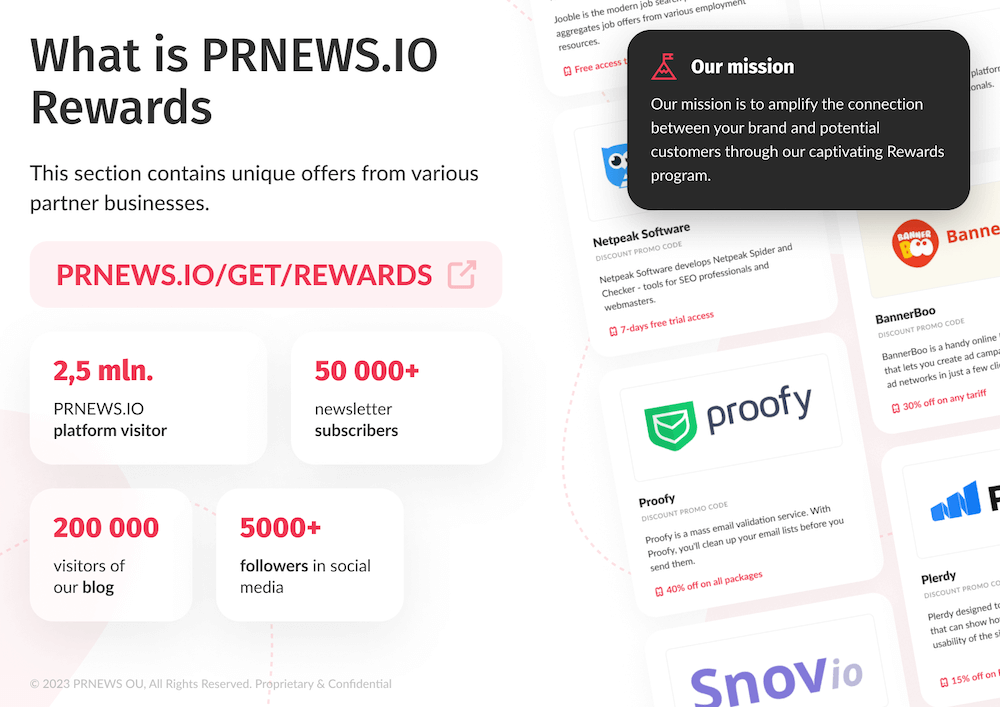 "Yes, but what is PRNEWS.IO Rewards?" – an attentive reader asks us. It's a catalog where we place offers from our partners and friends. It's also a whole ecosystem with email newsletters, press releases, guaranteed news releases about our collaboration, which will guarantee increased recognition of your business.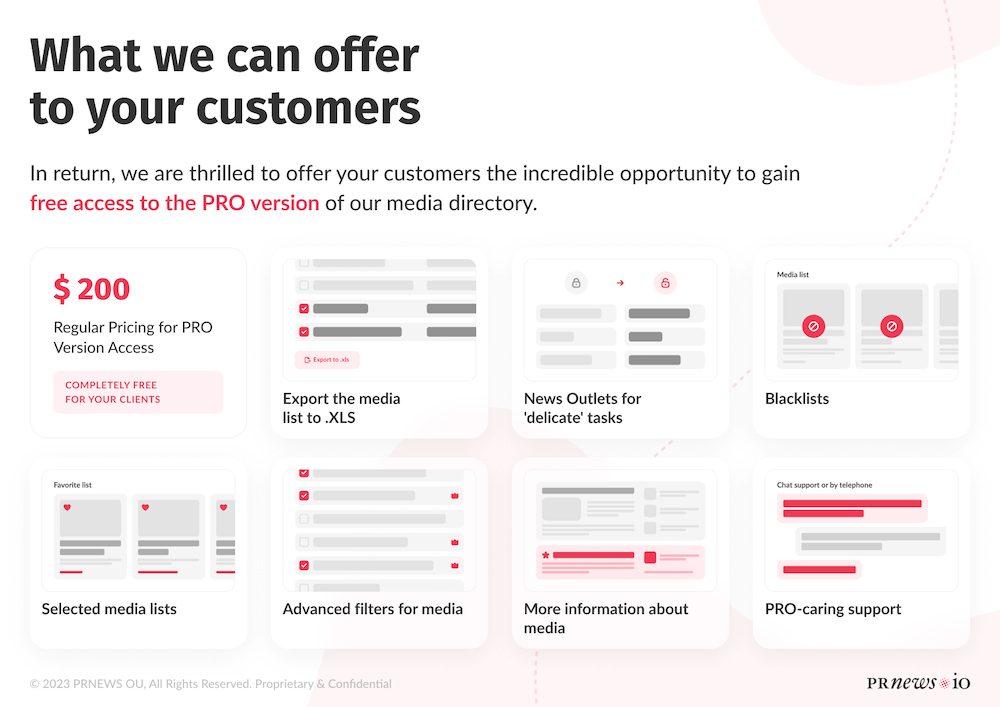 If you want to provide your customers with an offer from PRNEWS.IO, we will gladly give your audience PRO access to every new account on our platform for two months of work. The fair value of such access is $200.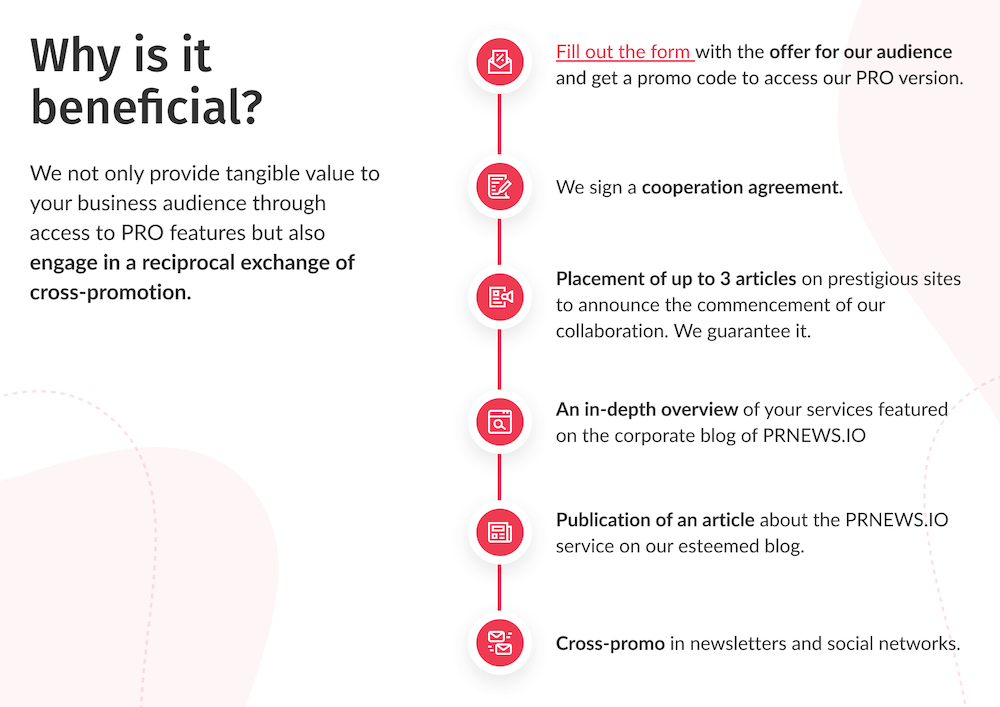 Interested? Let's get to work! Fill out the special Google form. Add all the necessary information about your business and the offer you are ready to provide as a partner: discount, free access, promo code.
Then, a manager reviews your application, and if everything is good, we sign a partnership agreement. Next, a press release is prepared, and based on it, we guarantee the release of 2-3 news articles on million-view websites – that's our main job. We can publish a useful article about your business on our blog and, in turn, mention us on your blog. We can also exchange activities on social media.
How to launch cross-promotion for the first time?
To successfully promote products or services with multiple partners, follow these steps:
Create a list of potential partners: think about complementary products and other businesses with a similar target audience.
Establish valuable connections at closed events or conferences, re-establish old contacts that will help you get in touch with representatives of the companies that interest you.
Conduct research on potential partners from publicly available sources (media, social media, customer reviews, etc.).
Develop a potential promotion idea.
Create a proposal for collaboration, considering the promotion period, goals, and benefits for both parties, expected interaction mechanisms, potential promotion tools, planned expenses, and projected sales volumes before and after cross-promotion.
Initiate negotiations on collaboration with partners who are of interest to you.
Refine the details of the collaboration together with the partners.
Conduct the cross-promotion at the specified time, fulfilling all obligations stated in the agreement.
Collect and analyze the results of the cross-promotion.
During the first launch, it can be challenging for brands to justify the benefits of collaboration to potential partners, analyze the risks and opportunities of other companies, and clearly formulate the idea. However, by acting calmly, relying on data and personal impressions rather than just the familiarity of the potential partner, the collaboration will be successful!
That's how an interesting story unfolds. Don't hesitate and use the cross-promotion tool at any stage of your business's lifecycle. As they say, move from theory to practice, and happiness will come to you!

Read more: