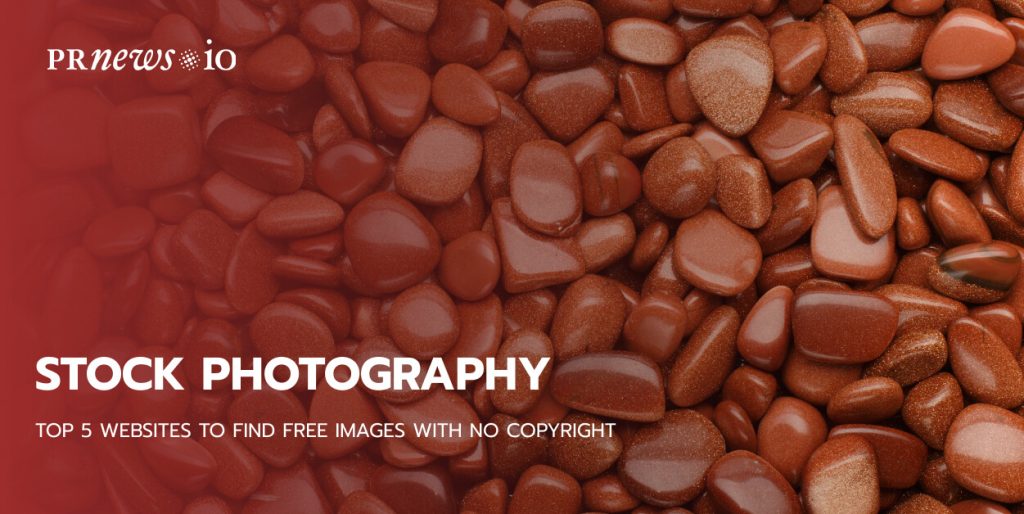 When you work on your marketing campaign, you need to generate creative and eye-catching content for your target audience, potential clients, and business partners. It is impossible to do if you do not have free use images with no copyright in your library. We are going to see alternative ways of getting access to high-quality images.
Let's admit that finding the right graphical elements can be challenging. Before inserting an image into your article or social media post, you have to be 100% sure that you do not break the copyright law.
So, what is the solution? The answer is simple, and it is the best image search engine, which is full of royalty-free images. If you have never used such photo banks, you will be amazed to find millions of free images, that are available for usage across the internet. You just need to know reliable sites to search for pictures, which are completely free to use. In order to keep your business on the right side of the law, it is essential to understand the main dos and don'ts of downloading free images from various online resources.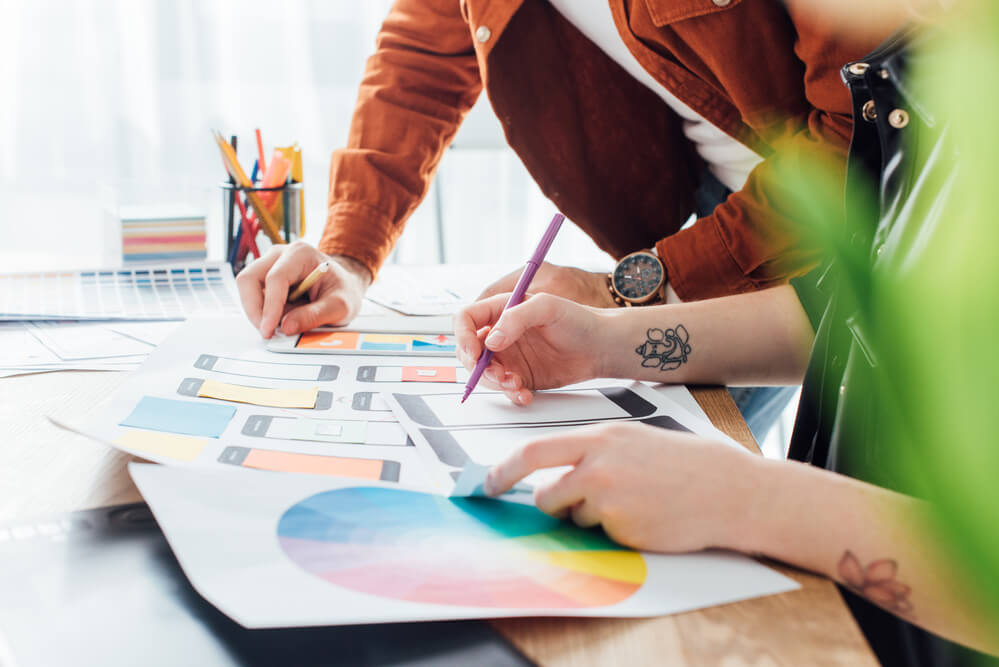 Using Free Images Without Violations of Copyright
Most likely, you are aware that it is forbidden to use images/photos from the Google Image search. It is the fastest way to get sued. If you do not feel like ending up in court, you have to be sure that all the images are safe to use and royalty-free. It should be noted that royalty-free images are not always free.They just mean that you have the right to use these images for your projects as soon as you get the required permission.
If your budget is limited and you plan to use only free images, you need to deal with visual search engines where images have been licensed under Creative Commons copyright. Alternatively, free images must belong to the category of "public domain" and have a Creative Commons Zero license. They are 100% free when downloaded and used for your projects without attributing the source.
Content Marketing Platform
100,000+ media publications;
get backlinks to your product;
scale work with content distribution.
3 ways to get images for commercial use
The main rule to remember before you start working with images is that you cannot use images created by other people without their permission to do so. If you do so, you are violating basic copyright laws. Below we've outlined 3 of the most popular ways to legally get images for commercial or editorial use.
Hire a photographer, an illustrator, or a designer
The most obvious way to get an image for your project is to create one from scratch. In this case, you need to hire a photographer or graphic designer and pay them for their job. The work on the image can take hours, days, or even weeks, so this is the most costly solution.
Look for images on Google
You cannot enter a keyword into the search bar and then simply download the image you find. This is called copyright infringement. The author of the image can sue you and win the case when they find that you have stolen their image. To avoid this, you should find the author of the image, send them a copyright transfer request, get such permission, and only then use the file.
Platforms with stock images
Stock visuals are images that you can download from online libraries and use for your projects. Stock photography platforms can be paid or free, as well as thematic and general. Some platforms only provide access to certain types of visuals (for example, photos or videos). Others (Depositphotos) offer you photos, vector images, illustrations, and videos at the same time.
The principle of stock platforms is as follows: authors upload their works there, and business owners, marketers, content managers, and other people who need images find the visuals they need using keywords.
Before starting to work with the platform, the authors of the images enter into a written agreement with the platform to grant the rights to use the images to persons who download these images in the future.
Key advantages of stock photography platforms
In brief, using stock image platforms saves you time and in most cases optimizes your image production budget. And there are also some more advantages.
#1 No time wasted
It can take several days to organize and carry out a thematic photo session and creating images in a graphic editor from scratch takes at least several hours. In the case of photo banks, you don't have to wait for the results of the creators' work. You just find the image, download it, and use it right away.
#2 Convenient image search
For example, Depositphotos gives you an opportunity to search images not only by categories and keywords, but also by file type, author's style, color scheme, size, objects or subjects in the image, and other details. Combined with a huge database, this greatly increases your chances of finding what you need.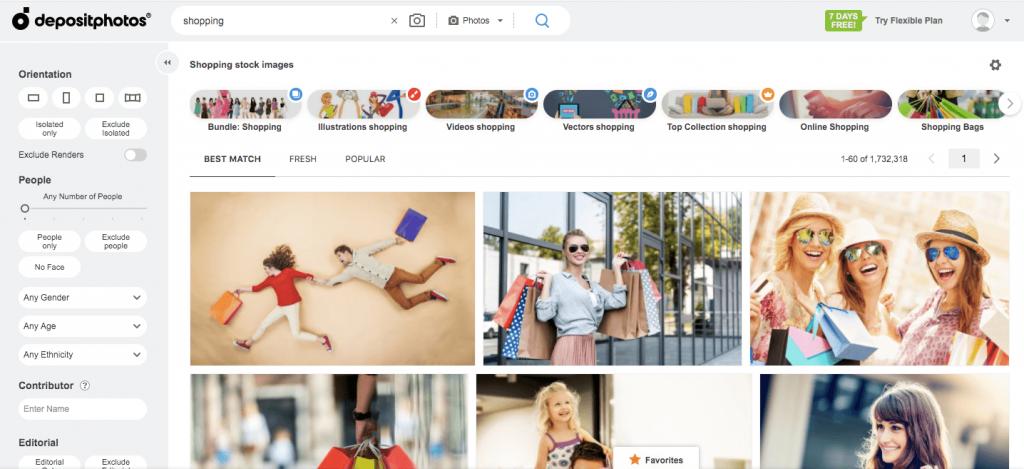 #3 Predicted result
If you've ordered an image from a designer or photographer, there is always the possibility that the layout or photo they create will not meet your expectations. There is no such risk if you use photostocks because there you always see what you get.
#4 Legal deal
If you would like to use an image from the Internet on your site, you need to find the author and ask permission to use it. There is often a risk that the author will not want to get in touch with you or simply refuse your request.
#5 Affordable prices for images
Hiring photographers and designers to work for you is quite expensive. If you negotiate personally with the authors about transferring to you the right to use the image, there is a risk that they will want to sell their work at a high price. And the cost of an image from a platform like Depositphotos starts at $0.20.
What Are The Top Sites With Royalty-Free Photo/Image Content?
Are you looking for the best site to find free pictures? We are going to review the best sites for your convenience. Each of them is unique and offers various image qualities. You should create your own library with images that possess a CC0 license. You will boost your marketing campaign without taking any risk or giving attribution to the image creator.
Unsplash
Unsplash has one of the biggest libraries, with more than 2 million free images in high resolution. It unites a lot of professional photographers who would like to contribute their photos to the Unsplash library. The collection includes a lot of portraits and lovely scenery.
Pros: You can use images free of charge without attribution for commercial or non-commercial purposes. There are many different styles to fit your topic of discussion.
Cons: I will take you a while to find the right image due to the huge size of the library, but you can always narrow down the search results by using the right keywords and filters.
Pikwizard
If you need high-quality, absolutely free photos, Pikwizard is a must-try. The best thing about this site is the possibility of editing images using the Design Wizard and other available design tools.
Pros: It is the right site if you are looking for traditional photos rather than creative shots. You can easily find many professionally taken photos of people in many different settings.
Cons: The majority of images are free of charge, while some of them are marked as "Premium". They redirect you to third-party Adobe Stock sites and are not free of charge.
Burst
Burst is a well-known site with free images, that is powered by Shopify. Users can find thousands of creatively and professionally done stock images. You can use them in your articles to boost your marketing campaign. All the available images are 100% free of charge and do not even ask for attribution. You can choose low/high resolution for your convenience.
Pros: Burst offers one of the most convenient search features thanks to available tags/categories/collections. The collection gets updated on a regular basis in order to meet the most current events and trends.
Cons: Burst does not use a community contribution model. It uses only its own images, which makes the library not that huge compared to other similar sites, yet the quality of the photos is surprisingly high.
Gratisography
Are you looking for free images, that look surreal and whimsical? Gratisography is the right place to find such pieces for your project. You will enjoy images of high-resolution that you can use for various purposes. The library includes many unique samples that you will never find on similar photo banks.
Pros: Gratisography offers one of the biggest collections of fun images that you can't find anywhere else online. You can find one-of-a-kind funny animals and goofy faces.Use this site to make your project stand out thanks to such creative graphic content.
Cons: The collection of free images is small and offers only specific images. If you work on a serious topic, you will find it difficult to get the right images.
StockSnap.io
StockSnap.io adds hundreds of new free images to its library on a weekly basis. The collection of free stock images continues to expand and surpass any competition.The site is curated from images submitted by registered users.
Pros: The services of StockSnap.io are 100% free from any copyright restrictions. It permits registered users to search the images by applying keywords or collections. The size of the collection is medium, so you have high chance of finding the right images within a short timeframe. 
Cons: Users have the right to submit images of different quality, so you need to pay attention to it.
Getting started with Depositphotos. What you need to know about pricing and more
Depositphotos is an international stock image platform with a huge library of over 179 million files. Its important advantage is that all images are checked by platform curators and ML-based algorithms before becoming available for clients.
Other advantages of the service include an intuitive interface, advanced search, and the 'Favorites' section. With this tool, you can create collections of images, choose the best of them, and then simply download them according to your chosen price plan.
Depositphotos also has an incorporated graphics editor, Crello. This drag-and-drop tool helps you create template-based designs with the option to automatically export images from the Depositphotos library. This saves you time and allows you to partially opt out of hiring a designer to create all your content.
Depositphotos is also one of the most affordable platforms on the market, which became possible due to the scale of its library and the number of clients. The minimum file cost is just $0.20.
To start using the service, you need to select the pricing model (you choose between monthly or yearly subscriptions or the On-Demand option).
Use promo code 'prnews15' to get started with Depositphotos at 15% off.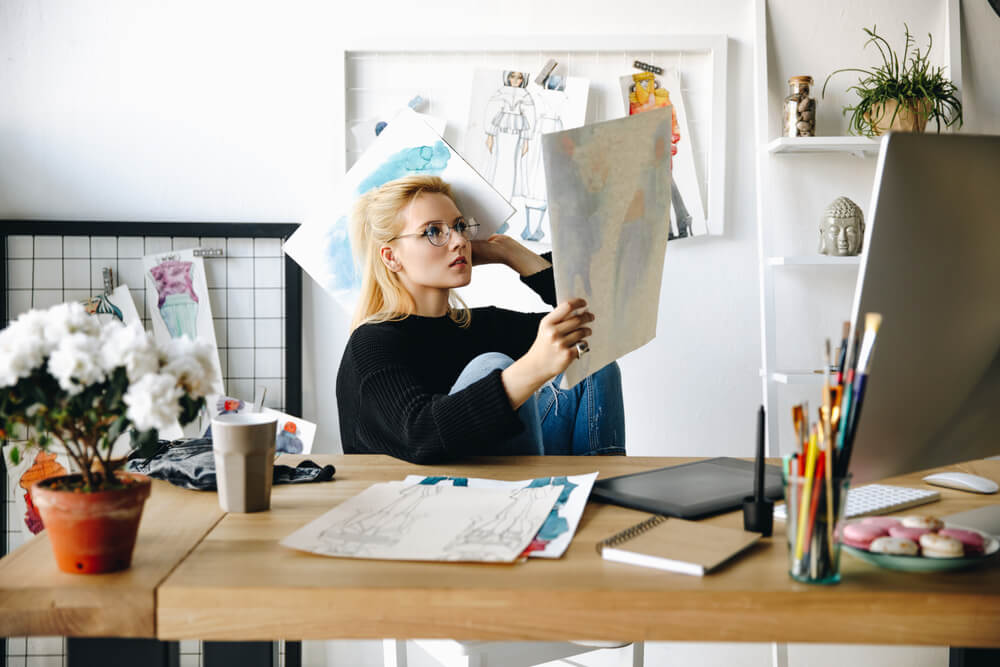 Conclusion
As you see, stock photo libraries are a brilliant way to get hold of images for your project in the most cost-effective way that also saves time.
First, you avoid waiting for your photographer or designer to hand you over an image created from scratch. Second, you know what you get. Third, you spend less money on mastering your visual communications in general.
The main advantage of stock image platforms is also that you get images quickly, easily, and don't have to worry about copyright. Authors who collaborate with stock platforms have already given their permission for clients to use their content for commercial or editorial purposes, so no one can accuse you of copyright infringement.
Thanks to these top 5 sites, you can find any kind of free image for your projects. They will help you generate unique and eye-catching content for marketing and public relations campaigns. All the sites mentioned are easy to use thanks to the available filters, which can narrow down the search results: colors, resolution, size, etc. Do not hesitate to use free images without being afraid to violate copyright laws.