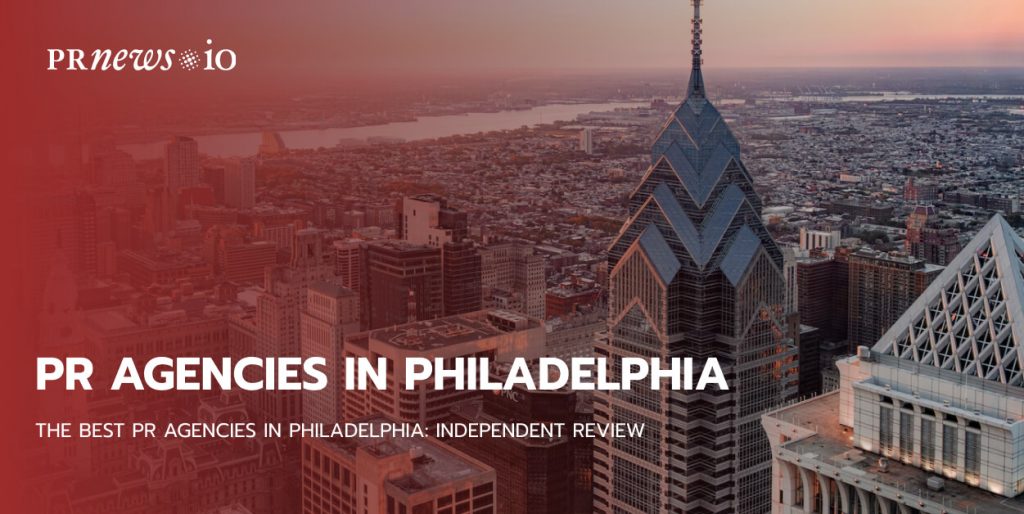 Public relations plays an essential role in your business' success as it reflects the way your company communicates with the target audience. Find out how to promote your brand and build a positive reputation.
If you are not a professional PR expert or do not have an in-house PR department, it is not easy to achieve visible results. Hiring a professional PR agency in Philadelphia is a good solution. The question of which one to choose is arising. Read the top 10 Philadelphia PR agencies to make the right choice.
The Best Public Relations Firms in Philadelphia
Once you choose the right PR agency from the list below, it will help your brand get noticed. It is an efficient way to cultivate a positive brand's reputation with the target audiences via diverse ways of communications: traditional media, social media platforms, or in-person engagements.
GroupLevinson Public Relations

GroupLevinson Public Relations is located in Philadelphia. It is a full service public relations, advertising, marketing, branding, and social media agency. It is famous for its high potential and deep knowledge in creating value for retail, real estate, manufacturing, sciences, and professional business service with detailed and well-structured campaigns. The list of services is the following: publicity, public relations, web design, branding strategy, social media, media buying, email marketing, ads, video production, content creation, SEO, Google Adwords, strategic planning, etc.
Neumann Paige Inc.

Neumann Paige Inc. is a qualified team of Internet reputation experts. The company focuses mainly on the Medical, Financial, and Legal industries. There is a big difference with other Public Relations agencies. Each member is encouraged to work creatively and look for the most efficient ways to reach the goals and satisfy the clients. Neumann Pai Inc. enhances the connection between a brand strategy and what drives your brand.
Food Shelter
Website | Facebook | Instagram | Twitter
The name "Food Shelter" sounds confusing. You should not worry, as it had nothing to do with a food shelter. It is one of the best public relations and marketing communications agencies in Philadelphia, which sees its mission in elevating brands in the two main industries: hospitality and real estate. The team is ready to provide candid counsel and the most innovative perspectives to assist their numerous clients in reaching their ambitious business goals. Your PR campaign will include all efficient tools, such as brand images, stories, and experiences. It is the right agency to create measurable PR/marketing campaigns to reach the preferred audience in the shortest time frame.
Rhino Reviews

Rhino Reviews is a reliable PR agency, which provides high-quality services in Philadelphia. It works with clients helping them protect their online reputation. They know how to grow and leverage your online customer reviews. Most clients write positive reviews about the well-structured reputation management program, which is unique on the market. As a new client, you will get a unique PR and marketing strategy, which is based on your current reputation, you will get detailed instructions where to go to achieve all your business goals. It is the right agency to boost your external and internal reputation on the following services: Google, Yelp, FaceBook, Glassdoor, Indeed, etc. Rhino Reviews has clients in many different industries: luxury real estate, digital, green energy, property management, tourism, healthcare, retail, education, hospitality, etc.
1MDE

1MDE is a leading PR and full-service marketing agency in Philadelphia. The team is ready to build your business strategy. Clients receive a deep analysis of their company in order to have a clear vision on how to achieve the biggest exposure. At the same time, 1MDE performs the analysis of the market and the main competitors. The team consists of experienced SEO specialists, web designers, web developers, PR experts, and marketers, who are able to build the most efficient PR campaign, where every step is well-thought, from creating a lead till converting it into a real sale. It is not just a typical agency, it is one of the most leading names in the US Marketing business world.
Bellevue Communications

Website | Facebook | LinkedIn | Twitter
Bellevue Communications Group is one of the best Philadelphia PR agencies that specializes in public relations, issue management, media relations, crisis communications, and content creation. The agency deals with clients in different industries, including government relations and lobbying. The team is fully committed to developing well-structured and perfectly tailored marketing communications. As a new client, you will be amazed to see visible results.
Content Marketing Platform
100,000+ media publications;
get backlinks to your product;
scale work with content distribution.
Aversa PR & Events
Aversa PR & Event is a well-known public relations agency in Philadelphia. The team of highly educated and experienced professionals offers marketing and PR communications services, which are fully tailored to the needs of clients from all around the country and even abroad. You can contact a consultant of Aversa PR & Events in order to discuss the future campaign to fit your budget and achieve the most ambitious business goals. The mission of the company is to create a better and more convenient life in Philadelphia. That is why the clients come from the following industries: arts, NGOs, entertainment, lifestyle, green energy, eco products, nonprofits, etc.
Devine + Partners

Website | Facebook | LinkedIn | Instagram | Twitter
Devine + Partners specializes in Public Relations, Issues Management and Digital Communications. The team consists of the best communications/content experts who have vast experience in public relations, issues management, crisis communications, content, social media promotion, and digital communications. Devine +Partners approaches every challenge by developing clear brand messaging, well-structured strategy, and execution in order to achieve outstanding results. You can trust the reputation of your companies to this agency.
Community Marketing Concepts, Inc.
Website | Facebook | LinkedIn | Twitter
Community Marketing Concepts, Inc. is an award-winning firm in Philadelphia. It is a smart business environment where public relations and marketing meet and create real magic. It is the right place for giving your brand message and image a distinctive edge and boosted interes from the target audience. Community Marketing Concepts, Inc. is proud to offer its numerous clients the most comprehensive and efficient marketing services, including market research, strategic development, social management programs, brand messaging, local publicity, corporate event planning, PR, and sponsorships.
Skai Blue Media

Website | Facebook | LinkedIn | Instagram | Twitter
Skai Blue Media is a creative agency, which can help your company tell your story in a modern, creative, innovative, and smart way. It is an efficient and widely used technique to create the buzz your brand needs to become popular in the market niche. Skai Blue Media is a known full-service communications agency, specializing in lifestyle, fashion, NGOs, technology, etc. Skai Blue Media is ready to assist your businesses to grow their online influence. It is your chance to create a unique pitching style and secure targeted coverage that generates excellent results.
Conclusion
Philadelphia is a city where there are a lot of PR agencies willing to help you promote a new brand on the market. We select agencies according to the client's feedback. It is the only independent way. If you can recommend other PR agencies that should be included in the list, please let us know.
Is your business in need of a PR makeover?
Benefit from media coverage assistance.
Witness a refined branding approach.
Watch as your recognition soars.