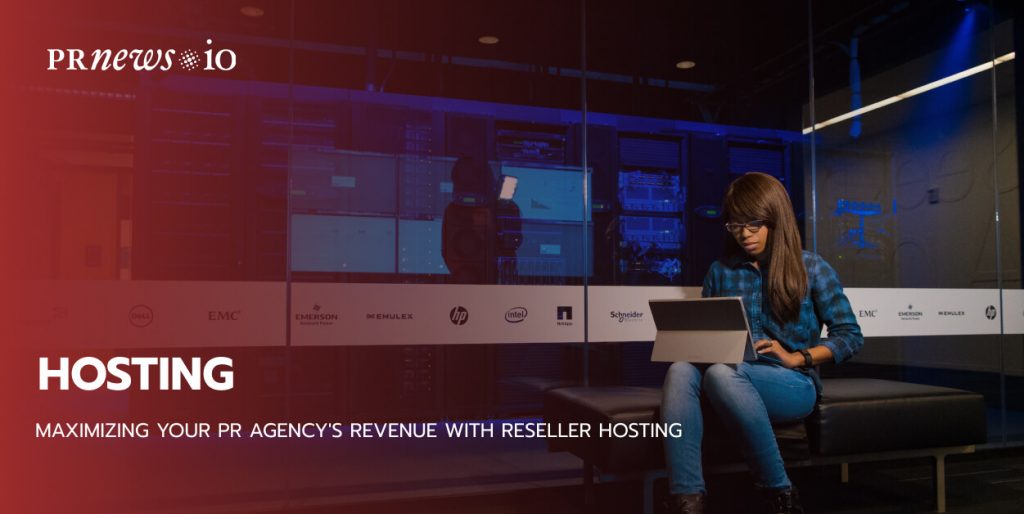 Maximizing Your PR Agency's Revenue with Reseller Hosting
If you've not heard about the potential of reseller hosting, whether in the context of a PR agency or any other business environment, then you're in for a surprise. The upsides are immense, the downsides almost non-existent, and the scope of the success you can achieve with its help is only limited by your imagination.
That might sound like hyperbole, but stick with us and we'll explain exactly why reseller hosting can be the revenue-transforming change that your PR agency has been waiting for.
An Introduction to the Benefits of Reseller Hosting
With this type of web hosting solution, you'll have the ability to purchase web space from a third party host at wholesale prices, and then offer it as part of your services to clients, alongside maximizing media coverage and managing their online presence.
This means that not only do you get access to great resources, but also the ability to make additional profits by selling those resources on to the people on your books.
Reseller hosting is ideal for agencies which want more control over their websites than shared or VPS plans provide, as reseller packages often come with unlimited accounts, and excellent traffic and storage capacity.
You'll also benefit from increased scalability, as well as dedicated support teams who are always ready when needed. Plus pricing models vary, so there will likely be something suitable for any budget.
Finding Reliable Support & Security For All Types Of Clients Through A Quality Service Agreement
As a PR agency, having reliable support and security is paramount to making sure your clients remain safe and satisfied.
When using reseller hosting as part of your services, you'll need to make sure that any provider you partner with offers comprehensive service agreements, including 24/7 technical support, along with regular maintenance checks. That way, all types of customers can be confident in the level of care they're receiving, and also know that they don't need to worry about taking on these responsibilities in-house.

Security is also relevant in this context, as you don't want your hosting resources to be exposed to the array of threats that are out there today, as covered by top cyber news sites. Once again, well-chosen reseller hosting packages, you can confidently utilize Cloud VoIP services without the fear of hackers interfering with the seamless operation of your sites.
Exploring the Benefits of Branding via Reseller Hosting
If you're eager to create and maintain an effective brand identity, or achieve the same for your clients, then you need to look into the possibilities that are opened up by NameHero's reliable reseller hosting packages.
By partnering up with a reputable provider like this, you'll be able to promote your own services while expanding your customer base, and making use of white-label options to allow for custom branding as required.
You could even sell on the opportunity for own-brand hosting to the clients you serve, depending on their own industry niche and growth goals, whether you're aiming for SEO brand marketing or anything else. Regardless, it's still appealing to be able to put your stamp on a product, and add it to your line-up of services without having to do any of the heavy lifting or technical wizardry yourself or using SEO service.
Moreover, these types of solutions are perfect for increasing recognition in both new and existing markets, because they allow agencies to easily build strong relationships with customers through customized packages that offer unique value added services. This in turn leads directly into increased revenues as time passes, so long as you're on the ball about how you brand and market whichever reseller hosting solutions you select.
Discovering Different Pricing Models To Get The Most Out Of A Reseller Plan
Whether you're just starting out with reseller hosting, or have been using it for some time, exploring different pricing models is key to getting the most bang for your buck.
With so many options available, ranging from one-time fees to installment plans and discounts, there's sure to be something that fits within the budget of any PR agency.
It's also worth considering whether you'd like a fixed monthly fee, or if it would be better suited to pay per use, depending on how long clients are staying with your service, as well as what kind of features they may require in order to get their website up and running quickly.
In addition, don't forget about promotional offers, such as free domain name registration, which could help boost revenue even further. Once again it comes down to how much value you can add, and what this is worth to your clients.
There are a few key components of reseller hosting plans to consider from a price perspective. You'll be looking for the number of client accounts that are supported, the amount of storage that's included, and crucially how much bandwidth you'll be able to use each month. Pair your needs to the package, and bingo, you've got your match.
It's also worth noting that not all reseller hosting packages are created equal, and some features which are included as standard in certain cases will be offered at an added cost elsewhere. As a minimum, look for things like free SSL certificates to ensure security and avoid extra admin on your part.
The Bottom Line on Reseller Hosting for PR Agencies
It might not be obvious, but PR agencies are not the only organizations which stand to benefit from what reseller hosting brings to the table.
You could expand the line-up of services available from a variety of businesses using a reputable reseller hosting provider, and keep current clients happy while pursuing new prospects with renewed vigor.
One thing you do need to appreciate is that because of the advantages that come with reseller hosting, there's a lot of competition among the likes of PR agencies where there's an obvious use case for this technology. So if your rivals aren't using it yet, they will be soon.
The upshot is that it pays to be decisive and proactive about adopting reseller hosting, and the sooner you get involved, the sooner the revenue will start rolling in.
Content Marketing Platform
100,000+ media publications;
get backlinks to your product;
scale work with content distribution.