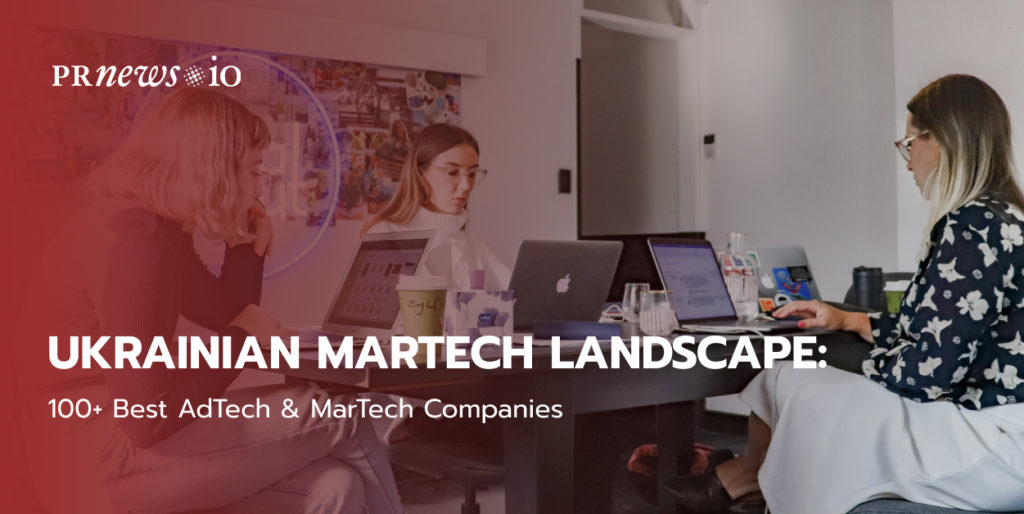 The MarTech & AdTech is a fast-growing industry. Hence, it's crucial for marketing leaders to have a well-defined approach to building your marketing technology stack – an effective approach for managing the various technologies and systems. Moreover, the vast majority of marketing technology startups are either growing slowly. Or just scraping by.
That is why we prepared this list of the best MarTech & AdTech startups from Ukraine. We showcase local MarTech products, as well as push the industry to a new stage of its development – the conquest of global markets.
MarTech in Ukraine
Definition:
A marketing technology (MarTech) that helps a marketer leverage digital marketing strategies to achieve his/her business goals.
Whereas advertising technology (AdTech) means those technologies which are responsible for digital advertising.
MarTech in Ukraine main figures:
210+ MarTech companies
11000+ employees
$400 mln total investments into Ukrainian MarTech companies
Domestic customers bring 35% of income for Ukrainian MarTech Companies. The USA is the second-largest market.
The funds of local investors and the funders' own investments are the largest sources of investments in Ukrainian MarTech companies ( 72,5%). 63% of companies are profitable.
Content & Experience MarTech Companies from Ukraine
SEO MarTech Companies
JetOctopus – is a web crawler and log analyzer.
SE Ranking – is a cloud-based platform for SEO and online marketing professionals that provides a complete set of SEO tools.
Plerdy – is a multifunctional tool that offers heatmaps, session recording, click tracking, and more to analyze user behavior and improve site design.
Serpstat is a tool for detailed competitor analysis and developing efficient advertising campaigns and business strategies
Sitechecker is an easy-to-use platform to measure, track, and improve your search visibility
Link Checker Pro is a simple and at the same time powerful tool for checking websites for damaged links.
Add your Ukrainian MarTech Project: https://forms.gle/sYKM5kFR8ukZBB2QA
Email Marketing Services
eSputnik is a Marketing Automation Service for eCommerce that helps you to manage multichannel messaging campaigns and automate them easily.
Folderly is a platform for email deliverability monitoring, spam testing, IP warming up, domain reputation-rasing solutions.
Gravitec is an easy-to-use web push service that boosts your website's traffic by converting one-time visitors to subscribers.
Mailhunter can find the most accurate and verified professional emails with the help of single and bulk domains search, Chrome extension.
NEWOLDSTAMP is a SaaS marketing tool for creating and managing corporate email signatures and using them as a new marketing channel.
Sendios is an end-to-end customer communications platform with emails.
Snov.io is an all-in-one CRM and outreach automation platform offering a variety of tools for lead generation, data and contact management, email verification, email sending, and email tracking.
Stripo is a free email template builder.
GetProspect is a lead generation software that helps businesses select search criteria to find corporate email addresses and LinkedIn profiles of relevant personnel. The platform enables managers to filter contact lists based on companies' and individuals' names.
Content Creation Services
Unicheck is a plagiarism checker.
Echotag is a tool with mobile ACR solutions for broadcasted ads.
Facelet is an iPad app that helps you increase sales, improve customer experience, and increase your brand's visibility.
MGID is a global innovative pioneer in native advertising that drives revenue growth for all participants of the ecosystem.
Phoenix Widget is a unique online advertising platform, which ensures highly effective results and increased media performance indicators, such as click-through rates and conversions to sales.
Digital Assets: Photo, Video, etc
Awesomic is an app that pulls awesome companies to cosmic designers like a huge magnet.
Digital Screens. TV as a Service and Platform as a Service – ready to use digital PayTV from our Cloud for rent.
Engager is an online platform for the coordination and analysis of marketing campaigns of any format and complexity.
Logaster is the logo maker for startups, professionals and small businesses.
Megogo is an entertainment provider.
Oll.tv – leading Ukrainian legal Internet TV service.
Organization.GG is a platform that helps streamers earn income and grow their audience by interacting with fans and sponsors.
Restream is a super simple live video platform that empowers you to create beautiful videos and multistream them to your favorite channels.
Sweet.tv broadcasts TV and video signals in real-time via the Internet.
Takflix – online platform, working on the principle of "video on demand", where you can legally watch Ukrainian movies.
WePlay Media Group is a digital development studio and producer of mobile content.
Marketing Automation & Lead Management
Phonal Drafter AI is the no-code builder for AI features in a few clicks. Build, test, use and integrate AI-powered features and solutions in minutes instead of months – without a line of code.
Signalayer is a cloud-based engagement marketing platform for brands and agencies.
thefloors is a marketing and sales management system for developers
Interactive Content
ARbrowser provides software service, 3D models, and 360 visualizations to start furniture selling with Augmented reality technology in days.
Harmix is an intelligent service that automatically selects music for your video.
Loomy app is a social media content app with fonts for Instagram
Softorino is a software company, that creates Mac and Windows MarTech apps from scratch.
CMS (Content Management System)
Boxmode is a drag and drop website builder for creating websites in a variety of niches.
Horoshop is a Ukrainian platform for the quick launch of online stores.
Hubber Ukrainian IT company that created an online platform for trading platforms and suppliers.
Weblium is a turbo AI-powered website building tool that helps users create a good-looking website without third parties.
NespiCMS – convenient and functional CMS for creating a website for your business
Optimization, Personalization & Testing
Photolemur / Skylum is photo software for editing, managing, and making beautiful photos.
Postello is an AI-powered social media marketing assistant that generates top-quality posts for your business.
UXReality is a tool for remote UX testing of mobile sites and apps.
Wantent is an AI-powered content intelligence platform providing insights from the audience.
WritOlogy is a freelance writing marketplace and a professional writing service combined in one website.
AdTech Tools & Services
Mobile Marketing
CryptoAds is a fully decentralized marketing platform for app publishers and advertisers, build on blockchain.
SMS CLUB is a bulk SMS aggregator operating worldwide.
Stickerpipe is a stickers SDK for the Android platform. This sample demonstrates how to add stickers to your chat.
Search & Social Advertising
EPocketCash is an advertiser-nano-influencer interaction platform
Muscreators is a reliable bridge between artists and fans through media channels around the world.
SearchAdsHQ is recognized as an Apple Search Ads Partner.
Smap – is a social network of discounts.
Display & Programmatic Advertising
Admixer is an independent adtech company that develops an ecosystem of full-stack programmatic solutions.
Adtelligent is a sell-side ad technology company providing a fully-featured Ad Monetization Platform and Header Bidding Management solutions for publishers.
Bannerboo is a creative animated ad builder for marketers who need to create engaging high CTR ads.
Advision is a system integrator and developer of its own cloud-based SaaS Digital Signage solution for retail and advertising operators.
Clickky is a full-stack platform for advertisers and publishers, which offers both programmatic, video and performance advertising solutions, while currently focusing on the development of its own SSP and RTB Marketplace.
Epom is a complete ad management platform for your cross-channel advertising business
LARS Production is a musical atmosphere for your business, according to the tastes of your audience.
Rontar is an adtech company specializing in performance marketing for E-commerce and other types of businesses aiming to increase their number of leads and sales.
Scalarr is an innovative, Machine Learning-based fraud detection tool for app marketing teams to analyze ad campaign data of all stages, starting from the click and unlocking the post-install events analytics.
VPoint Media is an international programmatic advertising platform.
WaardeX is a marketing technology company that helps businesses to execute growth strategies through digital advertising.
Social MarTech Startups
Call Analytics & Management
CallPage is a callback automation software for business.
Callupper is a callback service that increases the number of leads, increases conversion and profits through special tools for analyzing site visitors and interacting with them.
ISTAT is a Ukrainian call tracking service that records calls and referrals from different traffic sources
Keycall is a Ukrainian service company that provides customers with the ability to make calls to their customer base with a smart voice bot.
Nextel tools for businesses, to simplify communication with customers, increase the number of appeals from the site, optimize advertising costs, automate the sales department.
Phonet is IP telephony for business for users from all over the world where there is access to the Internet.
Ringostat product IT company, call tracking, telephony, and end-to-end analytics platform.
VoIPTime is a software solution for call centers in all business areas.
CRM
KeepinCRM – Ukrainian CRM system, created in 2017 for business automation.
KeyCRM KeyCRM is a CRM system for managing online sales, merchandise, and warehousing in a single window, without the need for expensive integrators to configure.
NetHunt is a sales automation tool that helps you manage leads, nurture customer relations, monitor sales progress, and close more deals.
Perfectum CRM+ERP is a young Ukrainian company that launched its own CRM + ERP.
Service CRM is a fully-featured cloud-based Customer Relationship Management service with highly scalable features.
One Box CRM is a new generation CRM and ERP system. This is a technological solution, ideal CRM, and ERP for B2B, B2C, and e-commerce. Consists of more than 300 programs and apps, on which you can create various industry-specific solutions.
Social Media Marketing & Monitoring
eProves helps them to check music for copyright and use in video making.
IGnation is a human IG community designed to help our users build their Instagram influence while allowing existing influencers to share and monetize their experience.
InvariVision identifies videos previously uploaded to a database that are similar to the provided video sample.
LOOQME is a platform for collecting and analyzing mentions in online and offline and social networks.
MediaMonitoringBot is a system of monitoring online mass media of Ukraine, created on the basis of the Telegram-bot.
SoMo bot is a bot for instant monitoring of mentions of your name or brand.
SUDUM technology service that helps to quickly block pirated content on the Internet.
YouScan is an AI-powered social media analytics platform with industry-leading image analysis capabilities.
Events, Meetings & Webinars
Pine is a team of like-minded people building powerful technology to help event planners and attendees conference with ease and awesome results.
Recruitika is a job board and anonymous job search service for recruiters and candidates in the IT industry.
2event is a free mobile social network with which you can buy a ticket for any type of transport, buy a ticket for an event, etc.
Eventor is the event management system that supports some parts of the Event administrative processes for IOF Events.
EventsWallet SAAS solution for offline, online, and hybrid exhibitions, conferences, and other types of events.
Regtoevent. Service designed to make life easier for each event manager. Automatic registration of participants for events of any subject and of any scale.
Teeko.io. Create events and sell tickets online.
TicketForEvent is an online service that enables the event organizer to effectively automate the registration and survey of visitors on its website, accept payment from its customers, and provide them with electronic tickets/badges.
Customer Experience, Service, Success
Ender Turing is a Sales and Customer Care representatives performance and self-coaching platform powered by proprietary ai speech analytics technology.
3D Look is the global leader in AI-first mobile body scanning solutions enabling brands to virtually replace the entire in-store fitting room experience.
MusConv is B2C music software to help people synchronize their music collections between 50+ music services: Spotify, Apple Music, YouTube Music, Amazon Music, Tidal, and others.
Rate Me is an app made for rating people, where you can find out how people from different parts of world rate you.
Revizion is the first Ukrainian site that evaluates the quality of service.
Live Chat & Chatbots
13 chats is a convenient online service for marketers, sales representatives, and support teams that allows you to increase sales by automating communication with online chats, smart widgets, and chatbots.
ActiveChat is a complete customer care toolbox with an emphasis on AI-powered chat automation.
Botmakers is a chatbot template marketplace that helps marketing agencies and resellers create chatbots.
Evecalls is a human-like bot that helps companies to support, sell, notify and survey customers.
GoodPromo is a smart chatbot for business, with which you first ask your potential customers what they want, and then make them personalized offers, and all this works 100% automatically 24/7
HelpCrunch is a web-based customer communication platform that combines live chat, emails, automated messages, a knowledge base, and various integrations.
Mssg.me is a service that offers a feedback widget and message analytics.
Influencers
GetReviewed.org is a product review bloggers platform, connecting advertisers looking to increase their product visibility and popular bloggers looking to earch extra cash through genuine product reviews
HelpSMI is an online media platform where journalists and experts can interact with clients.
Publicfast is a platform that helps brands to grow their sales using influencer marketing.
theCabinet is the designer of a personal account for your site or social network account
trendHERO is a multifunctional service for analyzing Instagram accounts and working with bloggers.
TTList TikTok Rating service
Commerce & Sales MarTech Companies
Sales Automation, Enablement & Intelligence
Appointer is a simple CRM system for small businesses – beauty salons, clinics, spas, car services, solarium, etc.
Cotano is a sales automation and acceleration platform built to boost your network marketing company's revenue.
Docsify is an all-in-one mail tracker for Gmail that includes email, link, and attachment tracking.
Influ2 is the first person-based marketing platform, pioneering a new approach to account-based marketing. Forbes Ukraine Top-30 startup operating in the US market.
Lalafo is a C2C marketplace powered by artificial intelligence.
Leadbox is a consumer data generation company providing services such as telemarketing, lifestyle survey and data exchange.
People.ai is an artificial intelligence (AI) platform for enterprise revenue.
Revenue Grid is a revenue intelligence platform that helps improve sales performance and shifts your CRM from the "view mode" to the "do mode".
Affiliate & Partner Marketing
City Sites is a startup that grew up in international business. CitySites is an international network of city websites.
Genesis is a co-founding company that builds global tech businesses with outstanding CEE entrepreneurs.
Getpin – GMB management and listing, social posting and e-reputation, engagement communication management, and multiple messengers – all in one place.
Comin is a commercial content monetization platform. Automatically visualizes affiliate links.
Discover new revenue streams from affiliate marketing.
Cpamatica is a full-cycle performance marketing agency with an integrated affiliate network. Our specialization iCPA marketing.
RedTrack provides an ad tracking and conversions attribution platform for affiliates and media buyers
SalesDoubler is the International Affiliate Network that connects advertisers and publishers all over the world.
In this article, we covered the top 100+ Ukrainian Martech companies providing software for CRM, Content Management, Video Marketing, Account-based targeting, and much more. If you want to add your AdTech or MarTech Ukrainian Company, do not hesitate to contact us