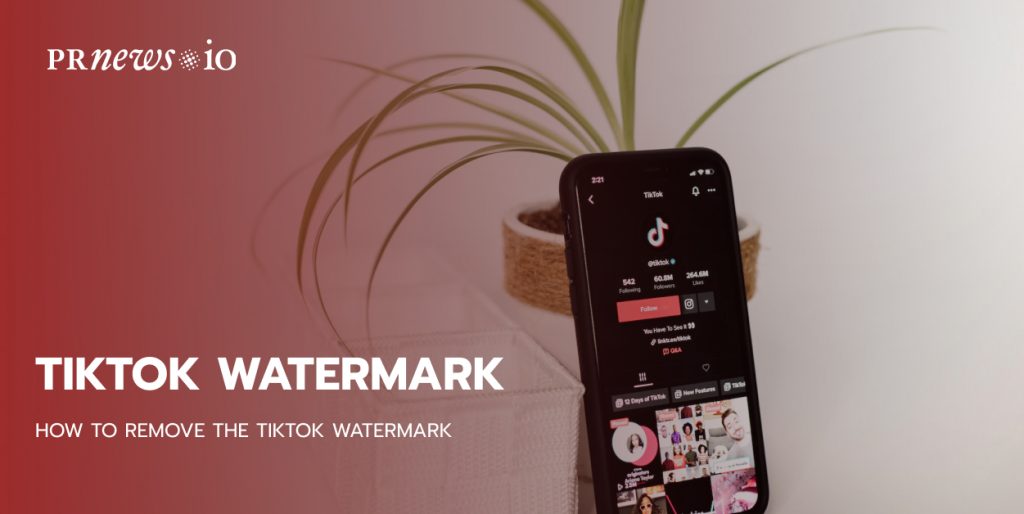 There are a lot of tips on how to remove the TikTok watermark. Some of those options are better than others, other are more time-consuming. No matter what you're using – a phone or computer, in this article we'll tell you 7 methods for removing the TikTok watermark.
So let's start.
The post includes the next methods:
Zoom in to crop the video
Add a border
Use a blur tool
Use a TikTok watermark remover app
Using a video editing tool
Save your video without a watermark in the first place
Let's take a closer look into each of these methods to see which one's right for you:
1. Zoom in to crop the video
You can just change the dimensions of the video and remove the watermark:
Open the video you want to crop from your Gallery
Click on the "Edit" icon at the top right corner
Click on the "Crop" icon at the bottom
Hold down to zoom in and edit the size of the video to crop out the watermark
Remember to crop more than one area of your video because the watermark bouncing around the screen
Click on the "Done" icon to save your new video without the watermark.
While this approach seems like the easiest option, it is not perfect because sometimes the cropping may influence the content and quality of the video. This way could also change the aspect ratio of the video and can't be published on other platforms.
For those reasons, this method of cropping the videos is not the best option to remove the TikTok watermark.
2. Add a frame
You can try another simple editing feature on your phone or computer. You can add a border or frame around your video to cover up the TikTok watermark.
Using Canva to add a frame to the TikTok video, we can easily cover the watermark this way.
Like the previous cropping method, customizing the videos with a border around them is also not perfect as it does not look professional and attractive. In addition, it covers a large part of your video. It could cut parts of your video and leave it looking low quality.
The next methods will require using third-party apps.
3. Use a blur feature
This method relies on third-party apps and platforms that you can use to apply a blur effect on the watermark.
Are there some advantages? You will need to add various blurs in different places to hide the watermark as it bounces around throughout the video. Therefore your video will have multiple blurry areas around the video frame.
First, it looks unappealing, and, secondly, it becomes quite obvious that there's a TikTok watermark that's been blurred out, which may push away users to watch it.
This could also appear time-consuming if you have to blur manually each watermark from the videos one by one.
4. Use a TikTok watermark remover app
There are also many other apps that can remove the TikTok watermark from your videos.
Your quick search for "remove TikTok watermark" on your app store will give you opportunities like SaveTik, TikSaver, TokRepost, TokVideo, TikDown, TokSave, and many more. They all claim to offer similar features, so you have a big choice.
Before downloading, it's important to remember:
None of these apps are affiliated with TikTok, and they could stop working if TikTok changes its API.
Read the reviews carefully. While most apps will show high ratings, the reviews tell a different story.
Be aware, while most of these apps are free to download, they will either bombard you with ads at every step or require a paid subscription to start using them.
Not all of these apps really do their job and remove the watermark. Some of them only curate a saved collection of watermark-free TikToks and don't download them to your phone.

5. Using a video editing apps
Using a video editor app is the most difficult and expensive approach, so continue attentively.
If you have video editing experience, you can use any video editing tool where you can remove the watermark. 
6. Download your video without a watermark in the first place (online)
There are multiple websites that give you an opportunity to download TikTok videos without the watermark such as SaveTik, MusicalDown.com, MusicalDown.xyz, SnapTik, TikFast, and TikMate.
These online websites all function the same way:
Choose the video you want to save from the TikTok app on your phone or computer
Tap on the "Share" button
Choose "Copy Link"
Go to the online tool of making a choice
Paste the Link into the toolbox
Tap on "Download"
Your video will be downloaded to your phone or computer without the watermark as an MP4 file.
How to promote TikTok with PRNEWS.IO
Promoting TikTok with PRNEWS.IO can be a great way to increase your visibility and reach a wider audience. Here are some steps you can take to promote your TikTok account using PRNEWS.IO:
Create a PRNEWS.IO account: The first step is to create an account on PRNEWS.IO. This will allow you to access their database of media contacts and publications.
Identify relevant media outlets: Use PRNEWS.IO's search function to identify media outlets that are relevant to your TikTok content. Look for outlets that cover social media, technology, entertainment, or other related topics.
Publish sponsored content: Another way to promote your TikTok account with PRNEWS.IO is to publish sponsored content on relevant media outlets. This can be a great way to reach a wider audience and drive traffic to your TikTok account.
Content Marketing Platform
100,000+ media publications;
get backlinks to your product;
scale work with content distribution.
Wrapping up
Hope this article will help you, but remember sometimes that watermark may be helpful for your cross-media promotion. Think twice 🙂