In the world of digital media, content creation & distribution are at the wheel. Content is the opportunity to "reach out" to millions of users, so it must be used wisely. Even one good press release can have a greater impact on the PR campaign than other activities.
But writing a good press release is not enough – you need to share it. If you are unfamiliar with press release distribution, services like eRelease can do this job for you.
What is eReleases?
eReleases is one of the many mediator companies that help brands write and distribute press releases for small businesses. The company works with both local and global news sites, as well as social media, blogs, and other news resources.
At eReleases, you can be 100% sure that your press release will reach its target audience. Journalists that collaborate with the company subscribe to receiving press releases based on a certain industry. The company's database counts more than 700k journalists.
The average cost of press release distribution from eRelease is $300-400 per one campaign. The price depends on the text length, the number of chosen sites, the number of targeted industries, and the location of outlets.

A Roundup of 10 eReleases Alternatives
Clearly, eReleases is not the only option when it comes to press release distribution. The company has many competitors with similar offerings. Even with some slight differences, the goal of each service remains the same.
Below is the top 10 list of alternative services for creating & sharing press releases across various online platforms. Just like eReleases, they are easy to use, trustworthy, and offer excellent client support. Most of them are suitable for international PR campaigns (outside the US or Europe).
NewswireJet
NewswireJet is well-known for content distribution services at an affordable cost. For a minimal pricing package, the company guarantees over 250 press release publications on top media channels. Currently, the company collaborates with more than 100k media outlets, including giants like Fox News, Google News, The Huffington Post, etc. On top of that, they make connections with traditional print media, radio, and television.
Similar to PRNEWS.IO, Newswire Jet offers both PR writing and distribution services. For an extra fixed price, they will write you a professional press release with an option of unlimited revisions. On the company's website, you will even find real press release examples written by professional journalists for recent clients.
Overall, the company is famous for its great customer service, flexible plans, and the ability to reach global media for an affordable price. Newswire Jet adjusts to your niche and searches for the most suitable channels to reach the target audience. Last but not least, it provides a detailed PDF format report with how posts are performing on each site.
Price: starting from $59
PR Newswire
PR Newswire is one of the leading US services for press release distribution created back in 1954. The company was acquired by Cision in 2016. Nowadays, this company is a global leader in innovative communications and marketing services. They help businesses & organizations share their brand's stories with target audiences around the world.
The company can boast of an omnichannel distribution network: almost 4k websites, 3k media outlets, and 550 news content systems. On top of that, it owns a large community of journalists called Cision Communications Cloud. In other words, this PR software allows you to reach target journalists & influencers, measure the true value of this media, and many more. With this tool, you can easily find the most efficient media channels for your business in one place.
So far, PR Newswire has worked with multiple corporations and serious organizations that could support their brand awareness through active collaboration with media. They were able to reach target consumers, policymakers, investors, and catch the public attention.
PR Newswire connects clients with viewers in over 170 countries and over 40 languages. The company owns offices in 16 countries of North & South America, Europe, Asia, and beyond.
Price: starting from $195/year.
PRWeb
Here is one more subsidiary company by Cision focused on press release distribution. The company pays special attention to SEO, so by distributing press releases, they also try to maximize visibility on search engines (Google, Yahoo, Bing). Each PRWeb plan includes distribution to 1.2k websites, including major resources like Google News, and other newsfeeds with 250k subscribers. Plus, clients get a guaranteed post on both PRWeb and PR Newswire websites.
But SEO is not the only thing that distinguishes PRWeb from other competitors. The service compiles analytical reports based on such metrics as potential audience size, press release views, search visibility, multimedia engagement, click-through rates, traffic sources, and social media shares. Clients get those reports regularly via email in real-time. This way they can estimate the value of press release distribution in regards to their brand awareness.
One more PRWeb benefit is an unlimited number of words and the ability to attach multiple media files inside a press release. However, the company does not offer a PR writing service, nor does it provide regional targeting service.
Price: starting from $99.
ACCESSWIRE
Just like PRWeb, Accesswire has no press release writing service. But this one provides clients with one press release template and an editorial tool, which automatically formats the content to a well-structured press release.
Overall, Accesswire has connections with 500+ media channels in 100+ countries around the world. This includes both online media as well as print news, TV stations, newsrooms, and other targeted outlets.
The company offers multiple packages created for the needs of private & public companies as well as agencies. There is an obvious price difference between Accesswire and their above-mentioned competitors. Yet, the price is fairly justified with features like 24/7 editorial support, detailed PR report analytics, and dedicated account managers. The service allows clients to include press releases with an unlimited number of words, and all types of visual content (images, videos, links).
Price: starting from $159.
GlobeNewswire
Founded in 1998 in LA, GlobeNewswire has grown into a massive newswire platform. The full list of GlobeNewswire services includes global news distribution, media partner services, and regulatory filings (content compliance). The company works on a global level and covers all major regions.
The company provides high-quality distribution of content for all types of small & corporate businesses. They cover a bunch of PR campaign activities, clients can trust a bunch of tasks to GlobeNewswire – from creating and publishing press releases across multiple platforms to optimizing them to the latest SEO requirements. Plus, the website has its own newsroom with a convenient search filter to find articles on a certain topic.
Last but not least, GlobeNewswire specializes in multiple content distributions, not only text posts. You can choose to promote other content like infographics, image carousels, audio, videos, or live streaming events. Moreover, you can include this content inside your text press releases.
Price: starting from $159.
Linking News
When it comes to white label companies, Linking News also takes pride of place. So far, the company collaborates with more than 90 million bloggers, 1 mln journalists and has completed 300k+ publications.
Even the absence of a PR writing service makes this distribution service in great demand. Linking News allows publishing a press release with your brand name instead of their label. Along with valuable backlinks, you can improve your ranking with quality PA and DA websites. Their list of partnering media counts up NBC News, Fox News, MarketWatch, USA Today, Forbes, and many other "giants".
Linking News offers five distribution packages. The basic plan spreads one press release to 100+ top-tier channels that we already mentioned. The more expensive plan – the larger number of news & media sites. All packages include extra unlimited content, such as links, images, and unlimited word count.
The high cost is justified by the fact that the company supports white Label distribution (posted under your brand). Also, it helps clients connect to multiple global news channels with a huge audience.
Price: starting from $159.
ReleaseWire
ReleaseWire is specialized in press release creation & distribution while having a special focus on SEO. The company's founder is a former IT journalist in 2005, and since then, has gained the trust of 80k customers from all over the world.
ReleaseWire's powerful media engagement tools include a press release publisher with full optimization control, hosted newsrooms, multimedia distribution, and a media CRM application. It has a full package of SEO instruments for analytics, content testing, URL & HTML customization, and more. There is no custom press release writing service but as you submit a press release, you'll go through a useful guideline. Moreover, ReleaseWire lets you add multimedia including photos, videos, and audio.
The company has monthly plans for every need, from a monthly subscription (the price depends on the number of press releases) to payments on demand.
Price: starting from $49.
IssueWire
It's great to have IssueWire on our list as a free alternative – even they offer only 1 free plan out of five offered packages. Overall, the company offers super affordable marketing services, including press release writing & distribution. This makes the service affordable for all businesses, in particular, small startups and anyone with a super tight budget.
With IssueWire, you can distribute a press release to almost 200 media outlets, magazines, major news sites with different audience groups. The content goes through SEO optimization and welcomes media files like images, videos, links, etc.
Price: free & starting from $21 for a paid plan.
EIN Presswire
The last one (but not the least one) is EIN Presswire – one more great solution for a budget-friendly press release distribution. The company is based in Washington D.C. and since 20 years of active work, it has gained thousands of successful cases among small- & large-scale projects.
EIN Presswire spreads press releases to more than 10k global publications. It offers multiple options for country-specific newswires and several dozen options of industry-specific resources. You are guaranteed to be featured in global media channels like Google News, Bloomberg Terminals, LexisNexis, etc.
Depending on the chosen plan, EIN Presswire has a certain limit for the number of words, images, and video files in each press release. Also, there is a limit on the number of distribution channels (either 1 or 5 channels available). Regardless of the plan, each press release is distributed to major news sites, major newswires, targeted journalists and editorial rooms, and other databases.
Price: starting from $99.
PRNEWS.IO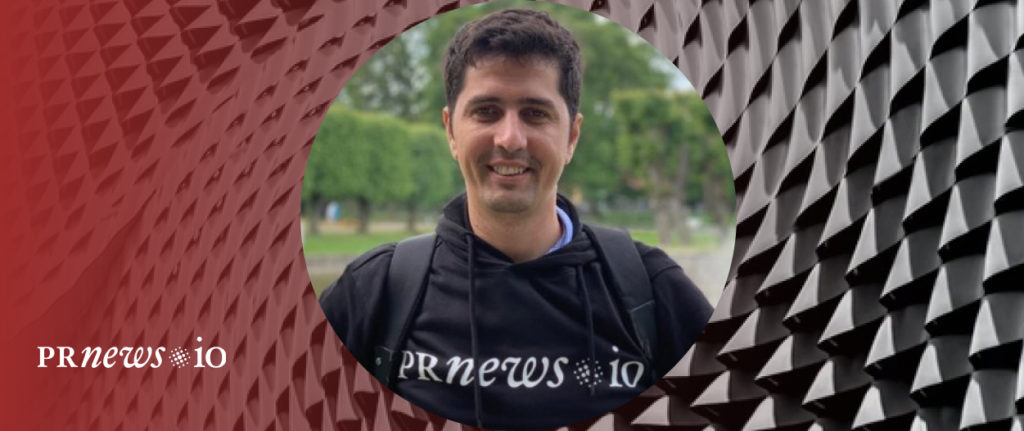 The PRNEWS.IO company is more than just a content distribution service. Since the company was founded back in 2005, it has grown into the world's first content marketplace. The company collaborates with both local media outlets and major international media channels. To make brand awareness even more effective, editors of PRNEWS.IO can help you write a press release from scratch.
One way or another, the company can take over the entire process of content creation & distribution. Clients will not spend their time researching suitable media resources and creating email pitches. With PRNEWS.IO, you accomplish a bunch of tasks – from sharing promotional posts and increasing brand reputation to getting credible backlinks. The company assists in tackling financial logistics, writing, translation, and media planning.
The website allows clients to explore the list of distributors by location, language, type, and other filters. It's easy to navigate and monitor your media promotion via a personal account.
Price: starting from $49
Explore More eRelease Alternatives!
It's important to know your expectations for a distribution service before picking the right company.
How much are you ready to invest in the service?
Are you interested in local or international distribution?
Do you focus on SEO or brand awareness in general?
These and many other questions should come up in your head as you choose the liked platform. We just listed a few eRelease alternatives to help you make this choice faster 🙂