Can you imagine having an enormous source of salespeople? What if you only had to pay them for each transaction they earn? You wouldn't risk anything, but you could increase sales tremendously. And this network exists. This great method is called CPA marketing and I'm going to show you what it is and what you have to do to start earning there. Let's get started.
Content Marketing Platform
100,000+ media publications;
get backlinks to your product;
scale work with content distribution.
What is CPA marketing?
CPA meaning marketing advertising model where publishers are paid for action after their marketing activity. This varies from typical affiliate marketing in which you may not necessarily need to sell to earn within a CPA network. Payments are usually based on lead generation such as submitting a phone number or email address to get some free product or digital good.
It may be e-mail submit, create an account, taking a short survey, or insert your data for a free trial. It is very simple and easy, all you have to do is promote affiliate links, if someone clicks on your link and finishes a specific action, then you are paid for that action.
CPA Marketing Vs. Affiliate Marketing
In CPA and Affiliate marketing your role is a middleman between a customer and a product seller. But what is the difference?
One difference between affiliate marketing and CPA affiliate marketing is that usually, affiliate marketing comes from the seller of the products or services. CPA marketing, on the other hand, comes from networks with a list of offers from various manufacturers and sellers. Becoming a part of Grammarly gives you access to just what Grammarly sells. Participation in any CPA network can give you access to a huge marketplace of offers from various sellers in various niches.
CPA also doesn't depend on a sale. You still have the same user – CPA – seller layout, but instead of requiring a sale to get paid, you can earn for other actions. They might be email registrations, or sales calls, or ebook downloads, or all other actions the seller wants. Essentially, you need to sell no more. Instead, all you need to do is attract the customer with the marketing team of the seller. Some CPA offers will give you a bonus if the sale is get paid, while most just pay you for the action.
How Does CPA Digital Marketing Work?
CPA means cost per acquisition. This means that the affiliate marketer (you), has the opportunity to promote the offers that they want either cost per sale (CPS) offers, or cost per lead (CPL) offers.
So how do you find these CPA offers and how do you promote them to earn money?
Here's a quick summary of how CPA Works:
The affiliate marketer signs up for a CPA affiliate network
In that network, you will find CPA offers from advertisers (also called vendors)
These offers may be either CPS or CPL
You create a landing page,
You send traffic to the landing page,
The customers then click through and follow the original CPA offer page.
Then you will get money every time someone completes an action such as: buying a product, subscribing to a newsletter, downloading an e-book.
CPA Network Terminology
CPA marketing terminology isn't difficult, but there are a few important terms you should know as you launch.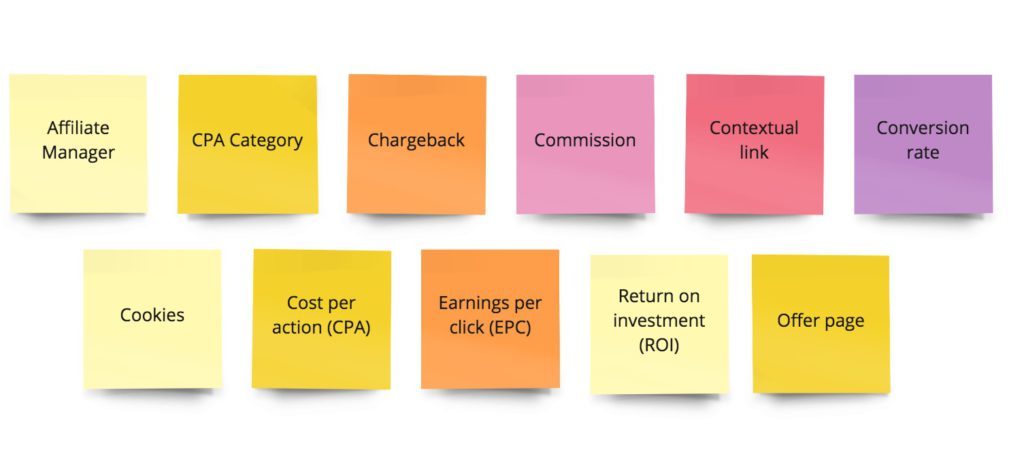 Affiliate Manager – a person who manages an affiliate program for a vendor. They are responsible for finding new, engaging with affiliates, and generating revenue for the merchant.
Category – the niche for which the CPA offer relates (sports, fashion, beauty, health, etc).
Chargeback – when a sale happened for an action an affiliate has already paid for. Since the sale was never completed or an item was returned, the previously transferred commission is transferred back into the advertiser's account.
Commission – the payment an affiliate gets when a successful conversion is done.
Contextual link – a text link in an affiliate source that links to the advertiser's website.
Conversion rate – the percentage rate at which a particular action is done. It is calculated as the number of successful conversions divided by the total traffic.
Cookies – in affiliate marketing, cookies are used to assign a unique ID to a user who has clicked the affiliate link to a vendor's site for a specific period. The affiliate will get credit for the action in this predefined window, usually 30-90 days.
Cost per action (CPA) – an online advertising method when an advertiser pays for a specified action from a customer.
Earnings per click (EPC) – the average amount an affiliate earns every time a customer clicks an affiliate link.
Offer page – the webpage where the action happens after a customer takes the desired action.
Return on investment (ROI) – ROI means the amount of money made with a campaign. It is calculated by the revenue divided by the ad spend, multiplied by 100.
Pros & Cons
To get a better understanding of whether CPA marketing is the right choice for you or not, you may need to get an objective knowledge of CPA marketing and check out its advantages and disadvantages.
The pros:
1. Huge Business
Affiliate marketing is a billion-dollar industry that lately succeeds pretty well.
2. Low-Cost Business Idea
It is a pretty easy industry to join, namely because there are no barriers to start. All you have to do is to create an affiliate marketing website (but not necessary) or social media account, choose a compelling niche and product or service that are relevant for you to market.
3. No Expertise Required
You don't need to be a marketing expert to start working as an affiliate. The great thing about affiliate marketing is that you can learn during your work, testing different promotional methods.
4. Low Investment Costs
In the beginning, the expenses of the CPA affiliate marketing are almost zero. You work online so that you can do it from your home well enough and then you only have the basic expenses for electricity and internet connection. Optionally, there are additional expenses related to setting up a website and also some minor costs about designing the layout, etc.
5. Secondary Source of Income
Starting up as an affiliate marketer doesn't demand you to leave your current job.
6. Convenience and Flexibility
Practically, you can keep on creating multiple ads on your websites and landing pages to boost your affiliate links so that you can remove the poorly performing ones and optimize the lucrative ones. Also, you don't need to choose one affiliate marketing program.
7. Customer Service is not in Your Interest
All you care about is your money, so anytime you get a post-sale query, you just pass such requests on to the merchant's customer service team and wait for the profit.
8. Passive Income
The opportunity to make a passive income means earning money while you sleep.
9. The Sky's the Limit
There are many ways to market your offer and nobody can limit you.
The Cons:
1. You Don't Control Affiliate Marketing Programs
A program that may look attractive at the beginning, later can become less and less profitable, but you won't be able to change the terms yourself. Everything you can do is to check in advance the need for further adjustments regarding discounts on the given products, etc.
2. You Don't Control Your Competition
Competition varies depending on the niche and there are lots of CPA marketers.
3. No Guarantee of Profit
Pay-per-performance can be a huge opportunity as well as a significant risk. No one guarantee that working as an affiliate marketer will be easy and that you are going to get the expected revenue.
4. Freelance Jobs are not for Everyone
It takes a particular personality to feel comfortable with such a working format. In some situations, it can result in the feeling of loneliness or stagnation.
5. Quantity Approach
Affiliate marketing is sometimes associated with spam, and there is some truth to that
What are CPA niches?
Certainly, you want to earn passive income, and CPA marketing is one of the best ways to do it. But it's impossible without knowing the pitfalls.
For example, you start promoting accessories that cost $10. From each sale, you get 10% or $1 while spending about half an hour per day on putting links and spreading posts about them. On the other hand, you can collaborate with a manufacturer selling smartphones for $300. The same 10% equals $30 instead of $1. Even spending twice as much time on link sharing, you will receive a pure 5x revenue! It's always more profitable to focus on high-paying niches with enough interested users.
With low entry costs and a potentially profitable ROI, CPA marketing remains an attractive revenue stream for publishers looking to increase their audiences and monetize their content channels. Still, success depends on finding a profitable field.
Several established areas keep success:
lifestyle and wellness;
technology;
personal finance;
pet care
Types of CPA Offers
There are many types of CPA Offers. Here is the list of the most popular types of CPA Offers:
1. Cost Per Sale (CPS): These offers come when some buy anything from your referral link. In CPS Offers, you only earn for every completed purchase that is done from your referral link.
2. Cost Per Lead (CPL): CPL offers to convert on a lead submission, not on the purchase. Lead can be free registration, form submits or can be an email submit.
3. Cost Per Install (CPI): CPI converts on whenever someone installs an app, downloads software, or other.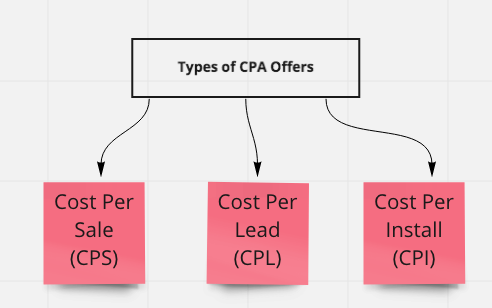 How To Start CPA Marketing
You got all the information about CPA Marketing. Now the next step is how, to begin with, CPA marketing. Now I am going to share with you step by step guide on how to get started with CPA.
CPA Marketing Tips:
Step # 1: Select Niche
The first thing you need to do is choose your niche or category which you want to target. I recommend you begin with a single niche. The first thing you need to decide is what kind of offers you can easily boost and work on it. Once you chose, then let's move to the next step.
Step # 2: Find an Offer
Once you are determined with a niche, then the next step is to find an offer that you want to advertise. Now your question is how you can find an offer without any CPA Network. There are services that you can use to find offers. You can check offervault.com and Odigger to find offers. They work as search engines of CPA offers and you can find offers based on price, keyword, niche, or network.
Here are some everyday tasks that you need to know when you search for offers:
Traffic Types. Traffic types are basically where you can promote that offer: Email, Contextual, Display, Search, Incentive, Social Media, Native, and mobile.
Incentive. For example, you offer your users to download a free ebook if they get a lead for you.
Non-Incentive. Non-Incentive traffic is where you are not allowed to give your visitors an incentive to get action. Non-incentive traffic ways include social media, email, search engine, native, mobile traffic, or any other traffic which is not involved in incentive.
Mobile Optimized. When you see the option "Mobile Optimized", that means the traffic is mobile-friendly or not.
Countries Allowed. Country allowed means in CPA is where you can advertise your offer. If that offer is only for a single country, then you are only allowed to promote an offer in that location.
Per Lead. Per lead is a fixed commission of the amount that you will be paid after completing any action
EPC. That means how much the publishers have in average earning per click from this offer.
Sales. When someone buys that product through your affiliate link then you will be paid.
Rev Share or % Share. It means what percent you will get after completing offers.
AM. Every CPA Network provides you with an affiliate manager who takes care of your account will help you all the time with your account.
Step # 3: Find the CPA Network:
Once you are done with choosing offers, then the next step is to find the best CPA Networks. There are thousands of CPA Networks to join. But Instead of joining Different CPA Marketing Networks, you can only take part in a few top networks and that is enough for your profit.
Here are some different types of CPA Ad Networks Platforms:
Best Push Notification Ad Networks:
Best Crypto Ad Networks
But if you are a beginner, I'd suggest you join the special CPA networks for beginners that are listed below. The best CPA Networks:
Perform[cb] (previously Clickbooth)
MaxBounty
CrakRevenue
ClickDealer
CPAlead
Admitad
CPAMatica
Toro Advertising
AdWork Media
Advendor
Step #4: Join CPA Marketing Network:
When you finish with finding CPA Network, then the next step is to participate in the CPA network and start making money. If you are a beginner then join with beginner CPA Networks. Because top CPA networks do not accept beginners.
Step # 5: Create Your Website Or Landing Page
The next step is to build a website for CPA offers or set up a landing page to promote them. There are two methods to the one to create a website, or another one is creating a landing page. Now you might be asking what is the difference between the landing page and website is. The landing page is just simple a one page that you created for the exact CPA Offer. On the landing page, you describe your product and add a call to action button. You can also create a big brand website to earn from many CPA offers.
Step #6: Promote CPA Offers
Once you completed everything, then the next step is a CPA Offers' promotion. There are a lot of ways that you can use and promote your CPA offers and make money.
Free CPA Promotion Methods:
We all love freebies to make money online, so that's why let me show you free methods:
#1 Promote via Facebook:
Facebook is the best platform to promote your CPA Offers and earn some money. Just join some relevant groups and share your offers in groups.
#2 Promote via YouTube:
YouTube is another best way to promote your CPA Offers for free. Just upload a video that is related to your offer or product then insert your offer link in the description.
#3 Promote via Instagram:
All you have to do is create a new Instagram profile with your CPA offer. Then put your offer link in bio. In this way, you will get a targeted audience, and you can boost your offer link with ease.
#4 Promote via Pinterest:
On Pinterest the majority of traffic is females. This is another excellent platform for you to advertise your CPA Products and offers. I suggest you target females products to get more leads and sales.
#5 Popular Forum sites:
Before the sharing link, you need to make sure that the topic in the forum relates to your niche. It may be Quora, Reddit, Medium, BitcoinTalk, etc.
#6 CPA email marketing:
Before starting your email marketing the first time you need to create an amazing landing page where people get an idea about this product, service, or benefits. The best content for emails may be:
1. Free PDF book download
2. Free gift card
3. Get product discount
Paid CPA Promotion Methods:
If you are a beginner in CPA marketing, then first you'd start free methods to get an experience of how CPA Marketing works. Then you can continue with paid methods. When you start paid promotions in CPA Marketing, be accurate and smart. Before investing money in any offer do complete research on that product and then start your promotion:
Facebook Ads: Facebook ads are very cheap and budget.
Instagram Ads: Facebook owns Instagram so you can promote your offers on Instagram using Facebook.
Twitter Ads: Twitter is also another popular social platform with a monthly 500M active users. Twitter also provides the best advertisement opportunities, but it's more expensive, comparing with Facebook.
Pinterest: There is an option to boost the links as well.
Google Search Ads: This is the best way to put your ads in the top search results and get more traffic and leads from your offer. You can create the ads for your offer and show them on the Google search with your keywords.
Bing & Yahoo Search Ads: Bing is the second most used search engine besides Google.
Native Ads: You've met these widgets that recommend content from "Around the Web." This is called native Advertisement. You can also promote on native ad networks and promote your CPA offers. The most popular Native ads networks are Outbrain, Taboola, RevContent, Content.ad, and Mgid.
Push Notification: You can also advertise your CPA Marketing offers via Push Notification Ad Networks to get more leads and more sales.
Micro niche websites: Micro niche is the long-term way to get traffic, but it has more perspectives and may bring you bigger profits.
What to Choose?
The fact is, there are so many affiliates and CPA networks out there, with so many offers to pick through, that it's impossible to insist on any one system, network, or product above all others. Even the best high-converting offer brings you nothing if your website or landing page is terrible and you can't sell. On the other hand, you can earn very well out of the offers from a low-competition niche.
The truth is you can do both. Even you should try both. If you design your website properly, and you integrate your promo into your content with the appropriate announcement, you can do very well.
To Wrap Up
Also since this is a completely free instruction, don't forget to share it, because there are many people out there that are interested in making money with CPA marketing but they never know how to begin. Let me know in the comments below if this CPA guide was interesting for you.
FAQ: CPA marketing
What is a CPA network?
A CPA network is a marketing model in which a publisher is paid for an action that was done on their social media profile or landing page. Unlike traditional affiliate marketing, the person may not need to make a purchase. In a CPA network, the publisher is the affiliate marketer for the advertiser, through which the user can order goods or services, fill out a questionnaire form, sign out for a subscription, install a program or download an e-book that an advertiser offers.
What does CPA stand for in marketing?
CPA affiliate marketing means performance-based marketing. CPA stands for cost per action. In this model, the affiliate is paid for driving traffic and completing some action. This action can be, for example, a registration, sale, or request for a quote.
What is CPA in marketing?
This is an advertising model where publishers earn money from an action that is taken as a direct result of their marketing activities. The difference from typical affiliate marketing is that you may not necessarily need to sell within a CPA network.
How to start CPA marketing?
If you want to begin CPA marketing, you have to find the CPA network and the right offer to advertise, relevant to your business. It happens in steps: 1. Choosing Your Niche 2. Registering in a CPA Network 3. Getting Accepted into a CPA Network 4. Receiving Your CPA Affiliate Link. 5. Getting Acquainted with Your Affiliate Manager 6. Choosing an Offer to Promote 7. Designing the Site Around Your CPA Offers 8. Choosing a traffic generation method 9. Tracking your campaigns