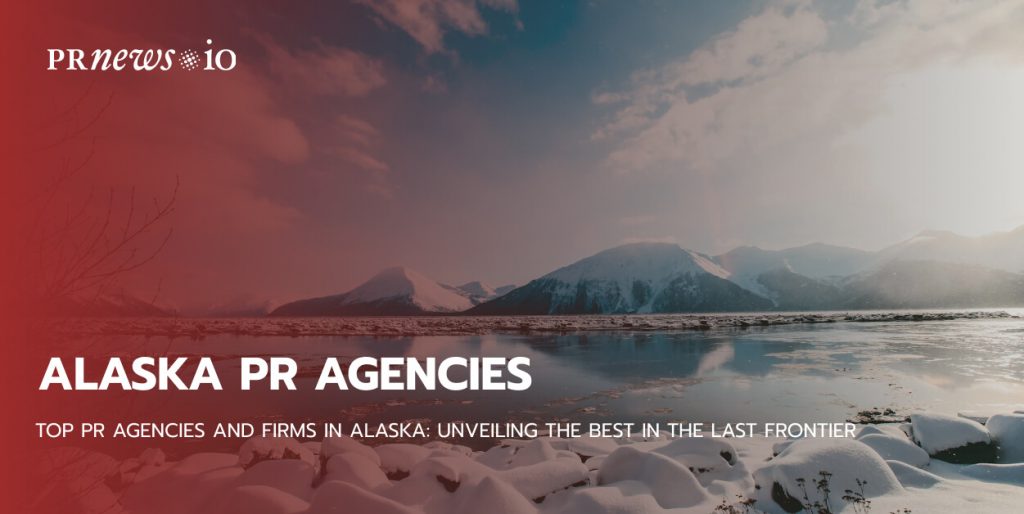 Alaska PR agencies. Welcome to our blog post showcasing the best PR agencies and firms in the stunning wilderness of Alaska. In this vast and untamed land, where breathtaking landscapes meet the innovative business landscape, public relations professionals play a vital role in connecting companies and organizations with their audiences. Whether you're a local business looking to make a splash or a national organization expanding into the Last Frontier, this curated list will introduce you to the top PR agencies and firms that excel in Alaska. Join us as we explore their expertise, achievements, and unique approaches, providing you with invaluable insights to make an informed decision when it comes to your PR needs in Alaska. Let's embark on this journey to discover the powerhouses that make Alaska's PR scene truly remarkable.
Alaska PR Agencies
KDPR Virtual is a leading PR agency specializing in virtual public relations services. With a strong focus on delivering exceptional results, they have established themselves as a go-to agency for businesses and organizations seeking effective PR strategies in the digital realm. Their team of skilled professionals combines their extensive industry knowledge with innovative techniques to craft tailored PR campaigns that captivate audiences and drive brand awareness. From media relations and crisis management to social media engagement and influencer partnerships, KDPR Virtual is dedicated to helping clients achieve their PR goals in today's ever-evolving virtual landscape. Trust them to elevate your brand's presence and make a lasting impact in the digital sphere.
Blueprint PR is a dynamic PR agency based in Alaska, dedicated to helping businesses navigate the ever-changing media landscape. With a deep understanding of the local market, they specialize in crafting strategic PR campaigns that effectively communicate clients' messages to their target audiences. From media relations and event management to crisis communication and reputation management, Blueprint PR offers a comprehensive range of services tailored to each client's unique needs. Their team of experienced professionals leverages their extensive industry knowledge and strong media relationships to generate positive media coverage and build a strong brand reputation. Whether you're a small local business or a large corporation, Blueprint PR has the expertise to elevate your brand and achieve your PR objectives in the vast and diverse Alaskan market.
Spawn Ideas is a leading PR agency that combines creativity and strategy to deliver impactful results for their clients. With a passion for storytelling and a deep understanding of the ever-evolving media landscape, they specialize in crafting compelling narratives that resonate with target audiences. From brand development and content creation to media relations and digital marketing, Spawn Ideas offers a comprehensive suite of PR services tailored to each client's unique goals. Their team of talented professionals brings a fresh and innovative approach to every project, leveraging their expertise to elevate brands and drive meaningful engagement. Whether you're launching a new product, managing a crisis, or seeking to enhance your brand's presence, Spawn Ideas is your trusted partner for strategic PR solutions that make a lasting impact.
Alaska Graphic Design is a premier PR agency that understands the power of visual storytelling. Specializing in captivating graphic design, they bring brands to life through compelling visuals that leave a lasting impact. With a keen eye for aesthetics and a deep understanding of brand identity, their talented team creates stunning designs that communicate your message with clarity and creativity. From logos and branding materials to eye-catching marketing collateral, Alaska Graphic Design transforms your vision into a visual masterpiece. Whether you're a startup seeking to establish a strong brand presence or an established business looking to revamp your image, their expertise in graphic design will elevate your brand and capture the attention of your target audience. Trust Alaska Graphic Design to bring your brand to the forefront with visually striking designs that tell your unique story.
Thompson and Co. Public Relations
Thompson PR is more than just a PR agency; we are the architects of inspiring stories. We believe that every brand has a unique tale to tell, and we are here to weave that narrative into the fabric of people's lives. With our team of dedicated storytellers, we craft compelling messages that stir emotions, spark conversations, and leave an indelible mark on hearts and minds. We pride ourselves on building meaningful connections between brands and their audiences, forging bonds that transcend mere transactions. From strategic media placements to engaging social media campaigns, we orchestrate the symphony of emotions that drives brand loyalty and advocacy. At Thompson PR, we are driven by passion, creativity, and the relentless pursuit of excellence. Let us be your guiding light, illuminating the path to success and crafting a story that resonates with the world. Together, we'll create a legacy that will be remembered for generations to come.
At Saggio PR, we believe in the power of emotions to create unforgettable connections. We are not just a PR agency; we are storytellers, dream weavers, and brand builders. Our team of passionate professionals is dedicated to helping our clients evoke authentic emotions and leave a lasting impression. With our strategic approach, we craft compelling narratives that touch hearts, inspire minds, and ignite conversations. From captivating media campaigns to impactful influencer partnerships, we harness the emotional essence of your brand to create moments that resonate deeply with your audience. With Saggio PR, you're not just another client – you're part of our family. Together, we'll create a remarkable journey that takes your brand to new heights and leaves a lasting emotional impact on the world. Let's embark on this thrilling adventure together and create magic with your brand.
JWIG Corp is a trusted PR agency known for its unwavering commitment to excellence. With a strong track record of success, they specialize in providing strategic communication solutions that drive impactful results. Their team of seasoned professionals combines their expertise with a deep understanding of the media landscape to create tailored PR campaigns that amplify your brand's message. From media relations and crisis management to brand positioning and reputation building, JWIG Corp offers a comprehensive suite of services to meet your PR needs. With their client-centric approach and attention to detail, they go above and beyond to exceed expectations and deliver exceptional outcomes. Whether you're a small business or a multinational corporation, JWIG Corp is dedicated to helping you build a strong and influential presence in today's competitive market. Trust them to elevate your brand and navigate the ever-changing PR landscape with confidence and success.
Rising Tide Alaska is a dynamic PR agency that thrives on pushing boundaries and making waves in the industry. With a passion for innovation and a commitment to excellence, they specialize in crafting strategic PR campaigns that create a lasting impact. Their team of forward-thinking professionals combines creativity with data-driven insights to develop tailored solutions that resonate with audiences and drive measurable results. From media relations and brand storytelling to digital marketing and influencer partnerships, Rising Tide Alaska offers a comprehensive range of services to elevate your brand's visibility and reputation. Whether you're a local startup or an established business, their expertise and dedication will help you ride the waves of success and navigate the ever-changing PR landscape with confidence. Trust Rising Tide Alaska to be your strategic partner, propelling your brand towards new heights of growth and recognition.
Utilizing PRNEWS.IO: Maximizing PR Potential for Businesses in Alaska
Businesses in Alaska can leverage PRNEWS.IO as a powerful platform to enhance their public relations efforts. PRNEWS.IO provides a range of valuable resources and opportunities for businesses to effectively promote their brand, increase visibility, and reach their target audience. Here's how businesses in Alaska can utilize PRNEWS.IO for PR:
Broaden Media Coverage
PRNEWS.IO allows businesses to access a vast network of media outlets, including newspapers, magazines, online publications, and blogs. By utilizing this platform, businesses in Alaska can secure media placements, feature articles, interviews, and press releases to gain exposure and generate positive publicity.

Targeted Audience Reach
PRNEWS.IO offers advanced targeting options, allowing businesses to reach their specific target audience in Alaska. Whether it's a local or national campaign, businesses can tailor their PR efforts to connect with the right demographic, ensuring maximum impact and engagement.
Online Visibility
With its digital-focused approach, PRNEWS.IO enables businesses to enhance their online presence. By securing online media placements and backlinks, businesses can improve their search engine rankings and drive organic traffic to their website. This not only boosts visibility but also enhances brand credibility and authority.

Streamlined PR Management
PRNEWS.IO provides a user-friendly interface that simplifies the management of PR campaigns. Businesses can easily create, track, and optimize their PR materials, ensuring seamless communication with media outlets and streamlining the PR process.
Global Reach
While based in Alaska, businesses can leverage PRNEWS.IO's global network to expand their reach beyond the local market. This enables them to attract attention from national and international media outlets, potentially opening doors to new opportunities and markets.
Content Marketing Platform
100,000+ media publications;
get backlinks to your product;
scale work with content distribution.
Conclusion: Alaska PR Agencies
These agencies play a pivotal role in bridging the gap between businesses and their target audiences in the vast and diverse Alaskan landscape. From virtual PR services to a deep understanding of the local market, these agencies have proven themselves as leaders in the industry.
By partnering with the top PR agencies and firms highlighted in this blog post, businesses and organizations can gain a competitive edge and effectively communicate their messages to the right audience. Whether it's through captivating storytelling, strategic media relations, or innovative digital marketing campaigns, these agencies possess the skills and experience to deliver impactful results.
As the Last Frontier continues to evolve, it's crucial for businesses to harness the power of PR and establish a strong presence. The showcased PR agencies and firms in Alaska are well-equipped to navigate the unique challenges and opportunities presented by this remarkable state.
Alaska PR Agencies Table
Is your business in need of a PR makeover?
Benefit from media coverage assistance.
Witness a refined branding approach.
Watch as your recognition soars.