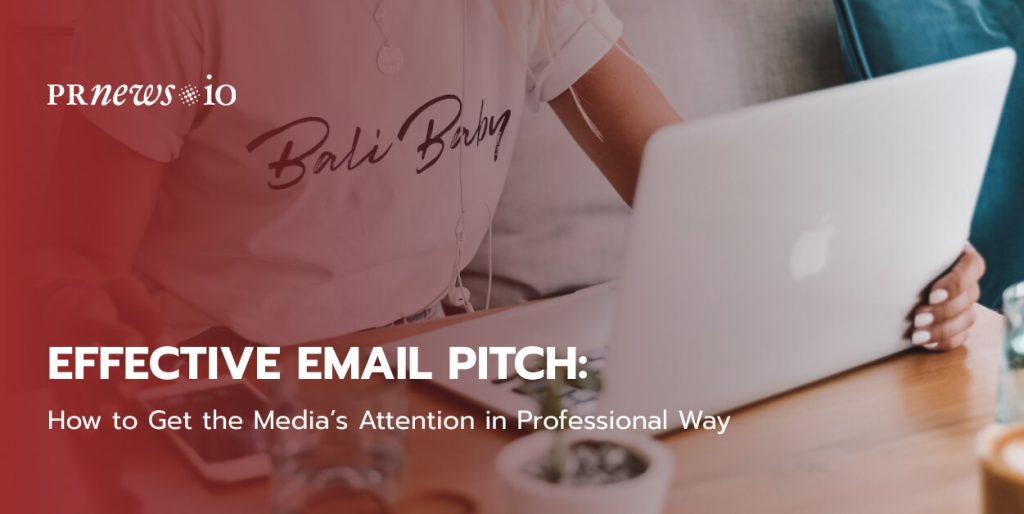 The email pitch is still the king of communication in business. But getting your content in front of media outlets and influencers is tough. Not only does it have to appear to your target audience, be of a certain level of quality and be ready at the right time, but it's also got to be picked up by the right person. When it comes to pitching your content via email to journalists, there's a direct dependence between the authority of a journalist whom you hope to cooperate with and the number of emails they'll get in their inbox every day. With that in mind, it's definitely worth learning how to make your email stand out from the crowd. So let's find out these simple tips for writing an effective email pitch.
Have you ever thought about special tricks to make reporters read and publish your news stories?
Everyone knows that it's rather difficult to get your press release noticed by the media and break through the wall of disregard. But if you know some inside hooks, you can turn the corner. In our previously published post, we reviewed the most common ways to find email addresses of journalists and send your press release to the right hands.
In today's blog entry, we are going to flesh out the most effective pitches' suggestions to attract the media's attention and get some assurance that your press release will come out.
What's Behind an Email Pitch?
A pitch email is a personal letter containing brief information about a product or company in order to attract attention and further publication of the material.
A brand email pitch is an email you send to someone with a purpose to work together.
The main goal of this email is to introduce your company, start a conversation and distribute your content. The media pitches are sent to the journalists or the editors of a media outlet, newspaper, journal, blog over email to arouse interest in the company's content, asking if they would like to write an article about it. You don't need to write a wordy, detailed, complex email. You just need to put the key information about your event, the launch of the new project or the company's update.
Your email pitches need to:
be brief and convincing
be personalized
arise the receiver's interest
This email has a baiting function. A pitch email is one of the best ways to interact with the media.
What Is the Purpose of Using Pitch Email?
The main goal of a pitch email is to attract people to the company and brand. A pitch email is great for connecting with a potential customer. Among the purposes are also to deliver news, increase trust between you and the recipient, communicate directly, realize your plans and attract customers to your business.
Their main feature is attracting the interest of the target audience and, first, to introduce your brand to journalists to the brand and goods. The result of this action is a sale.
Pitch email has influential, provocative, communicative and regulatory functions.
An adequately composed email reflects information about the product, personality and reasons why a person should be interested in the message. That said, there is no single sample for creation.
Content Marketing Platform
100,000+ media publications;
get backlinks to your product;
scale work with content distribution.
What Marks the Effectiveness of a Pitch Letter?
Mass targeting. It is the focus of the message on a mass recipient. These are publishers, journalists and other target audiences.
Relevance. It is the timely addressing of important, meaningful and relevant issues.
Responsiveness. It is the timeliness of information received. It also includes its processing by the corresponding people and channels.
Conciseness. A small volume of data, simple sentences and easy constructions play an important role.Credibility. It is a reference to official sources of information to create a positive image of the brand/company, etc.
10 Key Tips for Writing an Effective Email Pitch
The most important thing is to catch the journalist's eye by creating a personalized email pitch that has to be written in an ineffective and professional PR manner.
Writing a high-quality email is essential to effectively contacting the recipient. The standard structure is the subject line, the welcome part, the body of the email and a call to action. Stick to these tips to get the desired results:
Write an Outstanding Subject Line
Sounds stressful, right?
Publication editors and journalists receive so many content pitches per day that if they don't recognize your name and if you don't create a catchy subject line, your email might not be seen and opened at all.
Think about this for a second: What would make you pay attention to your email from someone you don't know? An attention-grabbing subject line is a must. A subject line that stands out from the other unopened emails. Your subject line should be straight to the point and offer a personal message to the receiver. Clear and concise for what you are requesting. It should not look like spam.
Greetings Are Important
Using a greeting is basic etiquette and a show of respect for the person. It establishes a friendly atmosphere and develops a relationship with the prospective client. Mention a few interesting facts. Perhaps you already know each other, and you have something in common. The main thing in this part is to create a warm relationship with the client. And if it works, you'll have a good attitude and interest even before you introduce them to your services or goods.
Add a Value Proposition
Adding a value proposition is the foundation of any successful business. Your value proposition determines whether you can get more customers and stay competitive. With a properly formed value proposition, your potential clients understand how you are different from your competitors. It is a summary of the main benefit the customer receives from using your product or service–the reason the client comes back to you. The value proposition shows the potential customer who you are, what you do and what your difference is from other brands.
Call Your Target Recipients to Action
Place your call to action at the end of your email. They often serve the only purpose of the email—to get the recipient to take a certain action. A good appeal should be persuasive and motivating. Such a tool encourages people to make a purchase, subscribe, call you, etc.
Brevity Is the Soul of Wit
Your emails should be short and informative. The more text you send, the more boring it is for the recipient to read. Make your offer short and valuable. Include the most important information about the company, product or service.
In three to four sentences, explain what you want to offer them and how you can do this. Offer pricing details (low to high) and why your content is worth reading. Personalize this as much as you can so it doesn't come off as comprehensive and unflattering.
Attractive Cisuals
It is also an essential part. Look for ready-made email pitch templates, which you just need to fill with information and edit for your needs. Also, it is great to add images and videos. Visibility encourages future clients to take action.
Check Your Grammar
It is a simple rule, but often underestimated. Mistakes in words and sentences ruin the relationship and the impression of you. Proofread the text and use grammar checkers.
Pitch Your Story and Mission
Let's be realistic: Your company is not that interesting to the reader on the other end of your email, at least at the beginning of your business road. Journalists or influencers will probably get a hundred more emails from a company pitching their product/service, some similar to yours. So—what's your unique feature? Not your company's story. What is the mission behind your brand and why are you doing this? Provide personal facts and personal stories in your pitch email that the reader can relate to. Be honest and transparent about your plans and desire to become a vendor for this company and what advantages you will both have.
Make It Personal
A word of warning: If you email hundreds of companies with the same template of email, you're not going to get results.
In your research of the publication, you should find the name of the section editor to whom you're pitching your piece of news. Failing to address without the editor's name is impolite, and it signals that you could have blindly sent this email to any editor or publication.
The focus with personalization is to let your target understand that you have read their work and that you are sending this email for a reason, not just because his email address was included in the paid database.
You should not refer to their personal Facebook profiles to see where they like to eat and mention that. Finally, this is a business email, so unless they write about cats, don't mention cats.
Provide Social Proof
There are two options to use social proof in your pitch, one more direct than the other.
The first, milder and definitely highly suggested thing to do is mention a link to your most used and most relevant social network in your signature. If you use Twitter for personal purposes only, you can omit it and use LinkedIn instead.
Another good step would be to contact and communicate with a journalist on social media before sending your pitch. That way, they can see that you actually know their work and are interested in what they have to say. Just don't follow the follow-up with a pitch within seconds.
As for the second way to use social proof: You can choose to mention a recent result you have had with a post or milestone; however, to some, this will come off as too pushy and obnoxious, so be careful how you utilize it.
Know When to Send Your Email
When is the perfect time to send the email that could promote your project? While there is no precise time, the best time to receive a response would be to send your emails on a Tuesday, Wednesday or Thursday, between 10 a.m. and 3 p.m. This rule works best if you are attracting companies on 9-to-5 working hours. People are checking emails before they start their lunch and when they come back to see what they missed.
Some Pitch Email Examples
Check out some examples of how you can write pitch emails. As mentioned, you can dilute them with pictures, GIFs, etc.
Additionally, include a link to your press release in case a reporter wants to read the whole story. Don't forget to provide him/her with social media links to your company's accounts so a journalist can find out more about your business.
Reach The Target—Emailing Press Releases to Journalists
You may spend hours thinking of newsworthy information, a catchy headline or the appropriate structure for your press release, but if your news does not get into the right hands, all your efforts will be wasted. Getting your press release published is the key point in your workflow process. After the press release writing is completed, the next step is to determine how to find the necessary journalists' emails for its successful publication. To be fair, it's a rather time-consuming task, but you can't go further without it.
Let's trace the following ways that help you get journalists' emails:
Understand Your Target Audienc
Think about the possible partners and journalists for your product and service. Start with preparing a list of 10 to 20 companies and people who may read your email. As much as you want celebrities to be on the list, let's be realistic: Even if you do have his/her email, do you believe she/he is reading your cold-call message and is going to answer you? Time is key; don't waste it. Let's postpone celebrities as the 12- to 18-month goal and get back to reaching out to journalists who actually check their emails.
Contacting Reporters
It would be great if you could send the email with the reference to a person that the journalist knows. In this way, your email will never be ignored. Or make a call to the editor you may be acquainted with. Try to build considerate relationships with people in the media; it always works in your favor.
Find a Journalist's Blog
You can find journalists' contacts by browsing their profile pages, as well as sending an invitation to connect on LinkedIn or any other social network. Check the comments section, where you may find the email address as well. Or you may find somebody willing to give you the reporter's email address.
Use Google
If you are not going to buy directories by yourself, you can use Google search by typing "media lists" and find the necessary names.
Work with Your Contacts
One of the best results from having a great email pitch is being able to say, "I know you've been working…" Knowing people and their backgrounds can quickly change the result of your email—from a cold call to a warm conversation.
Of course, this may not always be the case, so before emailing this person, try to find public information about them and look them up online. Use the "I read your article online" card, or "I am a follower of yours on Twitter and love the post about…" Anything that could appeal to his/her attention and break the ice of being a complete stranger in his/her inbox.
PRNEWS.io
If you want to save your time and money, PRNEWS.io is the best option to meet this challenge. Being the most reliable and user-friendly platform, PRNEWS.io offers to create, publish and distribute your press releases just in a few clicks. Additionally, you can choose quality news media websites for placing all necessary PR materials. Our service helps to select those particular websites that are constantly being observed by your potential customers, partners/affiliates and investors. In this way, you can easily publish your press release and reach your target audience.
As you can see, there are many ways of finding journalists' emails. Which one is the most helpful and suitable for you depends on your budget, PR and marketing requirements.
Make Sure to Follow Up
Don't think that most emails will go unread or unnoticed. They could get read quickly and flagged for follow-up, but people often get busy and forget to return to your letter. This is where you come with a brief reminder that you would like to chat about your initial email.
Follow-ups are key in the pitching process. Keep it simple and right to the point. In your follow-up email, state that you would like the opportunity to chat with them on a brief 10- to 15-minute call to discuss any questions or concerns they may have. As with subject lines, you should test and find an email sequence that works best. Never follow up within 48 hours. Give your prospect time to get back to you. Usually, around 50% of editors prefer a follow-up email after one week.
"No" Doesn't Mean "No"
You will hear no more often than you expect in this process. It's okay though; it's part of the learning process in promoting and PR. Not everyone will agree or even respond. If you see an email from someone saying they are not interested, respond by giving thanks to them for replying and asking them to keep you in mind if anything should change. It's possible that many journalists who reply have a slight interest but could be working with another brand or on a budget. Having them respond gives you an opportunity and opens the door for future correspondence. Don't underestimate the power of a no. Sometimes "no" now could mean yes later.
But if it's complicated for you to get rejected, you may delegate media pitching. Use a credible all-in-one service PRnews, that will write, pitch media outlets and distribute your stories at a fixed price for publication. With their huge experience and big team, they know how to make email pitches to be appealing, catchy and captivating with the result you want.
Wrapping Up
Getting major media coverage is great for generating attention and traffic leads for your business. Before you start, know that there is an effective system instead of sending out random emails; you can make a profit in return for writing an effective email pitch.
The secret to getting a response to a cold email, and a positive and interested one at that, is reaching out to the right person, at precisely the right time, with content they are particularly interested in or cooperating with the right partner to do all this job for you. You have many chances, but this will not always happen, and that is not what you should expect.
Aim to offer value to your prospects—after all, you have selected them for a good reason: They might want what you've got. All that you have to do now is make them aware in the right format of this fact as well. Time to pitch (or delegate it)!
The most relevant tools are advertising, press releases and newsletters. PRNEWS.io service just takes you a few moments to organize all your stuff to be ready to successfully publish your press releases.
Pitch Email FAQs
How to write a pitch email?
* Make your point clear. * Add a valuable offering. * Use ready-made templates. * Make your pitch important. * Call the recipient to action.
How to pitch a press release via email?
Write a high-quality email and proofread it. Make the design as attractive as possible and use the tips from the article. Then just send it to the recipients.
What is a pitch email?
A pitch email is a personalized letter that contains brief information about a brand, good or service to catch the audience's attention and encourage them to do something.