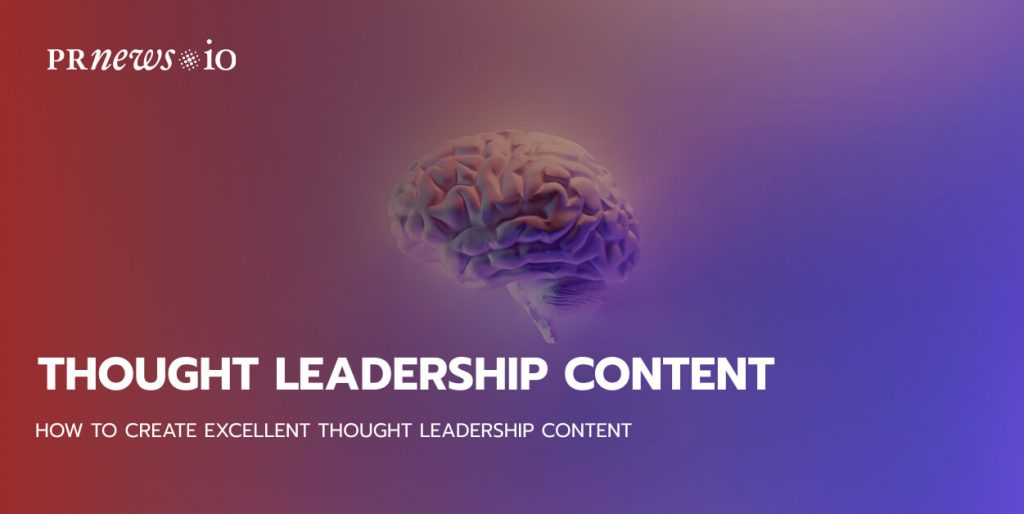 As content continues to stay king, more and more leaders are creating thought leadership content to position themselves and their businesses as leaders of the industry. If you're thinking to incorporate thought leadership into your content marketing strategy, you've made the right choice. 
In this post, we'll explain what good thought leadership content is, why it's worth implementation, how to create solid thought leadership content, and the examples to inspire you.
What is Thought Leadership Content?
Thought leadership content is a strategy that brands use to establish themselves as industry experts or credible sources of insights their audiences consider helpful.
Thought leadership content is content across social media, search, and other channels that provides value to audiences. It builds trust between audiences and shows its customers that the brand they invest in is worth it. Audiences can see that the leader of the brand deeply understands the industry and its product or service.
It differs from average search engine optimized (SEO) content because its goal isn't to promote the company, sell something to readers, or please search engines. Instead, it's completely informational.
Why should you use thought leadership content?
Like all content marketing, creating high-quality thought leadership content requires time and resources. So, what are the benefits?
Build trust and credibility
Thought leadership content effectively creates brand awareness by strengthening trust and credibility with your target audience.
Expert content is easily recognized by its quality and expertise. Of course, it's also respected by the audience. Your readers expect your quality material, and they can be sure that there are no "ulterior motives" and that you aren't trying to sell them anything.
Such content can benefit a brand for years as it is cited in other industry blogs and referred to in social media content—further boosting you as an industry expert.
Help to connect with your audience
As much as people trust companies and their leaders, it's easier to set and maintain human-to-human connections.
You can make your company more approachable by writing content that includes your founder's and team members' expertise. When clients read content from the brand's sources, they're likely to associate the expertise with this brand. They'll respect their leaders or team members as people with the solutions to their pain points.
Separating the business from its competitors
By generating thought leader content, you may persuade customers to think of your brand when they need a specific product or want to know industry information.
Tackle industry topics that aren't SEO keyword-based
As much as we appreciate the power of SEO, it's much better when your articles are expected and shared in minutes after publication. The posts with low-volume keywords get more opportunities to reach the audience.
How To Create A Thought Leadership Marketing Strategy
Similarly to research findings, books, thought leadership has the intention to change the mind of its readers. The most convincing thought leadership content achieves this by following well-thought-out rules.
Part 1: The Rules for creating successful leadership content
#1 Finding the right question to ask your customers need to solve
As stated, "A problem well stated is half solved". And that also goes for thought leadership content.
More than providing the answer, you have to find "these" questions that give you a new perspective on the topic. Usually, companies write about easy-to-answer or obvious questions, missing the most interesting data on the industry. To find a thought-provoking and desired question, you might need to search deeper into each concept.
To achieve that, you can use the 5-why framework. Start considering the issues from your experience or the common issues in the field – looking for the reason, and then question again each answer that comes to your mind. For example: Why one client didn't pay us? – Why? – Because the delivery was late. – Why was the delivery late?…. Go on in the same way, until you will find the solution.
These exercises help you uncover baseless assumptions and poorly defined hypotheses. It helps you get to the origins of the problem.
#2 Positioning yourself against existing resources
Confronting existing hypotheses on the market will help you create better and incomplete theories:
Present and explain the contradictory views that exist on the subject.
Demonstrate how each of them is providing useful and relevant inputs to the subject.
Compare these theories to each other, highlight their weaknesses, and show their lack in dealing with the current state of the market.
Find a way to cover this unresolved question from a new angle. Show how this new perspective will help your prospects better resolve the issue at hand.
#3 Making first-hand research
You can do some research to analyze its implications. You can rely on many research methods:
A quantitative survey
Qualitative interviews
Statistical analysis
Customer use cases
The most important thing is to keep to the scientific rules of research to guarantee trustworthy and objective results. The more reliable the results, the more meaningful the insights you will dig out.
#4 Defending your new point of view
Which key factors have the most influence? Which comes second, or third? How do all these components are connected with each other? What causes which?
You can sum up your research into a conceptual formulation and visually illustrate your new insights.
#5 Giving practical insights
The theory is nothing without concrete applications. You can share general guidelines that you have drawn from your research, but also you have to show real case examples. You may describe :
How a company struggled with the issue.
How they came up with your great solution, or how you co-created with them.
How they deployed it and scaled its implementations.
The results and benefits of this strategy.
The limitations and relevance of the example. For example, this company belongs to a specific industry, which might make this success story less representative of other less-similar companies.
Part 2: Tips for creating successful leadership content
Here are some tips for arranging a thought leadership content strategy:
1. Align with your business goals
The best thought leaders have to learn how to serve their audience while remaining aligned with their business goals. Although thought leadership content may not lead directly to sales, it helps your company achieve other key performance metrics:
Increased traffic to your website
Additional backlinks from media outlets
The increased base of the social media followers
2. Show your confidence
To establish a reputation of credibility, demonstrate confidence in your voice and actions. For example, you could rehearse your speech before giving a presentation or a webinar to improve your speaking confidence. Nonverbal cues, such as gestures and expressions, are very important.
3. Engage audience participation
Whether you've published an article, delivered a speech, or organized an event, your audience may have questions or comments about your thought leadership content. Consider using those questions and comments to double-check your content, create follow-up material, or receive additional mentions in the media.
4. Think about your company's mission
When you're performing as a thought leader, your listeners often relate what you say to the feeling about the brand. Check your company mission statement to ensure your content aligns with the brand's values and goals.
Types of thought leadership content
There are many forms and formats of thought leadership content. Thought leaders may cover the same topic in multiple formats to reach a bigger audience, which can help increase their trust. Here are a few types of thought leadership content to consider for your content:
White papers
White papers are documents that explain research, the function of specific products, or other concepts related to a business's products or services.
White papers serve as a point of reference for experts in the field, clients, and investors. The goal of a white paper is to help the customer make a decision about an organization and its products or services.
Guest speaking events
As a guest speaker, a thought leader can demonstrate his/her deep knowledge while supporting a cause or another business. Businesses and organizations often invite guest speakers to explain complex subjects and reveal industry trends or talk about their professional experience and it's better for you to use this opportunity.
Educational web content
Web content, especially videos, is especially effective at reaching audiences of different levels. Educational content from a thought leader can provide valuable information and encourage customers to trust in a brand. Here are some examples of educational web content:
Webinars
Instructional videos
Articles
Active posting on social media
Industry skill courses
Product how-to guides
How to promote your thought leadership content?
We all know that even the most compelling content needs to be promoted. For that, you have to leverage marketing. You need to use such communication channels:
Social media posts
SEO-optimized blog posts
Newsletters
Interviews, webinars, and conferences
Your expertise deserves to be known in any way possible!
Content Marketing Platform
100,000+ media publications;
get backlinks to your product;
scale work with content distribution.
Inspirational examples of thought leadership content
Zendesk
Their guide "Fairness in the customer relationship" has got a lot of approvals. It shows the limitations of two ways: always pleasing the users, or not responding to the demand. Instead, it emphasizes a third approach: being proactive and sympathizing with frustrated customers while keeping the ground.
Deloitte's Research Page
Deloitte is one of those brands that demonstrates successful leadership content and they're sharing the ideas behind their extensive research through a special page on their website.
Their Insights blog contains data about retail shopping surveys, consumer trends, and other highly important topics.
Neil Patel's Blog, Videos & Additional Resources
In the world of digital marketing and SEO, the name Neil Patel is recognized by a lot of people. Although he's a New York Times Bestselling author, he became popular and respected because of his blog, videos, and online resources. Especially, he realizes that to be a thought leader, sometimes you need to share your expertise for free.
Wrapping Up
Creating high-quality content is a long-lasting game—especially if you're concentrating on thought leadership content. But it's possible to succeed with the right subjects, experts, and patience.
No matter what type of content you choose to promote your brand, you'll need a content marketing service to make the task easier. That's where PRNEWS.IO comes in. We are an all-in-one content-creating and distributing platform with a solid experience. Our features allow you to plan, create, and publish your big ideas.
Read more: