What is a content calendar? A content calendar is a kind of "Content Marketing" ship deckhouse where the ship's control systems, instruments, command post, etc. are concentrated. Basically, it's a template that you can use to manage content marketing and its processes.
A good content calendar includes information about publication topics, authors, ways to distribute content, publication schedules, etc.
What is a content calendar?
Let us start with the simplest possible definition. A content calendar is a list of the materials you plan to publish on the blog. That's pretty simple, right?
A perfect content calendar includes:
material topics;
technical tasks for copywriters;
schedule for publication (availability of resources);
the author of the material;
ways of distribution (seeding) of the content;
the target audience (ICP – ideal customer profile);
types of content (article, long read, checklist, ebook, etc.);
what we create the material for (CTAs).
But that does not mean you have to keep a huge document with fields that do not fit your company's needs. Each individual business needs to customize a content calendar to fit their specific needs.
Sometimes it does not make sense to prescribe a target audience for every single piece of material. For example, if you have a blog about organizing kids' parties, you do not need to specify that your target audience is young parents every time.
Main rule:
A content calendar is a flexible document designed to make a marketer's job easier, rather than bureaucratic.
The task of creating a content calendar consists of two separate subtasks:
Selecting a platform (service) for creating a content calendar;
collecting topics for publication.
Services for creating a content calendar
The first task solution depends on the team you are working with and their skills. For example, at PRNEWS.IO we use Google Sheets to maintain the content calendar because there is no analog in the world of free services that can match Google Docs in terms of functionality and accessibility.

Here we have:
Topic – it is the working title of the material, in the process of creation, it may change a little bit.
Keyword – the main keyword phrase by which the material should be ranked.
KD – keyword difficulty, a coefficient that shows how "difficult" it is to reach the top of Google for a keyword.
Volume – frequency of search queries.
Author – the author of the article.
Technical Tasks- a technical task for the copywriter.
URL – the link to the published material.
Besides Google Docs for creating a content calendar are used:
Trello;
WordPress Editorial Calendar;
CoSchedule;
BrightPod;
and many other services.
Choose a platform you feel comfortable working with and go for it!
How to create a content calendar?
There are plenty of methods for determining future content topics, and we'll focus on a couple of them:
brainstorming with the team;
competitor analysis;
SEO approach.
Brainstorming with the team
It is the most important step in creating a content calendar because here is where you identify the target audience for whom you are writing the content.
It is important to understand that there are businesses with a narrow target audience, and there are some with a broad one. The last ones sometimes blog not for all potential customers, but only for a certain part of it. For example, the target audience of the PRNEWS.IO service consists of:
PR people;
SEO specialists;
marketing managers;
small business owners and startups;
influencers and opinion leaders;
talented people who want to be known;
website and news resource owners;
the list is endless.
You have to admit that it's quite difficult to create content for an Instagram blogger and an SEO at the same time.
How do you find out who your target audience is? There are many ways, from analyzing information in CRM to conducting in-depth interviews. The most common method is the 5W technique, where you create a portrait of your target audience based on 5 simple questions.
Once you have identified the audience you want to create content for, get to work on their "pain". Create a spreadsheet with your ICP's individual pain, challenge, purpose, and motivation (ideal customer profile) as column names.
With your colleagues, think about what queries your ICP can type into the search box to find solutions to their problems.
Competitor analysis: looking for post ideas on competitors' blogs
Your competitors are your best friends. They give you ideas, and you can keep track of topics from them that people like or not. When you're inspired by the competitors, you don't just need to borrow topics, you need to refine and make the material a little better than your friends have.
Why analyze competitors?
From your competitors, you can look up winning ideas.
Study the interests of the target audience.
To notice the mistakes and shortcomings and make it better.
Who to analyze first of all:
competitors at the First page of Google ;
growing sites;
growing new sites;
falling sites;
related niches.
✔ Competitors at the First page of Google – these guys HAVE done something awesome and are getting dividends.
✔ Growing sites – friends who are doing "right" at the moment.
✔ Growing new sites – competitors who are growing through their actions, not, for example, link weight gained over the years.
✔ Falling sites – guys who are having problems, right now they are making mistakes, it is important not to repeat them.
✔ Related niches – you can look up tricks your competitors haven't thought of yet.
The services I use to analyze competitors:
https://www.similarweb.com
https://buzzsumo.com
https://neilpatel.com
https://ahrefs.com
https://www.semrush.com
https://app.kparser.com
https://jagajam.com/ru (smm)
https://popsters.ru (smm)
What to look for when analyzing the competitors for a content calendar:
Topics that bring traffic from search;
geography (where potential leads come from);
TOP competitor pages that bring in the most traffic;
backlinks in the context of channels for content distribution;
Social shares – how often competitors' content is reposted
For example, using SimilarWeb you can define that the main traffic channel for PRNEWS.IO now is direct.

It means that the company has only recently begun to engage in content marketing. When creating a content calendar for PRNEWS.IO, I would choose competitors with the main source of traffic – search.
Buzzsumo helps you find ideas for viral competitor content that has gotten the most reposts and likes on social media. Spread the word better to get even more engagement on social networks.

What type of content do search engines respect?
To take a SEO approach to create a content calendar, you need to be clearly aware of what kind of content search engines respect. For example, for Google, the important characteristics are:
E-A-T (expertise, authoritativeness, trustworthiness);
Page Quality ranking (the concept of low and high page quality);
BERT algorithm (by which Google better understands the user and improves search quality)
It follows that content that Google will appreciate is:
useful;
informative;
reliable;
solves the user's problems;
trustworthy;
accessible.
Not bad, right?
The Page Quality characteristic is intuitive enough to give content one of nine ratings from Lowest to Highest.
Very often, the "Highest" quality ranking is given to those sites that reveal valuable information based on research by journalists or other niche experts.
In fact, the article author is a very important content feature for search engines ("Agent Rank") that helps confirm the expertise of your material.
This is why article authors on your blog should be in-house experts, not freelancers. And that's why the author column in the content calendar has value.
Are you ready to create quality content? Then let us try to identify topics worth mentioning in your blog from SEO point of view.
SEO approach to creating a content calendar
A workable way to find what users are interested in is to analyze what they search for related to your topic.
THE MINIMUM LEVEL FOR SEO TODAY – YOU HAVE TO BE THE BEST IN THE RANKINGS
You can't do without using third-party platforms here! Free services for SEO analysis are:
https://keywordshitter.com
https://app.neilpatel.com
https://keywordseverywhere.com
https://keywordtool.io
https://www.google.com/webmasters
https://tools.seochat.com/tools/related-keywords-tool
https://www.wordtracker.com/scout
Paid tools for SEO analysis are:
https://moz.com
https://ahrefs.com
https://www.semrush.com
I use Ahrefs for my work. With Ahrefs, it's easier to write a better article than your competitors in the rankings. The idea is that to get into the TOP 10, you have to be ten times cooler than the articles in the TOP 10. With Ahrefs, it's done like this:
searching for a keyword in keyword explorer;
analyzing what people are asking for with that keyword;
analyzing the keyword explorer's results;
researching competitor pages;
creating content that is 10 times better.
Easy enough ?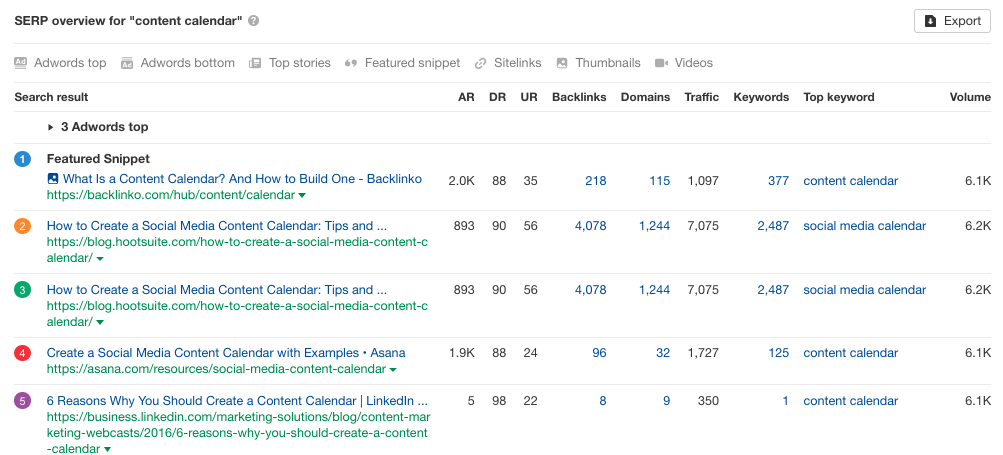 ANALYSIS OF RESULTS FOR THE KEYWORD "WHAT IS PR" IN AHREFS
Additional sources of content ideas
"Search Queries" in the Google Ads account;
Google Trends;
Google Suggest;
Answer the Public;
People also ask (Similar queries) block;
Related Queries block;
Search engine tips are a treasure trove of ideas for any content marketer. Google Suggest – take a keyword and add to it various questions like "how," "what," "where," and "why." You can use * and _ in the middle of the keyword phrase.
SEARCH TIPS: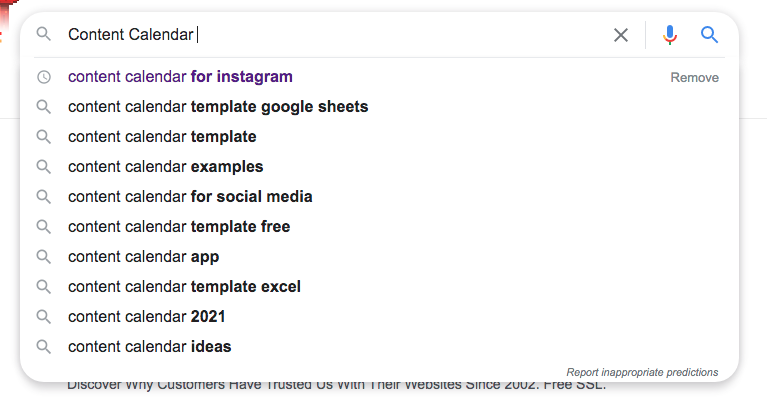 PEOPLE ALSO ASK (SIMILAR QUERIES) BLOCK

The Answer the Public tool will please you with a cool visualization of search queries. It converts search queries into questions and, unfortunately, is only suitable for the English-speaking segment. As a result, you can download a table with post ideas.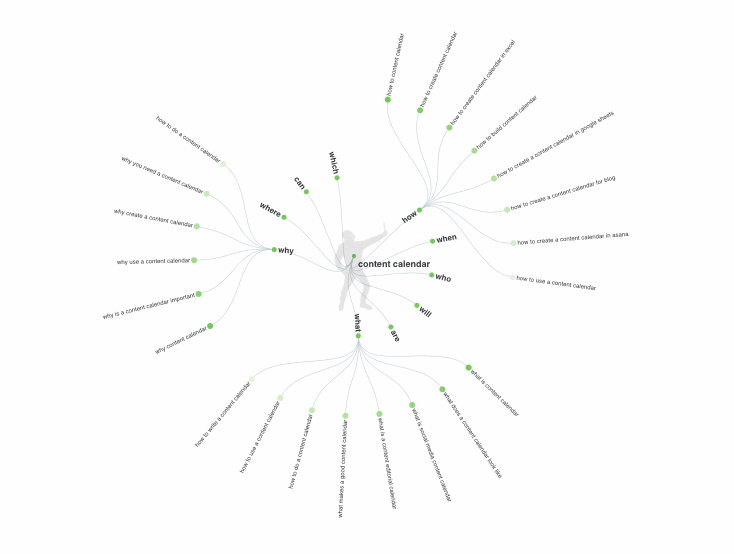 All these are sources of ideas for future blog articles. The next step is to check queries through SEO tools and select keywords with the highest potential.
The content marketing funnel
Once you've generated a vast number of potential topics, it's worth overlaying them on the sales funnel to figure out at what stage each of the possible topics performs.
There are several ways to visualize the sales funnel. For example TOFU, MOFU BOFU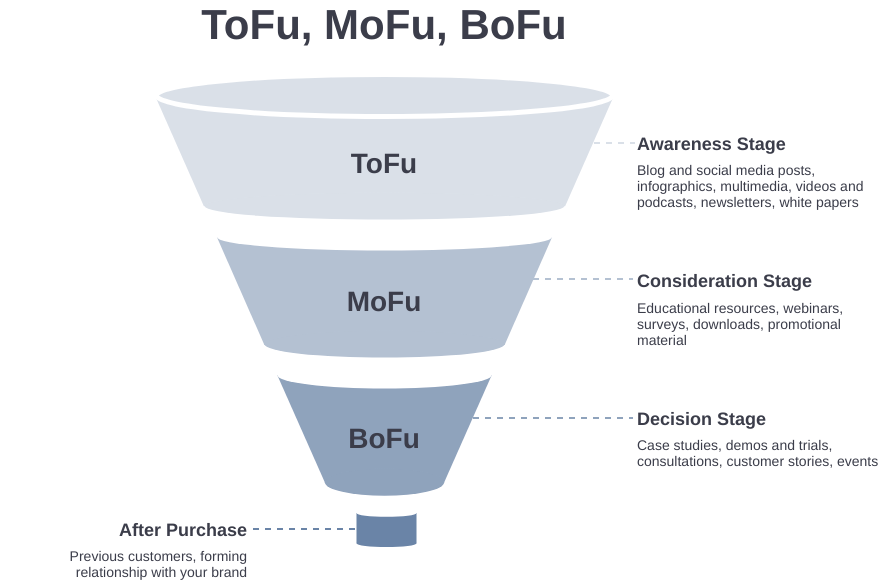 Or ACD = Awareness -> Consideration -> Decision

How the content marketing funnel is visualized does not change its essence. It's important to understand that each funnel stage requires a different approach to content.
When creating a content calendar for a blog, you need to understand what types of content are important at different stages. It's also important to be able to "share" content with other platforms and formats. For example, feedback as a content type works better on product pages than on a blog. You also need to consider the specifics of each stage and predict the potential traffic for certain materials.
At the top of the funnel is a broad audience, people who could theoretically be interested in your brand.
The middle of the funnel is getting narrower: there are far fewer people who are not only interested in you, but also willing to buy.
The bottom of the funnel is quite narrow: these are the people who have become customers.
Traffic and conversion at different stages of the content marketing funnel.
Content Marketing Platform
100,000+ media publications;
get backlinks to your product;
scale work with content distribution.
Content calendar template from PRNEWS.IO
Once you've gathered all the necessary information, you can start putting together a content calendar for your business.
Link to content calendar template from PRNEWS.IO – save a copy and customize!
Types of content
Here are content types that can help you create a content plan for your blog:
Beginner's Guide: Create a comprehensive guide for beginners in your niche, covering essential concepts, tips, and resources.
Frequently Asked Questions (FAQs): Compile a list of commonly asked questions related to your niche and provide detailed answers for each.
Trend Analysis: Write an article discussing the latest trends in your industry and provide insights into their impact and potential future developments.
Case Studies: Share real-life examples and case studies that demonstrate how your products or services have helped customers solve specific problems or achieve success.
Expert Interviews: Conduct interviews with industry experts or thought leaders and share their insights, advice, and perspectives on relevant topics.
Product Reviews: Review and compare products or services that are popular in your niche, highlighting their features, pros, and cons.
How-To Guides: Create step-by-step guides that walk readers through specific processes or tasks related to your niche.
Opinion Pieces: Share your thoughts, opinions, and analysis on industry news, events, or controversial topics, sparking discussions among your readers.
Best Practices: Provide practical tips, techniques, or strategies that can help your audience optimize their performance or achieve specific goals.
Resources Roundup: Curate a list of valuable resources, such as books, websites, tools, or podcasts, that your readers can refer to for further learning or exploration.
Success Stories: Share inspiring success stories of individuals or businesses in your niche, showcasing their journeys, challenges, and achievements.
Behind-the-Scenes: Offer a glimpse into your own work processes, projects, or experiences, allowing readers to connect with you on a more personal level.
Explainer Videos or Infographics: Create visual content, such as videos or infographics, to simplify complex concepts or present information in a visually appealing and easily digestible format. To create visual content use infographic template.
Industry News and Updates: Stay up to date with the latest news, events, or advancements in your industry and share timely updates with your readers.
Comparison Guides: Compare and contrast different approaches, strategies, or solutions within your niche, helping readers make informed decisions.
ChatGPT Prompts to Create Content Plan
These prompts should give you a good starting point to brainstorm ideas for your content plan. Tailor them to your specific niche and target audience for the best results.
"What are the latest trends in [your niche] and how are they shaping the industry?"
"Can you provide a beginner's guide to [specific topic] in [your niche]?"
"What are the most effective strategies for [achieving a specific goal] in [your niche]?"
"What are the common challenges faced by [professionals/individuals] in [your niche] and how can they overcome them?"
"What are some lesser-known techniques or tips for [specific task] in [your niche]?"
"Can you share some success stories of individuals/businesses who have achieved remarkable results in [your niche]?"
"What are the key factors to consider when choosing [product/service] in [your niche], and what are some popular options?"
"How does [specific technology/tool] impact [your niche], and what are its potential applications?"
"What are the upcoming events, conferences, or webinars related to [your niche] that professionals should attend?"
"Can you provide a step-by-step guide on [complex process] in [your niche]?"
"What are the best resources, books, or online courses for learning [specific topic] in [your niche]?"
"How does [emerging trend] affect [specific aspect] in [your niche], and what are its implications for professionals?"
"What are the top mistakes to avoid when [engaging in a specific activity] in [your niche]?"
"Can you provide insights into the future of [your niche] and the potential developments to look out for?"
"What are some effective strategies for marketing/promoting [product/service] in [your niche]?"
Feel free to modify these prompts to fit your specific blog niche and audience. They can serve as starting points for generating engaging and informative content with ChatGPT.
Online Publicity Workbook
100+ content ideas for your B2B startup;
ideal for do-it-yourself publicity plans;
schedule your PR campaign in advance.