For your successful PR career, connections are crucial. And social media is the first step to have them. Follow these PR influencers to inspire you and help you stay on top of news in the PR world:
Build Positive Online Reputation & Remove Negative from SERP
Peter Shankman
CEO & Founder of ShankMinds, Founder of HARO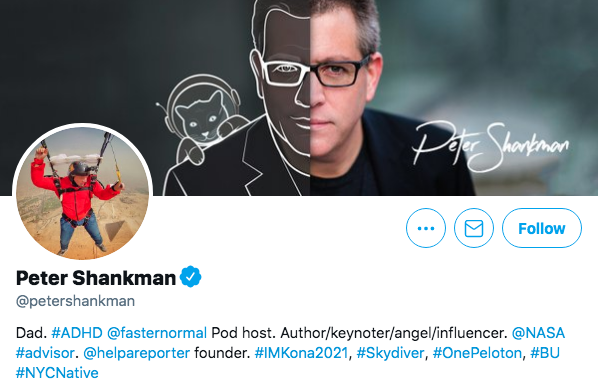 Peter is a 5x best-selling author, entrepreneur, and corporate keynote speaker. He is focusing on customer service and the neurotatypical economy. Peter launched three startups- HARO (Help A Reporter Out), The ShankMinds Breakthrough Network, and Faster than Normal – The Internet's #1 podcast on ADHD. Peter is well-known internationally for radically new ways of thinking about the customer experience, social media, PR, advertising, marketing, ADHD (Attention Deficit Hyperactivity Disorder), and the new Neurodiverse Economy.
Kellye Crane
Founder of Solo PR Pro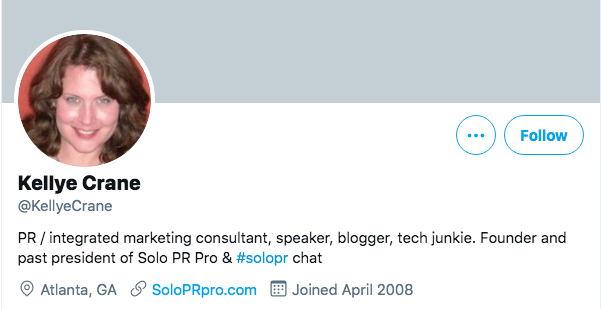 Kellye created Solo PR Pro. It is an online project for communications consultants, providing the tools, education, advocacy, and community resources needed for entrepreneurs to succeed and grow. An experienced and award-winning communicator with more than 20 years of work, 19 years of them she was working solo. She focused her work on strategic public relations and marketing communications. Kellye has offered her service in strategic planning, social media, press/influencer relations, and marketing communications. Her clients were some of the world's largest companies, including The Coca-Cola Company, IBM, Intel, and Microsoft.
Natasha Koifman
Founder & President of NKPR

Fifteen years ago, Natasha Koifman was working for another PR company. In 2002, Natasha decided to create a PR company from her basement and it quickly transformed into a successful PR agency. An International public relations, marketing, digital media, and artist management agency with offices in the United States and Canada- Natasha is always on the go. She has a big experience to share on social media. 
Lucy Rendler
Founder of Arkay Marketing & PR 

After 17 years, Lucy was working for a company that was about to get bought out by a huge soda company. She was dreaming about her own firm but also was scared about not having work after that. Finally, she faced her biggest fear and opened her company. Now she runs a marketing and PR company, with a very strong focus on social media. Arkay Marketing & PR has worked in many industries as well, from CPG to the NFL. This year Lucy is creating her own app that will be launching this spring.
Candice Cameron Valencia
Founder & CEO Evocative LA

Candice Valencia is a founder of a PR agency, focused on PR service for fashion brands. It was at that moment — when she decided to never let that happen again. It was the first day to developing an LA-based emerging fashion consulting boutique, Evocative LA. The Evocative's boutique business structure provides an incredibly personal experience tailored to each brand they cooperate with. From LA- to NY- and London-based labels, her fashion PR company is quickly becoming the go-to for brands who want to become well-known.
Sarah Evans
Founder & CEO of Sevans Digital PR, Sevans Strategy

Twitter | Facebook | Instagram | Linkedin
Her company serves as a digital consultant to global brands to create and improve their social and digital strategies. Also, Sarah is a digital correspondent for such big companies as Paypal, Cox Communication, Shorty Awards, Wal Mart, and more.
A self-described "social media freak," Sarah started and moderates #journchat, the very first weekly live chat for PR experts, journalists, and bloggers on Twitter.
Christine Kirk
Founder & CEO of Social Muse Communications

Twitter | Facebook | Instagram | LinkedIn
Christine is known as the "Luxury PR Girl" and one of the top PR influencers. She is the Founder and CEO of Social Muse Communications, a PR and social media firm. Her agency offers traditional PR campaigns, media relations services and has landed influential placements for clients in local and national media outlets.
She specializes in high-class brands, which has made her popular with people interested in all things luxury. Christine was named a "Klout Star" by KLOUT a trusted source in the measurement of online influence.
Kami Huyse
Founder & CEO of Zoetica

Twitter | Facebook | Instagram | Linkedin
Kami founded Zoetica, a digital marketing and public relations agency. It specializes in helping national and international companies build a strong community, and drive measurable business results.
A 20-year-veteran of public relations, she is a speaker at many social media conferences across the country. Kami works also as a regular columnist for PRNews, an industry trade magazine. Her work in social media deserved two Society for New Communications Research Social Media awards and IABC's Gold Quill of Excellence Award.
Deirdre Breakenridge
CEO of Pure Performance Communications

Twitter | Facebook | Instagram | Linkedin
Deirdre works as Chief Executive Officer at Pure Performance Communications. A veteran in PR and marketing, Breakenridge has consulted senior-level executives at organizations including the Academy of Nutrition and Dietetics, Empire Today, JVC, Marketwired, and Sysomos. Breakenridge is writing for PR Expanded and is the co-founder of #PRStudChat, a monthly Twitter discussion for PR students, educators, and PR professionals.
Top Rank named Breakenridge among the 25 Women that Rock Social Media in 2013. She takes a place in the Top 250 Women Leaders published by Richtopia in 2016 and 2017.
Andrew Bloch
Founder & NED of Frank PR

Twitter | Facebook | Instagram | LinkedIn
Andrew Bloch is the founder of a PR agency called Frank. He also works as a spokesman for Amstrad's founder. Bloch's agency has won one of the most notable prizes, being named by Tweetlevel as the most influential PR person on Twitter.
Brian Hart
Founder & Strategist of Flackable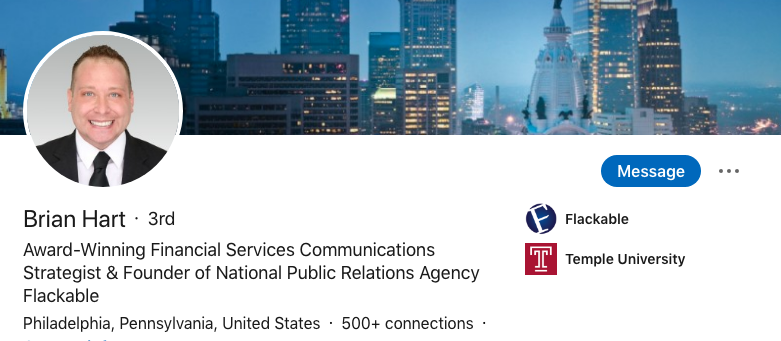 Brian Hart works as an online columnist for Inc. Magazine and founded Flackable, a national, full-service public relations, and digital marketing agency. Brian created Flackable at the age of 27 and now he cooperates with the American client base of financial and professional services companies. His professional awards include Irish America Magazine's 2017 Business 100, PR News' 2017 Rising PR Stars 30 & Under, and Adweek's 2015 PR Industry 30 Under 30.
Christine Perkett
CEO of MindFullMarketing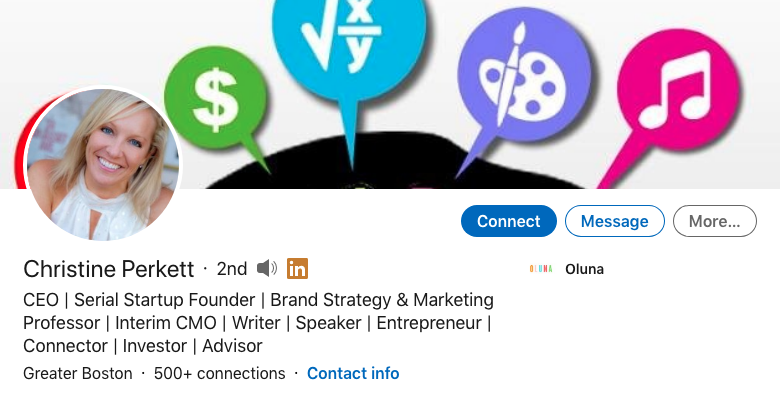 Twitter | Instagram | LinkedIn
Having her Perkett PR agency, Christine offers to her followers great PR tips and links to highly informative PR articles.
Christine has been named as the "Best Communications, IR and PR Executive" in the American Business Awards", a "Top 100 Must-Follow Marketing Mind" in Forbes, and a "Top 50 Social Media Influencer on Twitter" by Cision.
Annie Jennings
Founder & CEO of The Annie Jennings PR

Twitter | Facebook | Instagram | Linkedin
Annie Jennings is famous for her BLINK FACTOR where she somehow knows why you are good and can identify your path to success. Her company is famous for the pay-for-play performance-based publicity programs that thousands of businesses have used to promote themselves. Annie Jennings has given thousands of interviews on high impact in the USA.
Jen Hartmann
Director of PR & Social at John Deere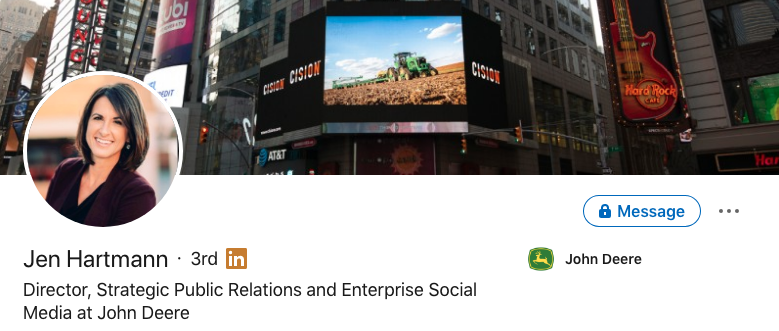 Jen is in charge of protecting and improving John Deere's reputation by leading a company's social media and public relations strategy. She has more than 25 years of experience in public relations, communications, and marketing. She regularly takes part in many marketing conferences.
Amanda K. Ruisi
Founder & President of AKR Public Relations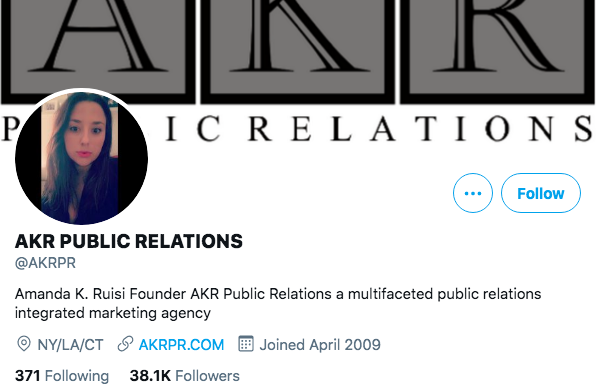 Amanda K. Ruisi founded AKR PR, which is focused on public relations for celebrities and beauty and lifestyle brands. On her social media accounts, she shares a behind-the-scenes look at a bustling PR firm.
Her full-service PR firm has an impressive list of honors including the prestigious "Ace Award" for all Media Relations given by PR Daily. Being one of the youngest publicists, who created her agency, Ruisi has done this before the age of 30.
Bottom Line: PR Influencers 2021
Social media makes PR more personal, allowing us to choose the way we build relationships and create our PR strategies. With so many bloggers and outlets on social media today, PR experts should choose who to follow wisely. Who do you want to connect with? What accounts did I miss in this post? Please, share your favorites with me in the comments. Thanks.