Whether the art objects are on permanent display in a park or trading center, or a visiting exhibition or showcase, PR for artists should extend the right call to the targeted audiences, presenting the work in the best light. The fame is built not by the messages you create, but rather by the way they are received.
Meme:
Malevich's Black Square: "You say it's easy to draw, try to sell it :)"
What Is Public Relations?
Simply speaking, public relations (PR) means the management of communication between an organization and its publics. Public relations is about conveying the right messages to the right place and the right people, creating a strong and positive brand reputation.
Primarily, PR is a persuasion business. You have to convince an audience, inside and outside your usual area of influence, to promote your art project, exhibition, support your idea, or recognize your accomplishments. Public relations can be used to protect, enhance or build reputations through the media, social media, or company-generated communications. 
Build Positive Online Reputation & Remove Negative from SERP
One of the must-know terms in PR science is publicity.
What is Publicity?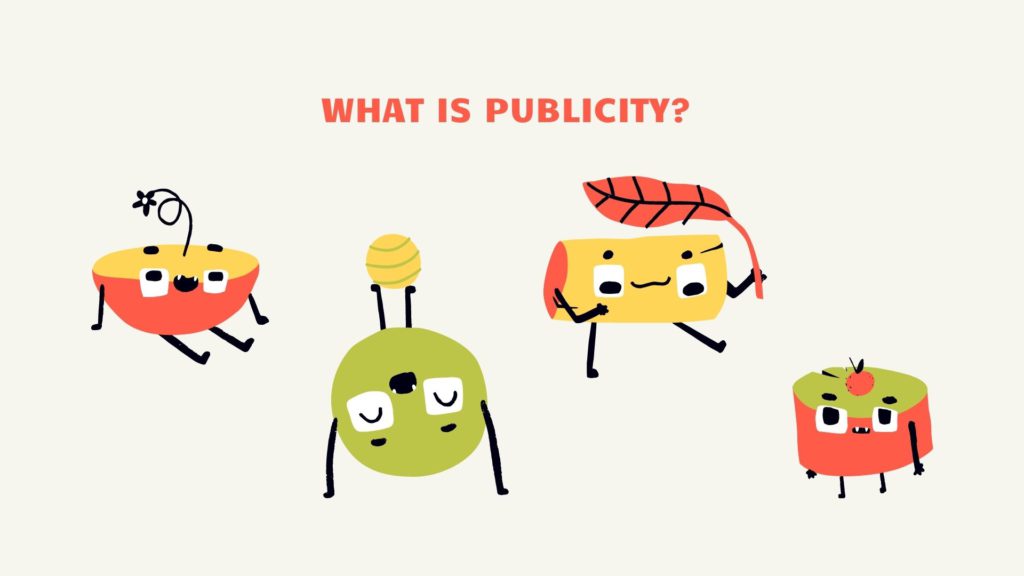 Publicity is the communication about an artist, placing significant news about it in the media. In simple terms, publicity is the flow of information to the public via media activities and other mass media sources.
Publicity is not a process but a result of a good public relations strategy where the marketers succeed in providing favorable information to media and other third-party outlets like bloggers, vloggers, podcasters, etc. Publicity adds credibility to the overall communication message. It gives people a reason to talk about the brand and, in turn, influences the effectiveness of word of mouth and viral marketing.
How Does Publicity Work?
Publicity is considered an important promotional tool. Artists assign a publicist who is confided with the job to generate and manage publicity for them, offering a public figure by persuading the news media to write about the same in the most positive way.
Publicists and PR experts use multiple ways to generate news stories about the brand. These are:
Press release: A press release is a short, but powerful story written in a special format to inform local media outlets about significant newsworthy events or information. It could be related to general news, events, new show, items for auctions, or expert opinions on a particular matter.
Networks: Public relations experts and publicists develop personal contacts to increase their media coverage.
Digital Media: PR professionals also use digital marketing strategies like social media marketing to get the attention of the target audience.
Why Art Needs PR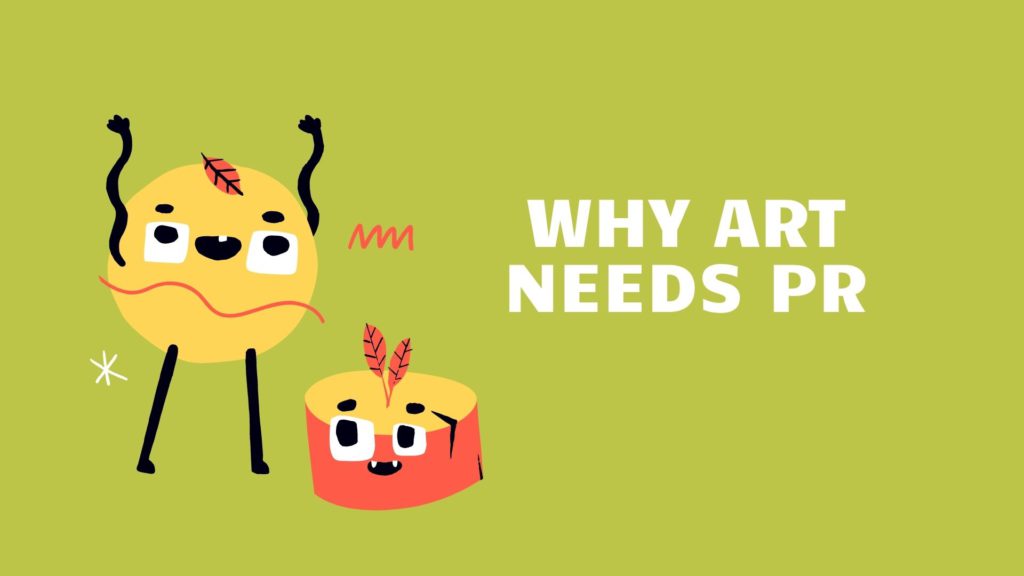 Every artist or creative person, who wants to be viewed, should use some form of public relations to build their brand. The world is hungry for news and to know what is happening around. Although some media platforms have been reduced such as newspapers and magazines they have been replaced by a multitude of TV channels and streaming services, internet radio shows, online publications, newsletters, social media, and blogs. People are looking to find out hot news and updates – it might as well be YOU that is new in the world.
Here are some examples of how PR can help you to tell what is going on in your world:
New projects, art objects, or ideas you have created or you are currently working on
Your performances, exhibits, and events, where you will be
Opening a new studio or retail location
Participation or initiating an auction or charity sale
Awards or honors you have won
Collaboration with other colleagues or organizations
Community activities or groups that you are taking an active part
Panels and group discussions you are involved in
Feature articles and interviews about you and your work
Working With the Media | PR for Artists
Public relations has shown to be a core element in the art world as it generates awareness to those who deserve it. It includes a big number of activities to protect the artist's image and rise glory.
Some of the areas public relations cover are:
Communication between you and your potential audience(s) and target customers
A mediator between you and the media
Initiating press interviews and involvement with public causes or charities
Positioning you as a professional and talented person in your particular field by being quoted and sought after
Building connection with your stakeholders such as customers, employees, critics, and the public
Managing your social media accounts and engagement there
Developing third-party promotion for your artworks and events
Crisis management (if you do things right you will probably not need this one, but it's better to be prepared for all situations)
To be heard you have to work with the media. Here are some tips to make your public relations efforts more successful with a help of the media outlets:
Tailor your message to the appropriate media
Find the right editor – don't send an arts-related article to the sports editor unless you have a real good reason to do so.
Contact them before you send a press release – pitch your story.
Be respectful of their time – usually, they have deadlines or busy schedules so politely ask them if they have time to talk with you.
Help them facilitate their work – ask what you need to do to make things go smoother
Follow through on any additional suggestions or requests on time
If your piece of news appears in a publication be sure to send a thank-you email.
Like all things marketing, you need to have a firm grasp of the basics and a strategy for what you are trying to accomplish – PR is no different. Public relations is a strategic communication process. And if you are executing the role of the PR strategist (officially or accidentally) and need help and support, delegate part of the work to professional services. Whether you're seeking a way to connect with media or write press releases, articles, that'll go viral in the art world, they'll get you covered.
This means you don't need to convince journalists or editors to write a positive story about you or your client, your candidate, brand, or issue. So your direct contact with the PRnews platform will allow you to appear in the editorial section of the magazine, newspaper, TV station, or website. And you don't need to overpay other PR agents or reporters. You have it all (copywriting and distribution) in one place.
Benefits from PR for artists, creative persons, art galleries, and other institutions might seem obvious: they host exhibitions and consultants pitch the media to coordinate related press. In reality, communications experts can provide many more services. PR specialists use some tools and techniques to boost their clients' public image and help them set meaningful relationships with the chosen target audience.
To achieve that, they use tools such as:
The writing and distribution of Press Releases (internal or external sites)
Create press releases to inform the media about newsworthy events or changes regarding your project. Press releases require a specific format, tend to be short and lead with the most important information. You can read this detailed guide on how to write a press-release or hire a service to create one for you. Once your press release is crafted, you can distribute it to local media outlets, put it on your website, and distribute it using a service like PRnews.io.
How to Write Press Release – Guidelines, Formats, Free Samples
Social Media promotions and work with public opinion
If you're taking part on social media, everything you post is a form of public relations. You send information about yourself with every original post you make or share.
Social media platforms such as Facebook, Instagram, TikTok, and Twitter allow you to connect with your potential customers. A strong social media presence keeps your brand in your followers' minds. Rather than trying to make a single post that goes viral, focus on building an interesting audience slowly and steadily by offering posts that educate, entertain, or both.
To add more credibility to your social media accounts, check‌ ‌out‌ ‌these‌ ‌‌Instagram‌ ‌& Twitter verification‌ ‌services.
How To Get Verified On Instagram
Wrapping Up: PR for Artists
Most artists know how it is important to promote themselves but don't create any definitive plan or goals about the subject. The art world manages to cover up the magnitude of the PR role there. We often forget how much work takes place behind the scenes. Museums, art fairs, artists, and galleries are all needed some help in PR for artists. Maybe it's time for you to think about how to raise the volume of your self-promotion.
Public relationships must be a component of your marketing strategy, it's different from marketing because there is no message beyond letting an audience know that the product or service in question exists. Remember, public relations (PR) can be one of your most powerful marketing tools on the way to international fame.
Public relationships must be a component of your marketing strategy, it's different from marketing because there is no message beyond letting an audience know that the product or service in question exists. Remember, public relations (PR) can be one of your most powerful marketing tools on the way to international fame.
Public relationships must be a component of your marketing strategy, it's different from marketing because there is no message beyond letting an audience know that the product or service in question exists. Remember, public relations (PR) can be one of your most powerful marketing tools on the way to international fame. PR for artists