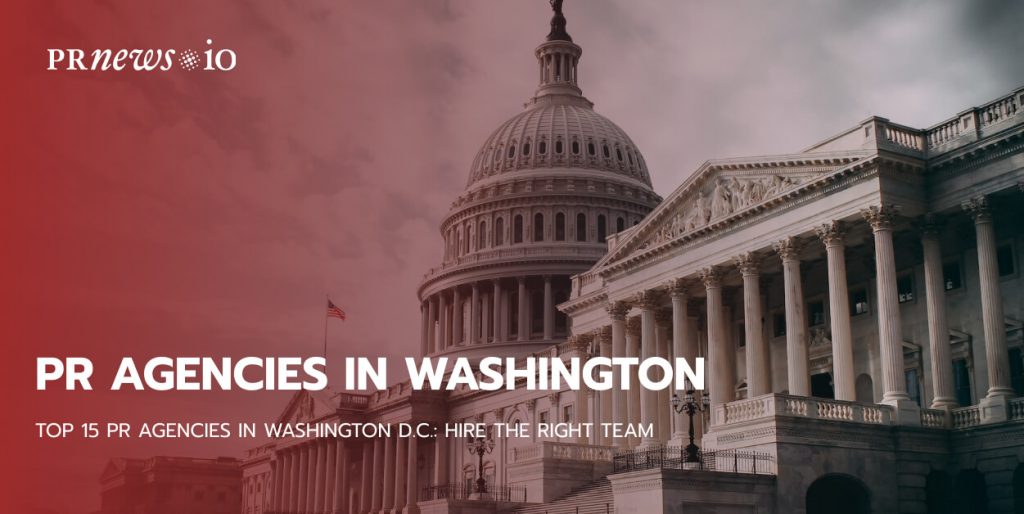 Your company is on the path to success. There are many people who participate in the process. And how about communicating with your stakeholders and the target public? It is an essential part of your business growth. You need to hire experienced PR managers or use the services of PR agencies. Below, we are going to see the list of top 15 PR agencies in Washington D.C.
It makes sense to find an external team for your public relations campaign, which is able to manage such assignments as writing your corporate blog, drafting advertisement copies, and setting up a corporate email workflow. It will help you boost your brand awareness and improve media management. You won't do without a public relations agency on your own.
Top 15 PR Agencies in Washington D.C.
As a business owner, you should not underestimate the importance of public relations campaigns. PR is a strategic process that helps a company build beneficial relations with the target public. In the modern business world, public relations and marketing always work together. A PR agency handles the reputation of your brand via owned/earned/paid communications. A PR manager delivers your message to the press in order to boost brand awareness and reputation on the market. Start cooperating with these PR agencies in Washington D.C. to achieve stunning results faster than your numerous competitors.
Content Marketing Platform
100,000+ media publications;
get backlinks to your product;
scale work with content distribution.
Red Banyan is a well-known crisis public relations and business communications agency. Many business owners trust their PR campaigns to its experienced team. You should visit its comfortable office in Washington D.C. to set the plan for your new public relations and marketing campaign. The Red Banyan agency focuses on providing the following services: public relations, crisis management, marketing communications, promotion on social media platforms, and advertisement. This agency knows how to mix traditional values, creative ways of thinking, and judge according to vast experience. Thanks to the relentless commitment of each team member, your company will achieve stunning results.
2. REQ
REQ is one of the best digital marketing and public relations agencies in Washington, D.C. The award-winning team provides the best digital marketing/communications to worldwide clients. The team can help your company cope with the fast-evolving media landscape. As a result of your PR campaign, your brand, reputation, and business results will be brought to new heights. The REQ team offers the smartest solutions and communication technologies for defining, connecting, and protecting your brand. REQ has clients in the following sectors: business, government, technology, health care, finance, real estate, and hospitality. It is one of the fastest growing PR agencies in Washington, D.C.
3. Bluetext
Bluetext is a well-known PR agency in Washington, D.C. The team provides high-quality services in public relations, creative website design, and brand development. The Bluetext agency is proud to have award-winning web designs, who are able to craft powerful public relations and digital marketing campaigns, which are based on metrics-driven communications strategies. The list of clients grows all the time and includes both ambitious start-ups and iconic brands known all around the globe. The team members have enough experience to handle PR campaigns in the following sectors: innovations, technology, B2B, B2C, and B2G. Your company can fully trust Bluetext and delegate the assignment of developing professional marketing/branding campaigns. It is your key to increase brand awareness and visibility.

Renaissance Marketing is an excellent full-service PR and digital marketing agency in Washington, D.C. The team welcomes new clients to help them create, grow, and maintain brand awareness and reputation on a highly-competitive market. The key to your business success is clear marketing communication and efficient digital campaign reports. Your company can order the following services: digital marketing, crisis management, public relations, ecommerce SEO, Shopify SEO, pay-per-click/search engine marketing, social media marketing, display ads, website design, video marketing, etc.
5. Scott Circle Communications
Scott Circle Communications knows how to positively impact your business. This certified public relation agency is based in Washington, D.C. The team mainly deals with various nonprofit organizations, business associations, and advocacy unions. The goal is to raise awareness around important and meaningful issues that matter.
The team will do everything possible to understand your business goals, build the engaging messages, and reach the right audiences. This is how all PR and marketing campaigns are maintained. Such an approach is the guarantee to have excellent results. The agency provides customized business solutions, which are 100% tailored to help your company reach the unique goals. Numerous clients trust Scott Circle Communications fully.
6. RH Strategic
RH Strategies is one of the most reliable public relations agencies in Washington, D.C. It is the PR and marketing leader in the US. The full name of the company is Raffetto Herman Strategic Communications. By using the services of this agency, you have a unique opportunity to build an efficient public relations campaign.
The team has vast experience in technology, security, health, hospitality, finance, and government sectors. A PR campaign combines in-depth market analysis, creative storytelling, and marketing communications strategy in order to deliver meaningful results for each and every client.
7. RENEWPR, LLC
The main mission of RENEWPR, LLC is restoring common sense to public relations and marketing communications. It is one of the best boutique-like communications agencies based in Washington, D.C. The team cooperates with the best alliances, associations, coalitions, corporates, foundations, and NGOs. The team attracts ambitious and goal-oriented clients from all around the US and the globe.
You can be sure that RENEWPR, LLC is able to help your business build and maintain communications with the media, business partners, and customers. The team consists of the best experts, who are ready to make your brand known and 100% successful.
TDB Marketing can help you create your brand presence and stand the competition. The agency focuses on providing high-quality marketing and public relations services to small and big businesses, as well as non-profit organizations. The team has more than 20 years of experience in the PR industry. As a result, clients leave only positive reviews. TDB Marketing will meet your business needs in order to provide personalized solutions and ensure your business growth.
Precision Specializes is an excellent PR agency in Washington, D.C.
It provides professional services, which include the following: strategic planning, branding, marketing communications, public relations, crisis management, digital strategy, market research, data, analytics, targeting, PR campaigns management, etc.
If you do not want to manage your own PR department, it is the best external team you can find for the success of your business.
10. LRA PR
RA is a respectful Public Relations and Digital Marketing agency. The office is located in Washington D.C., where each and every client is treated with respect and maximum attention to his or her business needs. The team serves numerous clients, brands, and companies all across the USA and even abroad. You can trust your PR campaign to LRA PR. It is the right agency to build voices for your brand and earn the visibility it deserves.
Conclusion
Washington D.C. offers a huge choice of PR agencies. We have included only top 10 PR agencies, but there are much more to explore. If you feel like sharing your personal independent recommendations based on your own experience, please let us know the names of PR agencies. They will be included to the list for further informative use for our readers.
Is your business in need of a PR makeover?
Benefit from media coverage assistance.
Witness a refined branding approach.
Watch as your recognition soars.