Do you want to find some alternatives to Ahrefs for your online project(s)? Then, you've got a lot of reasons to read this article.
Ahrefs is one of the best all-in-one SEO platforms in the market. But based on its recent updates, many people started looking for Ahrefs replacement. Mainly since the pricing changed in 2022. So if the Ahrefs features aren't a good fit for you, take a look at the list below to make the best choice. We've prepared for you a price to transfer to an Ahrefs alternative, alongside the details and features you need to know before making your choice.

The Best Ahrefs Alternatives
We've collected multiple SEO tools that could be considered Ahrefs alternatives. They all vary by the amount of included features, and the price range that allows you to make the perfect match for your SEO needs. So let's dive in.

SE Ranking is a comprehensive, all-in-one SEO software. This service provides you with a great balance between cost and functionality, making it one of the best alternatives to Ahrefs. It has advantages in pricing. Also, SE Ranking went out of the way and provided its users with features that Ahrefs lacks – a user-friendly navigation experience.
Features
A powerful keyword tool: helps users segment keywords and build the SEO architecture of the website.
Competitors' insights: gives data about website traffic dynamics including traffic estimate, traffic cost, and keywords driving traffic to their website.
Comprehensive marketing checklists: provide detailed and customized strategies based on the best SEO practices.
A site audit feature: scans everything down to the smallest details—web pages, links, images, website speed, and more.
Pros
The customer support service is prompt and helpful.
The in-depth reports generated by SE ranking are detailed and easy to read.
It is competitively priced.
Cons
It would be better to be more mobile-friendly.
Sometimes, the backlink database seems uncompleted.
SE Ranking doesn't have all the important SEO tools that Ahrefs offers.
Pricing
SE Ranking offers a 2-week free trial. Browse through its paid plans here (billed annually):
Essential – $39.20 per month
Pro – $79.20 per month
Business – $180.00 per month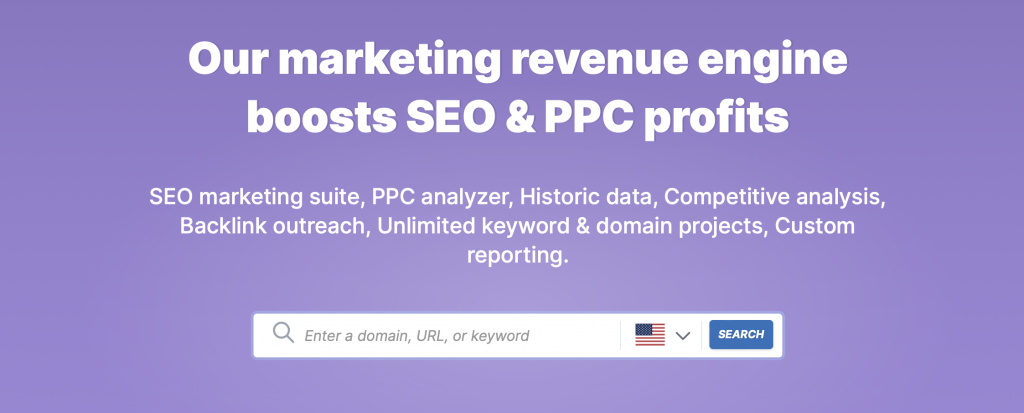 It's a thrifty service offering a user-friendly interface, principal SEO tools along with intelligent PPC features. SpyFu is focused on competitive analysis within the SEO and PPC field, specifically in the areas of keywords, content, and backlinks.
Features
The competitors' reports: show you the place they appeared on Google, organic ranking, ad creatives, and every keyword they've bought in the past 15 years.
A Google Ads Advisor: recommends the most profitable keywords (such as exact-match or long-tail keywords) you didn't discover yet.
Insightful backlink data about your competitors.
Custom SEO reports: to be ahead of your competitors and boost your company.
Identification of target influencers: their links and promotion will help you rank on specific keywords.
Pros
Data is efficiently represented in charts and graphs, making it a user-friendly alternative to Ahrefs.
A one-stop shop for anybody who wants to improve competitor research.
Cons
Sometimes, SpyFu has incorrectnesses with PPC reporting.
The UI can seem a bit messy, making it hard to find what you're looking for.
Basic features such as white labeling are missing in the cheapest tariffs.
Compared to Ahrefs, SpyFu doesn't have all the essential SEO features such as keyword rank tracking and site audits.
Pricing
SpyFu comes with a 30-day money-back guarantee. As for paid plans, there are three options (billed annually):
Basic – $16 per month
Professional – $36 per month
Team – $149 per month

Semrush is considered to be the most appropriate to Ahrefs substitution in relation to its capabilities. But even though both of these tools are decent, they each have different pros and cons. SEMrush is mainly appreciated by its clients for its extensive functionality.
Features
Advanced keyword research: includes a huge database of 20 billion keywords.
The Semrush Writing Assistant: checks the SEO capacity of written content in real time.
Competitors' reports: unveil their marketing strategies in no time.
Detailed insights: are created in the form of beautiful charts and diagrams that are easy to read.
PPC feature: helps you find the most suitable keywords for PPC campaigns, optimizing your advertising costs.
A list of broken links related to your or your competitors' domains.
Site audit: professional SEO toolkit to conduct site checking.
SEO data: this will show you all possible information related to any website or URL.
Pros
Qualitative keyword analysis that separates organic keywords by difficulty level.
Content optimization feature: optimizing all sorts of online content.
SERP analysis and search volume for keywords.
You can connect your site's Google Analytics and Search Console to the Semrush platform.
Content marketing, social media, and PR tools
Cons
The interface could be more user-friendly.
Since there are so many features this platform does, it can be hard to focus on what you really need.
It's a bit expensive compared to other SEO tools.
Semrush has a bit worse keyword data and tool layout.
Pricing
Semrush comes with a free 14-day trial. If you want more, consider the next subscribing plans with yearly payments:
Pro – $108.33 per month
Guru – $208.33 per month
Business – $416.66 per month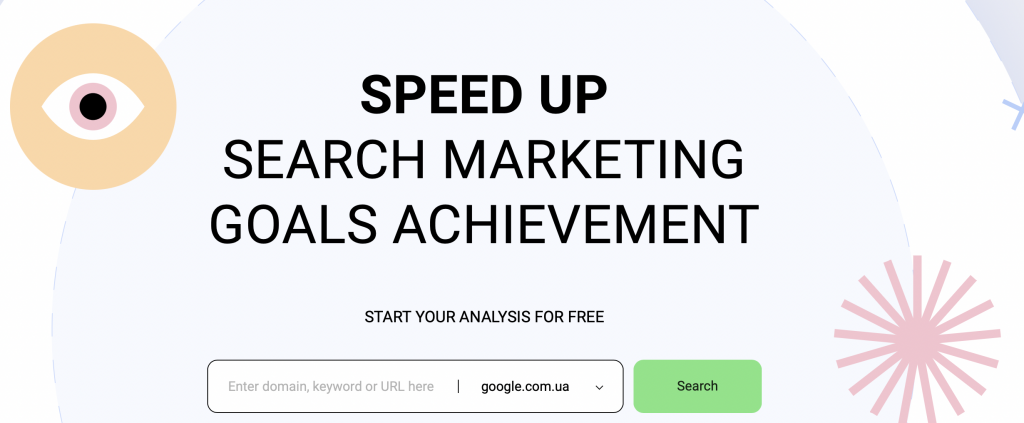 SerpStat is the best option between data quality, features, and cost. It's got all you need from SEO software. And it has a competitive pricing tag compared to its main competitors.
Features
Serpstat keywords feature: helps find the right keywords for your SEO and PPC campaigns.
A powerful AI content generation tool: helps you to create the best for your target audience content and meta tags.
Such unique features as Missing Keywords, Search Question Feature & Team Management.
A text analytics tool: allows you to optimize any page's textual content for search engines as well as users.
Site audit: helps you improve your online project.
Keyword clustering: groups your keywords by thematic similarity.
The competitors' analysis: the ability to spy on competitors' ads and optimize ad spending.
Pros
It goes with all the tools that you would need to do the SEO.
There are 174 languages, supported by Serpstat's keyword database.
It's affordable for such an advanced SEO toolkit for SEO needs.
Cons
Site audits for websites with a large number of pages can take really long.
The keyword difficulty tool may not show correct results.
Pricing
You can start using Serpstat for free and test the features. Later, you can choose one of the following paid plans with yearly payments:
Individual – $50 per month
Team – $100 per month
Agency – $410 per month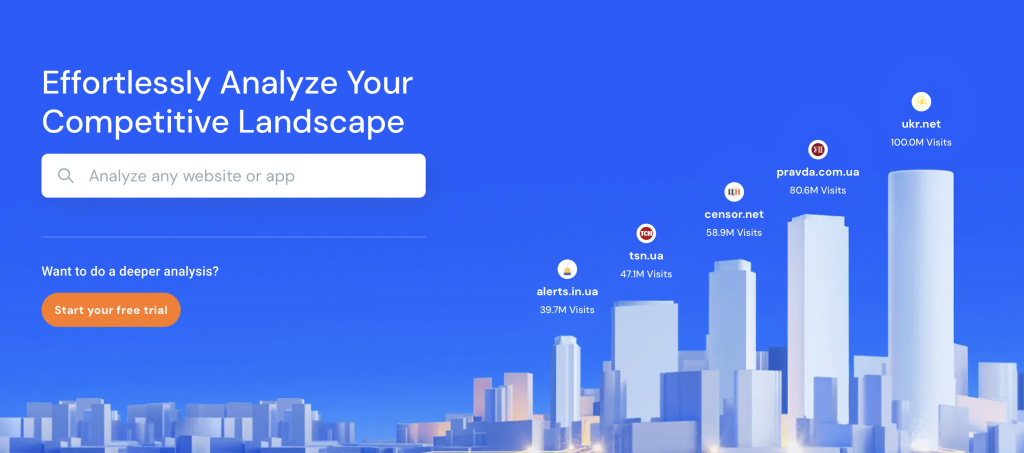 Similarweb is an SEO software platform that allows its users to track their: website and app traffic, page performance, keyword performance, audience metrics, and more. With Similarweb work such impressive companies as Google, Amazon, Walmart, Booking.com, Adobe, Adidas, and The Economist.
Features
Benchmarking: helps the website owners to understand and analyze the monthly visits, the duration of the visits, and the bounce rates as well as the device split.
Website Traffic: provides you with the website comparison feature to compare up to one competitor.
Referrals: this service does not only show the sites that your visitors came from but also where they are going.
Metrics: they are related to engagements, conversions, returning customers, and more. You will see the customer behavior and understand the good and bad of your website.
Pros:
The software is quick.
The support team is helpful and professional.
The metrics generated by SimilarWeb are as accurate as possible.
Cons:
The service doesn't track the viewers who don't clear their cookies or use different devices.
It has some limits on what Google Analytics data you can get through their API calls.
It's not the best choice for beginners.
Pricing:
The pricing tag starts from $125 per month with yearly payments.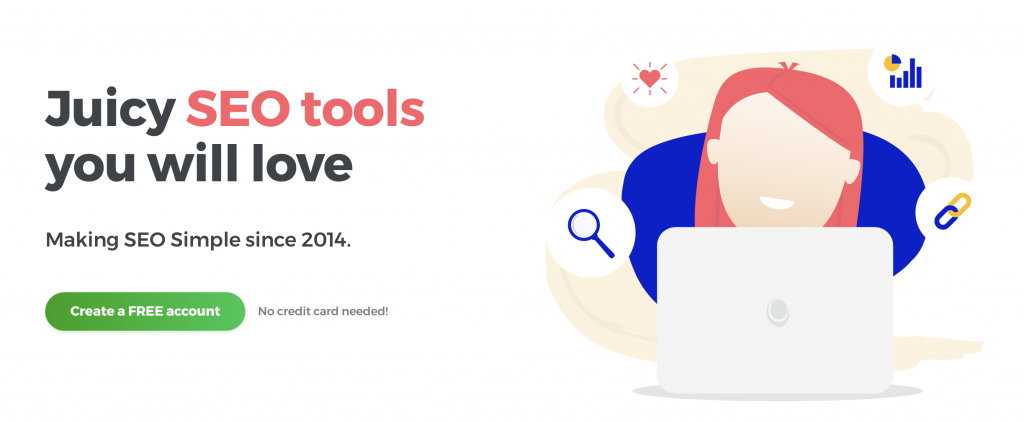 Mangools was created mainly for small businesses, thus with a friendlier pricing tag. It also has a unique and easy-to-use design that will impress you.
Features
The SERPChecker feature: reveals the weak and strong points of your competitors, thus empowering you to beat them.
The SERPWatcher makes good use of rank tracking in more than 50k locations.
The KWFinder tool: this free tool helps you find great keywords to target for the websites.
LinkMiner: allows you to discover the backlinks of your competitors so that you can try to reproduce them.
The software comes with a massive database of almost 10 trillion backlinks.
Pros
The insights that the service offers are extremely accurate.
Mangools accepts payments in cryptocurrency.
All-In-One SEO Toolset: it has everything you need to create an effective SEO strategy for your website or blog.
Cons
It lacks some important features such as site audit.
Each of the five Mangools tools leads to its own URL instead of being collected into one single domain.
Mangools LinkMiner has smaller a backlink database than Ahrefs or Semrush.
Pricing
Interested users can use Mangools for free for 10 days. After the end of the free trial, you may update to the Premium plans (billed annually):
Entry – $19.90 per month
Basic – $29.90 per month
Premium – $44.90 per month
Agency – $89.90 per month

Moz Pro is an all-in-one SEO toolset focused on keyword research, link building, website audits, and on-page optimization.
Features
With a feature-rich SEO toolkit, Moz can crawl any website on demand (up to 500,000 pages) to conduct site audits and show SEO-related issues such as broken links, missing title tags, and more.
An exclusive Page Authority (PA) feature: gives a score ranging from 1 to 100, which predicts how well a page will rank on Google.
A Keyword Explorer tool: shows you all important metrics such as search volume, keyword difficulty score, and so on.
Similar to Ahrefs's site explorer, Moz's domain overview tool can provide you with SEO data related to any website or URL.
Page Optimization: Moz's on-page optimization tools offer a step-by-step guide for optimizing page content.
Pros
Moz Pro comes with a Chrome extension called MozBar, which becomes to be available for premium subscribers.
A lot of guides, tutorials, and community forums are available for new users to start using the platform.
SERP analysis and volume search for desired keywords.
Opportunity to connect your site's Google Analytics and Search Console to the Moz platform.
It immediately spots crawl ability issues and fixes them with recommendations.
The service provides accurate metrics.
Cons
Its dashboards are a bit complicated and hard to navigate at first.
This software targets only US markets, causing a lack of data for other markets.
Pricing
Interested users can try Moz for free for 30 days. Here are the pricing plans for Moz Pro below with yearly payments:
Standard – $79 per month
Medium – $143 per month
Large – $239 per month
Premium – $479 per month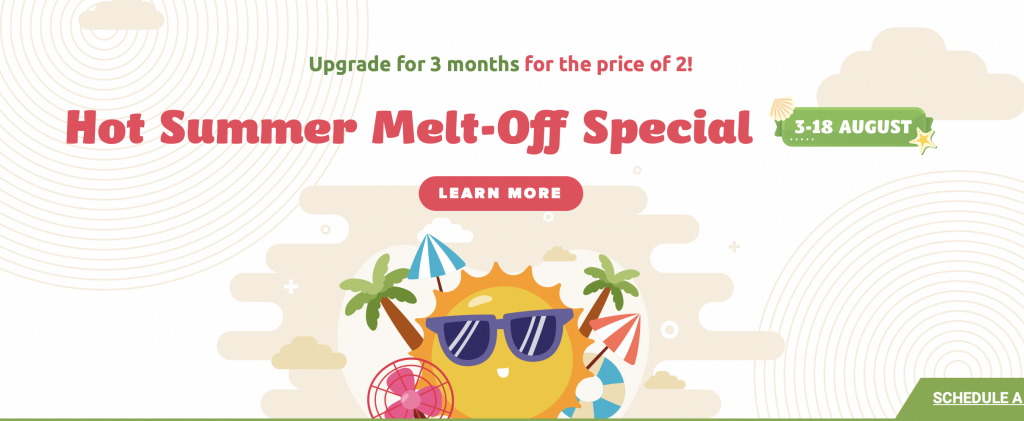 WebCEO offers everything you want from the all-in-one marketing platform. You will find there keyword research, traffic analysis, backlink checking, and site auditing – all the usual stuff for SEO activities. In addition to this, it offers some additional features that Ahrefs doesn't, like instant ranking checks, toxic links auditing, branded reports, white-label tools, and a free trial.
Features
A multi-channel keyword research tool: finds popular keywords and keyword phrases from the Google search bar autocomplete, the People Also Ask box and other sources.
Content Submission tool: helps you promote your blog.
Audit tools: helps you fix any technical SEO on-site issues.
A Rank Tracker: monitors your and your competitors' rankings on over 370 local and global search engines.
Pros
WebCEO is now available in as many as 24 languages.
Opportunity to connect WebCEO with Google Analytics and Search Console.
It has proper team management.
Cons
Web interfaces can be slow.
It's not optimized for mobile screens.
No exposed API.
Pricing
WebCEO offers a free trial for 14 days. Check out its paid plans with yearly payments:
Solo – $33 per month
Startup – $83 per month
Agency Unlimited – $83 per month + scanning fees
Corporate – $251 per month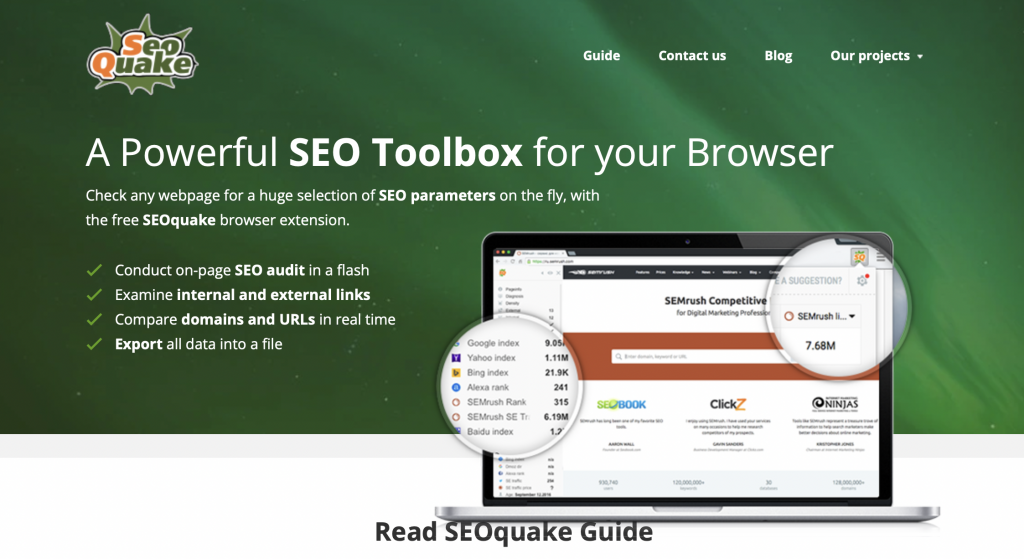 SEO Quake is a free easy-to-use plug-in browser that provides you with tons of SEO tools and metrics as well as organic research data.
Features
The SEObar feature: gives an instant SEO summary for any webpage you're analyzing.
SERPs: it gives you a thorough analysis that can be easily exported in CSV format.
Comprehensive reports on all keywords found on the concerned webpage.
Pros
It analyses many browsers including Chrome, Firefox, Opera, Edge, etc.
It provides you with tips to improve your website's infrastructure.
Cons
The interface could be better.
They don't provide any tutorials or guides available for new users.
Pricing
SEOquake is absolutely free of cost.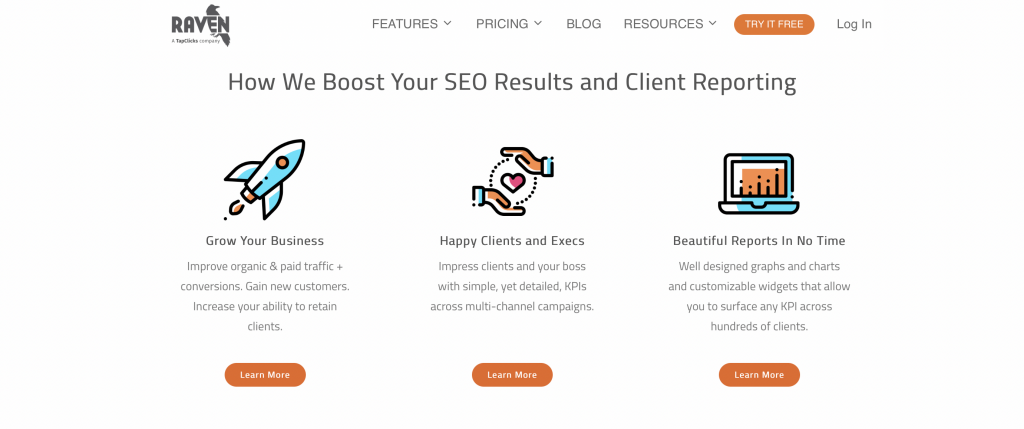 Raven Tools is a complex SEO and reporting tool that gives you integrated solutions for managing your digital marketing and advertising data. It's not as famous as Ahrefs, but this platform allows you to focus all of your digital marketing efforts in one place.
Features
The Link Spy tool: generates link-building ideas by showing you the backlinks showing your top competitors.
The marketing insights: produce accurate and actionable reports.
The 3-in-1 competitor research tool: makes it very easy to reveal your competitors' strategies.
Google Data Studio: allows you to connect multiple accounts and bring lots of segmented data to one place.
Pros
It offers an all-in-one SEO software to be a reliable Ahrefs alternative.
It is also budget-friendly.
It includes a keyword research tool for SEO and PPC.
Cons
Some users report bugs and other technical errors
The user interface is not the best.
Pricing
Raven Tools offer monthly and annual billing options. Take a look at pricing with yearly payments:
Small Biz – $39 per month
Start – $79 per month
Grow – $139 per month
Thrive – $249 per month
Lead – $399 per month

AccuRanker is a rank-tracking platform. Its fast SERP checker and position tracker are easy to use that makes it a great alternative to Ahrefs tools. This platform was created for agencies, but it's also a convincing service for SEO experts with more than just one site or a site with many keywords to track.
Features:
The keyword-tracking capabilities: track hundreds of keywords at any given time to gain insights into their performance.
Backlink analysis: lets users see which websites link back to theirs, allowing for better link-building strategies
SERP History: t builds your organic visibility by targeting various SERP features on Google.
Pros:
SERP feature analysis
Historical data
Accurate and reliable
On-demand rank tracking
API access to integrate rank-tracking data into your own tool(s)
Cons:
Only includes rank tracking.
There are no options on how often the tool checks a keyword
Pricing:
The monthly price depends on the quantity of the tracking keywords: starts from 116 euros/month (if you pay a yearly payment).

It is a comprehensive digital marketing platform specifically designed to boost your company's online growth. It offers a wide range of SEO functionalities and is good for team collaboration and project management.
Features
Content optimization feature: provides data about keyword density, word count, and readability score.
The site audit feature: conducts SEO issues and can also help you with conversion rate optimization.
CognitiveSEO: can help you with a Google Penguin penalty recovery tool that can detect unnatural links.
The CognitiveSEO API feature: allows you to integrate the data from this SEO tool with your own application.
Pros
This all-in-one software has all the critical SEO tools you need, which makes it the perfect Ahrefs alternative.
The SEO dashboard is fully customizable, helping you focus on the most important metrics.
It allows scheduling report
Cons
Its pricing tag.
Competitor analysis takes a lot of time.
The UI is not very user-friendly.
It doesn't offer a dedicated keyword research tool.
Pricing
It has monthly and annual billing options. Here is the pricing with yearly payments:
Starter – $89 per month
Premium – $209 per month
Elite – $349 per month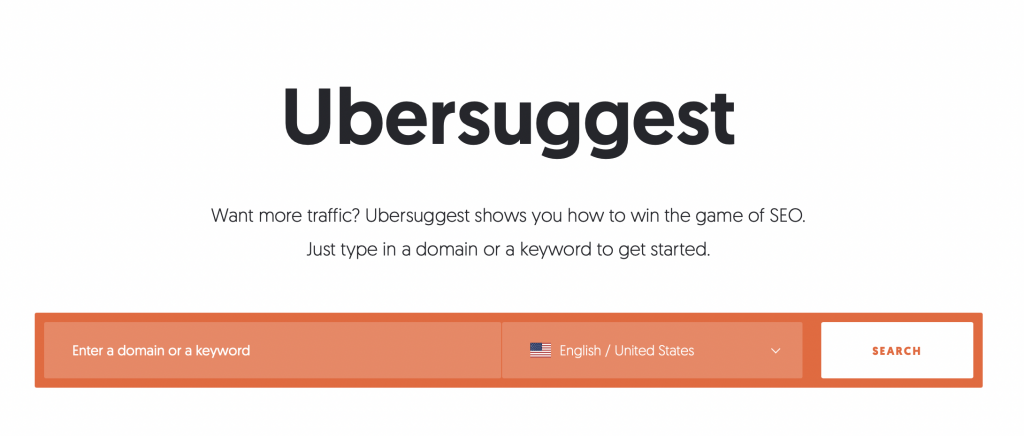 Ubersuggest, created by Neil Patel, has grown from a basic keyword research tool to a comprehensive SEO platform. Clients also appreciate its user-friendly interface. Ubersuggest is a great tool for SEO novices, making it one of the best Ahrefs alternatives to date.
Features
Keyword discovery feature: fetches the profitable keywords in any field.
Keyword metrics: shoes you referral or organic traffic volumes, trends, keyword difficulty rating, and more.
A site audit tool: finds SEO issues affecting a website and suggests potential solutions.
A rank tracking software: provides daily ranking information.
Domain overview feature: analyzes any URL or the entire domain.
Pros
It's pricing.
Paid plans come with SEO training and support.
Provides SERP analysis and search volume for keywords.
Easy to use
Has a Chrome extension
Offers a limited number of keyword research every day for free.
Cons
Sometimes the site audit takes too much time to create reports
Its data is not as precise as Ahrefs's.
Pricing
Ubersuggest offers a 7-day free trial on its paid plans. If you want more choose one of the plans:
Individual – $29 per month
Business – $49 per month
Enterprise – $99 per month

Monitor Backlinks is a monitoring tool for backlinks and keywords. With a simple and friendly interface, it offers some of the essential backlink analysis features.
Features
Customizable backlink management dashboard: helps you group and structure all the links pointing to a website.
Advanced link filter: with various metrics, you can filter the links.
Disavow tool: automatically adds links you don't want to a disavow list.
Facilitates keyword rank tracking.
Pros
Automatic alerts for backlink removals
In-depth data
Cost-effective
Useful competitive insights
Cons
Monitor Backlinks is not an all-in-one SEO tool like Ahrefs.
The pricing tags
Pricing
It has a 30-day free trial. The price depends on how many domains you want to manage: it starts from $25 for one domain.

Majestic is a comprehensive, all-in-one SEO solution. Their 8 trillion URLs database guarantees you'll receive the most precise data. For link-builders, Majestic is a strong Ahrefs alternative.
Features
Link context analysis tool: scans the elements around a backlink
Majestic API: shares data conveniently with other applications and platforms
Site Explorer: to understand your technical presence and your competition.
Rank Tracker: to stay well informed of your site's progress.
Pros
Majestic has an extensive backlink index
Such metrics as trust flow, topical trust flow, citation flow, etc., give you deep insights into the quality of backlinks.
Has a simple Chrome extension.
Cons
The UX could be better
Majestic doesn't include all the vital SEO tools.
No keyword difficulty rankings
Historic Index Tool is not available
Pricing
Paying monthly has such plans:
Lite – $49.99 per month
Pro – $99.99 per month
Full API – $399.99 per month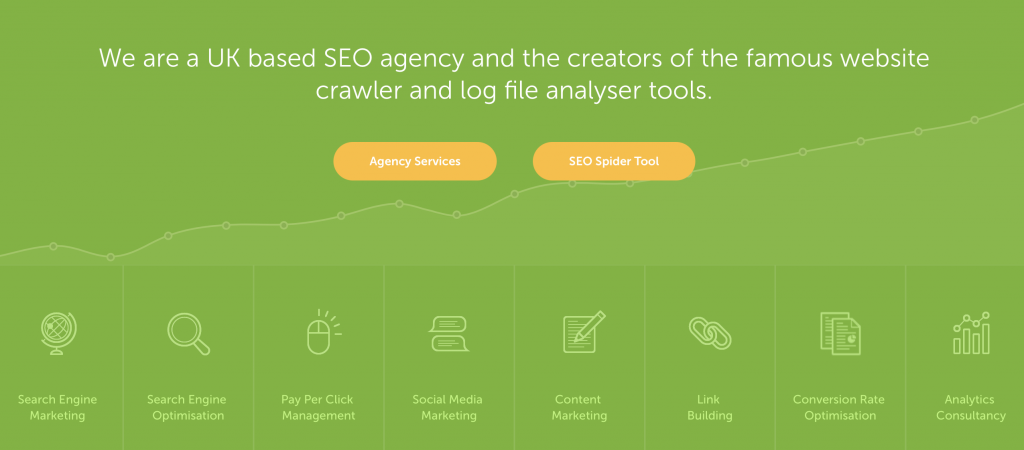 If you need to do comprehensive site audits, there's probably no tool that will you a better option. This platform can give you access to more data about a website than any other software on this list.
it's a desktop app, so it will take more time and RAN to work with it.
Features:
In-depth site crawls: to reveal the most precise details for you to fix.
Find broken links: to reassure not being penalized by Google.
Generate XML Maps: this is perfect to improve indexing.
Schedule audits: to do the fixing in advance.
Pros:
Its data is qualitative.
There is a free rather decent version.
Cons:
Fits best for the experienced SEO experts
It's not cloud-based
The UI is quite outdated
They don't provide you with a guide on how to fix the issues.
You can't pay monthly for the premium version
Pricing:
There are available some free tools, but if you want more update to Premium for $259 per year.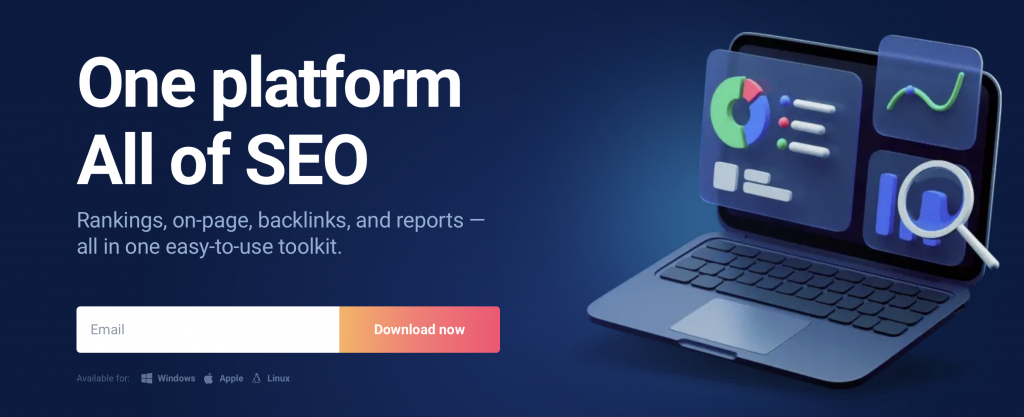 The SEO Powersuite is a comprehensive SEO desktop suite that includes advanced research and white labeling. This platform is a better choice for agencies, though, since it has great white-label reporting.
Features
SEO SpyGlass tool: tracks the backlink profiles of your competitors
Rank Tracker: serves to do keyword research and competitor analysis.
An anti-penalty link auditor: shows harmful links pointing to your website
LinkAssistant feature: manages backlinks and generates this data to the dashboard
A website auditor tool: scans and sends notifications of any technical issues.
Rank tracking and SERP analysis.
SEO Spyglass: to ahead your competitors.
Pros
You can with your team with the help of the LinkAssistant dashboard.
You can optimize page content for your target organic keywords from the platform.
Complete SEO audit
Detailed keyword research
Accurate keyword rank tracking
Useful SEO reports
Huge database
Cons
It lacks the convenience of using a cloud-based tool. You can't access your data from anywhere on any device.
You need decent RAM to run this software solution.
Customer support could be helpful.
Software installation required
Only yearly payments
Pricing
SEO Powersuite has a limited Free Forever plan. You may upgrade to the premium plans to access more features:
Lite – €99 per year
Professional – €299 per year
Enterprise – €499 per year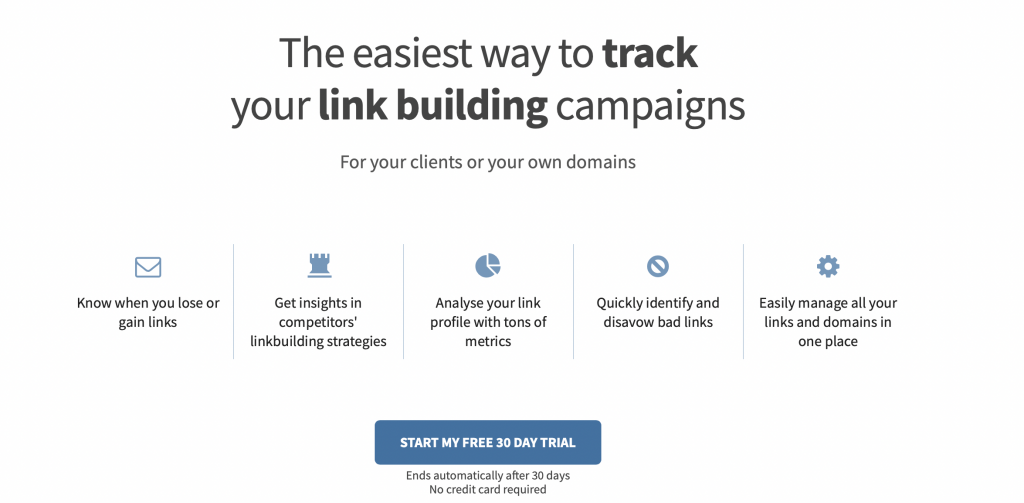 Linkody is a link-building campaign tracking platform that can help you manage your links well to improve SERP rankings. It's easy to build your link analytics reports.
Features
Powerful competitor analysis tools: help you to bypass your competitors.
Various link-building features: makes this part of SEO activities much easier.
Automatic alerts for when you gain or lose a backlink: will help you to react immediately.
Disavow feature: will remove unwanted links.
Pros
Linkody comes with a 30-day free trial and you don't have to enter your credit card details for it.
The tool provides 24/7 backlink monitoring.
You can create the Whitelabel reports in the form of PDFs.
Cons
The platform provides only backlink analysis and not all of Ahrefs' SEO features like keyword research and tracking.
The UI could be better.
Pricing
Linkody is an affordable backlink checker. There are five monthly plans: starting from €13.80 per month up to €138.90 per month.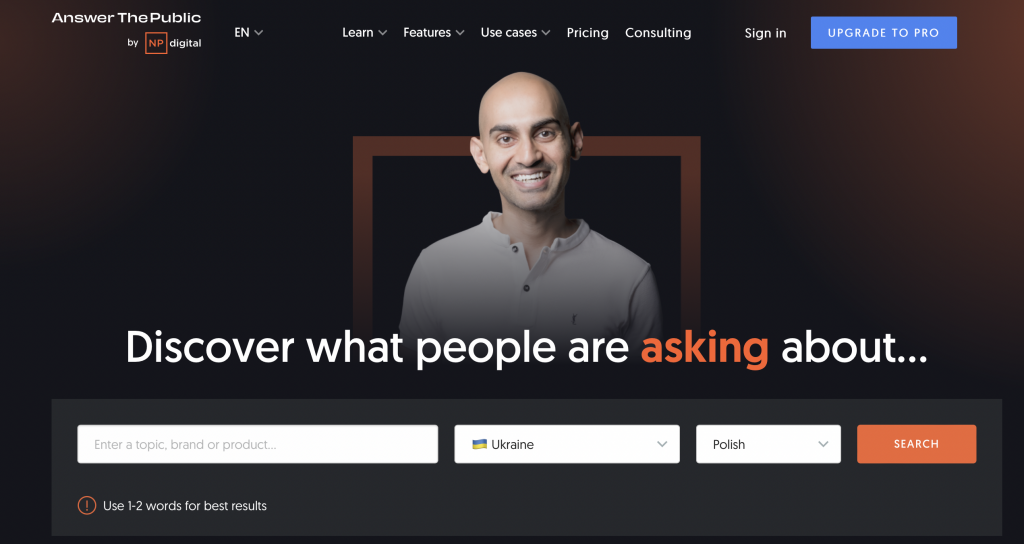 AnswerThePublic is a free platform that can be used as a free Ahrefs alternative for keyword research. It has a premium version, but they're well-known for providing some free features.
Features
Keyword search and search volume data allow you to build a powerful SEO strategy.
Data on cost per click: helps you optimize your PPC campaigns.
You can set notifications for product names or brands to track competitors.
You get notified of new searches for your brand or product.
Pros
Search Cloud shows you the autocomplete queries related to keywords.
The platform helps you find out user interests behind searches.
Weekly emails on changes in search behavior.
It's free.
Cons
AnswerThePublic doesn't include the powerful SEO features that Ahrefs offers, such as link tracking and site audit.
Pricing
There are free features, but if you need more here you have the monthly plans:
Individual– $9 per month
Pro– $99 per month
Expert – $199 per month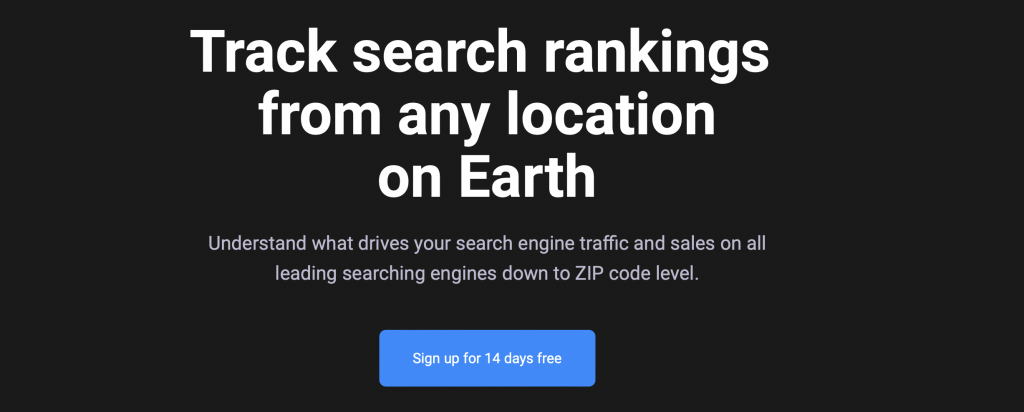 Nightwatch is an affordable SEO tool. Its biggest suit is rank tracking, but it also includes backlink tracking and site auditing.
Feature:
Site Audit: provides you with an exhaustive website analysis to help improve the website ranking
Data Studio Integration: this innovative new addition will allow you to visualize your ranking progress and performance with your team, and merge SEO data from different sources.
Pros:
You can overlay your Google Analytics & Search Console data to correlate ranking increases with traffic, and easily download any graphs to share/report.
It has accurate daily rank tracking for multiple search engines (including Google, Bing, and YouTube).
Cons:
Nightwatch doesn't have a keyword research feature.
Lack of helpful and proper support.
Pricing:
The monthly price depends on the quantity of the tracking keywords: starts from 32 euros/month (if you pay a yearly payment).
Summary
As you can see, the options we discussed above are decent alternatives to Ahrefs or some of its tools. While some of them include similar foundational functionalities, they vary in terms of unique features and user experience. As with all things, it's hard to find a one-size-fits-all solution. The best choice lays on your specific SEO-related needs and level of experience. Choose wisely to get the maximum benefits from your chosen SEO platform.
Content Marketing Platform
100,000+ media publications;
get backlinks to your product;
scale work with content distribution.