Fitness Influencers. 'New year, new me,' odds are you've heard or even said it a lot latterly. The good news is that living an active and healthy lifestyle has never been easier & more relaxed today. And a lot of that is down to Instagram fitness influencers.
And that is no longer just maintaining a healthy lifestyle. Today fitness influencers are leading the new fashion trends in the fitness industry. Have you ever heard 'sweet in style'? That is the hottest and most fabulous fashion trend as of today.
Below you'll find the list of the most popular Instagram fitness influencers to follow. Those are not only women but men who train and motivate their followers to stick to a healthy lifestyle. Who is your favorite?
Build Positive Online Reputation & Remove Negative from SERP
Michelle Lewin, South Florida, 13.7M
A whopping number of 13.7M of followers places Michelle Lewin on the top of the fitness influencer list. She has gained such an impressive social media fanbase for her highly toned body and workout routines. Started as a clinic worker, she has grown to one of the most fitness bombshells in the industry.
Instagram | Twitter | Youtube | Facebook | Website
Jen Selter, Roslyn, New York, 12.4M

Called a 'belfie' star, Jen Selter has exploded on social media with her so-called butt selfies. Since then, she has made a thriving career as an Instagram Start with over 12M followers. Stay tuned to her YouTube channel to keep track of regular updates of her diet and exercise plans. She has been featured on the glossy pages of some popular magazines, including Elle, Muscle & Fitness, and Maxim.
Too skinny. Too fat. Too muscular. Too big. Too small. You're always going to be "Too something" to someone. Just be yourself.

— Jen Selter (@JenSelter) January 25, 2016
Ana Chery, Santa Ana, California, 12.5M

Ana Chery gained her popularity in October 2015. That was the time she appeared as Playboy Magazine's Playmate of the month for October 2015. Since then, her following fanbase has grown big times. Today Ana Cheri is so-called an Instagram phenomenon with over 12 million followers. She is a fitness trainer as well, and you will want to follow.
Ulisses Jr., Canary Wharf, London, 8.2M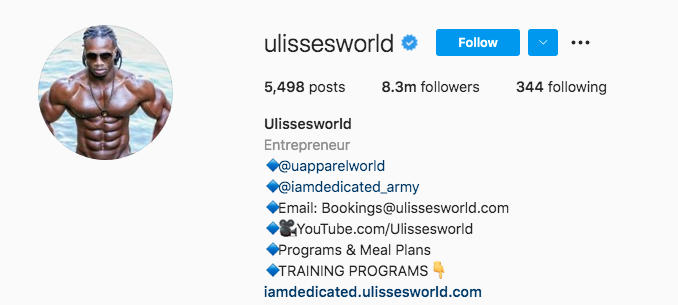 Why do something if you're not going to be the best? That's the philosophy of Ulisses Jr. With over 8M of followers, Ulisses is one of the most popular Instagram influencers to consider. He was motivated by bodybuilders like Arnold Schwarzenegger, Lee Haney, and Shawn Ray. He is an American fitness model who claims to be completely natural and never used steroids.
Instagram | Twitter | Youtube | Facebook
Simeon Panda, Los Angles, California, the United States, 7.6M

Simeon Panda claims to be one of the most influential fitness Instagram influencers in the world. Imagine, he has been lifting weights since he was 11 years old. And thus, in 2013, he achieved the Musclemania Pro status. Since then, his popularity has grown seriously. He often appears as a judge at fitness and bodybuilding shows around the world.
When it comes to ambition, don't be afraid to take the road less traveled…and floor it! pic.twitter.com/8fD6mTTi93

— Simeon Panda® (@SimeonPanda) August 10, 2020
Julia Gilas, San Diego, California, 4.4M
Julia Gilas is a Ukrainian-born American fitness model with over 4M of Instagram followers. Also, she is a personal trainer and social media star. From the very childhood, she dreamed of moving away from her country. To make that happen, she became a model and started traveling. Later she made up her mind to move to the USA and become a true fitness diva.
Sascha Barboza, Miami, 4.3M

Born in Venezuela, Sascha Barboza is a successful pageant in the past. Today she is a lot of things: a businesswoman, writer, Fitness Coach, and full-time mom. Being self-taught on fitness, Sasch claims there's no barrier to anyone who wants to get fit. She teaches people to eat healthily and gives tips on enjoying an active lifestyle.
Instagram | Twitter | Youtube | Facebook | Website
Joe Wicks, Richmond, London, England, United Kingdom, 4.1M

If you have ever seen or heard "The Body Coach" show, then you know why to follow Joe Wicks on Instagram. He is one of the most popular Instagram influencers that once he even broke a Guinness world record. You can sign up for his 90-day plan, enjoy handy tips & healthy recipes, including sweet & short workouts.
Instagram | Twitter | Youtube | Facebook
My new book is available to pre order half price today https://t.co/ikek6WrZ6o ??? I hope you love the new recipes ? pic.twitter.com/kPxrAhcGmx

— Joe Wicks (@thebodycoach) May 9, 2021
Jeff Seid, Los Angeles, California, 4M

Jeff is an All-American wrestling champion who has 4M of followers. He started his career path with wrestling. Later he found himself deep into bodybuilding. Explore his Instagram profile and enjoy lots of candid shots of Jeff in the gym. As such, he became the youngest athlete ever to able to get an IFBB Pro card. And two serious surgeries were not a barrier to that.
Paige Hathaway, Los Angeles, California, 3.9M

Paige Hathaway is a well-known Instagram bombshell. She is a fitness model and Instagram influencer with almost 4M of followers. Her Instagram profile is full of inspirational posts and pictures of her clients who managed to get fit aside from her photos. At the age of 28, she is one of the fitness bombshells to follow.
Instagram | Twitter | Youtube | Facebook
Lauren Drain Kagan, Los Angeles, California, 3.7M

Lauren Drain is a top Instagram fitness model and registered nurse. To add, she is an Adventure Racer, a WBFF Bikini Pro, and the author of the bestselling book Banished. Why follow her? Well, she always inspires her followers with her own story of how. Her pro-level workout regimens and nutrition guides are also the reason for millions of followers.
Sandra Prikker, Los Angeles, California, 3.2M

Born in the Netherlands, Sandra is an Instagram fitness model and a clothes designer. She fell in love with fitness after surviving a life-changing accident. Prikker started her athletic journey with interest in kickboxing. Later yet, she transitioned into the fitness side of things. She promotes fitness routines and veganism. Take a breeze through her Instagram pics to see what all the hype is about.
Kelsey Wells, Los Angeles, California, 2.8M

Kelsey Wells uses her Instagram platform to encourage women to focus on health rather than aesthetics. That's the main mistake most women make, Kelsey Wells believes. She is one of the world's most famous fitness mamas and creator of the strengthening PWR workout for women. Kelsey found her passion for fitness after she had her son. Since then, her transformation post went viral by inspiring women to 'screw the scale.'
Instagram | Youtube | Facebook
Massy Arias, Los Angeles, California, 2.7M

Need someone to inspire you to get off the couch and get moving? Then Massy might be able to help. Massy Arias is one of the biggest names in the fitness industry as of today. The reason for that is her never-give-up attitude that inspires women around the world. Massy's whole fitness journey and techniques are self-taught. No wonder Massy is one of the Instagram influencers today.
Instagram | Twitter | Youtube | Facebook
Steve Cook, Virginia Beach, VA, 2.5M

When ranking the most popular Instagram fitness influencers, no one comes close to Steve Cook. Former Muscle and Fitness cover model, Steve focuses on health and fitness. He has been on the cover of more magazines than he can remember. Also, he is a contributing writer for Bodybuilding.com. His mission is to make the world a fitter and healthier place.
Shonda, Texas, USA, 2.2M

Being featured in media outlets like People, Shonda is the other Instagram influencer to follow. It's hard to imagine, yet she once weighed over 200 pounds. Today she is a social media fitness, food, and lifestyle blogger. She shares videos of her workouts, some of her favorite recipes, and photos of her progress on her page. All in all, her gym workouts are viewed by millions.
Instagram | Twitter | Youtube | Facebook | Website
There will be haters. There will be doubters. Just don't let one of them be you. Keep believing and keep moving forward! ❤️☀️ pic.twitter.com/lKjHe4B5Fg

— Shonda (@Shonda1020) February 18, 2020
Rachel Brathen, Aruba, 2M | Fitness Influencers

Meet the New York Times best-Seller author of the book Yoga Girl Rachel Brathen. She is a former Swedish teacher of yoga who sells classes from anywhere in the world. She moved to Aruba and founded the Yoga studio called Island Yoga Aruba. Anyway, today she promotes mindfulness and healthy living through yoga. So, if you want genuine, yoga-rich content, then Rachel is your goal.
Instagram | Twitter | Youtube | Facebook | Website
We gave this white patriarchy a good run. It's served it's course. I'm ready for a Black, Matriarchal, Indigenous, Trans, Queer, Brown, Female, Asian, Hispanic, everything-but-white-man-cis-karen society. Burn it all to the ground and let indigenous elders start us over.

— Rachel Brathen (@RachelBrathen) April 14, 2021
Alexa Jean Brown, Peoria, Arizona, USA, 1.5M | Fitness Influencers

Alexa Jean Brown is best known for her Instagram followers. She manages her self-titled fashion and lifestyle blog. Moreover, she has released multiple fitness and food guides online. She gained huge followers on Instagram with her fitness tips. She is also the creator of The Daily Journal and the Bodebylex fitness app. Prefer quick exercise videos? Great! Her Instagram page has a lot of those.
Instagram | Twitter | Youtube | Facebook | Website
Brittne Babe, Los Angeles, California, United States, 1.7M | Fitness Influencers

The New Jersey native Brittne Babe is a fitness model and figure competitor. Known also as the "Queen of Home Workouts," Brittne has worked hard to become one of the most Instagram's sexiest stars. She uses her website to sell online health coaching and personal training directly to consumers. To follow her health and fitness journey, turn to her blog, Instagram account, and YouTube channel.
Instagram | Twitter | Youtube | Facebook | Website
Lauren Fisher, San Diego, California, 1.2M | Fitness Influencers

Lauren Fisher is one of the most talked-about young athletes in the US. Competed in the Olympics in 2016, she has been listed as no.9 on the list of the fittest women in the world. Being a CrossFit professional, Lauren Fisher inspires thousands of women to take up a healthier approach to being fit & strong. Check out her Instagram for posts of workouts, yummy meals, and more.
Instagram | Twitter | Youtube | Facebook | Website
Front Squat PR. ?

That was a FIGHT and I usually don't ever PR on training days anymore only when I'm competing, but today I went for it. 115kg felt so easy for a single so jumped straight to 122… 268.4lbs. ?A 1kg PR I'll take it. ? pic.twitter.com/9jlF62K0IX

— Lauren Fisher (@ltfisher12) March 9, 2021
How To Get Verified On Instagram
Content Marketing Platform
100,000+ media publications;
get backlinks to your product;
scale work with content distribution.
Final Thoughts: Fitness Influencers
Whoever Instagram influencer you will end up with, a blue badge will ensure you follow the real personality. The best thing is that getting your Instagram profile verified is no longer a challenging task. All in all, you can always turn to pros for assistance and get that desired blue seal.