Thinking about how difficult it still seems for women to break into the field, it's even more incredible to consider the chosen path and achievements of top female journalists of the past and present. Highlighting everything from conflicts to civil rights, to organized crime, these women changed history and worldview through demonstrating the truth.
Some of them had to struggle with gender bias, death threats, racial discrimination, and gun attacks to attract attention to some problems and report on the reality they witnessed.
How to Write Press Release – Guidelines, Formats, Free Samples
There are thousand of females working as journalists in the world, but let's highlight some notable ones. Prepare to get inspired by these women who changed the world. 
Top Female Journalists:
Amber Lyon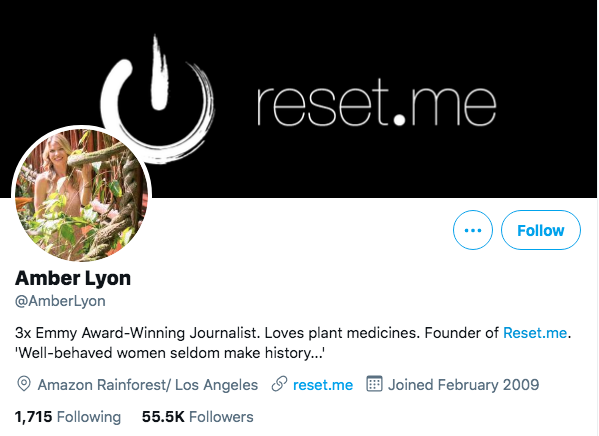 Twitter | Instagram | LinkedIn | Wikipedia
American investigative journalist Amber Lyon stays brave to report on current tough news stories. She's highlighting human rights abuses, environmental issues, and police brutality. 
In 2010, she was the first journalist to highlight the 'Deepwater Horizon' oil spill while broadcasting live. That same year, she also played a significant role in highlighting the sex trafficking of minors on Craigslist. As a result, this website disabled its Adult Services section.
And in 2012, she even raised the alarm on CNN. She incriminated them of controlling and blocking some articles as a way to protect corrupt relationships with governments, including the Bahrain regime.
Veronica Guerin (1958 – 1996)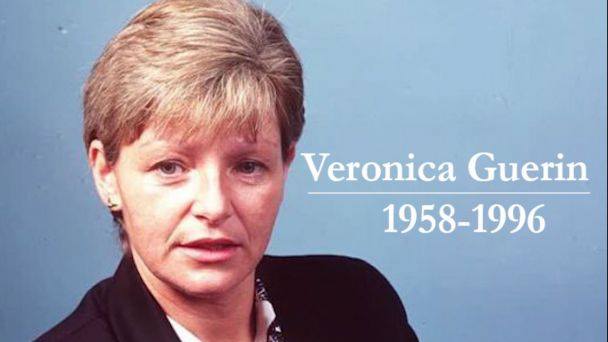 A reporter Veronica Guerin from Ireland was a courageous criminal journalist for the 'Sunday Independent', Ireland's best-selling newspaper.
Her unwavering dedication to defending the public's right to know the truth ran to death threats and several gun attacks. Despite this, she went carried on her job to reveal the drug bosses and murderers of Dublin's criminal underworld.
In June 1996, her fight for the truth came to an end when she was gunned down. But her death had a far-reaching effect on Ireland, leading to the country's largest criminal investigation and crushing on illegal gang business.
Robin Roberts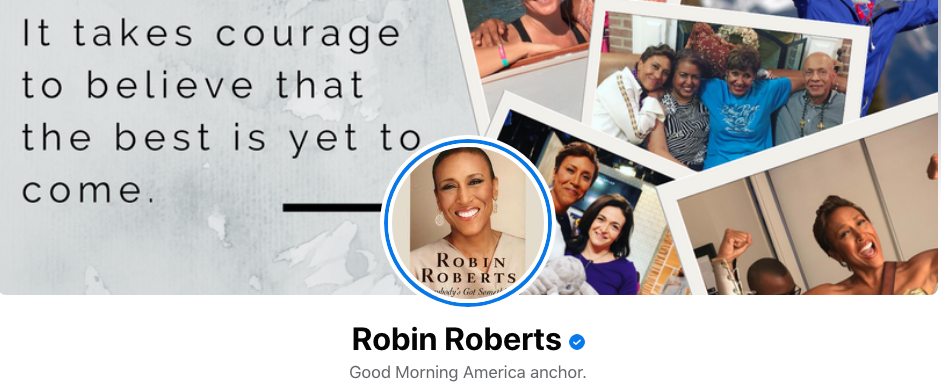 Twitter | Facebook | LinkedIn | Wikipedia
Robin Roberts is an American TV newscaster. Roberts works at ABC's Good Morning America.
She began her career in 1983 as a sports anchor and reporter for WDAM-TV and joined ESPN as a sports reporter in 1990. In the fall of 2005, Roberts anchored a series of emotional reports from her hometown after it became destroyed by Hurricane Katrina.
In 2009, Roberts hosted the Academy Awards pre-show for ABC, and repeated the same in 2011. She made a very interesting interview with President Barack Obama for Good Morning America on May 9, 2012, winning the Walter Cronkite Award for Excellence in Journalism. She was also inducted into the Sports Broadcasting Hall of Fame (2016).
Shereen Bhan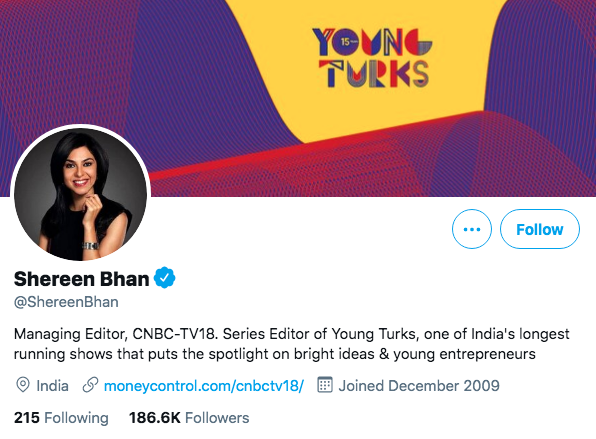 Twitter | Instagram | LinkedIn | Wikipedia
Bhan is an Indian journalist who produces and hosts numerous primary shows like India Business Hour, The Nation's Business, Young Turks, and Power Turks.
She also works as the Delhi Bureau Chief and Executive Head of CNBC-TV18 in India. Her effortless presentation of news in a cheerful and friendly manner has made her a national superstar. She has won several awards. Some of these include the FICCI Woman Of The Year Award in 2005. Shereen was also named as one of the Young Global Leaders of 2009 at the World Economic Forum.
Yamiche Alcindor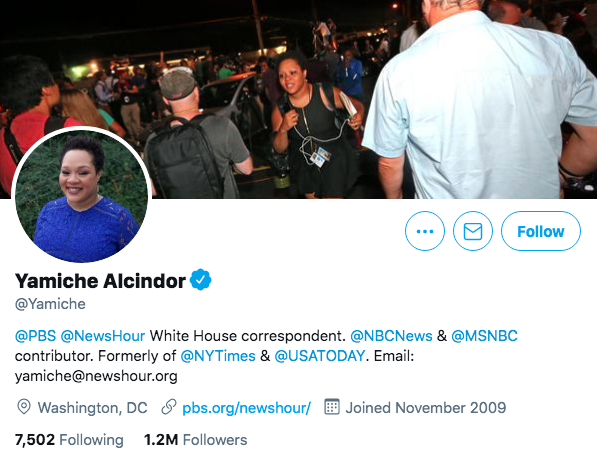 Twitter | LinkedIn | Wikipedia
Yamiche Alcindor is an American reporter who is the White House correspondent for the PBS NewsHour and a political contributor to NBC News and MSNBC. She has experience working for USA Today and The New York Times. Alcindor's articles are mainly about politics and social issues.
In 2016, she was assigned for a Shorty Award in the Journalist category. The next year, Alcindor took an award in a tribute to journalist Gwen Ifill at the Syracuse University's Toner Prize ceremony. Alcindor was featured in the 2017 edition of "The Root 100", an annual rating by the magazine The Root of the most influential African Americans between the ages of 25 and 45. In January 2018, she was named White House reporter of the PBS NewsHour. In this position, Alcindor highlighted the Trump presidency and during the 2020 presidential election season, she worked as one of the moderators of the sixth Democratic debate.
Martha Gellhorn (1908 – 1998)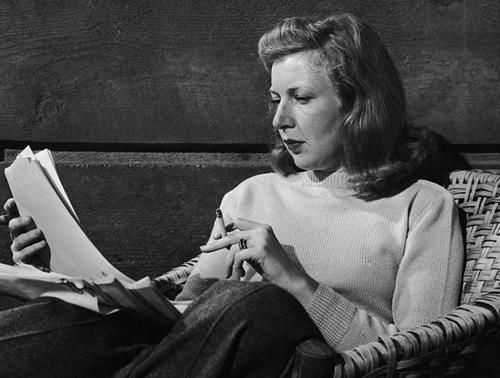 American journalist, novelist, and travel writer Martha Gellhorn is often called one of the twentieth century's most influential war correspondents. During her 60-year career, she highlighted almost every major world conflict. And, as she said, "I followed the war wherever I could reach it."
These wars included the Spanish Civil War, Adolf Hitler's rise, and the Vietnam War. She even covered the civil wars in Central America in the 1980s, despite being at the age of 70 at that time.
Inspiring top female journalists all over the world, she also used her special tactics in the name of getting great content. Pretending as a stretcher-bearer, she gained access to the Normandy landings. And, along the way, she became one of the most famous women in history as the only woman to land at Normandy on D-Day in 1944. 
Fredricka Whitfield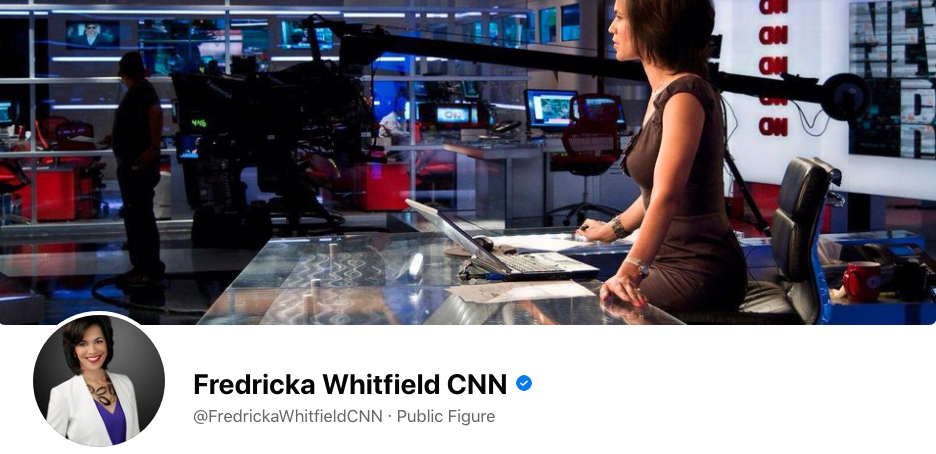 Twitter | Facebook | Wikipedia
Fredricka Whitfield is a newscaster for CNN/U.S. She works in the network's world headquarters in Atlanta and presents the weekend edition of CNN Newsroom. Her award-winning broadcast career covers more than 30 years. Whitfield's reporting ranges from highlighting stories from the Cuban-Haitian refugee crisis in the 90s to the 2000 Bush-Gore presidential race. Fredricka recounted the Kosovo War refugee crisis, the Afghanistan War, the start of the second Iraq War, the 2008 Inauguration of President Barack Obama, the Atlanta, Beijing, and London Olympic Games, the 2016 Presidential primary races, and the Democratic National Convention.
Whitfield has gained multiple awards and honors for her broadcasting. Starting from 2000 she gained many Emmy awards in different nominations. Whitfield also earned the network's Peabody Award for the winning coverage of the 2010 Gulf Oil Spill and the 2011 Arab Spring. In 2019 was named a 60th Anniversary Honorary Board Member of Alvin Ailey Dance Theater.
Christiane Amanpour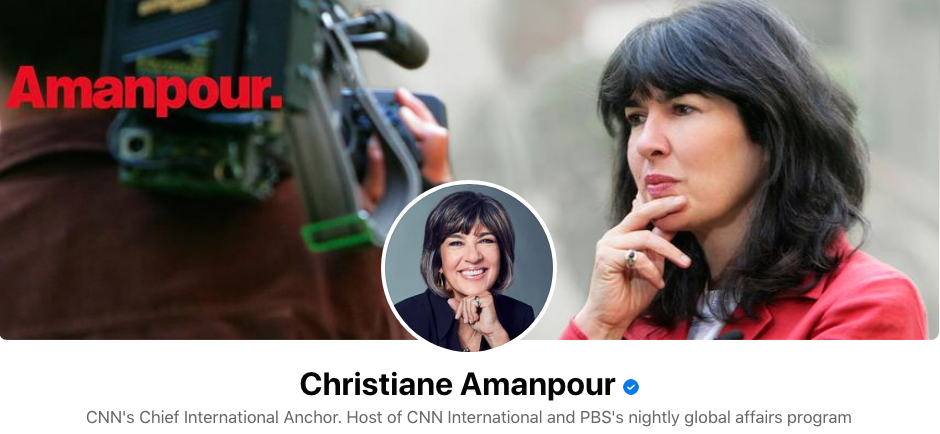 Facebook | Instagram | Wikipedia
Amanpour a British-Iranian reporter and TV host. She is the Chief International Anchor for CNN and host of CNN International's nightly interview show Amanpour. She also runs the Amanpour & Company programs on PBS. She was previously the host of the global affair for ABC News in the United States.
Amanpour's journalistic career extended over three decades, during which she's interviewed Hosni Mubarak (she was the only journalist to do so) and Muammar Ghadafi during the Arab Spring. For her outstanding reportages, she has won every major broadcast award, including nine News and Documentary Emmys, an inaugural Television Academy Award, three DuPont-Columbia Awards, and two George Polk Awards. She also received the Walter Cronkite Award for Excellence in Journalism as well as a Giants in Broadcasting award in 2011. Christiane Amanpour is a member of the board of directors of the Committee to Protect Journalists, the International Women's Media Foundation, and the Center for Public Integrity as well.
Hu Shuli top female journalists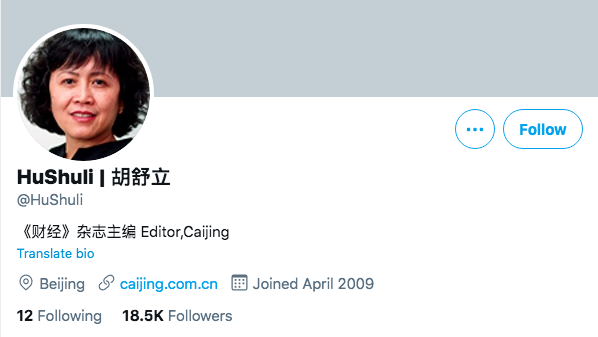 Hu Shuli is a Chinese reporter who is currently the editor-in-chief of the media group, Caixin Media which she founded in 2009. Shuli had also been a chief reporter and international editor of China Business Times and a business and finance magazine for 11 years. Considered as one of the top female journalists in such a media-restrained country, she was numbered as the 87th most powerful woman in the world by Forbes in 2011. The same year she was listed among the Top 100 Influential People by Time magazine. Well-known for her bold expertise in the industry and her investigative work on fraud and corruption, she's currently a board member of the International Women's Media Foundation. She also takes a place on the Reuters Editorial Advisory Board as well as having a regional advisory role in the International Center for Journalists. In 2017, Hu was nominated to be one of the World's Greatest Leaders by Fortune.
Ethel Payne (1911 – 1991)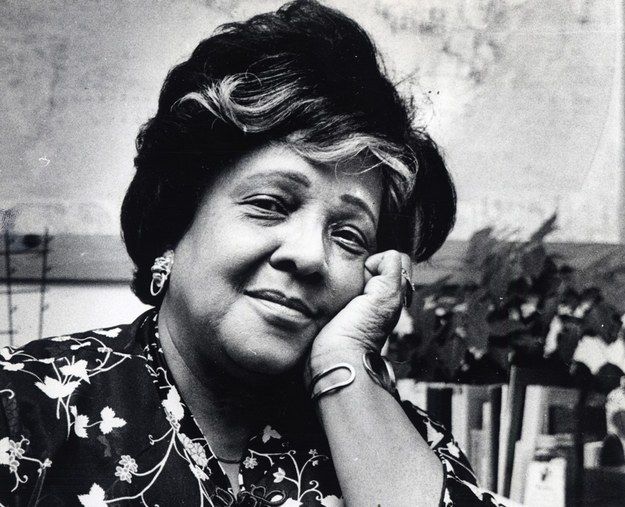 Being called the 'First lady of the Black Press', Ethel Payne is one of the most famous black female reporters ever. She was also an activist and played a big role in chronicling the Civil Rights movements in the 1950s and 1960s.
When CBS employed her in 1972, she made history when she became the first female African American anchor on a national network. On CBS, she is making reports on politics both at home and abroad. She got a reputation as a tough-talking journalist who was brave to ask questions of any difficulty. E.g. asking President Eisenhower when he planned to prohibit segregation in interstate travel. He answered that he refused to support 'special interests'. As a consequence, civil rights rose to even greater prominence as a key issue of national debate. 
Bottom Line: Top Female Journalists
Our world would be a very different place if it weren't for the fearlessness and devotion to the truth that these top female journalists showed. Enjoyed this list? Here, in PRnews.io, we have equally inspiring and top female journalists, who will write for you effective press releases. Feel free to contact us.