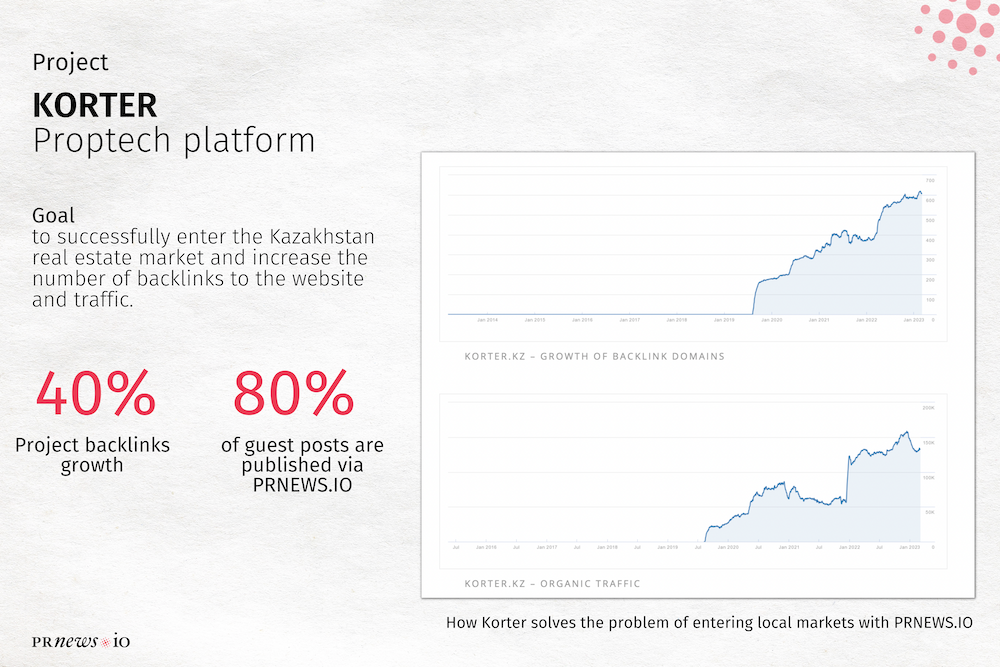 In this material, we're going to talk about a client with whom we are sincerely proud of our cooperation.
Korter creates and manages websites and mobile apps that help customers buy real estate. Their business faced the problem of entering local markets, in particular, increasing reach among the audience of Kazakhstan.
This case will show how Korter made use of PRNEWS.IO to expand its customer base in new local markets.
We are sincerely grateful to Yuriy Voron, the SEO specialist at Korter, for the interesting and fruitful interview.
About the company
Korter is a proptech platform, a real estate marketplace that operates in nine countries:
Korter is one of the units of the Ukrainian company LUN. The company's goal is to help people choose and buy their future homes online. On its web sources, the Korter team places information about residential complexes and their developers and updates it for free for its users – real estate buyers.
On the other hand, marketing and promotion tools help increase the number of potential buyers for developers, realtors, and homeowners. Therefore, the latter gladly post ads on Korter platforms.
Here are some statistics to give you an idea of the size of the company:
total audience per month is 390,000+
the total number of page views per month is 2,600,000+
the total number of residential complexes in nine countries is 8,900+.
Also, Korter has applications for Android and iOS.
PRNEWS.IO: What goals, objectives, or company problems do you solve with media publications?
Yuriy Voron: In SEO, to receive and keep traffic on the site, you need:
site speed;
relevant and quality content;
convenient UI and UX;
internal SEO optimization (relinking, micro-markup, absence of critical errors, etc.);
external SEO optimization (link building and SMM).
Link building is one of the ways of external optimization that includes publications in the media, which gives:
obtaining high-quality backlinks to the site and potential traffic that can go through this link;
building a brand and recognition among the target audience (increasing the number and frequency of brand queries in search engines);
trust from search engines for a website that has many quality backlinks.
The problem: to get quality media coverage in Kazakhstan
Entering the local market for a company always requires additional efforts to provide media coverage. This means that it is necessary to do additional work on content preparation and interaction with local mass media. Moreover, every "young" site needs quality, relevant backlinks.
Establishing cooperation with local media can be a separate challenge that requires time and effort. It is necessary:
to research the market and determine which media are popular in your niche;
to get along with the editor, taking into account cultural differences;
to spend time on outreach;
to understand that you are unable to pay for services through any local payment system or currency.
That's why Korter decided to use the services of PRNEWS.IO
PRNEWS.IO: Have you experienced problems in setting up the processes of publishing your materials in the mass media and how did PRNEWS.IO help you with this?
Yurii Voron: Yes, I did. In particular, I had to write individual letters to sites in different countries and negotiate publications with each media separately. Moreover, I needed to hire link builders for outreach.
The problems:
It is necessary to compile a database of sites for receiving backlinks.
You need to contact separately each site via email, Telegram, or other contact details. In Kazakhstan, I had even to call some publications.
Many sites just do not write anything back and do not respond.
It is necessary to agree on and explain to each site (if the site does not have a lot of experience in hosting guest posts) conditions. For example, links do not need to be deleted after a year, they must be open (without noindex and nofollow), the page must not be closed from indexing, etc.
Some platforms, even after agreeing to the terms, violated them, for example, deleted the article after a year or six months, or closed nofollow links. And there are not many levers of influence on such site owners. For example, in Great Britain, six months later, out of 40 sites with guest posts, five publications removed the articles for which we paid.
It is necessary to separately close legal issues with each publication in the form of issuing invoices, acts, etc.
The solution: guest posting in local mass media
In 2022, 106 guest posts were made for korter.kz, 80% of them went through PRNEWS.IO
PRNEWS.IO: Did the PRNEWS.IO service live up to your expectations? Terms, quality, convenience.
Yuriy Voron: Yes, indeed. In general, everything is good.
What I liked about are:
clear interaction with sites without the need for personal communication – I selected sites, paid, sent an article, and received a link.
quick feedback – issues that arise are resolved quickly. PRNEWS.IO support works quickly – special respect for this.
it's great that there is a database of sites from different countries, even from those where digital media and the market are generally not very developed (e.g. Tajikistan, Uzbekistan, etc.).
you can save money on a link builder (that is, you don't need to hire or search for someone, but you can do it yourself, spending relatively little time on it).
The result: 40% increase in backlinks
In general, thanks to the cooperation with PRNEWS.IO, the number of backlinks to the company's website increased by 40%.
Examples of guest posts published via PRNEWS.IO:
As a result of high-quality media coverage, the SEO parameters of the Kazakh local version of the korter.kz website increased (data from Ahrefs):
Yurii Voron: Although in reality, no matter how it sounds, a large number of backlinks, even if they are of high quality, often don't bring traffic growth just because there are a lot of these backlinks now. 10-15 years ago, a similar scheme worked in Google, but later the algorithms were updated and Google began to take into account other factors besides backlinks (for example, the age of the site, the quality and quantity of content, behavioral factors, etc.).
However, link building is still one of the Google ranking factors that you need to work on, even if it doesn't bring immediate results.

To be an innovator in the real estate market
Backlinks are one of the most important components in SEO and website promotion. They help to increase the ranking of the site in search engines, which provides more traffic and more visibility to the target audience. However, it should be noted that backlinks are not the only factor that affects a site's ranking.
In addition to the number and quality of backlinks, the quality of the service or product is important for successful website promotion. That is why Korter is successful in local markets.
PRNEWS.IO: What sets you apart from your competitors?
Yuriy Voron: It is our features:
Aerial flights – our drones fly around buildings to show the construction status and neighborhood.
Personalized tools that make searching for an apartment fast and convenient (interactive map, filters, available plans with prices, conditions for buying apartments, videos, photos, descriptions of housing complexes, information about nearby infrastructure, etc.).
Applications on iOS and Android.
A complete interactive map of all residential complexes in cities.
Every month, we photograph the construction process from the same locations to show the real construction progress.
In several countries, we provide legal support when buying an apartment.
PRNEWS.IO: What does success mean to you and your company?
Yurii Voron:
For the company:
To help as many people as possible find and buy their "ideal" home with the help of our services.
To change the conjuncture of international real estate markets. Through the development of our sites and interaction with users, make similar process standards in those countries where we are represented.
Since our sites are starting to offer users aerial views of housing complexes, photos of housing constructions, an interactive map, modern and convenient site design, applications on iOS and Android platforms, etc., this encourages our competitors to "keep up" by improving their sites and interfaces for users. And as a result, the entire industry of online real estate is beginning to evolve and compete, ultimately making its services better and more convenient for average end users.
Also, our goal is to become leaders in the online real estate niche: to have our sites ranked first in real estate searches on Google, and to have our apps and sites used by millions of people around the world every day.
For me, as an SEO specialist of the company, it is important:
To help increase and maintain the overall traffic of the sites I work on.
Get the most relevant traffic that will convert into leads.
Improve the interface, content, and interaction with users on the site, because SEO is also about the successful combination of user expectations with what the site offers or can offer.
PRNEWS.IO: Would you contact the PRNEWS.IO team with a new challenge?
Yuriy Voron: Sure. I am interested, in particular, in the direction of the market of bloggers on Telegram, Instagram, YouTube, and other platforms. So that it would be possible to systematically select, pay for and receive links, as in the case of sites.
Some more inspiring graphics of local versions of the Korter site
korter.ge (Ahrefs)
korter.com.pl (Ahrefs)

korter.ro (Ahrefs)