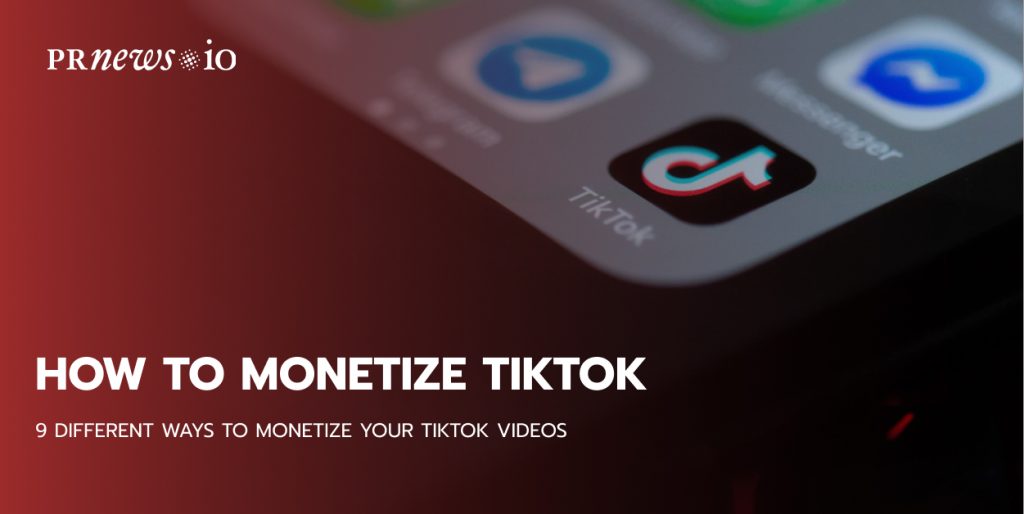 How to Monetize TikTok? Like it or not, we all go crazy for short videos. We have such a short attention span that there is no other reason why shortcuts have taken the world by storm.
TikTok is a thriving business with 109 million US users.
When you go down the list of general statistics, then it is clear why the platform is a powerful revenue generator for businesses. An average US TikTok user (kid) spends 87 minutes each day on the app. That is more than YouTube, Twitter, Snapchat, Facebook, Instagram, and Reddit.

However, that is not all the gold that shines. The reality is that the effectiveness of this social channel depends on specific factors:
your business goals;
target audience;
geolocation;
marketing strategy.
Thus, the decision to monetize the venue should be based on carefully analyzing potential ROI and risks associated with using the platform. Knowing these factors, you move on to monetization.
9 TikTok Moneymaking Tools You Need to Add to Your Shortlist
With the impressive milestone of 36.9 billion installs, this is a great time to invest in the platform. Below are a few popular moneymaking techniques you benefit from. They work for small businesses, influencers, and individual authors who want to make a profit on the channel.
If you think that there is only one way to generate revenue from making content, think again. Ask an Australian content creator, and he will prove that earning $34K in revenue by sleeping is easy.
# 1 TikTok Series
That is a new way for creators to monetize their content. Unlike standard 10-minute shots, TikTok Series videos can be up to 20 minutes long. You can even create collections of videos. Use in-video links or creators' profiles to pay and enjoy them.
Who is that best for?
It works for certain producers. It is best for those looking to generate income from their detailed tutorials and guides. Those might be Series on Excel shortcuts, effective workouts, webinars from entrepreneurs, or digital courses.
Who is eligible for Series?
The first thing to know is that the program is still in its initial phase. That means you might see some changes to the program as it evolves. To be qualified, your account needs to be in good standing for 30 days or older.
Age: at least 18 years old.
Follower base: 100,000+.
Number of views: 100,000+ in the last 30 days.
Need to spend at least 30 minutes LIVE within the last 28 days.
Check your Creator Tools in your app to see whether you can apply.
# 2 TikTok Creator Fund
Introduced in 2021, this program aims to reward the best and brightest authors for their work. Think of it as an encouragement to use the tool for creating content regularly. Once you are approved for the program, you receive payment for each video you post that meets the requirements.
Who is eligible for Funds?
To apply, check whether you meet the requirements.
Location: the US, UK, France, Germany, Spain, or Italy.
Age: at least 18 years old.
Follower base: 100,000+.
Number of views: 100,000+ in the last 30 days.
How much can I earn with it?
The amount of revenue depends on several factors. However, on average, expect the platform to pay you from $0.02 to $0.04 for every 1K+ views.
# 3 TikTok Affiliate Marketing
The idea behind affiliate marketing is nothing new. Connect with brands or businesses you trust to promote their products on your channel. Every time someone clicks on the unique affiliate link you provide and makes a purchase, you earn a commission.
The best thing is that anyone can do this. With sponsored posts, you'll have a deal with a company to help market their goods and suggest them to your audience. Just remember to inform your audience about any paid sponsorships.
However, a business account is a must. The channel does not permit personal accounts to include clickable links in the text of their content descriptions. And before applying, check whether your location fits the program.
# 4 TikTok Shopping
Online shopping is not strange for the platform since 2021. Users buy products directly from you, helping the program grow by the day. More and more brands are now eager to sell their products on the platform. That is another simple way to profit from your innovation.
Who is eligible for Shop?
Everyone with an account in good standing can join the TikTok Shop program. Apply for it, upload the documents, and follow the next steps to get started.
Age: at least 18 years old.
Follower base: 1,000+
Number of views: 50+ in the last 28 days
The latest new video should be no later than 28 days ago.
# 5 TikTok Pulse
That is the other ad revenue-sharing program that encourages top authors to monetize their content. On the one side, brands get to place their content next to top-performing reels, while on the other side, producers get a new way to make money on the app.
So, what does that mean?
As a brand owner, you put your sponsored posts among the top 4% of all videos. You choose from 12 specific categories for ads, like cooking, fashion, or gaming. As a result, your ads will show up among the content that ticks these boxes.
For authors, the program offers a potential opportunity to benefit financially from increased advertiser interest in the platform.
Who is eligible for Pulse?
If you are eligible for the program, you will see that in your account. That means that you meet the requirements.
Age: at least 18+ years old.
Follower base: 100,000+
Need to be a member of TikTok Creator Marketplace
Post at least five videos in the last 30 days.
# 6 TikTok Creator Marketplace
The platform connects creators with brands for paid and reward-based campaigns. It is available in 24 countries at the moment.
For brands, it makes it easier to find creative minds like you, view your profile, audience base, engagement metrics, and more. As a creator⁠, you register to be a vendor in the TikTok Seller Center. There you control your inventory, sales, partnerships, campaigns, and more.
Brands and producers set up shop as authorized merchants and make sales within the app. Whether a dancer, singer, or comedian⁠ you make and sell merch to your most loyal fans.
Who is eligible for Marketplace?
Age: at least 18+ years old.
Own a personal account
Follower base: 100,000+
Have uploaded at least 3 videos in the last 28 days
Receive over 100K+ likes on the videos in the past 28 days
# 7 Collect Tips or Donations
Crowdfunding, tips, and LIVE gifts are other ways for reel authors to make money. As a creator, you can receive LIVE gifting from your fans. If you do not have a specific project in mind, consider using a tipping platform. Think of it as a real tip jar.
Conduct your live stream in the usual way, and you will notice gifts pop up. The amount of money you earn depends on how many people are watching your stream. The more viewers, the more money you make.
Viewers will send virtual gifts and coins to you, which you can later redeem into TikTok's digital currency, Diamonds. That is not mandatory, so users decide the amount they like and want to tip.
Who is eligible?
Live where LIVE Gifts are available.
Age: 18+ years old (or 19+ in South Korea).
Fan base: at least 1,000 followers and a 30-day-old account.
# 8 Start a Patreon and Offer Fan Subscriptions
Creating content on the channel can be rewarding, but it shouldn't be your source of income. Let your followers support you with monthly payments on Patreon. It depends on the type of content you provide, yet you charge the amount you like. It works for authors who offer behind-the-scenes footage of their work, live chats with fans, or branded merch.
Think of an individual subscription-based model of income to keep costs low with a focus on growing the follower base. You can even start with one dollar a month, which is quite easy to sell to a single dedicated fan. And with a large pool of dedicated fans, those dollars add up.
#9 Promote Songs
Recently, the platform has updated its audio library with Sounds for Business. That makes it easier to get paid by adding songs to your shortcuts. So, if you have a large audience base and engagement, select from music licensed for commercial use in videos and ad content.
Musicians are willing to pay to promote their songs on your content. Record labels will pay authors to use a certain track in their videos in an attempt to get the song to go viral. The exact amount you earn on a video will depend on how many views it generates.
How to Monetize TikTok: More Ideas
If you're looking for ways to monetize TikTok, here are a few options to consider:
Brand partnerships: TikTok influencers can partner with brands and get paid to create sponsored content. Brands may approach you directly, or you can reach out to brands that align with your content and audience.
Live streaming: TikTok allows users with at least 1,000 followers to go live and receive virtual gifts from viewers. You can convert these virtual gifts into real money.
Selling merchandise: If you have a loyal following on TikTok, you can sell merchandise like t-shirts, stickers, or other products with your branding.
Affiliate marketing: You can promote products or services on your TikTok account and earn a commission for every sale made through your unique affiliate link.
Creator Fund: TikTok has a Creator Fund that pays eligible creators based on the views and engagement their content generates. You can apply for the Creator Fund within the TikTok app.
Cross-promotion: You can promote your other social media accounts or personal website on TikTok to drive traffic and monetize your other platforms.
So, Which One to Choose for Monetization?
As a video creator, you have tons of money-making opportunities to explore. Which will work for you? It is up to you to decide. It all comes down to finding the right approach to increase your engagement and earnings.
Mix and match different approaches if one doesn't work for you. However, one thing is sure, if you have a passion for creating content, TikTok might help improve your revenue-making game.