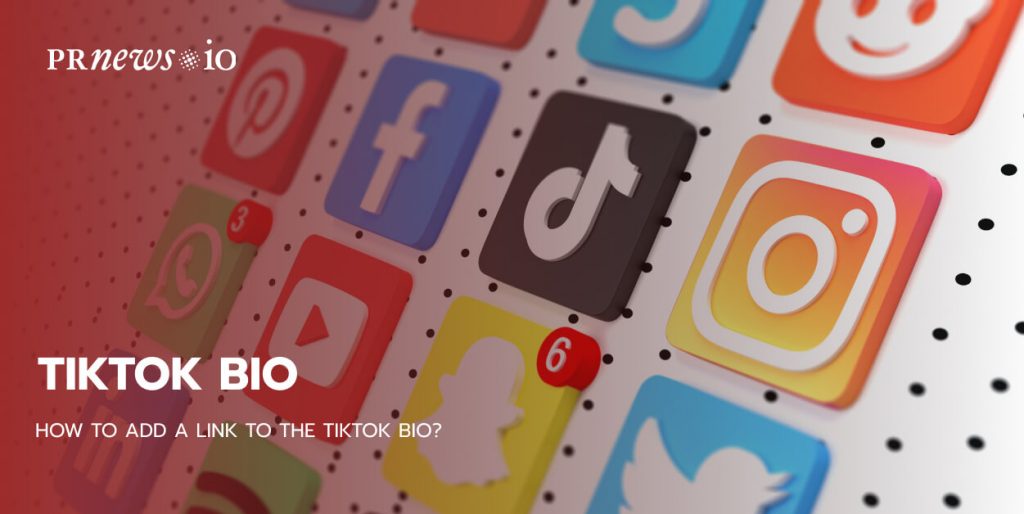 Your TikTok link in your bio can be one of the main traffic-driving tools. However, only adding a single link can be restricting.
Adding the link to a bio for TikTok turns your TikTok feed into a clickable, mobile-optimized landing page, allowing you to attach a specific link to each of your TikTok videos.
This means you can drive traffic to your website, increase email newsletter sign-ups, or boost product sales — the possibilities are boundless!
Simply put, adding the link to a bio for TikTok is a great way to optimize your account for better conversions and linking opportunities.
What is a TikTok Bio Link?
On your TikTok profile, you have an opportunity to add a clickable link you want. You can attach a link to your website to drive traffic to your site.
But, you might also want to add a link-building tool (such as Milkshake or Linktree – see the instruction below) to turn this one clickable link into a landing page with the directory of web pages instead. 

Why is it Important to Add a Link to Your TikTok Bio?
Your TikTok profile like your other social media accounts is a powerful tool to reach new audiences and convert them into your paying customers. However, if you don't have an easy way for your followers to visit your eCommerce website or blog, the chance of them converting returns to zero.
That's where your bio link comes in handy! With a clickable link in your TikTok bio, you can easily direct your followers to your website and encourage them to find out more about you or your business, check out your offers, and even make a sale.
On such social media networks like Instagram and TikTok, your bio link is the only clickable on your social profile. In other words, this is the only place where users can click to access your online store or website. So, making the most of the bio is a must.
With a link in your TikTok bio, you can:
Increase your website traffic and get users one step closer to buying your product.
Increase the number of views on your latest blog posts.
Easily promote your products or offers and inspire users to become a customer.
Encourage your followers to sign up in just a few clicks.
How to Add a Link to Your TikTok Bio
Much like Instagram, TikTok lets you add a clickable link directly to your profile.
This will help followers discover more about you, your products, and your business. Remember, only personal accounts that meet certain requirements and business accounts with over 1K followers have the opportunity to add the website field.
Here's a quick instruction on how to add a link to your TikTok bio:
Step #1: Open TikTok
Get started by opening the TikTok app. Once you're logged in, go to your profile by clicking the "Me" icon located in the bottom right corner of your screen.
Step #2: Head to Your Profile
Next, tap on your profile page settings. Next, tap on the "Edit Profile" button which is placed below your profile picture.
Step #3: Add a Link
Finally, "Add Your Website," and insert your link. You can insert any link you want, such as the URL of your website, YouTube channel, or other social media profiles.
Step #4: Save Your Changes
Once you've added your link, click on the "Save" button placed in the top right corner of your screen. Your new link will now appear in your TikTok bio and will be clickable.
Congratulations, you've successfully added a link to your TikTok bio!
Step #5: Add Multiple Links
If you want to show multiple links in your TikTok bio, you can use a service called Linktree. Linktree is a free tool that helps you to create a landing page with various clickable links. After you can insert the Linktree link to your TikTok bio, which will direct your followers to your Linktree list of links.
To use the Linktree tool, just sign up for a free account and create add your multiple links. After creating your landing page of links, copy the Linktree link and add it to your TikTok bio.
To promote your social media channels through high media coverage with PRNEWS.IO, follow these steps:
Develop a strategy: Define your goals, target audience, and key messages you want to convey. Having a clear strategy will guide you in working with PRNEWS.IO.
Research the media: Familiarize yourself with the PRNEWS.IO platform and its capabilities. Explore the publications available on the platform, their audience reach, and the advertising formats they offer.
Prepare a press release: Write a professional and compelling press release about your social media channels. Highlight the unique features and advantages of your content, and provide specific data about your audience and achievements.
Choose relevant publications: Select publications on PRNEWS.IO that align with your target audience and interests. Pay attention to the distribution and audience size of each publication.
Contact PRNEWS.IO: Reach out to the PRNEWS.IO team and discuss your goals and intentions. Talk about collaboration options, advertising packages, and publication terms for your press release.
Submit the press release: Submit your press release to PRNEWS.IO following their guidelines and procedures. Ensure that your press release is clear, informative, and attention-grabbing.
Monitor the results: After the press release is published, monitor the coverage and engagement generated. Track metrics such as website traffic, social media mentions, and follower growth to evaluate the impact of the media coverage.

Wrapping up
Adding a clickable link to your TikTok bio is a simple process that can help you boost traffic to your website, YouTube channel, or other social media accounts. By following the steps described in this post, you can easily add a link to your TikTok bio and start leading your TikTok followers to your other accounts.
Content Marketing Platform
100,000+ media publications;
get backlinks to your product;
scale work with content distribution.