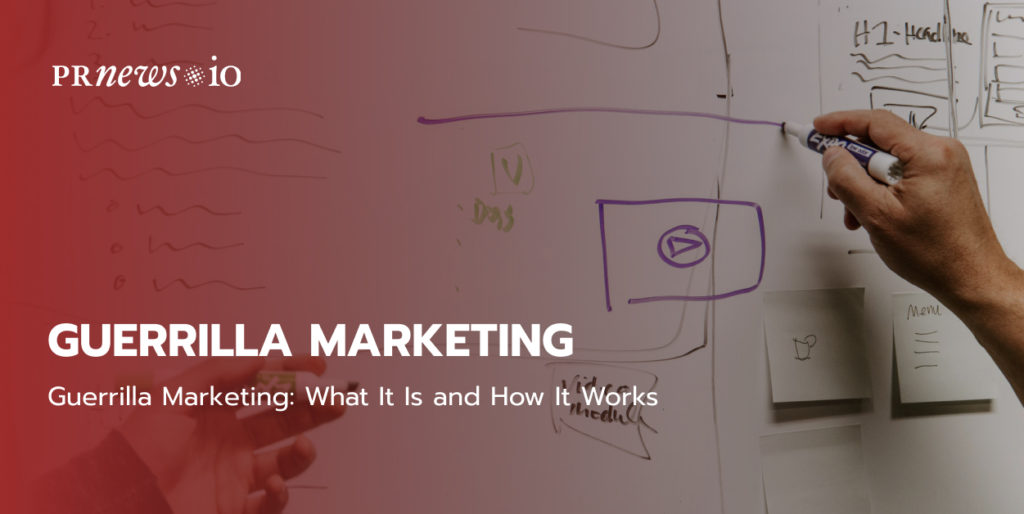 There is a growing number of ads, they "mutate," and marketers do their best to attract customers, but it becomes more difficult to do so. Because in this chaos, people have so-called advertising blindness, when the banners and slogans no longer have the same effect as before.
Guerrilla marketing is one of the best ways to overcome the typical competitors' ads.
What is Guerrilla Marketing
Guerrilla marketing is the promotion of goods and services in unusual, creative, eye-catching ways. This approach can achieve the following goals:
draw attention to the product through creativity, non-standard presentation, humor;
increase brand recognition, to form a corporate identity;
stand out from the competitors.
This notion appeared in 1984 when it was introduced by Jay Conrad Levinson, a writer and creative director of an advertising agency in the past. Initially, it was a question of placement of printed materials in locations with a potential target audience. For example, when promotional flyers with other goods of the company were put inside the packages with the particular products. But gradually other more interesting options have also appeared.
The end goal for all types of marketing is, of course, the same – to get more customers, increase sales and profits. But guerrilla marketing has its own specific characteristics. For example:
A wide audience. Most methods of GM do not imply narrow targeting, which means that as many people as possible should know about the product or brand.
Short-term effect. Hype in the media and social networks can give a powerful increase in visits and other indicators, but, as a rule, it is not long-term. Without the usual methods of promotion such as SEO, contextual advertising, community management, and others, you are unlikely to achieve serious long-term results.
Conditionally cheaper. Classic guerrilla marketing involves a small investment of money or even completely free advertising. For example, Procter & Gamble – who painted the crosswalk in bright white color and used Mr. Proper's image did not spend much money. But the result was noticed by thousands of potential customers.
A key advantage of guerrilla marketing is the ability to stand out from the competition, skillfully sidestepping the very same advertising or banner blindness. The main disadvantage here is no guarantee of results. The campaign may not succeed, even if everything seems to have been thought out and expected.Types of GMGuerrilla marketing can be divided into several kinds.ViralThe purpose of viral marketing is to cause a strong emotional reaction, to reach the maximum number of people. The expectation is that users will eagerly share content or an advertising message, thereby multiplying the number of views and reactions, as well as brand awareness. For this purpose, companies can use different formats: YouTube videos, posts on social networks, pictures (memes), blog articles, flashmobs, and games.
Outrageous
It can be classified as a subtype of viral marketing. Usually, its creators use explicit, sexual topics and headlines at the edge of foul. A suitable format may be both videos, humorous sketches, and photos. The main thing is to get maximum response from the audience and a desire to discuss the content.
On the one hand – publications in the media, memes on social networks, mentioning the brand and increasing recognition, on the other – condemnation, public outrage.
Hidden
Otherwise, this method can be called native advertising. The essence is an unobtrusive, neat offer of a product or service. This approach also helps bypass banner blindness.
One of the methods is the publication of reviews and comments on social networks, forums or blogs. Another way is to collaborate with bloggers. TikTok and YouTube often provide reviews of cosmetics, appliances and other items. Some authors simply put some product in the background – using so-called product placement.
Cooperation (Collaborations)
This is a format in which two companies team up to engage customers. Both participants can increase sales and credibility of their products.
As an example, we can check out the collaboration of "Dochki-synochki" and the laboratory network "Citylab". In the store you can get a discount on tests, and in the laboratory – a discount on the purchase of certain baby goods.
Ambient Marketing
Ambient marketing is the interaction with the audience through the elements of the surrounding world: stops, benches, some other branded items. This is a relatively young direction of guerrilla marketing.
Life Placement
This is another extraordinary scheme of product promotion.
Life placement is similar to a stage play – you hire actors, choose a place with a lot of potential customers. And then the actors begin to extol the product, wildly excited about the purchase. 
The task is to arouse emotion, to provoke potential buyers, to gain interest.
Online and Offline
Also marketing activities can be divided by the way they are promoted. These are online or offline types.
| | |
| --- | --- |
| Online | Offline |
| Viral content (videos, infographics, pictures, memes, tests, songs – anything that catches the customer and makes them share with others). | Unique advertising at bus stops, transport, workers' uniforms. |
| Hidden advertising from bloggers, influencers and other popular people; product reviews. | Newsletter of free branded souvenirs. |
| Conducting interactive events with prizes. For example, launching challenges on brands' names on TikTok and other social media platforms. | Gift bonuses and different promotions, collaborations. |
| Product reviews, discussions on social networks and forums, comments on feature and promotional articles. | Branding of public facilities. |
Who is Guerrilla Marketing Suitable for?
Although guerrilla marketing is presented in most articles as a cheap (free) and very effective way of promotion, you should remember its specifics.
Viral content, unusual advertising, challenges are tools that can give a good, but short-term effect. And if the company is not working in a comprehensive way in different areas (search engine optimization, email marketing, SMM, and others), it is unlikely to keep your audience and provide long-term results.
Therefore, if we consider guerrilla marketing, it is better as an additional tool rather than the main one. That is, it should be tried when the company is already doing well with the website, product, customer service, etc.
Another important point is the lack of precise targeting, the impact on a wide audience. So, most of the methods of GM will be suitable, for example, to promote FMCG (fast-moving consumer goods), but not some narrow specialists.
Moreover, it is worth bearing in mind that not all guerrilla marketing is inexpensive or free. To order a product review or product placement from a famous blogger with a large audience, you may need more than $1000.