CBD SEO refers to the practice of optimizing a website and its content to improve its ranking and visibility on search engine results pages (SERPs) for keywords related to CBD products. The goal of CBD SEO is to increase organic traffic to a CBD website, attract potential customers, and ultimately drive sales.
CBD SEO can be a challenging task due to the various regulations and restrictions on advertising and marketing CBD products. For instance, some advertising platforms like Google and Facebook have strict policies on advertising CBD, which makes it difficult for CBD brands to reach their target audience through traditional advertising methods. However, by optimizing their website and content for SEO, CBD brands can attract potential customers who are already searching for information on CBD products.
CBD SEO involves various strategies such as keyword research, on-page optimization, technical SEO, link building, and content marketing. By implementing these strategies, CBD brands can improve their website's ranking on search engine results pages and attract more organic traffic to their website.

What is CBD?
Cannabidiol, commonly known as CBD, is a natural extract derived from cannabis. Unlike tetrahydrocannabinol (THC), another compound found in cannabis, CBD does not have any psychoactive effects. It is known to be effective in treating various health conditions such as chronic pain, nausea, loss of appetite during chemotherapy, anxiety disorders, multiple sclerosis, and epilepsy.
CBD is available in various forms such as oil, pills, cream, vape fluid, and even gelatin bears.
Although the medical cannabis market is still in its infancy, there are already several pioneers in the field. Israel has made hemp cultivation a sector of agriculture, even for export purposes. Canada, where marijuana has been fully legalized since 2018, is the largest producer of marijuana in the world. As per market projections, the CBD market in the U.S. is expected to reach at least $1.5 billion by 2021.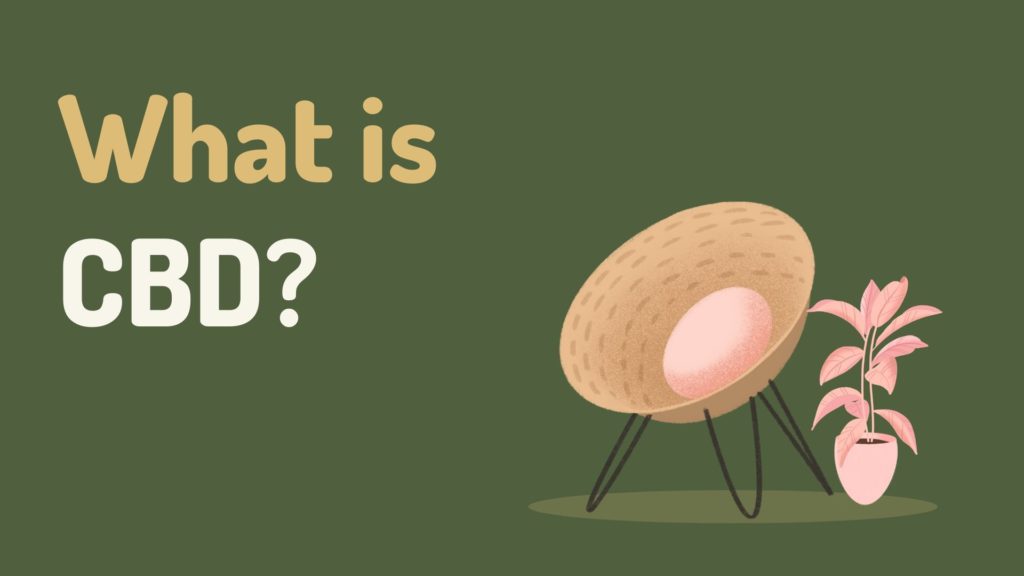 CBD SEO Criteria for Websites
SEO ensures that a website is search engine-friendly, creates a positive impression, and ranks higher than millions of competitors. To rank higher in cannabis marketing SEO, three crucial aspects are essential:
Keyword research: This involves identifying the most effective industry-specific content and extracting keywords, content lengths, and other critical factors. Good research helps in understanding the number of search queries for a keyword, its complexity, and its financial prospects.
Content: Once you have selected the keywords, focus on creating unique, engaging, and informative content for the readers. The content should be detailed, not superficial. The reader should benefit from reading the content, and it should have an adequate keyword density that is accurate and business-oriented.
Backlinks: These are links that come from outside your website and point to your website's content. A website with many important backlinks will have a higher domain profile, giving it an advantage over its competitors. You can obtain backlinks by guest posting on websites with high domain authority, promoting content on popular websites and forums, and using social media.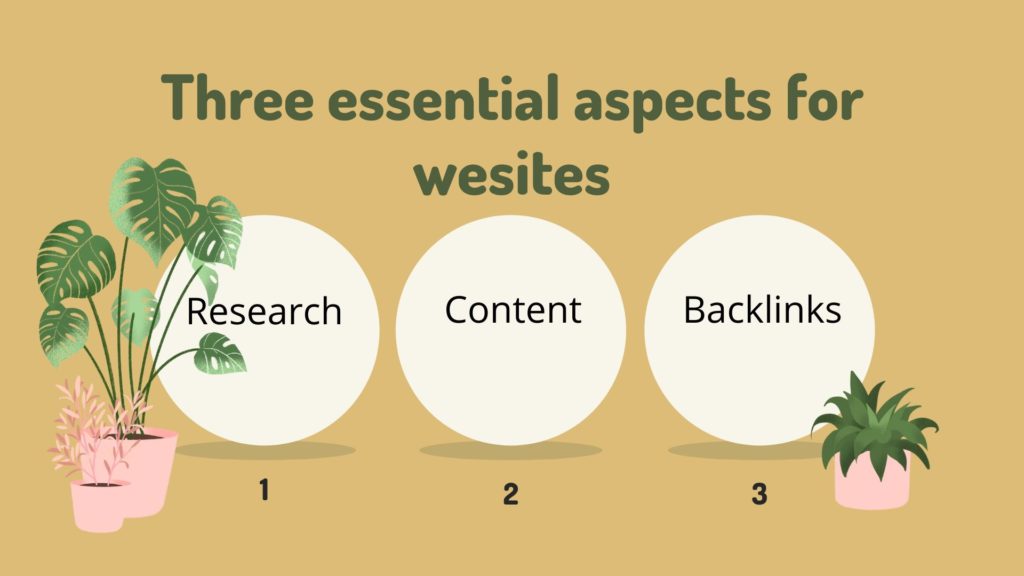 Consider the key points of each in detail.
Keyword Research for Cannabis Websites
Keyword research is the process of identifying the search terms or phrases that people use to find information on a particular topic or product. It is an essential part of search engine optimization (SEO) as it helps to identify the most relevant keywords to include in website content, meta tags, and other SEO elements. Effective keyword research can help improve a website's visibility in search engine results pages (SERPs) and drive traffic to the site.
When it comes to conducting keyword research for cannabis SEO, the primary challenge is to gather sufficient data. For instance, a search for the keyword "what is cannabis" may not yield as extensive results as another generic term. To find the most effective websites that offer CBD chewy candies, CBD oil, CBD tinctures, and other products online, one has to combine the search results.
The main reason for this is Google's strict policies against the cannabis industry, coupled with restrictions on paid marketing channels, making keyword extraction a challenging task.
To overcome such obstacles, one needs to conduct a detailed keyword analysis using tools like SEMRush, WordTracker, Google Autocomplete, Ahrefs, or Google Trends. Scrutinize the keywords carefully and select those that align with your cannabis store's needs.
A winning strategy for a cannabis website would be to incorporate both product-related and informational keywords. Product keywords inform users about what is sold, for example, hemp. Informative keywords explain the benefits or usefulness of the relevant product, for example, the use of cannabis in the medical industry.
B. Relevant keywords for CBD products:
CBD oil
Hemp oil
CBD gummies
CBD capsules
CBD tinctures
CBD edibles
CBD topicals
Full-spectrum CBD
CBD isolate
CBD for anxiety
CBD for pain
CBD for sleep
CBD for inflammation
CBD for pets
CBD dosage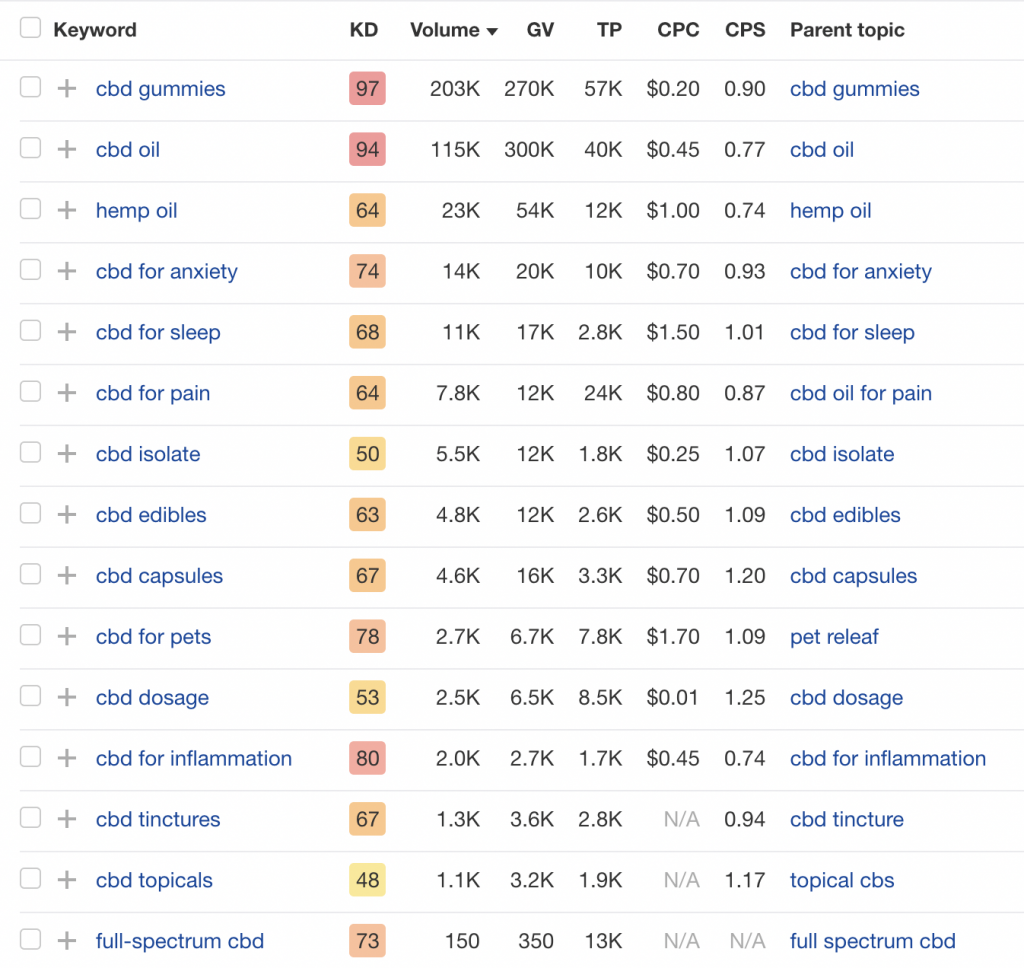 Keyword research tools:
Google Keyword Planner – a free tool that provides keyword ideas, search volume, and competition level for each keyword.
Ahrefs – a paid tool that provides keyword difficulty score, search volume, and click-through rate (CTR) data.
SEMrush – a paid tool that provides keyword difficulty, search volume, and ranking data for each keyword.
Moz Keyword Explorer – a paid tool that provides keyword difficulty, search volume, and click-through rate (CTR) data.
Keywords Everywhere – a browser extension that shows search volume, CPC, and competition data for each keyword on Google search results pages.
Content for Cannabis Websites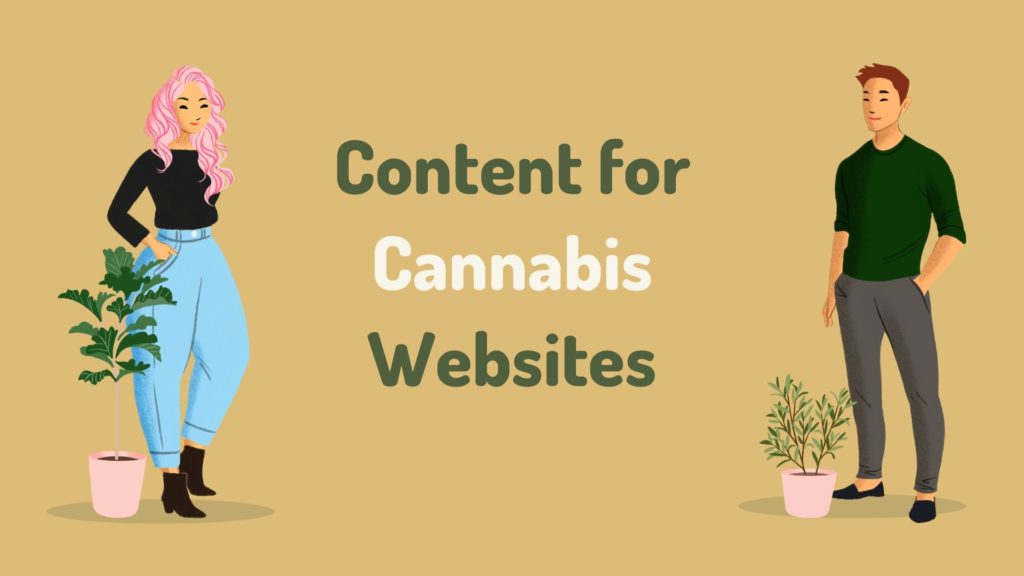 Content marketing is an essential component of CBD SEO as it helps to improve a website's visibility in search engine results pages (SERPs) and drive traffic to the site. Creating high-quality, informative content can help establish a brand's credibility and authority in the cannabis industry. Moreover, regular content updates can increase user engagement and encourage repeat visits, which can result in higher conversion rates.
To create effective content for your CBD website, it's crucial to prioritize both trustworthiness and uniqueness. Your content should be easy to understand, even for non-specialists. Focus on creating content about your latest products for sale, whether it's press releases, long-form articles, industry news, or educational blogs.
When a user reads your content, they should be able to see how it helps them. To ensure that your content resonates with readers, consider the following:
Does the tone of the story capture readers' attention?
Is the language consistent and valuable to your target audience?
Is there enough white space to keep readers focused on the content?
Studies suggest that blog posts and articles that exceed 1,800 words tend to perform better in terms of user engagement. However, it's important to remember that quality matters just as much as quantity. Consider incorporating hands-on guides, tips, benefits, and step-by-step instructions to add value to your users and expand the length of your content.
By prioritizing clear and valuable content that engages your readers, you can establish your brand as a trusted authority in the CBD industry.
Content Marketing Platform
100,000+ media publications;
get backlinks to your product;
scale work with content distribution.
Potential blog post ideas for a CBD blog:
How CBD can help with anxiety and stress management
The benefits of using CBD for pain relief and inflammation
A beginner's guide to using CBD products for health and wellness
CBD vs. THC: What's the difference and which one should you use?
The benefits of using CBD for skincare and beauty
How CBD can help with sleep disorders and insomnia
The science behind CBD and its effects on the body's endocannabinoid system
The legality of CBD in different countries and states
How to choose the right CBD product for your needs
Success stories of people who have used CBD to improve their quality of life
The benefits of using CBD for pets
The potential side effects of using CBD and how to manage them
Dispelling myths and misconceptions about CBD
How to incorporate CBD into your fitness routine for optimal performance and recovery
An overview of the different types of CBD products available and how they work.
Backlinks for CBD SEO Websites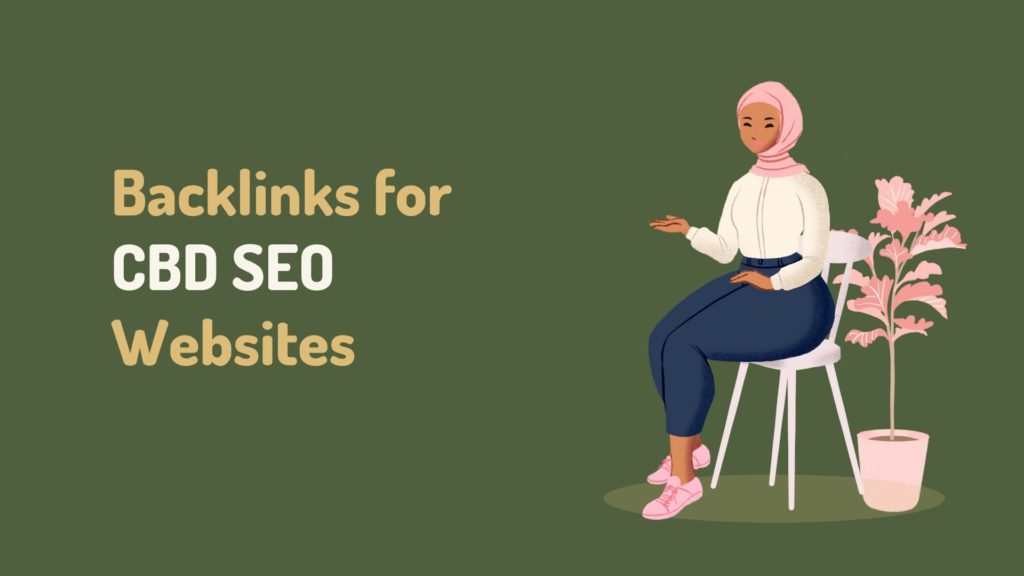 The cannabis industry remains restricted in many ways, and finding information forums that allow backlinks to cannabis websites can be challenging. However, with the gradual legalization of cannabis for medical and industrial use in various states, the industry is gaining momentum.
If you're looking to get backlinks to your cannabis website, there are a few strategies you can use:
Start by creating supporting articles around your target keywords and publish them on your website, adding internal backlinks to your homepage. Engage in forums and discussions related to your industry, sharing informative content to build your expertise. Include a link to your website if appropriate. Leave comments on relevant articles and posts on other websites, but be sure to include your backlink in a natural way to avoid appearing like spam. Invest in creating high-quality backlinks from websites with higher domain authority than your own to improve the reliability of your site.
PRNEWS.IO: Your Gateway to High-Authority Media Outlets for CBD Guest Posting and Backlink Building
PRNEWS.IO is a platform that connects CBD websites with high-authority media outlets where you can place guest posts and build backlinks to improve your SEO rankings. Guest posting is a proven way to increase your website's visibility and establish your brand as an authority in the cannabis industry.
Through PRNEWS.IO, you gain access to a vast network of media outlets with a large and engaged readership. These outlets have strict editorial guidelines and high standards for content quality, ensuring that your guest posts will be informative, relevant, and valuable to their readers.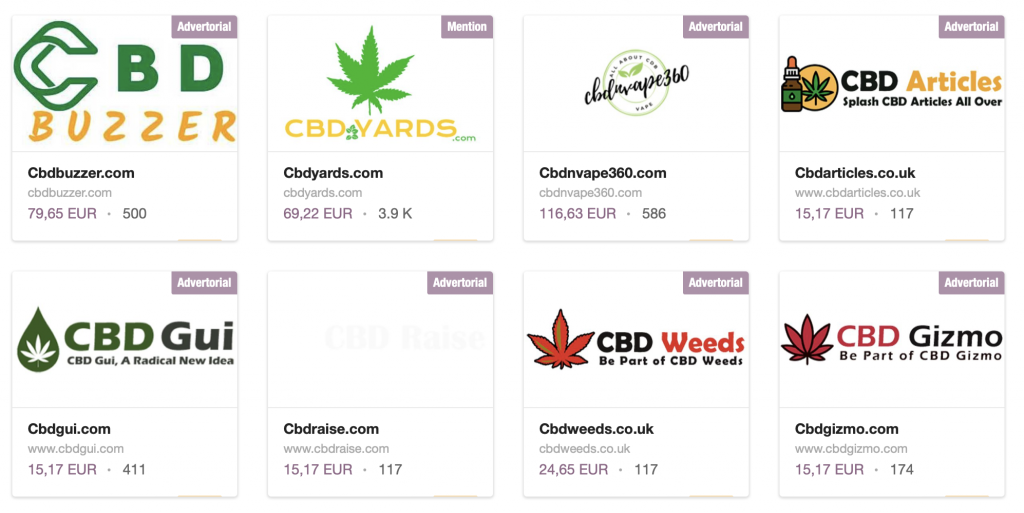 Our platform offers a seamless process for guest posting, from selecting the right media outlet to publishing and promoting your content. You have full control over the content creation process, from approving the topic and keywords to reviewing and editing the final draft.
When you publish content on high-authority media outlets through PRNEWS.IO, you can earn valuable backlinks to your website. These backlinks are a critical factor in improving your website's domain authority and increasing your chances of ranking higher in search engine results pages (SERPs).
Local SEO for CBD businesses
Introduction to Local SEO for CBD Businesses Local SEO (Search Engine Optimization) is a digital marketing strategy that helps businesses to optimize their online presence to rank better in local search results. It is essential for CBD businesses to implement local SEO strategies to attract potential customers who are searching for CBD products and services in their local area.
Incorporating quality CBD SEO services into your marketing strategy can significantly enhance your online visibility and reach, helping you connect with a broader audience and drive targeted traffic to your website.
Creating Local Listings and Optimizing for Local Search Creating local listings on platforms like Google My Business, Bing Places, and Yelp is crucial for CBD businesses to appear in local search results. It is essential to provide accurate and consistent information, including the business name, address, phone number, and website URL. Also, optimizing local listings with relevant keywords, descriptions, photos, and reviews can increase visibility and attract more customers.
Leveraging Online Reviews and Customer Feedback Online reviews and customer feedback are critical factors that influence the purchase decisions of potential customers. CBD businesses can leverage online reviews by encouraging satisfied customers to leave positive reviews on their Google My Business and Yelp pages. Responding to negative reviews professionally and addressing customer concerns can also help build credibility and trust among potential customers.
Using Location-Specific Keywords and Content Using location-specific keywords and creating location-specific content can improve the visibility of CBD businesses in local search results. For instance, using keywords like "CBD store near me" or "CBD products in [city name]" can help CBD businesses to rank higher in local search results. Creating location-specific content, such as blog posts, videos, and social media posts, can also help attract local customers.
Implementing Local Link Building Strategies Building high-quality local backlinks from authoritative websites can boost the visibility and credibility of CBD businesses in local search results. CBD businesses can collaborate with local influencers, bloggers, and news outlets to generate local backlinks. Also, participating in local events, sponsoring local charities, and getting listed in local directories can help CBD businesses to build local backlinks.
Conclusion
The PRNEWS.IO platform can help CBD companies spread product information in two ways:
Using a link-building strategy (one of the most effective methods of SEO optimization);
PR and positive reviews, online publications about local businesses, cannabis marketing.
You can post the medical cannabis material you need on the site at fixed rates. Our audience from all over the world will definitely see it and respond to it.
If you're looking to build backlinks and improve your CBD website's SEO, PRNEWS.IO is the perfect platform for you. With our user-friendly interface, personalized approach, and network of high-authority media outlets, we can help you achieve your SEO goals and establish your brand as a leader in the cannabis industry.
FAQ: CBD SEO
How to drive SEO for CBD companies?
In order to enter CBD SEO correctly, you need to:
conduct an SEO audit and optimize your site content;
use meta tags and keywords;
develop a link building strategy;
find a niche and publish quality content;
claim rights to company data for local search;
don't save on social networks and marketing agencies.
What is SEO cannabis?
SEO cannabis is the process of influencing and influencing the visibility of a cannabis-related website or landing page in unpaid search engine results, often called "natural," "organic," or "earned" results.
How to work in the cannabis industry marketing?
Cannabis Marketing or CBD through Search Engine Optimization (SEO) is a hybrid process of optimizing your website by writing comprehensive industry content in conjunction with building a reverse link strategy according to best practices developed by popular search engines such as Google and Bing. How to build an effective cannabis marketing plan:
learn about the legality of cannabis use in your jurisdiction;
use the best marketing methods;
focus on value, not profit.
SEO is a combination of technical and business skills. It also requires great patience. Invest in research, quality content and good feedback, and time to boost your cannabis website. Interestingly, the top pages that we see now in the Google ranking took 2-3 years, or maybe more, to take first place. So keep this in mind and build a robust SEO strategy for the site that will pay off in the long run.