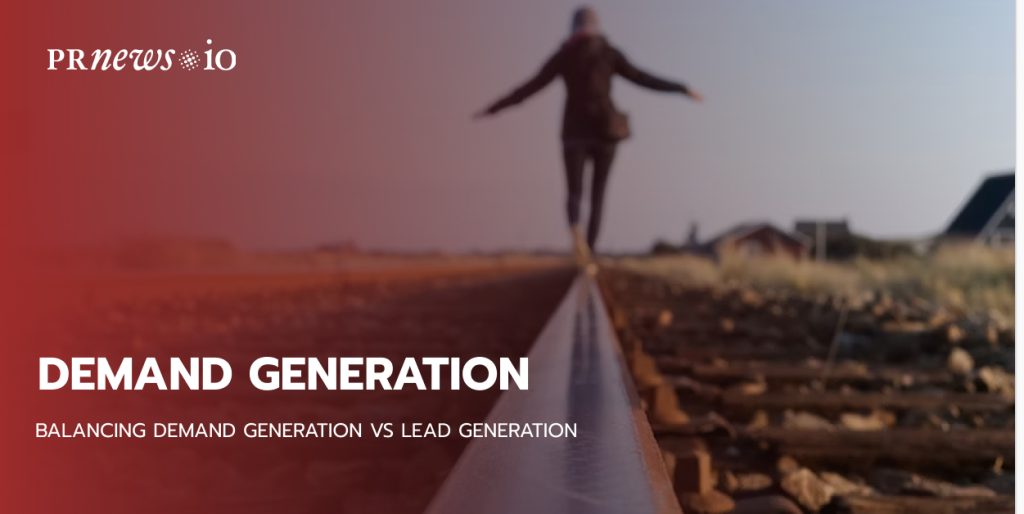 Demand generation is one of the most challenging tasks for 61 percent of sales professionals. That is true. The buyer's behavior has evolved. That makes marketers looking for ways for brands to stay competitive.
The key is to generate demand. But the sad part is that traditional approaches are not so effective in drawing the attention of the target audience. That's why marketers have changed their focus. It is reflected in the quality. And it accounts for all buyers, not only those ready to make a decision.
What Is Demand Generation, and Why Does It Matter?
It is a newer way of creating content that develops trust in your brand. You need to know the latest customer habits to drive demand and engagement in your product or service. With this knowledge, you can still create demand for your offerings. A broader view of the buyer's journey helps your business perform and grow the way you like it.
The question is: What is the right way to do that? The answer is through education. When you educate your target audience about your products or services, you create interest. Every time you inform people about your presence, you generate demand for your offerings.
Doing that is easy. Create buzz about your business and increase online traffic. That in turn helps you identify and understand customer needs.
Think of it this way. The online market is a crowded space today. Your customers have plenty of options to choose from. Now you need to win their attention. Use the right content marketing practice that puts your offerings in front of your customers' eyes. That is the differentiating factor.
What Is Lead Generation?
Lead generation is not a new marketing approach. It includes a variety of activities that help sales teams close the deals. That campaign can be done through networking or cold calling. The other way marketers use it is through online ads.
Whatever your path, collecting leads is a priority. Make the best use of it to build an ideal customer profile. Details matter. Do you know their budget, or level of buying intent? All the data you get helps improve communication strategies.
If we go down the AIDA model, lead generation means the Desire and Action parts. As a marketer, you focus on turning a customer's interest in your product into a desire to use it as a solution. As a result, you close the deal.
In turn, demand generation stands for the Awareness and Interest stages. That means you have the top focus on name recognition and creating buzz around your brand.
What Is the Difference?
Whatever tactic you used to attract the masses, it starts with content. You can use different approaches, deciding which one is more valuable for your business. But trying to do one without the other might mean missing out on significant rewards.
Demand gen is at the very top of the sales funnel. It is where you bring prospects into the buying journey by creating awareness and interest. Once that's been done, the lead gen takes over and converts those seekers to customers.
It turns your prospects' attention into hot leads. So, it is the next stage of the buying process when the seekers are already interested in your brand. Their interest is more than simply checking your web page but leaving their data through a form or landing page.
Creating such content will help you grow your audience, attract visitors to your page, and build trust. And it is not an all-in-one copy that works for all platforms and appeals to different members of buyer groups. Instead, it is:
crafted for each stage of the buyer's journey;
speaks directly to the needs of your customers and relies on their data.
So, with complete and accurate data at your fingertips, you have a chance to penetrate your audience.
As you see, these two strategies are not overlapping. While the one introduces seekers to your brand, giving a marketing team a chance to win them over, the lead generation steps in to do the other half of the battle. It carefully nurtures prospects. It is where you speak to their pain points, build trust, and offer your products or services as the solution they have been searching for.
How to Form a Strategy That Gets You the Best from Two Worlds?
Think of your better marketing strategy as a fruit tree. A plant that does not bear flowers would not be able to bear any fruits. So if you want to enjoy fruits, follow this strategy. You can't drive sales without generating interest first.
Now, that comes to the idea that you can't leave the two strategies to exist in a vacuum. So, you start by invoking the interest of your target audience with a copy that speaks to their needs, preferences, and challenges. You can name this a breeding step.
Next comes the research. Once you know all ins and outs that will prompt seekers to submit their contact information, take the next step. Establish your product as the solution to the problem your audience faces and form relationships with them. It is the very time to nurture the masses and draw them through all the stages of the sales journey.
Remember, both tactics come with their challenges. The task is to make them work for you to bring results.
What if you know that the most commonly made mistake by businesses in content generation is the wrong way of distributing it? Not having the proper channels or not unique angle doesn't make your copy interesting enough to invest in reading it. Often, it is misaligned to EEAT – something Google loves.
Need help on how to generate demand?
PRNews.io has helped hundreds with building the right marketing strategy that generated unmatched engagement.
Demand Generation vs. Lead Generation
| Aspect | Demand Generation | Lead Generation |
| --- | --- | --- |
| Goal | Create awareness and interest in a product or service. | Capture contact information and identify prospects. |
| Focus | Broad audience targeting. | Targeted towards individuals or businesses likely to convert. |
| Strategy | Content marketing, social media, brand awareness. | Content marketing, email marketing, lead magnets. |
| Metrics | Impressions, clicks, website traffic, social shares. | Leads generated, conversion rates, lead quality. |
| Timing | Long-term strategy for brand building. | Short-term strategy for immediate sales prospects. |
| Conversion | Indirect conversion over time. | Direct conversion with contact information capture. |
| Lead Nurturing | May involve nurturing through content and engagement. | Focuses on nurturing captured leads into customers. |
| Examples | Blog posts, social media campaigns, webinars. | Landing pages, lead capture forms, email campaigns. |
| Audience Engagement | Aimed at engaging and educating a broad audience. | Focuses on engaging and converting interested leads. |
| Sales Funnel Stage | Top-of-funnel activities. | Middle-to-bottom-of-funnel activities. |
Looking To Drive Business Growth in 2023 and Beyond?
Do not stop just getting results. It is much better to focus on producing impressive demand. Then do the math. When you gain insights from user interactions, you know the right way to qualify leads, develop better nurturing tactics, and prompt leads to close the deals.
Implement both practices while crafting content. The one that speaks to seekers at each stage of the buying journey helps you develop the right lead-gen tactics. To make both approaches work even more efficiently, automate them. That will save you time and streamline processes that place your brand on the demand map and lead generation timelines together.
Is your business in need of a PR makeover?
Benefit from media coverage assistance.
Witness a refined branding approach.
Watch as your recognition soars.