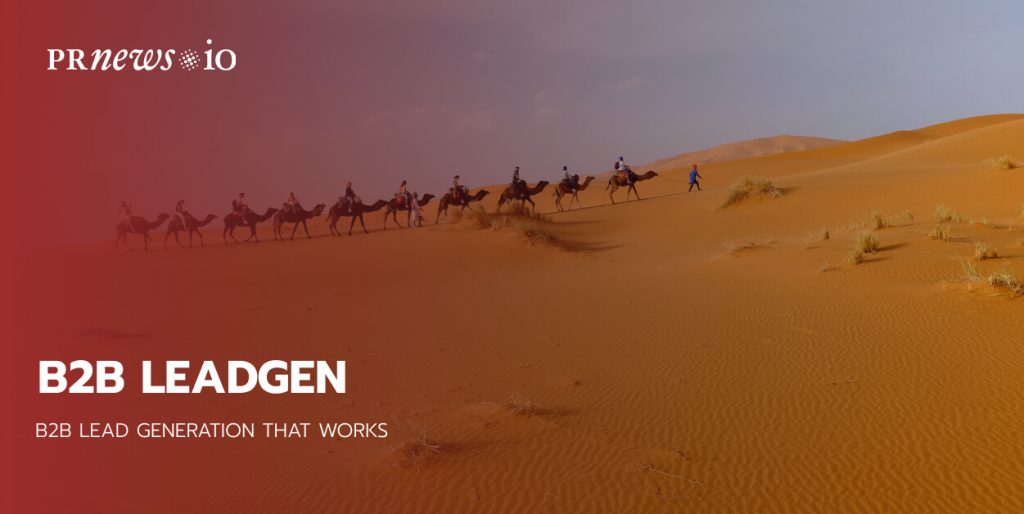 B2B Lead Generation. Every B2B business needs quality leads to keep up working in the market. But if you want to have a steady income stream and prosper, you need a strategy that boosts and automates lead generation. But what you can do for achieving this? 
Let's take a look at what B2B lead generation is and the best strategies to make it work.
What is B2B Lead Generation?
B2B lead generation is the way B2B marketers use to attract prospective customers to their business organically. This includes different inbound and outbound marketing tactics that improve visibility, awareness, and interest from prospects within your target audience.
Although lead generation has traditionally been considered part of a company's marketing activities, it's not limited to paid advertising. Most businesses use a mix of:
Social media outreach
Email marketing
Content marketing
Event marketing
PPC advertising
Cold calling and emailing
Website ESO and web design optimization
What Are the Benefits of B2B Lead Generation?
B2B lead generation influences both sales and marketing departments, as well as the business on its basic level. Without lead generation, there are no leads to appear in the sales pipeline, no customers, no sales, and no more business.
Focusing on a strong lead generation strategy can help your business to:
learn more about your target audience
provide guidance on content creation
build brand awareness and visibility
test and improve marketing practices and strategy
generate more high-quality leads
spend less than for other forms of advertising
discover a broader market
provide an accurate, up-to-date contact list for leads
increase conversion rates
improve sales pipeline flow
receive higher revenues
B2B Lead Generation Stages
If you're ready to start and improve your sales, you'll need a profound lead-generation process.
The process of generating leads after all is based on two elements—how your potential audience can find you and how well you can identify your target audience. These components consist of two categories: inbound and outbound marketing.
Inbound marketing activities drive leads of those who approach the company, usually with the help of such sources as social media, online advertising, or search engines. Inbound leads traditionally have a shorter sales cycle and higher conversion rates.
Outbound marketing drives leads through outreach like cold calls, email, or social media prospecting. These leads typically need more attention and engagement and have longer sales cycles.
Let's dive into this process to discover the key stages that provide opportunities for B2B sales success.
Step 1: Identify your perfect buyer persona
Start by creating your ideal buyer persona. This is a perfect customer for your service or product. Where do they look for information and what media do they consume? What concerns or issues do they have that you can solve with your product?
You'll often need to create several personas. Once you've formed the image of your ideal buyers, you can begin to create customized content for each one.
Step 2: Choose the strategy
Now that you have a clear idea of your ideal customer, it's time to find out where to find and attract the real-life version. There's no single universal solution for B2B sales leads. Instead, you have to choose from a chunk of tools and strategies (take a look below) for attracting your perfect customer.
Keep your strategies focused on the persona(s) you've formed and always be prepared to improve and customize it as you go.
Step 3. Analyze
When your prospects reach the consideration phase, they have a clearer picture of their problem and the solution to it. They're starting to consider possible products or services, but aren't quite ready to make a purchase just now yet.
At this stage, a customer has done most of their research and is close to a purchase. This is where you have to identify the groups of your prospects and try to understand what may convince them to make a final step – a purchase.
Step 4: Close leads by making a sale
After multiple meetings with your competitors, the prospect chooses you, and the deal is done. Now they have been moved to customer success for onboarding.
B2B lead generation strategies that actually work
Step by step you can practice all these sources for successful B2B lead generation. Collect data, analyze it, and improve each technique. Let's start.
1. Social media
Social media isn't just for companies working with B2C consumers. As more and more businesses move into social selling activities, B2B lead generation also could be successful for B2B customers that you can reach on different platforms.
While each social platform has advantages, for B2B leads, LinkedIn, Facebook, and Instagram are still top-rated. So put your efforts there primarily.
People today have around seven social media profiles they use. Being active on the social media channels you choose is critical to building visibility and a follower base. Focus on starting discussions and engaging your target audience to achieve this goal.
In addition, encouraging your employees to share your content or posts about you on their social media accounts help you reach far more leads than what your company's social media pages could possibly reach on their own. Employee advocacy also humanizes your business, which is a welcome distinction in B2B industries.
2. Cold emails
Cold emailing is different from email marketing. This method allows you to generate high-quality leads by contacting people who are not yet on your email list.
Since cold emailing involves contacting audiences you've never contacted before, it's a harder practice to do successfully than typical opt-in email marketing. You have to motivate your cold-email base to do more than just click something. You have to convince them to actually reply. Therefore, cold emails, need to be persuasive, concise, and relevant.
3. Emails with direct mail
After sending a cold email, it's reasonable to send follow-up emails. Email campaigns with four to seven emails in a sequence receive a 27% response rate, while campaigns with fewer follow-up emails only received a 9% response rate.
Cheer up your B2B prospects by sending them gift cards, treats, or personalized office goodies. Such surprises become powerful impressions that help you receive leads.
4. PPC
PPC has been a lead-generation basic for over a decade. Today, this tactic has been diversified from using just Google Ads to LinkedIn Ads, Facebook Ads, and others.
Keep on using PPC to generate B2B leads because it's highly targeted, so you can reach a very specific segment of the B2B audience.
5. Live chats
Your prospects want to receive answers now, especially in complex industries. Live chats satisfy this need.
Done well, live chats allow a potential lead to ask questions and get answers without having to dig any deeper or visit your competitors' websites for further research.
Furthermore, live chat enables you to collect data and better understand your target audience's needs by analyzing the questions they ask and the interest they show in your products and services. The better you know your audience, the faster you can convert them into leads who eventually make a purchase or order.
6. Live video streaming
A lot of people now are choosing virtual events, which allows you to keep your seminar plans rolling without difficulties. You may practice hybrid events to accommodate those who wish to attend offline or those who want to participate virtually.
Also, working remotely, you can attract new B2B leads through video-based webinars, Q&A sessions, new product demos, and more. The key is to be creative and use new and unique ways to attract the attention of potential leads.
7. Personalized videos
As B2B prospects are experiencing white noise, it's better to communicate with them by name. You will have much better output.
8. Free stimulus
Remember, it's more important to give a solution than to sell. To earn more leads, try to offer them a solution even before their request. This can be accomplished with an effective lead magnet—a freebie that a prospect receives in exchange for their contact information. Create some really valuable and handful items.
9. CTA
Effective CTA copy leads to people's tendency to experience FOMO (fear of missing out). Your task is to make your potential leads feel the FOMO unless they take your offer.
Once you've found a CTA copy that works, use it but keep on conducting an A/B test on other CTA versions as well. Never stop testing.
10. Good UX design
There are many options, where you can improve the design of your website. Check out if it's truly easy to use your website, if it works across all devices, etc.
11. Exclusivity and limited offers
By giving truly exclusive offerings, you can attract significant interest from the target audience. You could create hype with a waiting list about the release of your product. Or, set a deadline to sign up for your exclusive webinar, or limit the quantities of your ebooks, online events, and more.
12. Researching customer needs on forums
The better you know the needs of your target, the faster you can attract them and convert them into buyers.
When you follow the conversations in industry groups and forums on LinkedIn, Facebook, Reddit, Quora, and industry publications, you can get all the needed information about what your prospects are looking for and what pain points they have. This information can help you create the right content for potential customers.
The challenges at this stage are:
Putting content in front of buyers.
And finding questions that buyers are asking.
Actively engaging in forums and groups lets you gain leads by answering questions and providing solutions that your business can provide.
13. Content marketing
Follow content trends like ultra-targeted content. Appropriate language and tone of voice are also becoming content-marketing necessities.
Also, consider adding interesting visuals to your content strategy. And, of course, the quality of your content rules.
14. Increase link building via guest posts
A great way to help increase the number of links that bring back to your website is to commission guest posts on your blog. Invite industry experts with a unique perspective to write a post on trending and problem-solving topics.
15. SEO-based content
Optimizing your website's content to rank higher – or at least to stand out from the content of your competitors. It is one of the lead-generation tactics every online business should be using.
It gives organic traffic and works well for brand awareness, which means having potential leads.
16. Create remarketing campaigns
New visitors to your website almost never make purchases from the first time. Creating effective remarketing campaigns allows you to turn these visits into leads by tagging them and re-engaging them with your content to return many of them back to your website.
17. Publish original research
Publishing research made by you gives you industry recognition and a powerful B2B lead-generation tactic that not every company can achieve. Since B2B decision-makers need credible and valuable information to make good buying decisions.
Find their needs, conduct the research, analyze the data, and create a thorough report. Ultimately, create content around your findings to gain interest and generate leads.
18. Track and analyze website visitors' actions
There's a lot you can learn about your visits aka your prospects by collecting and analyzing the behaviors of website visitors. You can find out why they're not converting, filling out forms, or visiting certain web pages.
19. Encourage customers to leave reviews
People today trust the word of other people and use their experience and referrals to make their own buying decisions. So always ask customers to leave reviews. These can be shown on your social media pages, websites, and Google map, which will be visible to others who search for your company.
20. Use videos to build visibility
Think about turning into or adding to each blog post a video so people can choose how they want to consume your content.
21. Interactive content
Engaging your audience is a challenge for B2B marketers. But it's crucial for generating qualified leads for your business. The longer you can make your target audience stay on your site, the higher the chances of getting them to make a purchase. Interactive content helps with this by giving your online guests something to do when they arrive.
Marketers often offer to complete quizzes and polls for lead generation because they can be highly productive. Quizzes offer an enjoyable way for audiences to interact, while also providing their contact information and insights about potential leads.
22. Gamification
Done well, gamification can motivate the behavior of prospects in many ways – from entering their contact details to finishing the purchase. That's the secret to effective gamification.
23. Use AI chatbots to engage visitors
When the prospects visit your website, they have two options: explore your website or leave it. To improve their website journey, you can use AI chatbots. What makes chatbots an incredible B2B marketing lead generation strategy is that it automates business transactions.
24. Collaborate with micro-influencers
Influencer marketing isn't only beneficial to B2C businesses. You have influencers all throughout LinkedIn, Instagram, and Twitter that B2B audiences also use.
The solution is partnering with micro-influencers who speak on topics relevant to your industry. Micro-influencers are better than top-gear influencers because their audiences are more authentic.
25. Analyze all of your data
If you want to make your B2B lead-generating strategy work, then you need to monitor and track all data collected from and about your target audience. With this data, you can learn more about who your ideal customers are, what they are looking for, and what makes them buy.
26. Launch a referral program
Creating a referral program, by offering a "commission" to customers who are sharing information about you to prospects that turn into paying customers later.
27. Free stuff
Offering free trials and freemium is another great way to generate leads. In fact, it's kind of one of the hottest tactics around nowadays.
Final Words: B2B Lead Generation
Building a B2B lead generation strategy is all about using the right tools and techniques. Hopefully, this guide will help you find the best ways to use to generate more B2B leads.
Content Marketing Platform
100,000+ media publications;
get backlinks to your product;
scale work with content distribution.