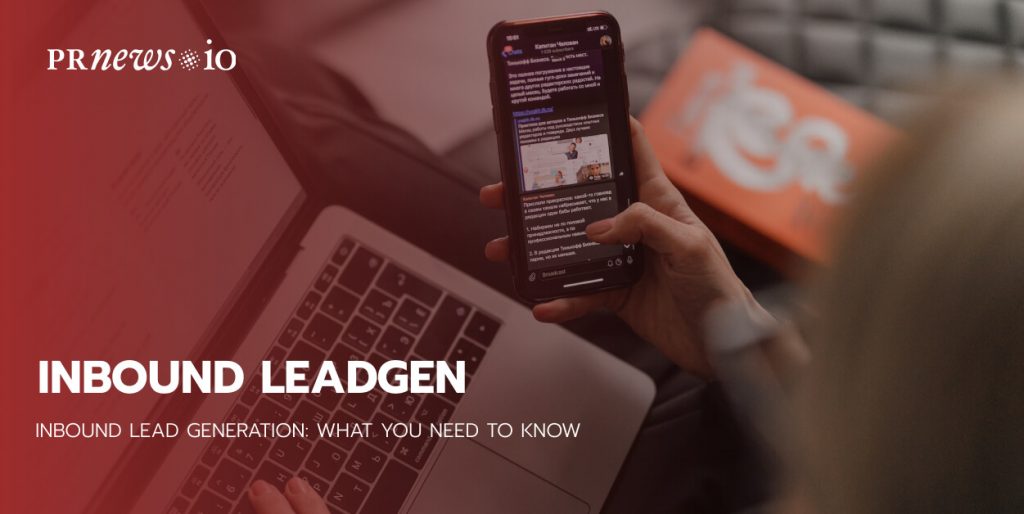 Back in the old days, making cold calls and sending a lot of emails were the marketing basic. At present, people are expecting more personalized and informative interactions with companies. And this can provide the inbound lead generation marketing approach.
Dive into the concept of inbound lead generation with us. In this article, we will discuss everything you need to know about inbound lead generation: from theory to exploring the lead-generation definition, its process, and effective strategies. We'll cover it all step-by-step. Let's start.
What is Inbound Lead Generation?
Inbound lead generation is a marketing approach that focuses on attracting prospects to the brands through relevant and valuable content. The idea behind inbound lead generation is to establish a company as a thought leader in the industry and provide potential customers with the information they need to make conscious purchasing decisions. This can be achieved through many ways, including content marketing (blog posts, white papers, ebooks), SEO, paid media, social media marketing, and more.
Shortly, it's all about attracting ideal customers naturally, providing them with valuable content, and establishing meaningful relationships that last.
With inbound lead generation, the focus is on providing prospects with a positive and educational experience, rather than selling them with aggressive sales tactics.
Benefits of Lead Generation
While lead generation is crucial for a business's success, this is obvious that there are tons of benefits. However, take a look at the major 6 points that sum up the overall advantages of lead generation.
Boost sales and revenue
Strategic lead generation attracts and converts potential customers into paying customers. Businesses have a higher opportunity to increase sales and revenue by inducing a persistent stream of qualified leads.
Focused marketing
It significantly helps brands to focus their marketing efforts on their target audience. This precise targeting drives more efficient marketing campaigns and higher conversions.
Fostering customer relationships
Lead generation is not just a process of one-time interaction. By cultivating leads through personalized connection, businesses can build trust, credibility, and loyalty which drive repeat sales and referrals.
Data Collection and Insights
Lead generation generates valuable insights about potential customers that can be used to improve marketing efforts.
Cost-Effective Marketing
Lead generation in digital marketing can be more inexpensive than in traditional marketing.
Scalability and Growth
A successful lead generation strategy provides a scalable basis for business growth.
Difference Between Outbound Leads and Inbound Leads
Outbound lead generation usually refers to advertising and reaching out to prospects through telemarketing, email marketing, or direct mail.
Some typical outbound lead generation tactics include:
Cold calling
Email Marketing
Paid advertising
Trade exhibitions
Direct emailing
On the other hand, inbound lead generation attracts prospects through valuable and relevant content.
Some common inbound tactics include:
Content marketing
Search engine optimization
Social media marketing
Lead capture forms
Webinars and events
The Inbound Lead Generation Process
The inbound lead generation process is a process through which your prospects are becoming customers and promoters. To accomplish this you have to provide five steps:
Research
Understanding the behavior of your audience can help you discover the weak points of your strategy or identify loopholes within your site. That, in turn, allows you to optimize your purchase funnel and improve your website, increasing time-on-site and, hopefully, conversion rates.
You can also use on-site customer behavior tools for A/B testing. For example, you want to start an online business and you have several value propositions, and you don't know which one can convert more leads. Or perhaps you're not sure which CTA design to choose.
Attract
How can you attract visitors to your website or social media accounts?
These future visitors are searching for content they're interested in, so you have to help them solve their problems, answering any questions they may have. To attract them, you need to create valuable content that relates to their needs.
This valuable content can have a format of blog posts, landing pages, infographics, guides, whitepapers, videos, and more. From there, you can use search engine optimization, social media, and other distribution channels to get your content in front of their eyes.
This step is the top of your lead funnel and ultimately brings in the audience you can convert into leads.
Convert
The next step is to convert your prospects into leads. How it can be done?
The prospects usually don't convert into a lead until you collect the information you need from them. This information includes their name, email address, company size, phone number, and more. The information you may receive will depend on what your sales team needs to understand if this contact is your target audience or not.
To successfully convert them into leads, you need to offer your prospects something valuable. Once you capture their information, they become leads which then need to be classified as marketing-qualified leads, sales-qualified leads, or disqualified. This will depend on the information they share via you, and their level of engagement with your brand.
When they are classified as sales-qualified leads, they then have to be delivered to your sales team to work on closing deals.
Sell
You've converted your visitors into leads, they were qualified by your sales team, and have moved into your sales funnel. The fourth step is to finish a purchase.
At this step, your sales team engages the leads with continuing the sales process. Some of these prospects may be eliminated while others will become real opportunities that can turn into deals.
After the deal is finished, ensure that customers are serving well, achieve their goals with your product or service, and continue to build rapport.
Make loyal
The final step is to convert your customers into your fans.
Some leads will become one-time customers, and that's the end of their experience with you. That's OK.
But some customers have one more step to take. You have to encourage as many customers as you can to become your fans. If you continue to solve their new problems for them, they will become your best loyal audience and make purchases in the future.
Top Inbound Lead Generation Techniques
The following inbound lead generation tactics will help you to develop a regular flow of incoming visitors who you can then convert into leads, customers, and finally fans.
Online customer behavior research
Understanding the behavior of your website visitors can help you find loopholes within your site. That will provide you with valuable insights into optimizing your website to increase time-on-site and, hopefully, conversion rates.
The good news is that a lot of tools can help you track website visitors' behavior.
Problem-solving content
Content marketing has to be one of the main elements of your inbound lead generation. Providing valuable content that educates, informs, and entertains prospects will help to build a strong connection with them and attract a steady flow of quality visitors to your website.
Your content must perform:
Help them make business decisions
Guide while creating strategies
Inform them about effective tools, services, software, products
Make their life easier
Help them become a better business
Examples of content marketing include:
Articles
Blogs
Videos
Case studies
Reports
Guides
Infographics
There is a lot of content now, so yours must be a way different and valuable to attract attention. Ensure that your content marketing provides real use and solves a real problem for your audience.
But it's not enough just to create valuable content. It must get it in front of your target audience.
Search Engine Optimization
While creating useful content is important, there's more that can be done to get your content ranking on search engines and generating organic traffic.
Search engine optimization (SEO) is one of the best tactics you can use to make your content visible to your prospects. SEO is all about getting your content to rank on search engines by optimizing technical aspects of your website, improving content, and being recognized by others through link building.
There's a lot to cover in SEO but for the purpose of this article, you'll want to focus on on-page SEO. To optimize your content, you'll need to:
Find and use target keywords (title, headers, body text, URL, description, etc.)
Link internally to other relevant content and pages on your website
Externally link to relevant content from authoritative websites
Deliver a great user experience for readers on your page
Here we've listed just a few things you can do to optimize your content and give yourself more opportunities at ranking and being discovered by your target audience. Imply these and practice more.
Social Media Marketing
Your prospects use social media. Working on inbound lead generation on the right social media networks will put your content in front of your prospects.
Many businesses repeat the mistake of trying to be present on all networks, which is time-consuming. It's best to perform where your ideal customers spend the most time. Conduct your research and make your choice on two-three social media accounts.
Email Marketing Automation
All inbound lead generation techniques should provide you with the email address for your email list or database. And after you can realize the inbound lead generation process through email marketing.
Remember to:
Include a CTA to collect the lead's email address for your email list or database.
Use opt-in forms on your website to stimulate visitors to subscribe.
Create a lead magnet (e.g., e-book, guide, webinar).
Email marketing is not simply about sending information about your products and services. Your number one goal should be to be useful to your subscribers. So give them something valuable!
Start a podcast
Podcasts have become an essential part of people's daily lives. We listen to them while commuting, working in the gym, and while out for a walk.
A podcast can be a great way to drive leads for your company—as long as you can build a large enough audience.
Video content to YouTube
DYoutube is the second biggest search engine in the digital world. You can advantage of this huge platform to generate leads if you can rank for popular search terms related to your field.
Here are some tips:
Leverage YouTube's Search Suggest feature. These keywords are valuable because they are based on what people are actually searching for.
Analyze popular videos in your industry This is a great way to find keywords for YouTube, and then you can optimize your own videos around the same keywords.
Identify the best keyword from the keyword list that you made. Look for low-competition keywords. You can do that by typing in a keyword and then analyzing the number of search results. The higher this number is, the more competitive the keyword, thus it becomes more difficult to appear in front of the readers.

Use live chats and chatbots
Most marketers may think live chat is only suitable for providing their clients with support services. That's not entirely correct, they are more powerful
Live chat can help your support team interact with prospects more efficiently. The real-time interaction allows you to identify the needs of each prospect. That allows the sales team to provide personalized product recommendations.
Pay-per-click (PPC)
PPC is another effective method for traffic marketing because it allows you to target specific users who are actively searching for the product you provide.
Pay-per-click ads appear when users search for things online using Google and other search engines. They are especially useful for audiences looking for something to buy.
Retargeting ads
You can use retargeting as one of the inbound marketing methods.
Retargeting ads use cookies installed on your website to monitor each visitor's activity, so you'll know exactly what they were looking for.
Once they've left your website, you can return them with retargeting banners they will see on other websites they're visiting.
That's mainly because you show highly relevant content to prospects who have already seen your brand and products.
Online course
Today, more and more people are looking online for high-quality training and education. That makes producing an online course of your own an attractive inbound lead generation tactic.
Whether you hire a professional videographer or do it yourself, producing a comprehensive course on a topic of interest to your customers can be a great way to grow your market exposure and show off your expertise.
Successful Inbound Lead Generation Examples
Video content
This video is taken from Sheffield Metals, where they discuss nine things you need to know before buying a metal roof.
Why this example works:
They talk about common questions buyers ask, such as cost, quality, and comparisons.
It includes a range of product and service information.
In the video description, they list the products that the video covers so viewers can find and click on the relevant information.
They include a link to a buying guide so that if the prospect is interested, they know where to continue.

Email marketing: W.S. Tyler
A producer of women's wire cloth and mesh materials, W.S. Tyler created a rather successful "choose your own adventure" style email campaign. Based on the answers of her website visitors to multiple-choice questions, prospects are sent a content that is directly related to their chosen list.
Why this example works:
It offers an out-of-the-box way to motivate the unengaged audience to come back to the website and check out again their products
It personally addresses prospects' pain points and challenges.
It sends relevant content to the right audience at the best time period.
Content that solves problems: The Impact of Baseless Rumors on Public Figures: Analyzing the Markiplier OnlyFans Leak
The trick to building trust is not pretending these issues don't exist, but discussing these difficult questions.
Why this example works:
This article by PRNEWS.IO answers some of the most difficult questions they get asked about possible PR issues.
The author not only explains the issues that can happen while you're boosting your profile, but she also gives their readers the solutions.
Summary
Inbound lead generation is a powerful way of attracting a target audience naturally and building meaningful relationships. By creating valuable content, optimizing your website, utilizing social media, and using the right content services like PRNEW.IO, you can gain quality leads for your brand.
Content Marketing Platform
100,000+ media publications;
get backlinks to your product;
scale work with content distribution.
Read more: