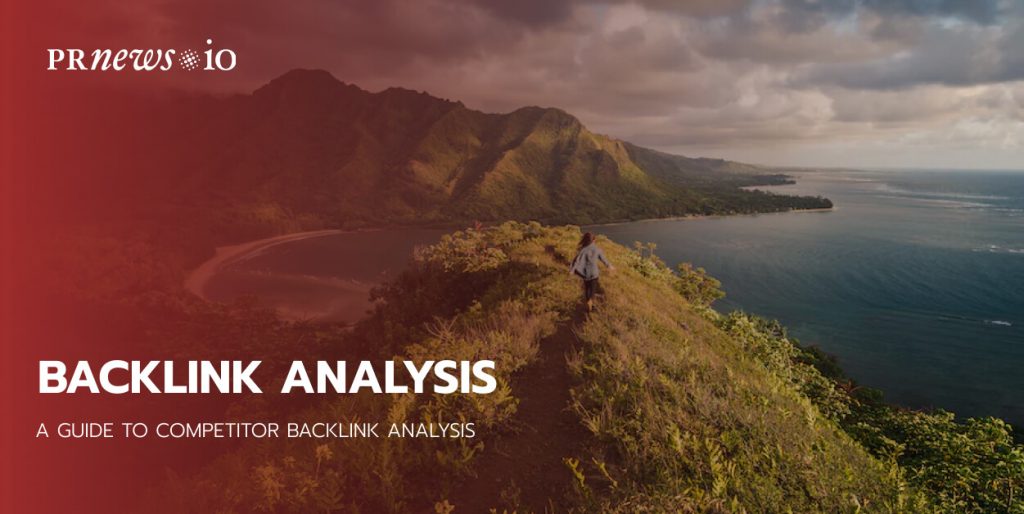 The highly competitive digital world means that you must watch over your competitors and understand their SEO strategies. Implementing your competitor's backlink analysis can give you worthwhile insights into the SEO activities of your rivals in the business, improve your online visibility, and enhance your link-building efforts.
In this post, we'll explain what is competitor backlink analysis, how to effectively perform it in your project, and what tools to use. So let's get started.
What is Competitor Backlink Analysis?
A backlink analysis evaluates the volume and quality of links leading to your website from other websites. Backlinks, which are also called inbound links, are the links that lead visitors from other websites to your website. They serve as online referrals and play a crucial role in determining your website's search engine ranking and visibility, as well as its credibility and authority.
Analyzing your site's backlinks will help you understand how those links impact your search engine rankings and what you can do to improve your backlink profile.

Why Is Backlink Analysis Important?
Backlinks are an important ranking signal and there are many reasons to conduct backlink analysis:
Reason #1.
Evaluating your existing links will help you understand why your content and the content of your competitors rank where it does. The analysis will help you forecast the ability of your content to rank for its target phrases.
Reason #2.
Backlink analysis will help you notice potentially harmful or spammy links to your site and remove them before they can badly affect your rankings and search visibility.
There could be many reasons why your site could receive spammy links: some low-quality sites may have copied your content, or you could be a victim of a negative SEO attack. A consistent backlink analysis will highlight any such risks and remove them before it becomes a problem.
Reason #3.
The competitor analysis will show you what links are favored by your target audience. Such insights will help you understand what you need to do and what content to create to outrank your competitors in the search engine results.
Reason #4:
Finally, backlink analysis will allow you to develop a link-building strategy that leverages your strengths and addresses your weaknesses.
How to Find and Evaluate Competitor Backlinks: A Step-by-Step Guide
If you've never carried out backlink analysis on your site before, there are a few basic steps you can take to get started:
1. Create Your Competitors' List
This step involves listing the websites you consider your direct competitors in terms of your products or services and the target audience you are trying to reach.
To create your competitors' list, consider the following tips:
Look at your target audience's demographics, needs, and interests, and think about which websites they may visit for similar products or services.
Find websites that offer similar products or services as you do and consider them as potential competitors.
There are two main types of competitors:
a) Domain-Level Competitors
Domain-level competitors include websites that compete with yours for traffic and search engine rankings. Domain-level competitors are the most relevant websites to consider, as they are most likely to have backlinks that could also be valuable for your website.
There are two types of domain-level competitors:
Inside-niche domain-level competitors (McDonalds — Burger King, Ahrefs Vs. SemRush)
These competitors do not only compete with you on the SERP for search terms, but they also compete with you for the product(s) or service(s) you sell and try to win your target audience. They are aimed at the same audience as you do, the same keywords and the pages on their websites pursue the same goals as yours.
b) Outside-niche domain-level competitors (Airbnb Vs. Skyscanner)
These are sites that target a lot of the search terms you do target but it doesn't mean they do it for the same reasons as you.
2. Page-Level Competitors
Page-level competitors are websites or web pages competing with a specific page on your website for ranking in search engine results for the same or similar keywords.
To sum up: the first thing you have to start is creating a list of your competitors at the levels described above.
2. Gather Competitor Information
Gathering competitor information is the second step in doing a competitor backlink analysis. This stage involves collecting data on your competitors' list, including their backlink profiles, to help you better understand their link-building strategies.
To pull together competitor information, consider the following tips:
Gather information on the Domain Authority (DA) and Page Authority (PA).
Compare this number for your site to a competitor's and it will give you an idea of how your site is placed in terms of authority.
Determine the total number of backlinks, referring domains, and top-linked pages. This data will tell you how many unique sites link to any given site. Note that having fewer referring domains than total backlinks is normal, and it's not a negative sign.
Find the common link sources, types of links, and link placements that you can target for your website. You have to be focused on having a diversified link profile with lots of domains. That's why getting links from sites that already link to yours isn't as valuable as getting links from new sites.
Find common links
3. Analyze Competitor Backlinks
In this phase, it's better to use different services to analyze the information you gathered in the previous steps. Use backlink analysis services such as Ahrefs, SEMrush, or Google Search Console to gather data on your competitor's backlinks.
To analyze competitor backlinks, consider the following tips:
Higher DA and PA scores indicate higher-quality links.
Check out all the anchor text used in your competitors' backlinks to reveal their link-building strategies. Determine the types of anchor text used most frequently.
Examine the sources of your competitors' backlinks to find out which websites are linking to them. This data will help you to identify potential sources for your backlinks and develop a targeted link-building strategy.
Aggregate information about the referring domain: the Domain Rating(DR), domain and page traffic, ranking keywords, etc.
4. Understand the Competitive Landscape
In this stage, you will use the information gathered from analyzing your competitors' backlink profiles to better understand your industry's competitive prospects.
You can use the Ahrefs site explorer to create the Best by Links reports. As a result, you can see some content marketing links that your competitors may not find.
By understanding the current competitive state, you can:
Check out the referring or linking domains of the websites that outrank you.
Determine your link-building strengths and weaknesses and understand where you can improve.
Get an idea of the industry standards for link building and what you need to do to follow up.
Stay ahead of the competition by staying informed about their tactics and making changes to your link-building strategy as needed.
5. Identifying Link-Building Opportunities
This stage aims to show opportunities where your website can get new backlinks, improve the quality of existing backlinks, or remove low-quality links. Find out new and innovative link-building opportunities that you can leverage for your website.
Here are some key steps in identifying link-building perspective areas:
Check your competitors' websites for broken links.
Check your competitors' websites for unlinked mentions.
Find your competitor's guest posts
Identify sites that link to more than one of your competitors and replicate them.
Track any new backlinks from your competitors and consider those new opportunities
6. Develop a Backlink Strategy
This step aims to take the information gathered in the previous stages and use it to create a targeted and effective plan for acquiring new backlinks and improving the quality of existing links.
Here are some key tips for creating a link-building strategy:
Determine what you plan to achieve through your link-building activities, such as improving your search engine ranking or increasing your website's visibility.
Based on your competitor backlink analysis, find the websites and types of links most valuable for your website and that you can realistically target.
Develop a plan to reach out to relevant websites and acquire new links. This may involve creating content, improving SEO keyword strategy, building relationships, or offering incentives.
Generate high-quality, relevant content on your website that will attract backlinks from other websites. Think about creating blog posts, videos, infographics, and other content to engage your target audience and encourage linking.
Track your link-building efforts to assess their effectiveness and make adjustments as necessary. This may involve changing your tactics, targeting different websites, or improving your content strategy.
PRNEWS.IO's PRO Exclusive: Bulk Site Checker for Smart Link Building
For PRNEWS.IO PRO users, meet our game-changing Bulk Site Checker. It simplifies link building by analyzing your competitors' backlinks and media placements, instantly providing pricing, audience size, and SEO data. Export results, plan your PR campaign, and choose content types effortlessly.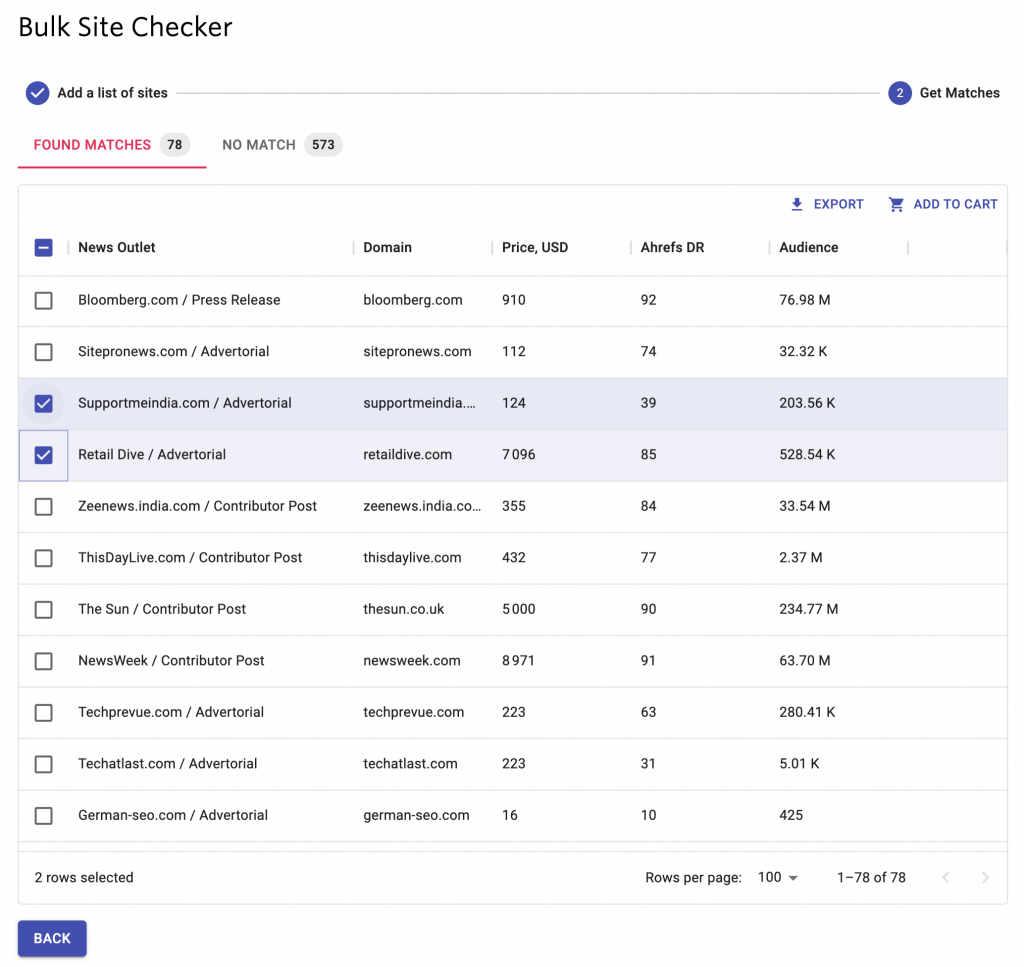 Steps:
Upload up to 5,000 domains in a simple form.
Get site insights.
Export data for budget planning.
Highlights:
Instant pricing.
Content type insights.
Discover new resources.
Optimize your link building strategy with PRNEWS.IO's Bulk Site Checker.
Tools for Competitor Backlink Analysis
1. Ahrefs
Ahrefs is one of the most powerful keyword research services on the net. It'll give you an overview of your chosen domain, and you can continue to look at lots of details of backlinks. With their special tool Ahrefs Site Explorer you can see all of your competitor's backlinks (including their anchor text) in one dashboard. You can then export them in a CSV file to have the basis of your strategy.
Ahrefs also allows you to monitor backlinks and set up backlink alerts so you can keep track of your competitor's new backlinks.
Price:
The pricing starts from $89/month.
2. Semrush
It's probably the best Ahrefs alternative out there to conduct a backlink profile analysis. It provides you with competitor backlinks data with an option to filter it, based on a set of different criteria.
Price:
Semrush costs from $108.33/month if you pay annually.
3. Majestic
The tool is popular among many users for its Flow Metrics score, which helps SEOs identify the most authoritative domains based on their Trust and Citation Flows.
Its Link Context feature also identifies the type of each link it finds. Having this, you can decide which type of backlink to pursue first for your campaign according to the level of difficulty.
Price:
the price starts from $39.16/month if you pay annually.
4. Google Search Console
Google Search Console is a potent tool for backlink analysis, and its "Links" reports provide valuable information about a website's linking profile. The tool is free to use, making it an accessible option for webmasters and digital marketers looking to monitor their backlink profiles.
The "Links" page is divided into four sections:
"Top linked pages" (external)
"Top linking sites" (external)
"Top linking text" (external)
"Top linked pages" (internal)
Google Search Console can be integrated seamlessly with other Google tools, such as Google Analytics and Google Ads. This allows you to better evaluate your website's performance and make data-driven decisions about your SEO strategy.
Price: it's free.
5. Ubersuggest
Ubersuggest is an SEO service created by Neil Patel. This service offers keyword research features, but there's also a Backlinks tool that you can use to build the backlink report to see the details of your site's backlinks.
Ubersuggest has similar features to the other tools listed before. For example, it can show you new backlinks, lost backlinks, which backlinks are marked as nofollow and more.
Price:
It has a free version but if you want the Pro version, which costs $29/month.
6. Moz Pro
The Moz Pro plan from Moz offers their Link Explorer tool. Link Explorer can provide you with a detailed link profile of your site, which you can compare with the profiles of up to four competitors. This gives you information on what they might be doing differently from you.
Price:
It's price starts from $99/month ($79/month paid annually).
7. BuzzSumo
BuzzSumo was created to let you analyze your content and your competitors' content. It's a great way to find new topic ideas for your content, and also to help you with your backlink strategy.
You can simply input a keyword or a domain name to see the most popular content for that keyword, or the most popular content on that domain. Clicking the link icon next to any of the results you can see the backlinks for that content.
Price:
The basic version of BuzzSumo is free. But if it's not sufficient for you, use BuzzSumo Pro for $159/month if you pay annually.
Conclusion
Carrying out a competitor backlink analysis may seem frightening and complicated at the beginning. But if you follow the tips above and the instructions of the SEO tools, you may have a big chance to beat your competitors on the SERPs.
Competitors backlink analysis isn't time-consuming. You can use a tool to locate your competitor's top links, choose the best ones, and then track down them until your backlink profile is competitive enough.
Content Marketing Platform
100,000+ media publications;
get backlinks to your product;
scale work with content distribution.