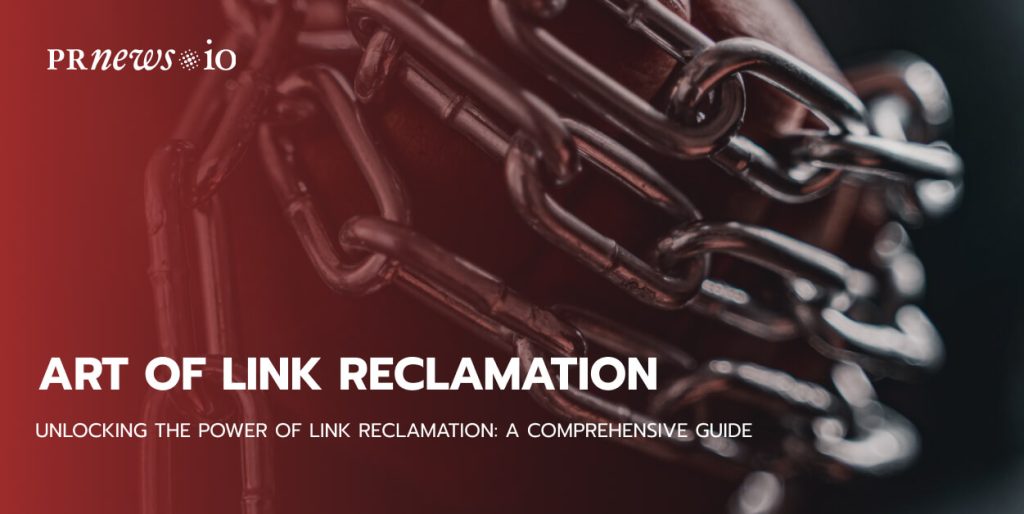 Link building and link earning is a crucial part of search engine optimization (SEO) strategy. It helps websites get visibility and dominate their rankings in search engine results pages (SERPs). However, doing this part of the work can be a challenging task. Internal and external links can be broken or lost. Link reclamation allows you to quickly fix these problems so your website can continue to improve the search engine results pages (SERPs).
This means that SEO experts need to get smarter about link earning and implement new strategies to make sure their company stays on top. In this article, we're going to talk about link reclamation and how you can start this process now, at little-to-no cost.
What is Link Reclamation?
Link reclamation is the process of tracking the links (or backlinks) your site has lost and trying to recover them.
Talking about backlinks this process benefits both sides because it creates a better experience for users who engage with either party's content. In addition, the links' SEO value in broken links disappears, so both parties suffer a loss of what once may have been valuable link equity.
Difference Between Claiming Unlinked Mentions and Link Reclamation
Unlinked mentions are when your company or website is featured online without putting a link back to your website. It could be in the article, social media publication, blog post, forum comment, etc. Claiming unlinked mentions means that you actively look for these unlinked mentions and request that the site owner add a link to your site.
Broken links are previously existing links to your site that now are broken or were removed by the site owner. What is link reclamation? It is when you work on fixing the broken links within your website or reach out to the site owner and request that they update or recover the link to the page on your site.

When Should You Apply a Link Reclamation Activities?
Link reclamation usually has to start when links are lost. There are several reasons why links may be lost:
Broken link (404): Website visitors are redirected to a 404 error page due to a broken URL. This usually occurs when the site's authors decide to change their URL structure without adequately setting up 301 redirects.
Redirect issues (301): The reason may be a broken redirect chain or an endless redirect loop.
Link removal: This usually happens when the author of a blog or website has removed your link from their site after finding a better resource or if your competitors are doing outreach campaigns for link building.
Expiration of low-quality links: These could be old links bought on different services years ago or links on low-quality sites that Google has penalized.
Disappearing content: This happens when a page linked to your site has expired and no longer exists on the web.
We'll figure out how to reclaim them below.
Benefits Of Link Reclamation
There are many advantages of link reclamation in SEO, including:
Improving your website's SEO
Link reclamation can help improve your website's SEO by fixing broken links and improving your website's ranking position in search engines.
Increasing traffic
Link reclamation can also help boost your website's traffic by improving your website's authority.
Fixing 404 errors
Link reclamation can help repair 404 errors on your website, which can be harmful to your website's SEO.
Improving user experience
Link reclamation can also help improve your website's user experience by fixing broken links, redirecting them to the correct page, and providing them the quality content consumption.
Common Challenges With Link Reclamation
There are a few potential challenges involved with link reclamation, but you can omit them with careful planning and implementation.
The first risk is that the site owner may not be willing to update the link. In this case, you could try reaching out to another site owner or think about removing the link from your website.
The second risk may be that link reclamation could be perceived as spammy if not done politely. To avoid this, ensure your outreach letter is personal and relevant.
Another reason could be identifying the broken links: you may use the wrong tools or make mistakes in making a list of the broken links.
Is your business in need of a PR makeover?
Benefit from media coverage assistance.
Witness a refined branding approach.
Watch as your recognition soars.
Why Redirects Aren't Enough
While setting up 301 redirects is an essential step during a site migration, they only restore 90-99% of link equity. At first look, a 1-10% loss in link equity may not seem so crucial. But if you are working with a very big website your website's PageRank and user experience will most likely suffer.
How to Find Broken Links
Without SEO tools, it's almost impossible to find broken backlinks on your website. There are many premium and free services to use: Ahrefs, Majestic, Screaming Frog, Moz, and others to find broken or removed links.
Here is a quick guide-example of finding broken links on Screaming Frog's free SEO Spider and Google Analytics.
Finding Lost Internal Backlinks
Fixing internal links is a vital step in optimizing your site's usability and is the first step in the link reclamation process. When you control a website, internal linking is something you have 100% control over.
To find broken links on your own website, you can use paid services like Ahrefs (their Site Explorer toll) and DeepCrawl or leverage free tools like Google Analytics and Screaming Frog's SEO Spider (up to 500 URLs with the free version).
This example shows what to do in the Screaming Frog's free SEO Spider tool on a sample website:
Follow these steps for your own website:
Find the Response Codes tab from the top menu
Filter by Client Error (4xx)
Sort the Status Code column in descending order
Press to highlight a web address with a 4xx code
Tap on the Inlinks tab at the bottom to locate internal links leading to that page
If you have a long list of URLs with 4xx codes, you can choose to download the list as a CSV file.
Finding Lost External Backlinks
To find broken backlinks to your site, you can use premium services like Majestic, Moz, or the Ahrefs Site Explorer.
Also, you can use the free Backlink Checker from SEO Review Tools and see up to 100 broken backlinks to your site on their report. The tip is that after you reclaim those first 100 backlinks, you can relaunch the report for another 100 backlinks, and repeat until you need.
How To Reclaim the Links
How To Fix Internal Links
Once you have found broken or outdated links to your website, you should start fixing them promptly. Depending on the source and type of the link, there are different solutions for fixing broken or outdated links.
Work with each page on your site with broken links, and update or replace these links. Remember that once you find an old link that you can't repair – or if you find a link that was forgotten during a web redesign – it's better to remove the link entirely.
How To Fix External Links
The great thing about reclaiming broken links is that it's much easier to reach out to a website owner to change an existing link than to agree with him/her to add a new link. This especially works when it comes to fixing broken links.
Having broken links on a page is bad for user experience and SEO, so just writing an email mentioning the bad link and offering the updated URL should be enough. Because it's easy and also it's a win-win for both site owners.
Here is an example of the email to point out a broken link:
"Hi [Webmaster Name],
I hope your week is going well.
I'm reaching out since I noticed that one of the links that you had in your article [link to the article] that referred to my website disappeared (or is broken). I think that this link can be of immense help to your users, providing them with additional information and a better understanding of [topic of the blog post].
Looking forward to hearing from you.
Cheers,
Your name."
That's it. A short and concise email that effectively communicates the problem and gives the website owners everything they need.
How to Monitor For Reclaimed Links
Link reclamation and removal are not fast tasks, but rather an ongoing process that needs permanent monitoring and management. It's common for website owners to change a link and not tell you about it. That's why you need to do this job where you can check the status of your broken links on your own terms.
There are two methods to monitor for reclaimed links. You can use your SEO tools and look for new links coming in, or you can consistently check for fixed links manually. While SEO tools (like Buzzsumo, Ahrefs, Moz, and Majestic) are helpful and comfortable to work with, they can show a delay in newly acquired or broken backlinks.
That's why we recommend tracking all of your broken links and off-page SEO efforts in a spreadsheet. This will help you stay organized, and you can control the status of your links in a timely manner.
What to Do if You Can't Fix a Broken Link
Just like all of the other link earning activities you are doing, you should not expect a 100% success rate. It's important that you communicate with your SEO experts and/or developers on your team to set up the proper redirects and status pages for backlinks that you can't repair.
Also, remember that losing low-quality links is not always a bad thing. These links were likely not driving much traffic anyway and could have been slowing your SEO efforts.
Useful Tools and Services
The above tools are just some of the many that are available, and there are many more that you can find on the web.
Google Analytics: This is a free tool that you can use to monitor your website's traffic, including broken and unlinked links.
Screaming Frog: This free tool allows you to audit your website and find any broken links. It can be used for both Windows and MacOS.
DeepCrawl: This premium service allows you to analyze your website and find any broken links.
SEO Review Tools: This free tool allows you to see all the links leading to your website.
Majestic: This premium tool allows you to see all of the links leading to your website.
Ahrefs: Their special tool Site Explorer was developed especially for identifying lost backlinks.
Moz: It is a paid tool that will help you in finding mentions and lost backlinks.
Final Thoughts
Link reclamation is one of the most direct (and usually provides you with the highest ROI) link building activities out there. With the right services, you can reclaim that valuable link you lost due to large or minor changes on your or other sites that affected URL structure. However, it's a process that needs consistent effort and attention. Make sure to track your backlinks consistently so that your website can continue to gain from all the links pointing to your site.
Content Marketing Platform
100,000+ media publications;
get backlinks to your product;
scale work with content distribution.