Grow your brand with PRNEWS.IO, access exclusive opportunities, and earn commissions through our referral program. Become a PRNEWS.IO Affiliate!
An Unbeatable Experience
We treat our customers the way they should be treated: with respect, integrity, and by putting ourselves in our customer's shoes. When you work with PRNEWS.IO, you will experience the very best.
2% commission on every sale made under your referral ID.
Easy to Use
We help increase your referrals by providing resources to support your content development and assist with your referral traffic's conversion rates. Share your referral ID on different social media platforms with 1 simple click or copy and paste your ID to your website/blog with our easy-to-use promotional kit. We also have banners and promotional tools to help you get your feet off the ground and if you ever have a question, our awesome 1-on-1 support is here whenever you need it!

Stats
We provide up-to-date stats on how your campaigns are performing which puts you in the driver's seat for tracking your earnings. Your dashboard will include real-time statistics and will track all unique clicks as well as your commission fees.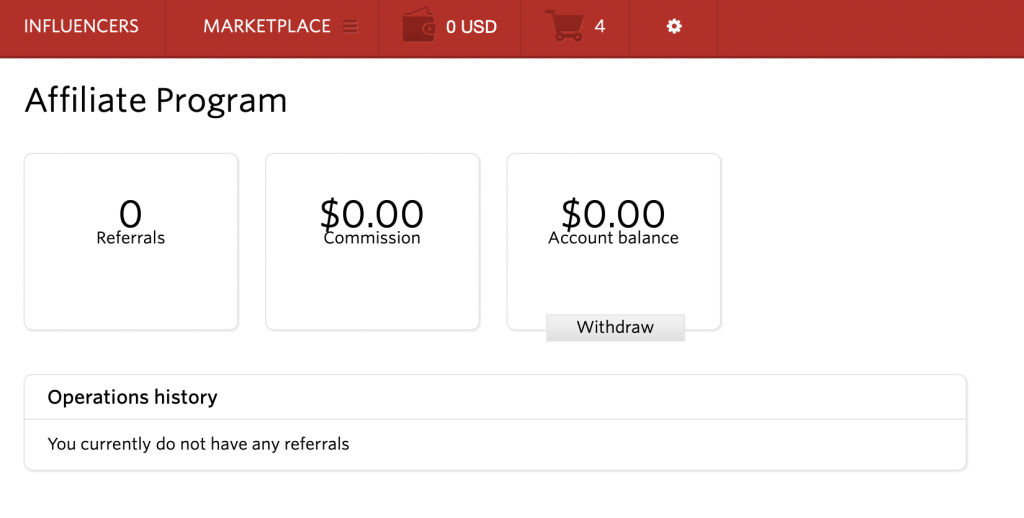 Build Your Own Empire
Our affiliate program is simple and reliable but we also realized that it's not just about placing referral links and banners on the web. It's about creating a real PRNEWS.IO community where each member supports our services and assists with promoting us.
Each customer you refer grows your partner empire. This means that you can earn money while you sleep just by telling people about PRNEWS.IO.
To become a PRNEWS.IO affiliate you need to:
Register at our website and create your account.
Set up your personal Pressroom.
In the "Settings" menu choose "Affiliate Program"
The affiliate dashboard includes all the necessary referral links and banners you need to help you promote. You can also place referral links in your posts on Facebook or Twitter to gain even more traction.
How It Works
The program is designed to provide click-through rates on PRNEWS.IO via the following process:
A visitor clicks a link or banner that includes a special tracking code and enters the PRNEWS.IO website.
A visitor registers on the site and becomes a user of the service. This allows you to earn a commission from every order that the visitor signs up for on PRNEWS.IO through your link.
If a visitor doesn't register immediately, the information is saved in their cookies for 30 days. During this time period, you will be able to obtain a commission if the visitor comes back to the PRNEWS.IO website, creates an account, and places an order.
Below are some tips and recommendations that can help you get started out on the right foot with your PRNEWS.IO referral program:
Create Solid Content – People like ready-made solutions. To simplify your work, it would be great to publish some articles on your website or share some posts on social media. The main thing is to tell other people how to use the PRNEWS.IO service and share your experience with them.
Be Trustworthy – Some people use affiliate marketing only for profit and not to benefit their customers. Sometimes they even mislead their audience with spammy, dishonest affiliate ads and promotions, or they try to hide the fact that it's an affiliate link. Here's a tip: most readers can smell them from a mile away and that's okay if you're honest about the intent!
Please, avoid superlatives in your PRNEWS.io service descriptions. If you are not sure what to write, check our 'Resources' section.
Be helpful. Provide information and help rather than sell. Blatant sales and self-promotion sites never gain traction. You need to help your visitors and provide quality information they find useful so that they keep coming back. If you look at the sites that rank well for the various terms used in your niche, you will find that useful information wins out all the time.
We truly hope all the above-mentioned tips will help you achieve your goals and become a successful PRNEWS.IO partner as well as drive sales and increase your earnings.