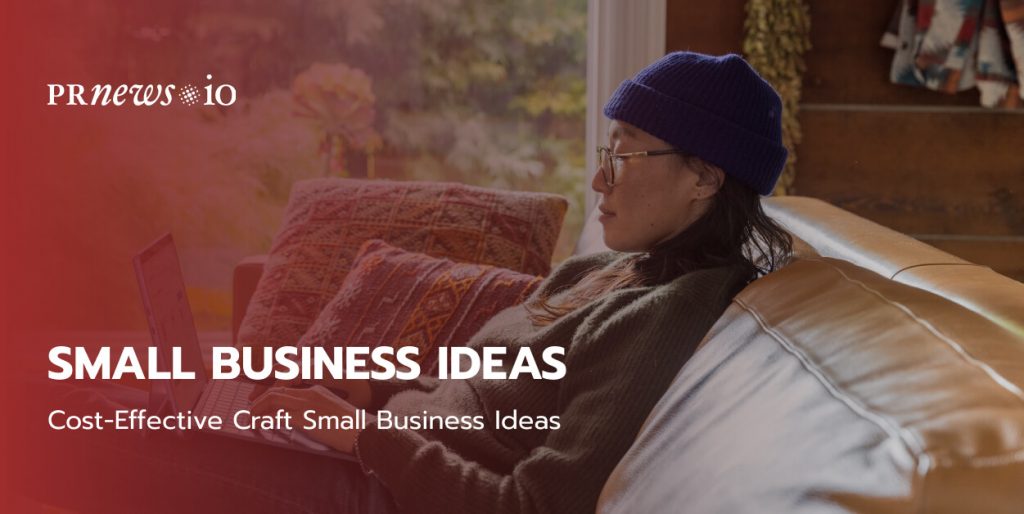 Though Google offers numerous craft small business ideas, not all the solutions are equal. Some opportunities want you to have previous experience or require more effort, while others are available for literally anyone. The good news is that there are ideas you can use with few resources, and today's post is about them. We believe that a good small business idea is one that needs no or little training.
You can also notice that all businesses are online-based these days. It is cost-effective and lucrative to get the first customers. It is always easier to grab prospects' attention with a lead-generating online presence. Consider running a landing or a multi-page website to boost sales.
So, what can you do to develop a business? Here are the top ideas for small deals popular these days
If you've been thinking about venturing into a small business for quite some time but you want to know what your best options are, below is a list of hot new business ideas you can try:
Freelance Website Designing & Development
The niche is widely popular, as any startup requires a sleek online presence. This variant needs practice, but the result won't disappoint you. One can make good money by creating eCommerce projects, personal portfolios, blogs, forums, and other websites kinds. People with previous site-building experience would find the option useful. The more unique the design is, the more money you get. However, it doesn't mean you have to be a coding guru to use this small business idea. Today's technologies offer numerous ready-made web designs, like website themes and templates. They provide code-free content creation with visual editing and various drag-and-drop content blocks.
Content Marketing Platform
100,000+ media publications;
get backlinks to your product;
scale work with content distribution.
More Craft Small Business Ideas for IT
Talking about the digital world, you may also consider the next variants:
IT consulting;
Remote content creation;
Mobile application development (also available with pre-made products);
Online courses;
SEO optimization for websites.
Personal Trainer
Another popular way to make money is by offering in-home consultations. You can provide physical help, like exercise regimens and personalized nutrition for those who want to lose some weight. It is better to start with getting a specific certification. You won't need it if you already have a degree in physics and exercise science. Feel free to attract customers on social media by showcasing your achievements and posting various niche-related content. It inspires viewers. Also, it would be smart to publish some free videos with in-home exercises and healthy food ideas. The personal training business allows starting with a few clients and then growing up to a private gym. Whether you want to keep going or have it online, this niche has multiple possibilities for nutrition and personal training services, including online courses, eBooks, and live translations.
Additional Ideas to Craft Small Business
Besides, you can think of other personal small business ideas, like:
Personal shopper;
Personal assistant;
Life coach;
Career counselor.
Home Organizing
What surrounds us influences mood and the basic progress of how arson feels once they wake up. Organizing personal space is the real science. Not everyone is ready to spend their time learning how to manage their home. In other cases, people just do it day by day and still don't like the result. Meanwhile, others have passion and talent for organizing. Are you one of them? Consider this idea a professional organizer career. The more practice you have, the more confident you become. Start with clothes, shoes, and working space organizing and then move to work on homes and offices. This niche demands patience and full concentration on the process. However, those who have worked as personal organizers for years say they already do it mechanically. It also has a lot of space for creativity, so why don't you try the option?
As always, you can get more prospects by creating an online campaign. It coils be a landing, online gallery, or social media promo. Also, don't forget to advertise with Google and other popular resources, like PRNEWS.IO. It is a revolutionary marketplace for quick business growth and SEO improvements. Internet marketers, startup owners, and advertisers can buy there sponsored content without losing much time. The database offers 55.000+ actual posts for various topics and business niches.
CV Creation
Try yourself in creating resumes, cover letters, and portfolios for popular jobs. The process could be time-consuming for many people. Still, a professionally crafted CV is what makes the right impression. When created poorly, resumes don't even get to the place where a recipient would read them. The document should meet specific criteria, from visual appearance and structure to the needed formatting. Stylishly designed portfolios and tailored CVs make it impossible to ignore the sender. That is why many job seekers are looking for help.
Do you have some successful experience in resume writing? One can use some ready-made resume templates or create their own and edit them when needed. Everything is automatized today. Even if you work with pre-design products, the business is still economical. You will need to study the requirements for a perfect result. The modern market also offers various online and offline courses on how to create a winning resume. Start with the CV and then work it up to cover letters and online portfolios.
Additional Writing Ideas
What else can be useful for a startup? Here are some craft small business ideas for those who prefer writing:
Freelance writer;
Travel planner;
Essay writing;
Proofreading;
Business plan creation;
Diploma consultation;
Social media manager.
E-Commerce or Drop Shipping
Online shopping is every modern shopper's favorite. That is why e-commerce and drop shipping platforms like Shopify and Magento are also becoming popular among e-entrepreneurs. You can ride the wave of this trend and start your own online store as well. With drop shipping, you don't need to worry about storage or having an actual physical store. All you need to do is sell products online from your suppliers and then have them delivered directly to your buyers' doorsteps. What you'll need to start your e-commerce business are a computer and a strong internet connection. Once this is set up, you'll have to hunt for reliable suppliers and set up your online store on an e-commerce platform. You'll definitely need a website for your business as well.
Web Development and Design
If you're a website-building expert and you also have an eye for aesthetics, you can start a web development and design service. Many individuals and companies are in need of a well-built website to boost their business's digital marketing efforts. If you don't have the skills, but you have the capital, you can hire an experienced web developer instead while you focus on finding customers.
Digital Marketing Services
Digital marketing has become an extremely significant tool for businesses right now. There are thousands of companies and business owners who can use some help in stepping up their website's SEO and generating more leads. If you have a knack for online marketing and you're an expert in SEO and lead generation, then you can start your own digital marketing service or agency. You can offer consultancy services if you're doing it alone. But if you want to widen the scope of your business, you should have a team composed of web developers or designers and SEO experts for your digital marketing agency.
Accounting and Bookkeeping Services
Accounting will always be at the heart of every business operation. You would agree that accounting is of utmost importance in any organization if you've worked in a corporate setting or have rendered accounting services in a company before. But not every business owner has an in-house accountant. This is especially true for other small business owners. You can lend them your accounting prowess and provide accounting and bookkeeping services. You can help them file their taxes, analyze their financial reports, and offer advice whenever it's necessary.
Pet Sitting and Walking
Some pet owners are too busy working during the weekdays that they can't look after their dogs or cats anymore. You can use this as an opportunity to start your own pet-sitting or pet-walking business. You'll have to be a pet lover as well so you can interact with different pets. Dog walking is easier if it's just around your neighborhood. For pet sitting, you can either provide a place in your home where your clients' pets can stay or be a reliable and trustworthy sitter and do it at your client's home. This can be a convenient and cost-effective solution for pet owners who may find the cost of owning a dog to be a significant expense.
You can rate your service on a per-hour basis and have additional fees if you'll provide food and temporary shelter for the pets. You can also use pet service apps like Rover, DogVacay, and Wag.
Offer Storage Space Rentals
Is there a huge space in your home? Maybe there's a storage room or an extra space in your garage? You can turn that space into an income-generating space by starting a storage rental business. Some people will need a storage space to temporarily store their things when they move to a new place. Others have a lot of things at home that they can't sell yet, so they have them stored instead. You can have your clients pay for the storage of their things either per hour or per day.
Final Thoughts
There are still many business ideas that could be added to this list. You have to do your own research and assess your skills and resources. Starting a small business also requires passion and commitment to make it successful. So, you need to have a degree of self-awareness. You wouldn't want to end up losing your business after a few months, so it's best that you choose one that you also value by heart.
Craft small business ideas FAQ
How to start a small business?
The process is straightforward. Decide what you want to do or conduct modem market research to see what jobs are popular today. Once you have a small business idea, write a business plan. Fund your deal, depending on its location and online/offline presence. Study the potential auditory to structure the business. Create a unique name that introduces what you do, register it, and ensure you have some corporate logo and other noticeable elements. And don't forget about taxes!
How to generate small business ideas?
We believe that a successful business is the one you truly love. Think of the activities you are good at. Maybe, there are winning projects in the past you never treated as money-earning? One can also suffer through the Internet to see endless business and startup ideas.