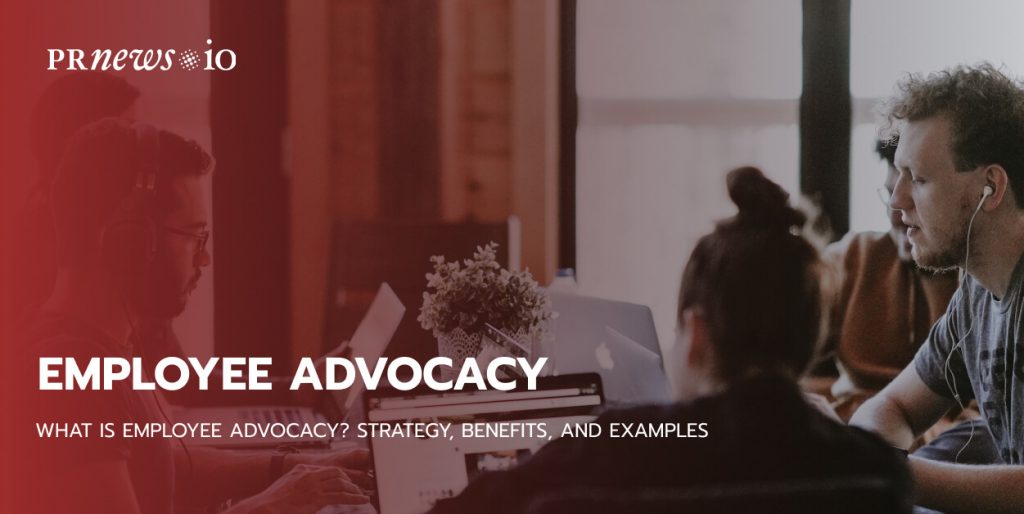 People don't buy from companies – people buy from other people. Some of the best "brand ambassadors" can be your own employees. Commonly, when marketers think about brand advocates, they think of external people, such as social media influencers and industry thought leaders. While this may be successful, your employees know your products know best and this employee advocacy can improve a lot the company's reputation. 
Employee advocacy has a lot of advantages for both the business and the employees. Almost all employees usually post something on their social media pages. So why don't you advantage of this and launch a thoughtful employee advocacy program that gives a win-win to everyone?
What is Employee Advocacy?
Employee advocacy is the advertising of a brand by its employees. By sharing brand-related content on their personal social media accounts, employees share a brand's message.
Employee advocacy is not just resharing posts of a company on social media, it goes much further than that to be efficient. Employee advocacy is most effective when it comes from your employees' initiative.
Employee advocacy works best when:
Employees post and share their points of view
It has an informal individual style and is unique
What are the Differences Between Employee Advocacy, Social Advocacy, and Brand Advocacy?
Those terms are similar and therefore are often confused. Let's find out what is the difference between those definitions.
Employee advocacy is when the people who work for a brand promote their employer. These promotional initiatives generally perform on their social media accounts like Instagram, LinkedIn, Facebook, or Twitter.
Corporate social advocacy recognizes that a company can use its influence through the audience, on social media, and in its business activities to share its support for a social, environmental, or political cause. The messages are generated by the business itself.
Brand advocacy refers to someone (an employee, an influencer, or a customer) who shares a positive message about a company or a specific product. The result of the message is word-of-mouth promotion about the brand to their network of followers on social media.
The difference between these three terms is in the message's origins. Employee advocacy comes from messages shared by employees inside the company. They are talking about something good about the company they work in and it leads to the positive reputation of this company.
Why Employee Advocacy is Important?
The employee advocacy program offers many business advantages to a company, such as:
Build Trust
Private social media accounts usually reach ten times as many followers as the social media pages of a corporate brand. Launching an employee advocacy program is an excellent way to improve the brand's reach. The company is seen as more credible if employees share their positive opinion about the company or its updates. Potential customers may even feel they are familiar with the people they will be dealing with before they even make contact with the company.
Increased Sales
Many customers are using social media as part of the process of their choice before they decide to buy a product or service. They make a point of researching a company online to get to know who they will be cooperating with in advance. It is important to make it easier for them to find different types of information about your company: reviews, posts from your employees, guides about your product, and so on.
Attracting Great Candidates
To find outstanding job talents, a brand must differentiate itself from others in some manner. Employee advocacy gives an opportunity to job seekers to learn about the company before deciding to apply for a position. The candidate will make the right choice if he can find out the internal policy of the brand, employees' opinions, and other conditions of working there in advance. It's also good for the employer — not to waste time on a candidate who will refuse to stay in the company.
Employee Engagement
When employees become brand ambassadors, they start to feel a big interest in the company's success. Team players who serve as ambassadors are more engaged at work, and engaged team members are more likely to become better ambassadors—a virtuous cycle.
When done well and consistently, employee advocacy can influence to grow your brand awareness and improve its reputation faster and more efficiently than performing only traditional marketing activities.
Steps for Launching an Employee Advocacy Strategy
Take a look at the following important steps to follow before launching an employee advocacy strategy in your business:
1. Make workplace culture a priority for your business
Before you can begin working on a successful employee program, you need to ensure that your employees feel good in their workplaces. This idea includes much more than offering competitive wages and benefits. One way to find out if your team members are satisfied is to conduct an anonymous survey. Employees are more likely to share information freely if they know their responses are confidential.
2. Set the goals for the employee advocacy strategy
This is an important step in building a strategy. At this stage, you may decide to have a couple of broad categories for your employee advocacy strategy: Under these categories, you can add specific goals you want to reach, including a deadline for reaching them:
3. Make employee advocacy voluntary
Ensure that your employees understand that no one is required to participate and that no one will be punished if they choose not to share any posts on their social media pages.
4. Set Clear Guidelines
Employees need to have a clear guide on how to communicate when posting on social media so that they make a good impression on behalf of the brand. Make sure that everyone participating understands what type of language and information are considered appropriate.
Have clear and easy-to-understand guidelines, but not too restrictive to oppose the point on trust and freedom. It's important to mention that:
the posts are coming from the employee and they are not making statements on behalf of the company in any manner.
under no circumstances employees can't share confidential company information on social media.
if a team member is unsure whether they should post something, the post should be reviewed first by a manager or your legal department.
5. Get C-Suite Buy-In
Employee advocacy should start from the top. The C-suite should become advocates too and can serve as examples for employees as they create and share company-branded content. They might even inspire others to become thought leaders on social media and contribute to the brand's reputation and prosperity.
6. Keep Them Motivated
Motivating your employees can amplify them and help them feel excited to advocate for the brand through social posts.
Those who take part in the program should receive some type of reward. One way to keep it fun is to allow each employee to enter their name into a draw every time they create a post with a specific hashtag. The employee can then win a prize, gift card, or bonus.
7. Provide opportunities within the company so that employees can interact with each other.
It's important to keep employees engaged with their jobs and each other if you want to make your employee advocacy plan a success. The results of this networking can then become the content for social media posts that employees can share with their own followers. Each person then becomes an ambassador for the business by telling their own story.
8. Monitor the results of your employee advocacy plan.
It's impossible to define the success of a social media campaign unless the results are tracked. It's important to make note of the number of leads generated, candidates who have applied for available positions, whether website traffic has changed over a set period and more.
How to assess the success of your employee advocacy program
Applying for an employee advocacy program, you can curate content, distribute branded material, and track analytics. You also get insights into key metrics that help demonstrate the success of your efforts.
Here are a few of the most significant KPIs for employee advocacy:
Adoption rate
The adoption rate is important for knowing how successful your employee advocacy strategy is. You can find the adoption rate with the total number of active employees in the period (those that shared the posts) compared to the total number of users, measured every month.
Top Contributors
Are there some individuals providing interesting content and receiving a lot of engagement around it? Recognize and award your top performers.
Organic reach
Organic reach is tough to achieve, so measuring how employee advocacy increases that metric should be part of your KPIs.
Examples of Employee Advocacy
Employee advocacy can be used in many ways. Take a look at some examples:
Salesforce
Salesforce is a great example of a brand that permanently improves its reputation through employees. The company has a clear plan around how to motivate its employees with relevant company content.
Their employee advocacy software allows them to deliver authentic and personalized content to every employee. It makes it easy for employees to find and share the company's content on multiple social media pages in no time.
Starbucks
Starbucks also is showing good results in inspiring and encouraging its team members and other stakeholders as brand advocates. The company has realized the benefits of investing in staff initiatives to build engagement within the business as a way of building a strong brand.
Shopify
Unlike other employee advocacy examples, Shopify doesn't create an extensive library of branded content for employees to share. The branded content exists, but they concentrate their efforts on asking their employees to be experts in their products and speak for themselves.
Final Words
Employee advocacy is one of the most successful elements of marketing that allows businesses to enhance their reach, humanize their voice, and boost meaningful business results. It has the power to reach thousands of fresh audiences and engage them with a personalized experience using nothing more than organic content.
Remember developing, launching, and optimizing an employee advocacy strategy won't happen overnight. You have to be patient, plus you have to be ready to play the long-term game.
Content Marketing Platform
100,000+ media publications;
get backlinks to your product;
scale work with content distribution.
Read more: