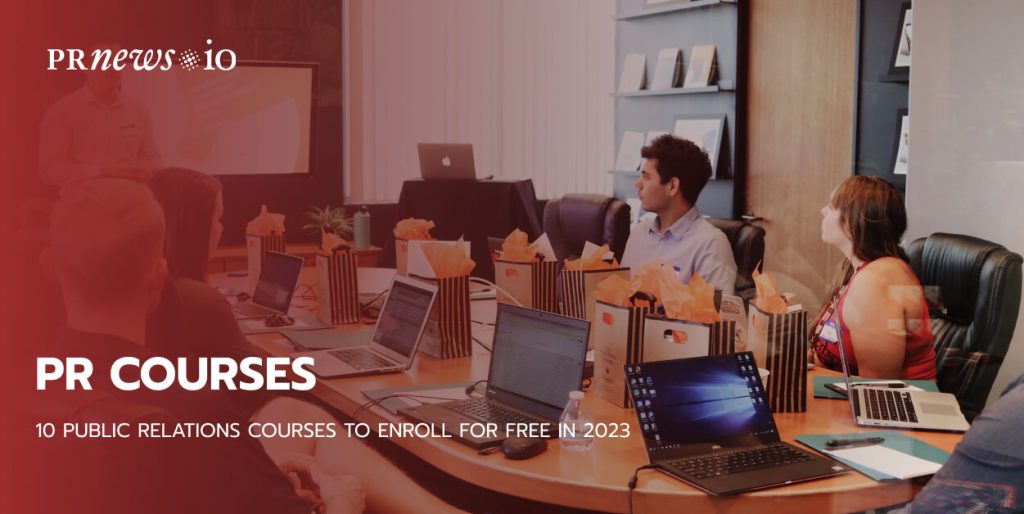 There are many aspects involved in running a business successfully. Apart from delivering top-notch products and services, a company should be able to spread the word about itself and reach the target audience. How do people know that your brand exists? This is when public relations and communications skills should be mastered to help your business get noticed by the buying public. If you wonder how PR works and how to master it yourself, here are 10 free public relations courses you should try.
Build Positive Online Reputation & Remove Negative from SERP
Tricks of Choosing the Courses
If you browse through the Internet, you will find plenty of interesting courses and masterclasses. Here you face the issue of selecting the one that suits you. Ask yourself several viable questions to move forward instead of being stuck on the stage of picking:
Who is the speaker?
What program do they offer?
Are there any good reviews about it?
After you have done the fact-checking and come up with enough background information, it will be easier to pick. Consider among at least ten or five courses. Focus on famous providers; thus, there is a chance you may pay less, participate in sales or get some bonuses for a subscription or an invite of a friend.
Most Rated Public Relations Courses
Let's focus on the top popular educatory platforms that offer public relations courses: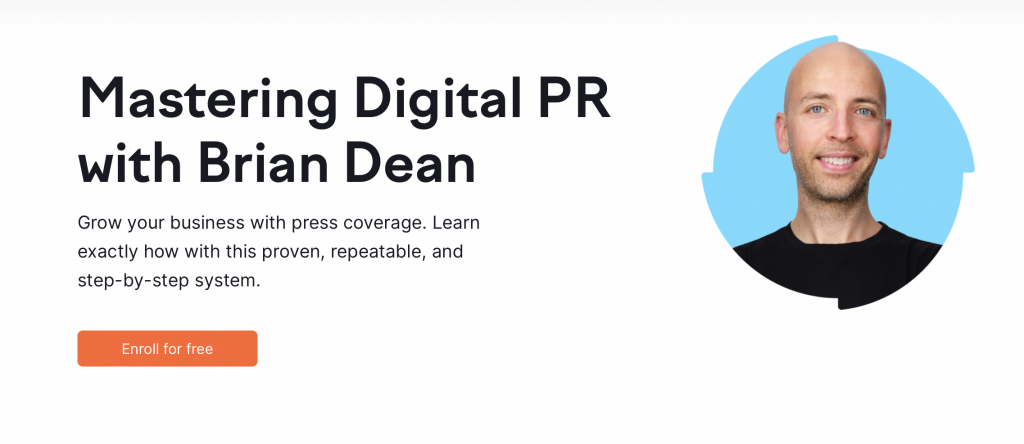 This free public relations course is designed for businesses seeking to grow with PR in any industry. It includes the most advanced strategies the course author Brian Dean used to get press coverage for his own brand on such popular media outlets as Forbes, Inc, Fast Company, TechCrunch, and Vox. By enrolling in this course, you will learn how to attract media attention step-by-step. This free public relations course should be helpful to businesses in different industries and micro-niches. It teaches you how to scale your public relations efforts from 1-2 campaigns per year to 1-2 campaigns per month.

This free public relations course should be helpful for everyone who already works in a PR role or is interested in learning something new. This PR certificate program from Oxford Home Study College should be a perfect starting point for everyone eager to learn PR and get a public relations certificate. The core topics covered by the course are the differences between PR, advertising, and publicity. It also discusses the most useful PR tools that should be useful for getting started and achieving success in public relations.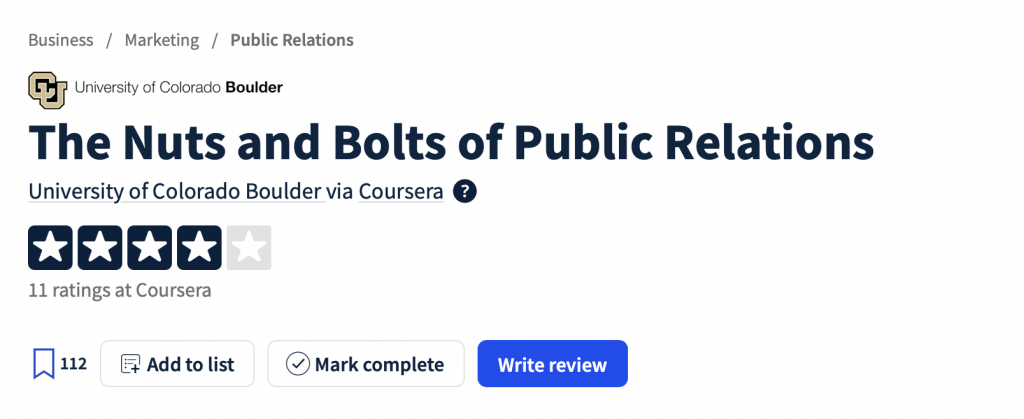 The course explains how to create PR-related collateral, including how to write a press release, a story pitch, and a media contact list. You can use these materials to tell your company's story as part of your public relations campaign. This free public relations course teaches how to create collateral that stays "on message" and clearly communicates the company's mission and core values. The course also explains how to work with journalists and other media professionals in a way it meets your communication goals.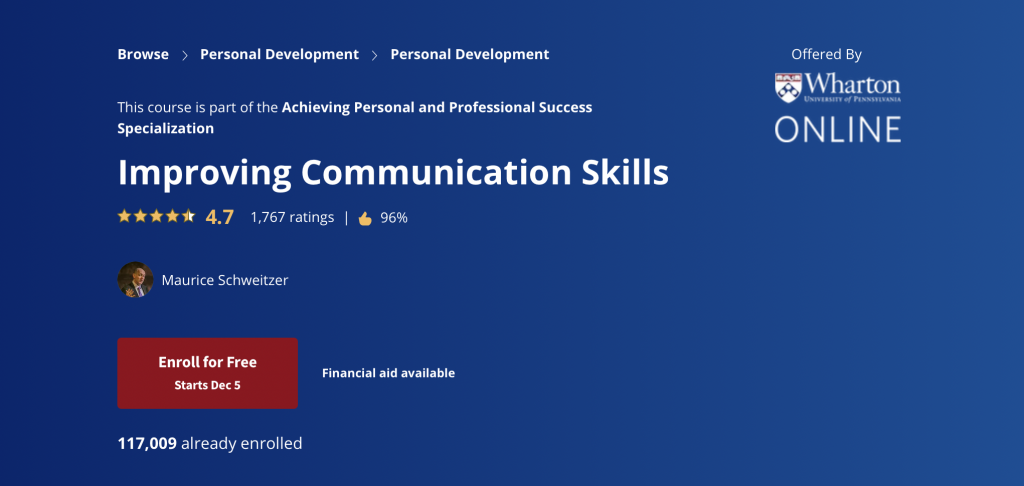 Communication plays a significant importance in so many ways. Learning how to communicate more effectively helps PR experts better achieve their goals. The award-winning Wharton professor and best-selling author Maurice Schweitzer teaches this free course. It's designed to give you the tools you need to improve your communication skills and the most successful strategies for using them to your advantage. It teaches you how to find out if someone lies to you, develop trust with the person you communicate with, and apologize if something goes wrong. The "Improving Communication Skills" course explains how to choose the right medium for communication, how to create a persuasive message, how and when to cooperate, etc. By completing the course, you will learn how to understand what others want, develop critical communication skills, and craft a convincing message to help you get your business ahead.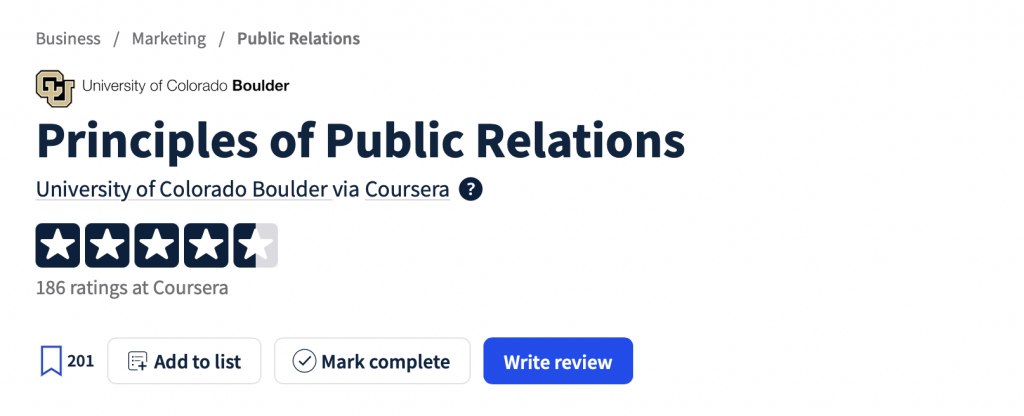 This free public relations course covers the main principles and theories relevant to practice. It clearly explains the meaning of public relations and how to understand how different brands use strategic communication to reach their goals. The course also discusses the ethical implications of public relations. One of the modules of this free course gives insights into how Corporate Social Responsibility works and how it contributes to social goals by engaging in volunteering or ethically-oriented business practices.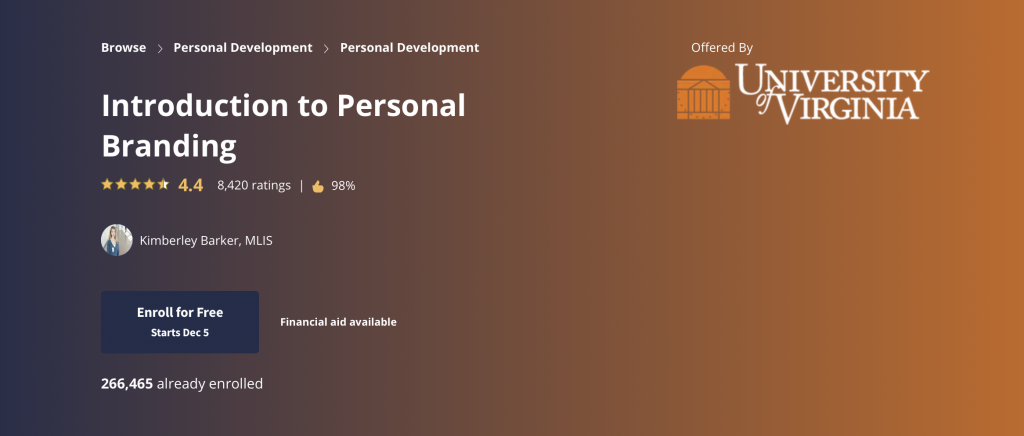 The next free public relations course we've added to our list of recommendations is designed by instructor Kimberley R. Barker. It helps you understand what personal branding means for your brand. The course helps you explore how to create a personal brand that authentically communicates your company's business goals. It teaches the basics of digital security and reputation management. You will learn how to establish a strong social presence for your brand on at least three social platforms, and create a system for ongoing brand maintenance.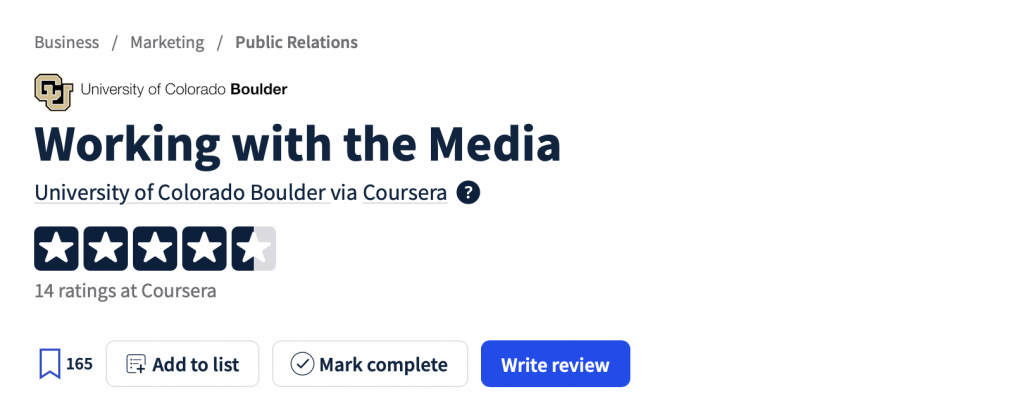 As the name of this free public relations course suggests, it helps you understand the media and how to leverage the power of storytelling with different outlets. The course comprises 5 modules explaining the role of public relations, media, and how to leverage storytelling with different outlets. You will learn the similarities and differences between public relations and journalism, advertising, and marketing. The course explains how different types of media and gatekeeping in public relations work. On top of that, you will learn the art of press releases, understand the basics and practice writing your own piece.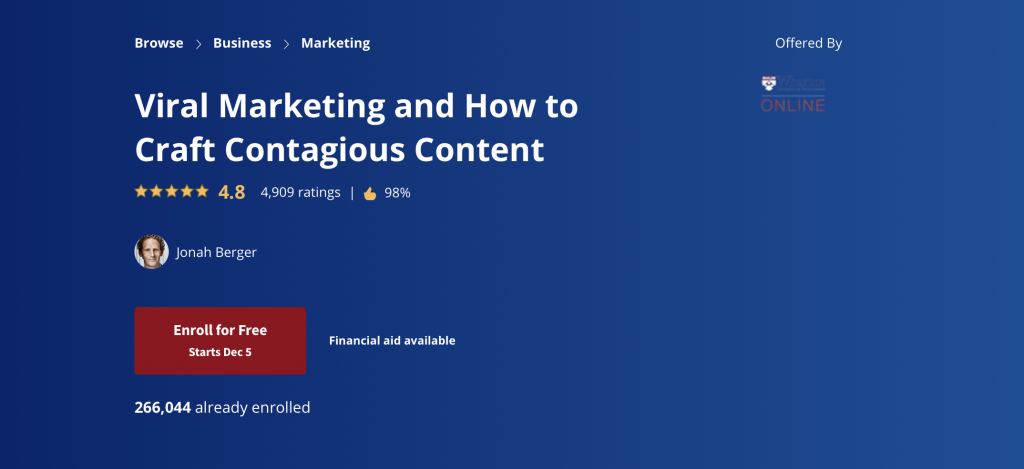 If you have ever wondered how to create content to catch on, the next free public relations course should be helpful. The course is designed by professor Jonah Berger, who teaches you how to be more effective at marketing your ideas, generating more word of mouth, and using the power of social media platforms to the fullest. The author of the course uses examples from his book "Contagious: Why Things Catch On" to illustrate successful strategies on how to use buzz to create vitality so that your campaigns become more shareable on social media and elsewhere.

Public relations campaigns are one of the most exciting areas of public relations. This free cause explains what PR campaigns are and what are the most popular practices for putting campaigns together. The cause explains the structure of a PR campaign and what steps it involves to put one campaign together. You will also learn how to set objectives correctly, develop your strategy and create tactics. The free course covers the basics of various campaign theories that you can put into practice.

This free public relations course is designed to help you understand and sift through the plethora of persuasive information thrown our way. Advertising and public relations go hand-in-hand in our modern times. This course will help you clearly understand the difference between these two fields, develop expertise in each of them, and learn how to benefit from using advertising and public relations together. After completing this free course, you will get the knowledge and skills needed to design and manage advertising and public relations communications to promote your brand and make it more noticeable to your target audience. The course also teaches how to become more skilled in planning and executing strategic brand management. If you are only planning to start your career in PR and advertising, this course should help you find the needed insights on being employable and successful in your chosen niche.
Public Relation Courses on Udemy

It is another trustworthy place that helps to invest in future knowledge and skills. Udemy is the second world's best-known platform for online learning. It operates in a few languages and has a very useful app for those who are always moving and cannot study from a computer. The platform cooperates with many famous big companies. You will get certificates after the course is complete. Two more interesting courses we added to the list:
"Crisis Communications: Survive a Media Crisis" The cost is $20. You will learn how to handle any emergency PR situations, look confident on camera, organize a press conference and do strategic planning. It includes 18 lectures, in total 10 hours of study.
"Advanced Communication Skills for 21st Century Leaders" is a fresh, updated online class about making quick decisions in different situations by using communication skills. Here you will discover the art of effective interaction between people and be a confident speaker.
The platform loves its visitors and shares news and fresh materials in its blog on the website. It also provides students' reviews and works on negative ones by improving the courses' weak sides.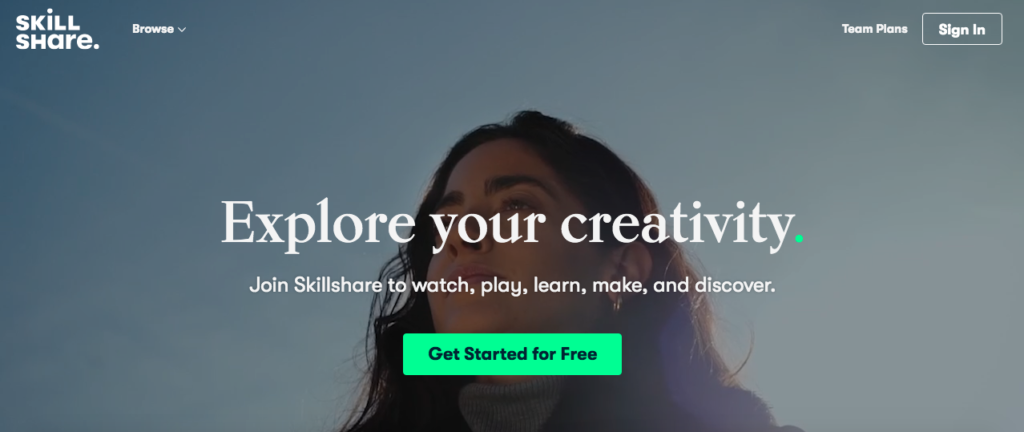 It is a place where many famous people share their knowledge with others. You may visit their website and see for yourself how much stuff they offer. You may find pretty impressive public relations courses. Here you buy a membership and select a tariff plan you want so you can get countless watches. The introductory video will help you understand if you selected the right topic for learning. Here are the top ones:
Public Relations: How to Be a Government/PIO Spokesperson" The course consists of short videos describing how to behave during TV press conferences, how to move your hands and other body parts to look confident and professional, in which manner you should answer questions and how to dress for the event. The speech is very productive and contains mostly facts and experiences from real people. You can start watching the videos for free. Below them, you will find students' reviews.
"DIY Public Relations: Craft Your Press Release" By taking this class, you will learn how to master your text, work on its content and trim it to highlight the important parts and message it to the crowd. A set of videos shows significant sides of the work a PR person performs, from direct pitch to interacting with journalists.
One of the platform's greatest features is that you can choose all the filters on the left panel, from class level to its length.
Content Marketing Platform
100,000+ media publications;
get backlinks to your product;
scale work with content distribution.
Benefits of Taking Public Relations Courses
Here are some of the benefits of taking public relations courses:
Gain a solid understanding of the principles and best practices of public relations.
Develop skills in writing, communication, research, and event planning that are essential for a career in public relations.
Learn how to effectively use digital platforms, such as social media, to reach target audiences and manage online reputation.
Gain insights into different public relations strategies, including branding, influencer marketing, and crisis communication.
Have the opportunity to network with peers, instructors, and industry professionals.
Improve your job prospects and salary potential by adding relevant skills and knowledge to your resume.
Stay up-to-date with the latest trends and developments in the field of public relations.
Be better prepared to handle the demands and challenges of a career in public relations, and to make a positive impact on organizations and society.
Types of Public Relations Courses
II. Foundational Courses in Public Relations
Introduction to Public Relations
Communication Theory and Practice
Writing for Public Relations
Public Speaking and Presentation Skills
III. Advanced Courses in Public Relations
Media Relations and Crisis Communication
Public Relations Campaigns
Digital Public Relations
International Public Relations
IV. Elective Courses in Public Relations
Public Relations and Branding
Reputation Management
Event Planning and Management
Influencer Marketing
V. Skills Developed in Public Relations Courses
Communication and Interpersonal Skills
Critical Thinking and Problem Solving
Project Management and Organizational Skills
Strategic Planning and Decision Making
Public Relations Courses Table
| Course Title | Course Description |
| --- | --- |
| Introduction to Public Relations | Overview of the history, principles, and practice of public relations, including ethical considerations |
| Communication Theory and Practice | Fundamental principles of communication and their application in public relations, including message strategies and communication channels |
| Writing for Public Relations | Skills needed to write effective communication materials for public relations, including press releases, pitches, speeches, and other promotional materials |
| Public Speaking and Presentation Skills | Development of public speaking and presentation skills, including preparation and delivery of effective presentations, handling of Q&A sessions, and use of visual aids and presentation tools |
| Media Relations and Crisis Communication | Strategies for developing relationships with journalists, managing media coverage, and handling crises |
| Public Relations Campaigns | Planning and execution of public relations campaigns, including research, audience analysis, message development, and evaluation |
| Digital Public Relations | Strategies for using digital platforms for public relations, including social media, online reputation management, and content creation |
| International Public Relations | Understanding of the cultural and political factors that affect public relations strategies in different regions of the world |
| Reputation Management | Strategies for managing and enhancing the reputation of organizations and individuals, including online reputation management |
| Event Planning and Management | Planning, organizing, and managing events, including logistics, marketing, and evaluation |
Summing Up: Public Relation Courses
USA citizens can find the best public relations courses by relying on several popular Internet online educational providers. It is better than testing some unknown resources because here; you understand what you are paying for. If you do not like the source, you can get a refund or be offered some other lectures to listen to. Small websites cannot provide that much safety and service level, like free trials and bonuses for loyal customers.