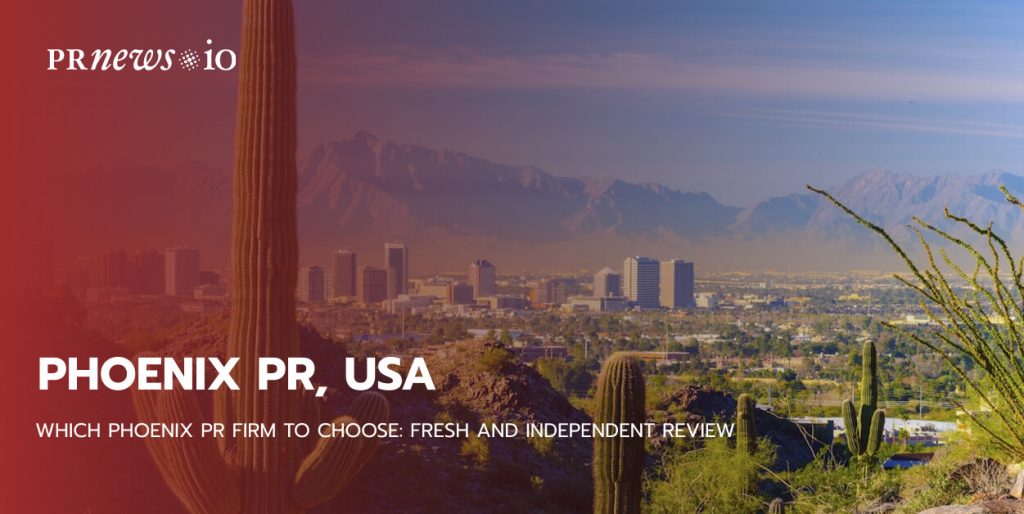 When business owners hire a professional Phoenix PR agency, it is a way to help your project get noticed online. We are going to see which Phoenix Public Relations firms are able to cultivate a positive reputation for your brand. The best results get achieved by means of many different unpaid/earned media communications, including traditional in-person engagement, media, and social media platforms. It is time to start choosing the best provider of PR services for your business.
Best Phoenix PR Agencies
48 West Agency is able to solve the toughest public relations and marketing challenges. The team guarantees creative approach, excellent results, and affordable prices. This is what you need for solving issues with reputation or boosting your brand awareness. 48 West Agency is an ambitious team of highly skilled, experienced, and award-winning public relations talents with worldwide reach. You can order in-depth industry expertise, cutting-edge public relations technology, and creative storytelling to solve your perception problems. Once you become a client of this agency, you will see the results pretty well, making this cooperation a smart investment.
The Gentles Agency is a well-known brand which provides the following services: strategic communications, public relations, government relations, event production, branding, etc. Your company's success will be driven via creative Hiring a PR agency helps a recruitment business to get noticed and to cultivate a positive reputation with their audiences through various unpaid or earned communications, including traditional media, social media, and in-person engagements. They can also help clients defend their reputation during a crisis.e, well-structured, and insightful, approach. It is your chance to build beneficial relationships with your target audience and potential clients. The team will build a unique strategy for you and help to compose a brand message. You will get the recommendations on how to communicate with people and make them interested in your services/products.
You will not find a more reliable public relations and advertising agency in Phoenix, than OH Partners.The team focuses on improving your brand recognition in order to ride into the market cooperation battle. Diverse clients from all around the US appreciate its devotion, professionalism, and creativity. You can order exclusive public relations services that really work. Your brand will get the needed assistance to compose an exclusive story, which will move the hearts and minds of your potential clients.
Black Girl PR is a professional digital public relations agency, which mainly focuses on assisting Black women in social media networks and ecommerce. The team can help you generate the most accurate web content that surely gets publicity and the best media coverage. It is your chance to reach much more followers and have a bigger impact on your business online.
The HighGround Inc. team provides its numerous clients professional public relations services. The team is goal-oriented, diverse, and creative enough to deal with media, public, and government affairs. This agency specializes in handling the most complex reputation and promotional issues on behalf of diverse clients who are looking for new opportunities on all governmental and public affairs levels. Experts know how to interface with local, regional, national, and federal government entities, political coalitions in order to craft thoughtful and accurate media strategies.
Gordon C. James Public Relations
Gordon C. James Public Relations is a known public relations agency throughout the USA and even abroad. The main focus practices are the following: marketing communication, media relations, public relations, event management, and government relations. By combining experience in all these areas, the agency is your lucky ticket to attract new followers and transform them into your clients.
DeMenna Public Affairs is a popular government and public relations agency in Phoenix, Arizona. It can be your next professional consultant in social media, public affairs, or political consulting. The agency was created by Joe and Ryan and DeMenna. They follow the family tradition of DeMenna & Associates, which was created by their father in 1998. The team is well-known for its client service and deep understanding of the accurate issues associated with public relations and marketing communication.
MMPR Marketing is a n efficient PR and Marketing firm, which specializes in public relations, web content marketing, branding, social media promotion, ads, and public relations. The main goal of the team is to do their best to fulfill the plans and ambitions of their client. Such a business cooperation will surely affect your business and recognition in ways you could not even consider. Do not miss a chance to elevate your brand visibility, enhance your brand, and increase your bottom line. The clients are diverse and come from many different industries: construction, web development, healthcare, luxury, beauty, and NGOs.the talented team consists of media strategists, graphic designers, social media influencers, copywriters, and marketing gurus.
Knoodle is the last public relations agency in the listing, but it is one of the best providers of Advertising and Public Relations services in Phoenix, Arizona. This digital agency has an excellent reputation in the city and throughout the country. The team will help you launch your PR campaign without stress, problems, or delays. You will get the online exposure you deserve.
Content Marketing Platform
100,000+ media publications;
get backlinks to your product;
scale work with content distribution.
How to promote your business in Phoenix, USA via PRNEWS.IO
To promote your business in Phoenix, USA via PRNEWS.IO, you can follow these steps:
Identify the specific demographics and interests of the audience you want to reach in Phoenix. This will help you tailor your PR campaign effectively.

Write a well-crafted press release that highlights the unique aspects of your business, such as new products, services, or achievements. Make sure your press release is newsworthy and provides value to the readers.
Specify the target location as Phoenix, USA when customizing your press release distribution. This ensures that your news reaches the relevant audience in that area.
Include relevant keywords and phrases related to your business and industry in your press release. This can improve its visibility in search engines and increase the chances of media outlets picking it up.
Enhance your press release by adding high-quality images, videos, or infographics. Visual content can make your news more engaging and shareable.
After your press release is distributed, track its performance. Monitor media mentions, website traffic, and any other relevant metrics to evaluate the impact of your PR campaign.
PRNEWS.IO provides opportunities to connect with journalists and media outlets. Reach out to them personally, if possible, to establish relationships and increase the chances of coverage.
Remember that PRNEWS.IO is a distribution platform, and your press release is only one component of an effective PR strategy. Consider integrating other marketing channels, such as social media, content marketing, and influencer partnerships, to maximize the visibility and impact of your business promotion efforts in Phoenix, USA.
Conclusion
Nowadays, just word of mouth is far from being enough to build your brand reputation, online recognition, and present your brand, products, and services in front of the right target audience. We give you indications where to look for reliable PR agencies and you make the most reasonable, compatible, and affordable option for your business.
Is your business in need of a PR makeover?
Benefit from media coverage assistance.
Witness a refined branding approach.
Watch as your recognition soars.