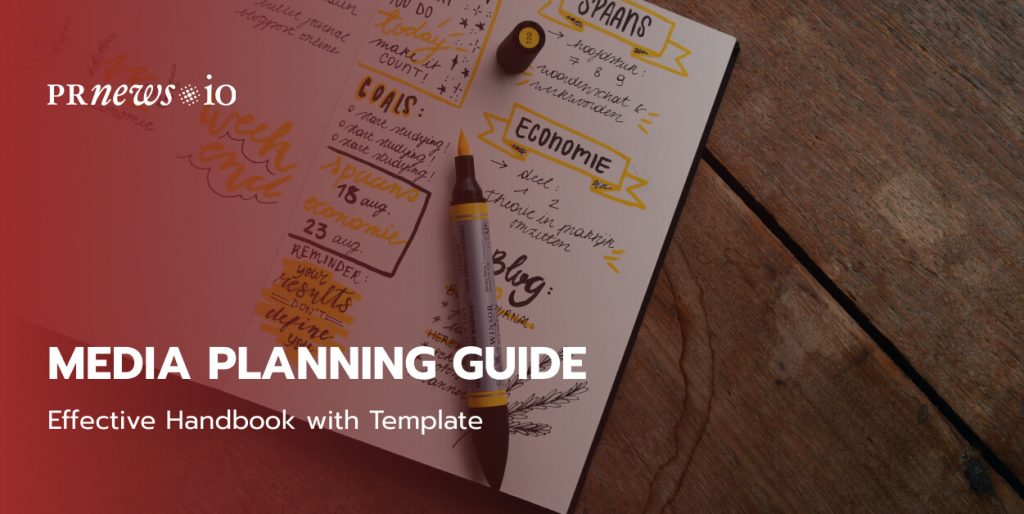 Today's marketers are often tasked with managing campaign efforts across a range of different media platforms. This can make it complicated to effectively track each tactic's success and the overall result for the business. With proper media planning in place, teams can more accurately track campaign success and make informed decisions about how to improve performance in the future. It also helps reach the right audience and get the message in front of them at the right time.
So what is a media plan? How to create it? And what is the way to execute effectively? In this article, you will get answers to all these questions. Let's start.
Media Planning Definition
Media planning determines how, when, where, and why your business shares media content with a target audience. The process includes selecting what media will be shared and which channels you'll use to increase reach, engagements, conversions, ROI, and more.
Media Plan Definition
A media plan is a data-backed document that describes who will be targeted, across which channels, when, where, and why your business shares media content with your prospects. The media relations plan contains the target audience, media channels, marketing objectives, advertising message, frequency per channel, as well as measurable KPIs. The plan also provides clear goals and sets budget limits.
Benefits of Media Planning
Media plan implementation will save you from a mess in content marketing. It helps structure your media campaign from start to finish, determine its channels, target audience, budgets, and executors, and anticipate possible issues and bottlenecks. This gives you a more detailed picture of what the end result is supposed to look like.
How to Create an Effective Media Plan: Step-by-Step
The following items describe how marketers can create the media plan, step-by-step. If you follow these guidelines, your mediaplan strategy is much more likely to produce the desired result.
1. Do some market research
Thorough market research is the basis of every good media plan. Before creating innovative strategies, you need to find out how your products or services compare to those of your competitors.
Therefore, marketers begin with thorough market research, which includes the entire product and marketing landscape. Check your competitors' campaigns and brand awareness, to find valuable marketing niches for your target audience and prospects.
2. Define your goals
The base of any great media plan is to have clear goals and objectives.
Defining well-defined goals will help you answer important questions along the way and make strategic choices that will move you closer to your objectives. Those objectives must be SMART: specific, measurable, achievable, realistic, and timely.
Your goals should answer upper-level strategic questions, such as:
Do you want to boost reach and/or increase your conversions?
Which buyer personas will you try to attract with your campaign?
Will you focus mainly on print or digital channels?
How will you measure the results of your campaign?
3. Set budget limits
Budgeting is another reason why marketers need to design a media plan. Specific budgeting tools can help to get a general view of all costs related to your media strategy. Make sure not to spend the whole budget, but keep an emergency reserve, in case of unexpected expenses.
4. Create your media plan
Once the preliminary steps are complete, it is time to create your adapted media plan. Take into account data of your customer research, as well as your goals and objectives while staying within a defined budget.
5. Define and describe your audience and buyer persona
A clear description of your target audience will help you to understand their desires and motivations and how you can reach them. Here's a checklist to define the target audience for your media campaign.
Their intention to purchase:
Demographics:
Age
Gender
Income
Occupation
Location
Media habits:
Newspapers
Magazines
Mobile
Desktop
Social channels
TV
Stream services
6. Choosing a Voice
The "voice" of your content is the tone used to convey your desired message. The tone of voice includes the words and imagery you choose across every content format. Including emails, press releases, articles, landing pages, ads, social media posts, and more.
The voice of a piece of content is crucial to attracting the target group audience. Consumers are savvy — they feel when someone is trying to sell them something. The intuitive response is to reject messages that look or sound inauthentic, fishy, or irrelevant.
How to design an authentic tone of voice? It begins with creating buyer personas, as mentioned above. An important element of persona creation is figuring out factors such as education level, profession, and personal interests. Different segments of the population have their own language (jargon), and marketers who capture that in a pitch-perfect voice are more likely to achieve success with their media plans.
7. Select relevant media channels
The choice of the right media outlet also depends on your target customers and overall media strategy. You can choose between traditional advertising media outlets, such as magazines, newspapers, radio, billboards, and television, or make use of new media, such as social media platforms, digital magazines, news aggregators, influencer marketing, and search engines, just to name a few.
Today most brands are using a mixed channel approach for their media campaigns, which combines several of the marketing channels, mentioned above.
In order to create ad campaigns that are performing well, you need to make sure your target audience uses these channels. This is one of the most important points of thorough media planning.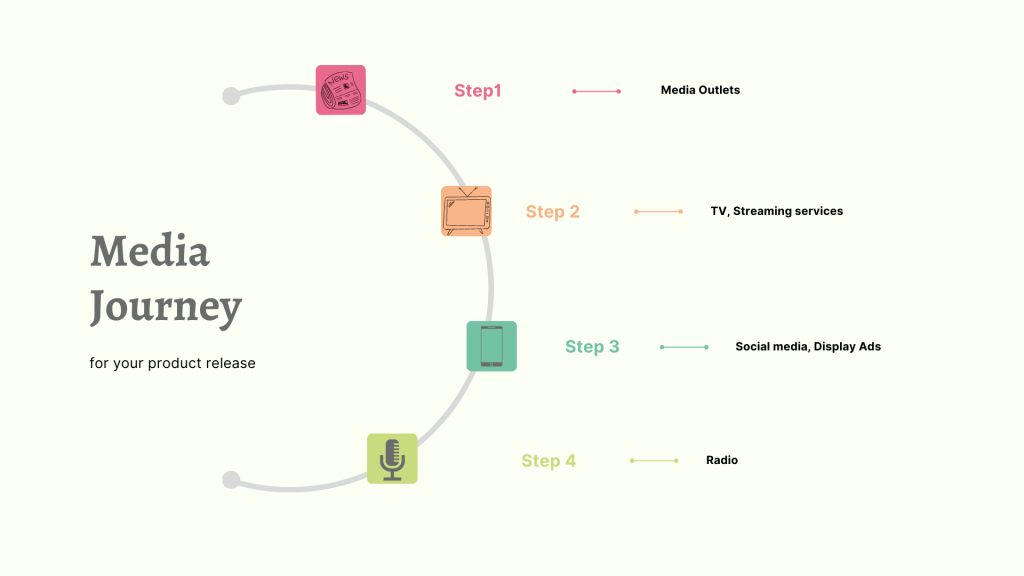 Important factors to consider before selecting media outlets
To understand which ad space to choose, you should consider factors, such as:
Reach
No matter what outlet you choose, reaching your target audience is one of the most important aspects. A properly selected media might even have more impact than an expensive TV campaign. Therefore, make sure to define reach in terms of your target market, instead of the entire audience of the popular outlet.
Budget
After the costs of each relevant outlet are clear, the marketer should work on setting a budget for each channel. The budget needs to be allocated according to the expected impact of your campaign. After these steps are complete, you can finally start the next stage of the planning phase and define the timeline.
Timeline
It doesn't matter what campaign you are planning, you need to specify a timeline and communicate it to all stakeholders involved.
Frequency
You need to find a middle ground between the right frequency per media outlet and keeping the budget as low as possible.
8. Choose the KPIs
Before starting any new media campaign, it's important to define its goals and measurable objectives. This will help you to choose the best indicators for measuring success and refining your approach. Check out our detailed post about how to measure the success of your PR campaign.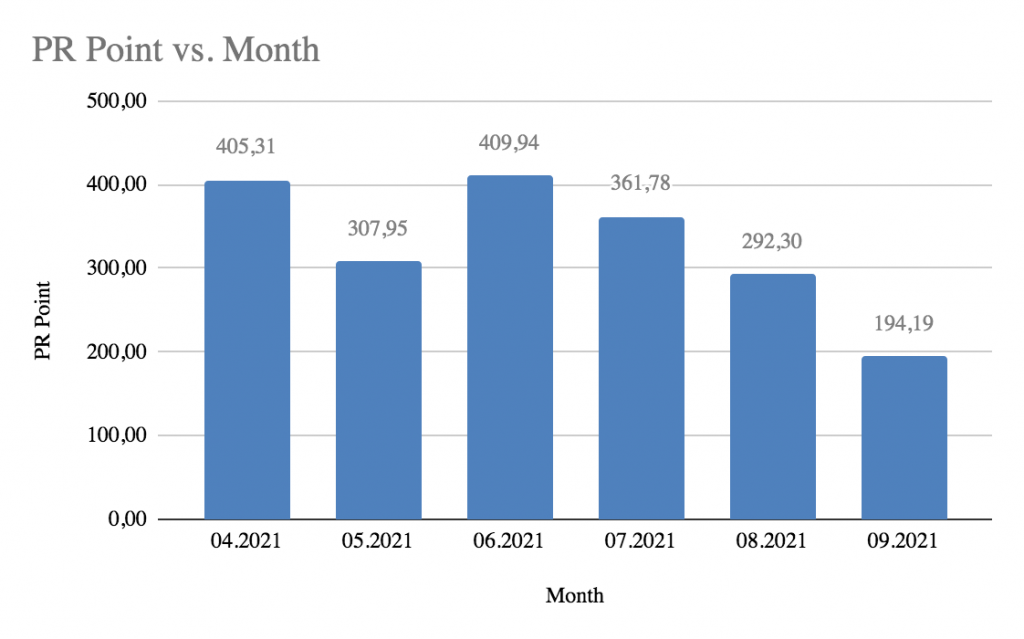 9. Plan your media content
Now that you have a clear idea of what you expect to receive, and whom you're going to target, it's time to plan the content that you'll have to create for each campaign and each channel.
Once the content has been created, it's important to share it with involved stakeholders to get their feedback and final approval.
10. Execute your Media Plan with the media planning tool PRNEWS.IO
After you have finished planning your campaign and discussing its objectives, media channels, and content with all relevant stakeholders, it is time to start implementing your plan.
Depending on the scope of your media plan, the launch phase can take several days and even weeks, until you have published all your content throughout all channels.
With the help of smart services like PRNEWS.IO, you can complete your ad planning by deciding on the best mix of online media sources. Media Discovery service from PRNEWS.IO takes on all the difficulties of choosing the right media. Its media team will select the most appropriate media platforms for you to save you from wasted marketing spending on magazines that your prospects don´t read.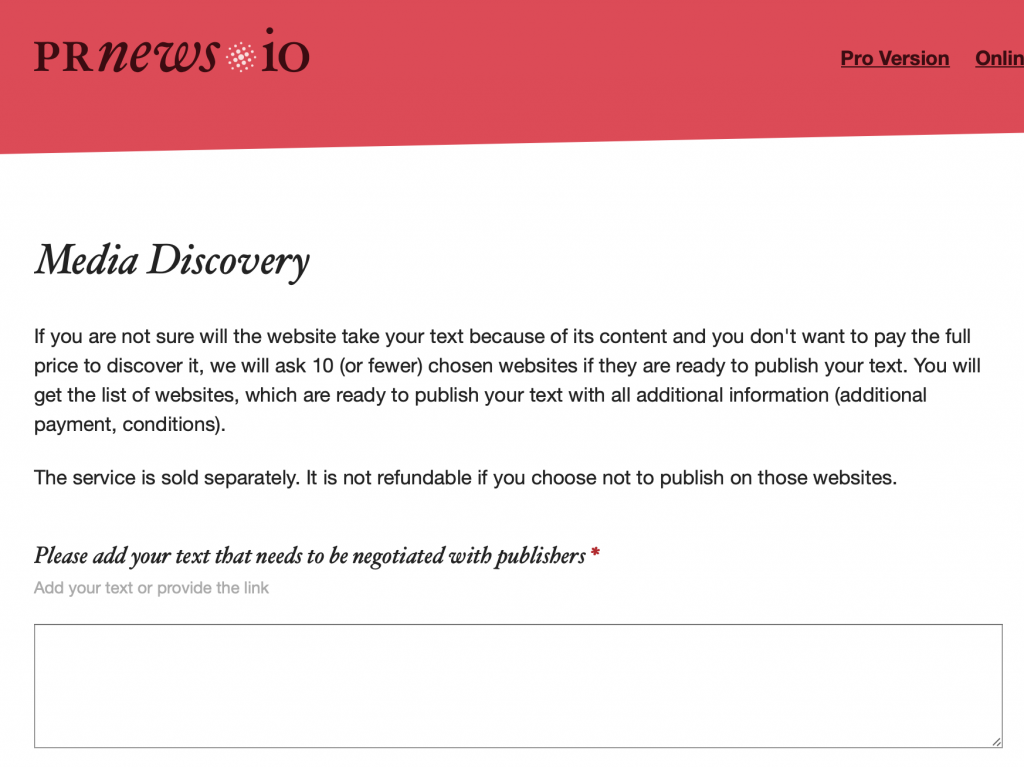 11. Measure and evaluate your results
After the launch phase, you need to track your most important KPIs on a regular basis. The KPIs that you set during the planning phase serve as a benchmark of whether or not your media campaign was successful.
KPIs can also give you the necessary input to think about improvements for the next project and make the outcomes compared to a similar campaign.
Media Plan Template
Media planning templates could be created in such formats, as charts, documents, and excel sheets that already have all the data for a media plan. They also have particular pre-filled raws, against which you only need to fill in the data relevant to your business. As a result, these templates make your tasks more efficient.
Using templates for digital media planning makes the process also more organized. Then you can share the document with stakeholders so that you are equally invested in each aspect of the process.
Here is one of the PR Media Planning template examples:
Announce Date
Subject
Content
Media Contacts
Deadline
Importance
Owner
Cost
Status
When?
What is it about?
What is it? (press release/
newsletter/ guest post)
Who will you contact to publish the info?
When does it need to be ready?
How important is it? (on a scale of 1-5)
Who is responsible for preparing this?
How much money are you planning to spend?
has it been published, blocked, in progress, or moved?
Wrapping Up
Media planning is important for making sure that your business is able to achieve the very important task of creating great content and successfully reaching your target audience. The process of setting clear goals and creating a detailed plan to achieve those goals helps to assure any media campaign will have success. So, work through the media planning process steps above and use the PRNews.io service to achieve better results and optimize your budget.
Media Planning FAQ
What is a media plan?
A media plan, also known as a media strategy, defines what kind of media you will create, where, and how you'll publish it to best involve and convert your audience. Any digital media plan should be based on data, and that data needs to be accurate and credible.
How to create a media plan?
You can try PRNEWS.IO Media Planning Service. Media plans can function as a map for a marketing team to deliver actionable media campaigns. It includes the next steps: 1. Do some market research  2. Define your goals 3. Set budget limits 4. Create your media plan 5. Define and describe your audience and buyer persona  6. Choosing a Voice 7. Select relevant media channels 8. Choose the KPIs 9. Plan your media content  10. Execute Your Media Plan with the media planning tool PRNews.io 11. Measure and evaluate your results
What does a media plan look like?
A media plan details what kind of media you will create and what media sources you will use for the best performance. The media plan includes the target audience, media channels, marketing goals, advertising message, as well as measurable key performance indicators (KPIs).