In this case study, we explore how MightyTips, a website focusing on betting tips, successfully utilized event sponsorship to enhance their brand visibility and drive PR and marketing efforts.
We extend our heartfelt gratitude to Eugene Ravdin, Communications and Marketing Manager at MightyTips, for a fascinating and productive interview.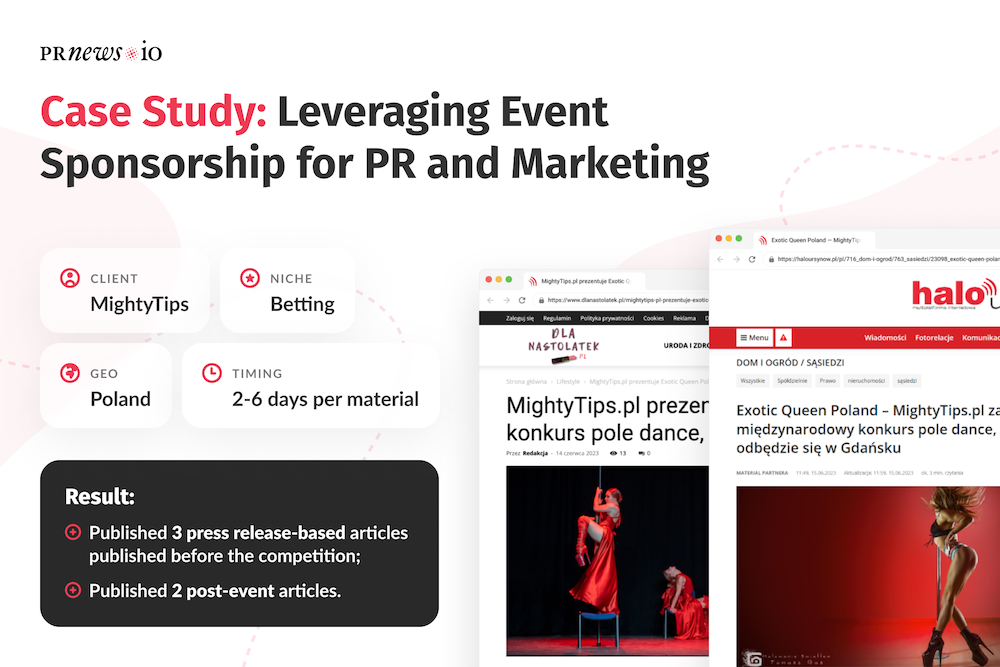 About MightyTips
Established in March 2019, MightyTips has been providing users worldwide with its flagship website, MightyTips.com. The platform offers a comprehensive range of services, including expert bookmaker reviews, daily football previews and predictions generated by an international team of sports betting experts, as well as sportsbook bonuses and promo codes. Since its English launch in 2019, MightyTips.com has expanded its online presence with the addition of six more platforms catering to French, German, Polish, Portuguese, Romanian, and Spanish-speaking audiences. With an impressive monthly readership of 1.2 million unique visitors, MightyTips.com has emerged as a leading portal in the highly competitive betting industry. The website publishes over 100 weekly betting tips, covering various football competitions ranging from local leagues to prestigious tournaments like the UEFA Champions League and FIFA World Cup.
Problem: Event Media Coverage Time Sensitivity and Niche Focus
MightyTips is always on the lookout for opportunities to reach a broader audience and has determined that the most effective way to share information about the brand without being intrusive or causing user annoyance is by connecting with specific events.
Given their focus on the betting industry, they have chosen to align themselves with sporting events. In the case of the Exotic Queen Poland pole dancing competition, reaching an agreement was relatively easy due to their existing personal connections with the event organizer.
The specific difficulties encountered were related to the time-sensitive nature of the event and the specialized nature of the client's betting aggregator website, which limited the number of Polish media outlets willing to feature the event.
Media coverage plays a crucial role in event promotion by offering several benefits that can significantly enhance the event's visibility, credibility, and overall success.
Media outlets, whether traditional or digital, have a wide audience base. When your event receives media coverage, it reaches a larger number of people who may not have been aware of the event otherwise. This increased reach helps create awareness and attracts potential attendees, sponsors, and participants.
Media coverage for events is not an easy task due to several challenges and considerations. Media outlets receive numerous event-related pitches and press releases every day. With limited space and resources, they must carefully select which events to cover. Standing out among the competition and capturing the attention of journalists and editors requires a compelling and unique angle.
PRNEWS.IO: What goals, objectives, or problems does your company address through articles in media?
Eugene Ravdin: In this case, we had two objectives. The first one was to attract as much attention as possible to the competitions and our role as a sponsor. The second, and more important for us, was to create an opportunity to publish materials with dofollow backlinks as requested by our SEO department.
PRNEWS.IO: Have you faced difficulties in establishing the publication processes for your materials in the media, and how did PRNEWS.IO assist you with that?
Eugene Ravdin: The main challenge, when reaching out to media platforms directly instead of using an agency, is that you don't always receive a response from the platforms you contact. PRNEWS.IO greatly facilitates communication with websites.
Solution
MightyTips engaged the services of PRNEWS.IO to facilitate media coverage of the sponsored event. The following steps were taken:
Media Discovery
In addition to the strategies mentioned earlier, PRNEWS.IO conducted media discovery to proactively address the challenges of securing media coverage for the Exotic Queen Poland pole dancing competition. This involved reaching out to media outlets in advance to gauge their interest in featuring the event and negotiating the terms of publication. By establishing communication and obtaining confirmation from relevant media sources, PRNEWS.IO ensured that the event materials would be accepted and published within the desired time frame and under agreed-upon conditions. This proactive approach helped streamline the media coverage process and increased the chances of securing timely and targeted exposure for MightyTips.pl as the event's sponsor.
Press Release-based Pre-event Articles
Three pre-event articles were published, generating anticipation and creating awareness among the target audience. It was important to publish them on exact days which was also ensured.
Post-event Press Release-based Articles
Following the competition, two post-event articles were published, summarizing the highlights and achievements of the Exotic Queen Poland tournament. These articles reinforced MightyTips's association with the event and emphasized their continued support for the pole dancing community.
Results
The efforts undertaken by MightyTips and PRNEWS.IO yielded the following outcomes:
Pre-event Materials
The three press release-based articles published before the competition effectively generated buzz and anticipation, reaching the target audience and increasing brand recognition.
The presence of journalists at the Exotic Queen Poland competition resulted in additional articles and media coverage, further amplifying MightyTips's sponsorship and solidifying their reputation as a supporter of the pole dancing community.
Post-event Materials
The two post-event articles provided a comprehensive overview of the tournament's highlights, showcasing MightyTips's commitment to supporting and celebrating pole dancing in Poland.
PRNEWS.IO: What were the results of your work (increased website traffic, sales, brand awareness, etc.)?
Eugene Ravdin: We had a specific goal regarding the number of backlinks, and we successfully achieved it. During the active press campaign, website traffic increased, but it later returned to its previous level. The long-term effects can be evaluated only later. Nevertheless, we are satisfied because we considered sponsoring the pole dancing competition as an experiment. We learned what worked well, what needs to be changed next time, and what should be avoided altogether.
PRNEWS.IO: Did PRNEWS.IO meet your expectations in terms of timelines, quality, and convenience?
Eugene Ravdin: In terms of convenience, definitely yes. It is convenient to communicate with a single manager rather than dealing with multiple editors and content managers. Additionally, having a unified payment system for all publications is advantageous. The communication with the client manager was timely and constructive. There were no issues with timelines; everything was delivered on time.
Regarding quality: It would be great if PRNEWS.IO could monitor certain aspects of already published articles, such as ensuring correct links, adherence to Ad label requirements, and avoiding cropping of headlines and photos. Another aspect we didn't like is the process where you have to make the payment first, and then there's a possibility of the article being rejected. Although the money is refunded for the rejected article, you have already incurred expenses for writing, translation, and/or rewriting, which cannot be recovered. It would be much better to know in advance that your article will be published before proceeding with expenses.
PRNEWS.IO: Would you turn to the PRNEWS.IO team with a new task?
Eugene Ravdin: Yes, definitely.
PRNEWS.IO: How often do you sponsor events and what criteria do you use to select them?
Eugene Ravdin: We recently recognized the value of event sponsorship and have decided to engage more in this area in the future by sponsoring additional sporting competitions and individual athletes. Currently, we are in the process of developing the right tactics for our sponsorship activities. We select events that allow us to strike a balance between staying within our budget and generating sufficient attention and interest.
Conclusion
The case study of MightyTips's event sponsorship demonstrates the effectiveness of leveraging events for PR and marketing purposes. By sponsoring the Exotic Queen Poland competition and collaborating with PRNEWS.IO, MightyTips successfully increased their brand visibility and build backlinks to their website. Key takeaways from this case study include the importance of publishing pre and post-event press releases to maximize promotional opportunities, as well as the value of inviting journalists to cover the event to secure additional media coverage.