Are you tired of spending too much time on manual work in digital marketing? When it comes to analyzing or managing your routine, you can't excel in your career without digital marketing tools. All marketers know the importance of various tools, services, and software that can help them easily carry out their everyday tasks. From planning the content to revenue analysis, these tools will enhance significantly a marketer's productivity.
Changes in marketing techniques in the digital marketplace have forever changed the way entrepreneurs run their businesses. With the opportunity to get a much bigger number of clients than ever before, companies can reach and engage with their customers much faster through their websites. Nowadays digital marketing is a major investment for any type of business, big or small, and that capital doesn't always cost money. To be sure that you use your time as efficiently as possible, I will show you 25 free essential digital marketing tools that you need to integrate into your daily marketing routine.
To make it more comfortable for you, I have put these must-have tools in some groups. Let's get started:
Website Tools
Analytics & Reporting Tools
SEO / SEM Tools
Social Media Tools
Email Marketing & Blogging Tools
Design Tools
Free Website Tools
Speed can make or break your website. Waiting with a stopwatch as your website is loading is not the best way to check the speed of your online project. That's why most marketers use a wide variety of free reliable website speed test tools.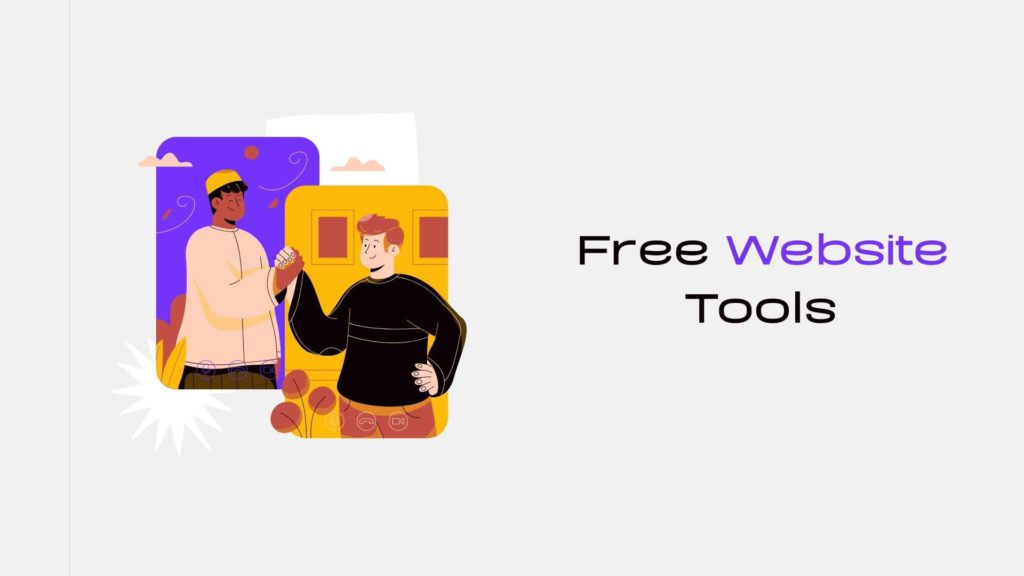 GT Metrix reviews and scores speed for both desktop and mobile website versions. GT Metrix was created to help users with different skill levels monitor and speed up their website performance. E.g. the average mobile page takes 15 seconds to load, and you can lose around 70% of your website visitors in that time. So the site speed is crucial.
The overall interface is incredibly easy to use. Its UX design is easy to navigate and elicits trust. This tester is incredibly straightforward. You just put your URL in and hit "Analyze." GT Metrix boasts over 350,000 registered users, and it's worked with more than 350 million web pages. It's your reliable partner in improving web performance and remedying its problems.
Google PageSpeed Insights is similar to GT Metrix. It shows you both mobile and desktop page speeds with really helpful analytics features and recommendations on how to speed up.
This tool is also very easy to use. Just type your website URL in, wait for a few seconds, and you'll get results from both mobile and desktop versions of your website. The UI design was well thought out, so it's easy to understand whether your website is performing well or not, and what you need to change.
Analytics & Reporting Digital Marketing Tools
Whether you're responsible for a blog traffic audit or analyzing the success of your most recent social media campaign, it's indisputable that data is an integral part of any marketing role. Taking important decisions, based on the received data is the key to a successful business. Using the right marketing analytics software, quantifying your data correctly, and optimizing your marketing efforts determines the whole company's success.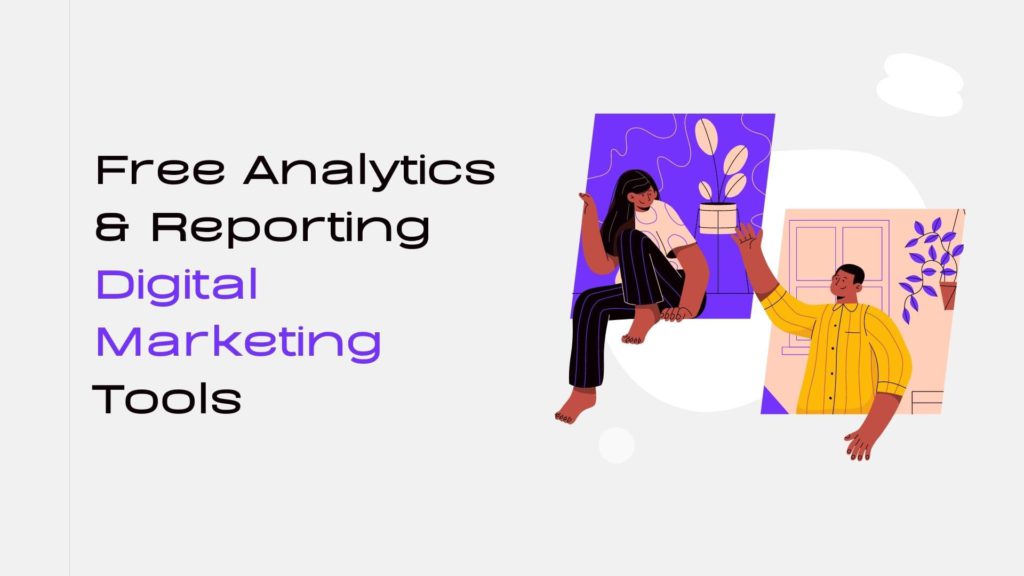 That's why having an opportunity to analyze the results of the ad campaigns, user activity on your website, creating attractive and readable reports is key to ensuring that your marketing strategy performed well.
Google Analytics is probably the most powerful software freely available for every marketer. All you need is to add a Google Analytics code to your website and get access to the priceless insights of your website. You can set up goals and create conversion tracking to receive the most of your analytics information and use it to improve your website's content, user experience, and optimization for bigger profits.
Google Data Studio is another useful free Google service. This tool allows you to include many different data sources into one report. You can easily import web and business data from different popular data sources and lets you create meaningful interactive dashboards. With help of this service, you can create complicated reports within minutes without analyzing long tables manually.
Data Studio has an intuitive design that is very easy to use. You can add charts, tables and create reports on the fly. You can also analyze web and business data from different popular data sources there. The best part is that using it doesn't require any deep technical skills.
UTM Tracking Code Builder allows you to add tags to your link to accurately track in Google Analytics the source of your traffic. It has a very intuitive and minimalist interface. It's very easy to understand how the builder works and it has a good explanation of which line and tag you need to use, it's just a matter of seconds.
Woopra is an analytics platform that's specifically tailored for e-commerce businesses. Woopra analyzes each step of your site's checkout process to determine where your users are leaving and which traffic source is the most valuable in terms of checkout success.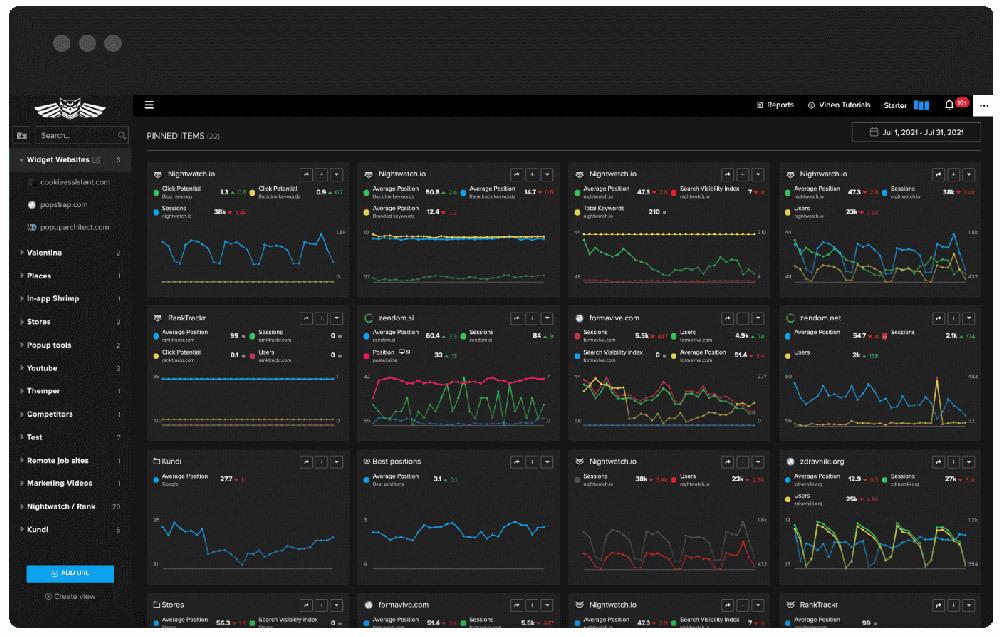 This cost-effective rank tracker allows you to customize and configure pretty much everything you see.
Daily updated rankings allow you additional insight into ever-changing SERPs due to algorithmic changes and keyword cannibalization. It also offers powerful keyword grouping to quickly notice which parts of the website are underperforming. Nightwatch lets you track 5 competitors free of charge.
You can integrate data from Google Search Console and Google Analytics and put it in the columns beside the organic position. You can also create customizable graphs with all the integrated data.The tool calculates the Click potential metric, so you can quickly see how much traffic you should be
getting. It also has stakeholders, clients, or SEO managers in mind who can be impressed with white-label customizable reports. They are easy to create with drag and drop builder.
It allows you to track 107,296 locations worldwide. Data is precise because Nightwatch can access many Google data centers around the globe.
Free SEO / SEM Tools
Search engine optimization (SEO) is one of the necessary digital marketing tactics. It allows you to lead the search engine rankings. And if you do it right, it will be very effective at increasing site traffic, conversions, and revenue over time.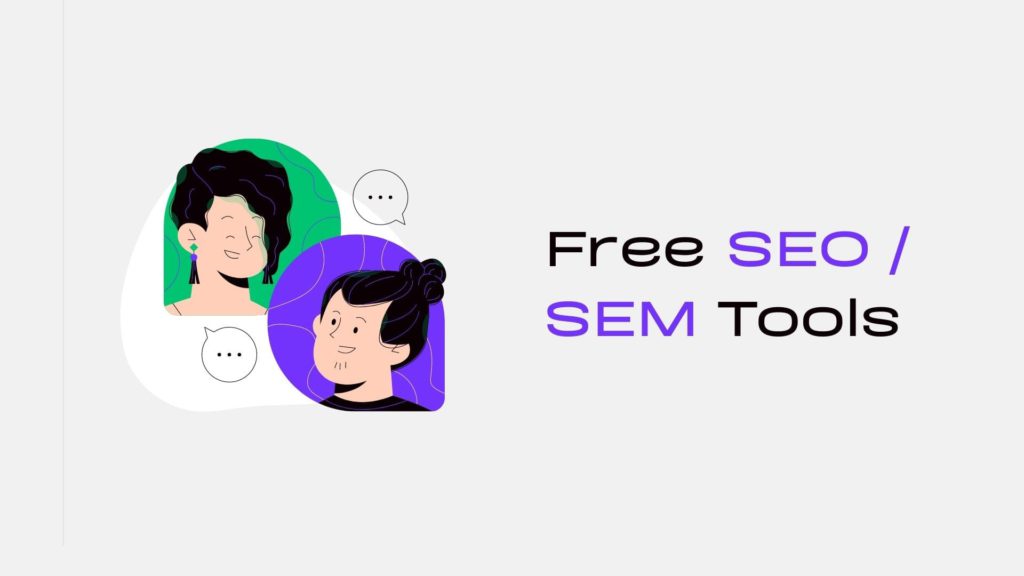 There are hundreds of free SEO services, but I will show only the best and most useful to add to your list.
Yoast is an SEO plugin that has rich functionality. This SEO plugin helps you easily optimize a website to perform better in search results. It helps blogs in the areas, where WordPress cannot help much. It includes, for example, submitting sitemaps, managing keywords, creating content, using webmaster tools, etc.
Yoast plugin has built-in meta keywords and description management, XML sitemaps, social features, content analysis, rich snippets, and many more features. It can install general canonicals, open graph tags. Also, it allows you to bulk edit title and meta tags from the front-end and offers on-page optimization insights.
MozBar is a free software add-on from Moz that showcases metrics for you right in your toolbar. MozBar shows its famous features, as a Domain Authority and Page Authority, as well as a set of other search metrics and insights.
Its UI is intuitive, the information is easy to receive, and it's convenient to use all info MozBar provides. So, MozBar is your helpful friend in showcasing to you what your competition's keyword strategy is and what their strategy misses.
Google Search Console remains one of the most powerful and multifunctional SEO tools on the web. There are some great keyword tracking tools. It's great for discovering why people are coming to your website. You can use this information to improve the content you have and attract more traffic, increasing conversions. This service is also great for finding and analyzing potential blocks that might be preventing Google from crawling your site as effectively.
Google Trends is an online search service where you can see how often specific keywords, phrases, and subjects have been questioned over a specific period. It's a great tool to track down seasonal trends. It will allow you to check keywords and the previous statistics for a keyword. There is also one useful feature – a keyword comparison for different periods and within a certain area. The data is pretty accurate and it's not limited to google searches, but also includes youtube and image searches.
Answer the Public is a tool for discovering what people are searching for in Google. It is a free service that helps you with keyword research and ideas for your future posts. It shows a visualization of data and uses searches from Bing and Google. Having built up a database from millions of searches it can predict what you're going to ask next, based on the information that's already been entered.
Screaming Frog is a spider tool that can quickly crawl websites, lists of websites, or specific web pages to give you a complete analysis of their performance. It will help you reveal broken links, broken pages, bad redirects if you have any. Troubleshooting most of these errors is a quick win for search marketers.
Free Social Media Tools
With so many people participating in social networks, it's becoming one of the most important channels for brands to advantage. And now more than ever, your social media presence and its management matter.
People turn to social to learn more about the companies, what they do daily, and how their products and services differ from competitors. Social media is a major element of any comprehensive marketing strategy. That's why social media management marketing tools have become the core in marketing instruments both big and small.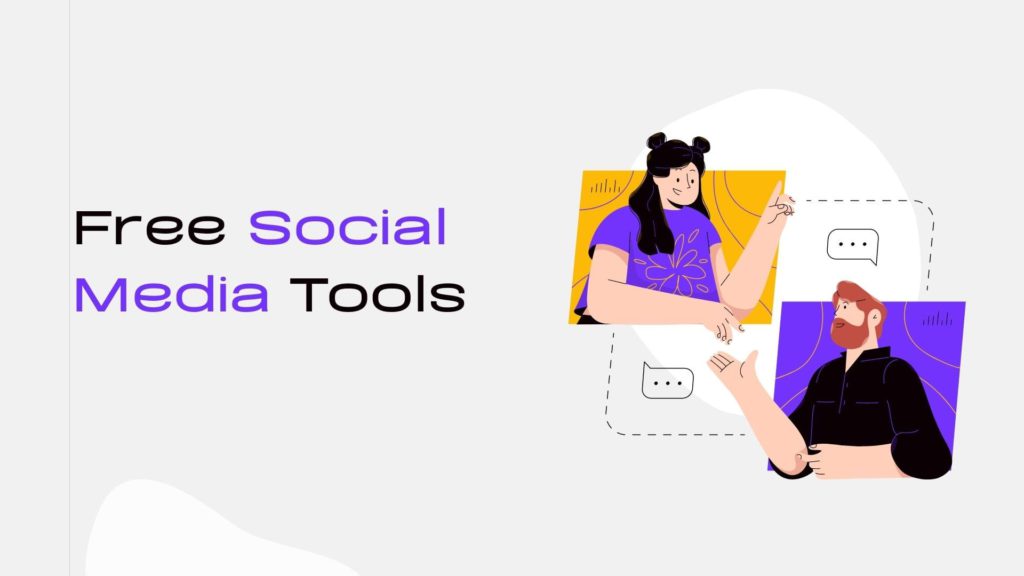 Linktr.ee allows you to generate a custom link to include in your Instagram profile that lets you promote five links for a single Instagram account. This tool is easy to use if you don't update your Instagram bio link several times per day.
Buffer is a web app a complete social media management service that allows you to schedule and publish your posts from its platform. We're not just talking about one or two social networks, because Buffer lets you include all your accounts into one easy-to-manage dashboard. Buffer Publish contains Instagram, Facebook, Twitter, LinkedIn, and Pinterest. It can also feature an Instagram Shop Grid feature for e-commerce integration and allows managers to create and manage draft posts. As for reports and analytics, Buffer Publish subscribers have access to their history of posts as well as the full history of the overview report.
Canva is indispensable when it comes to free design tools. Canva allows users with all levels to create social media graphics, presentations, posters, and other visual content. This service provides you with more than a million photos, graphics, and typography so you can design professional layouts and stunning visuals. You can start with a template or a completely blank page, and create whatever design you want.
By the way, you may use Instagram photoshop actions as a marketing tool too.
Plann is more than just a scheduling tool – it's a complete social media management service that helps you create, curate, and optimize your content for maximum engagement. With features like a content calendar, drag-and-drop post scheduling, and analytics reports, you can stay on top of your social media game and grow your audience like never before.
Free Email Marketing & Blogging Digital Marketing Tools
Today's marketers may not be email evangelists, nor consider it to be a "cool" instrument of contacting clients. However, it has been proven by time to be an effective method of communication. Still, email marketing is one of the most cost-effective marketing strategies for small businesses and an important communication tactic for big enterprises.
As long as you're using it right, email is one of the most valuable and targeted ways for reaching your audience. Email marketing tools are very useful and cost-effective to boost your products and services.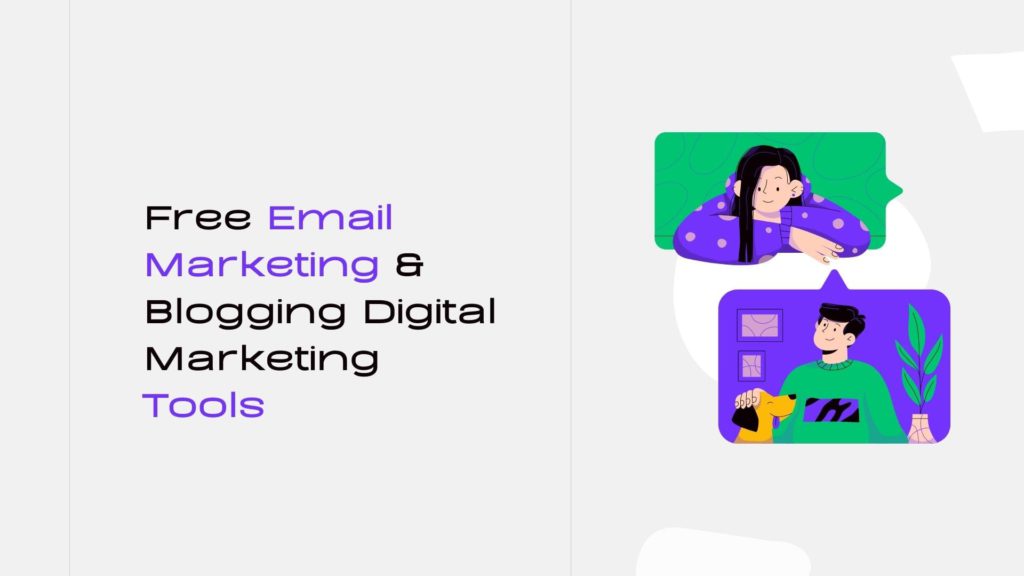 Mailchimp a web-based email marketing service. It is a great tool for most English-speaking users with its easy-to-use range of features. Its templates help you create email newsletters, share them on social networks, integrate with services you already use, and control your results. It's easy to get started on the platform. The dashboard highlights the steps very clearly: Start designing your first email, add your contacts, and send your first email.
Whether you're an email marketing strategy expert or a beginner, there are many functions and opportunities you can do with MailChimp.
Coschedule Email Subject Line Analyzer allows you to check your subject lines and scores each based on a set of metrics to help you choose the best one. It gives you an overall score for your subject line, you can see where and why you lost points. It also gives you helpful tips on how to correct your subject text.
Coschedule is a powerful tool for any marketing professional or business order. Also, to analyzing your email subject, you can create a marketing and blog calendar there.
Headline Analyzer Tool allows you to test your headlines and scores each to help you pick the best one. Just like the tool above, it can suggest clear action items on how to make your headline more powerful. The headline analyzer provides several marks for readability, SEO, and sentiments. It determines the words that don't help convey much meaning and recommends which words to change. You can also see suggestions for boosting SEO in your headlines.
Free Design + Other Tools
In cases like this, it's not always necessary to have years of experience using Photoshop, Illustrator, or InDesign to create world-class design work. There are hundreds of platforms that non-designers can use to cross over something respectable, without a need to spend years on skills training.
CuttLy is an easy-to-use link shortener. Links can get irritating and the last thing you need for your business is to connect your well-crafted brand image or post alongside a 230-character URL. Converting long referral URLs into short easy to read URLs is important and useful for every marketer.
FreeIcons is a free database of icon graphics. It's easy to use, has a good intuitive user interface, and provides a huge library of icons and icon-packs. This service includes icons in many styles, flat, color, black, line, etc…
Undraw provides royalty-free visuals, illustrations for social media and blogging use. Extremely useful for a simple website where you just need a picture to get a point across. And what makes unDraw so helpful is that you can download copyright-free SVG files. After downloading SVG files, you can edit, customize, and put together multiple images for a custom design. You can also color manage the illustrations straight on the website.
All the Free Stock is a library of all free stock images so you can search in one place. Thanks to talented photographers, there are thousands of stunning free stock photos for you to use in your online projects. All the visuals on these sites are free to use for personal, or commercial purposes.
Youtube Music is a piece of royalty-free stock music or free stock audio for any digital project with a large number of categories. That's right, it's an enormous list of free music for YouTube, by YouTube, on YouTube. You can specify your search by using either the search function or the filters. If you know exactly what you are looking for, the filters will work for you. It is grouping the music into Genre, Mood, Instrument, Duration, and Attribution.
FileZigZag is a free online document converter tool that can transform most common documents, spreadsheets, and other similar formats. You'd like how user-friendly is FileZigZag, and also, it can convert large document files. This converting service can be used from any web browser on any operating system.
"Make My Persona" tool designed to help you with the persona building and visualization process. It offers to create a buyer persona profile that your marketing team and the entire company can use to market, sell, and provide better service The site then automatically directs you through a series of questions that identifies the basics of your persona. Instead of having to choose and sort what kind of information you need, create basic profiles for a persona, and agonize with design, Hubspot mostly did it all for you.
Content Marketing Platform
100,000+ media publications;
get backlinks to your product;
scale work with content distribution.
Wrapping Up: Digital Marketing Tools 2023
Whatever your digital marketing strategy and tactics are, there are lots of tools that will make your work more efficient and easier — from planning, scheduling, and publishing. Choose the ones that are the most appropriate for you and drive results for your business and career.
Of course, there are plenty of other digital marketing tools and services that might help you in some specific tasks. What other digital marketing tools do you use? Anything that you wish would be created that still isn't out there yet? Let me know in the comments below.