In this post, I'd like to highlight various PR practitioners' and scholars' definitions of public relations. Some of these definitions show a slightly different perspective of PR.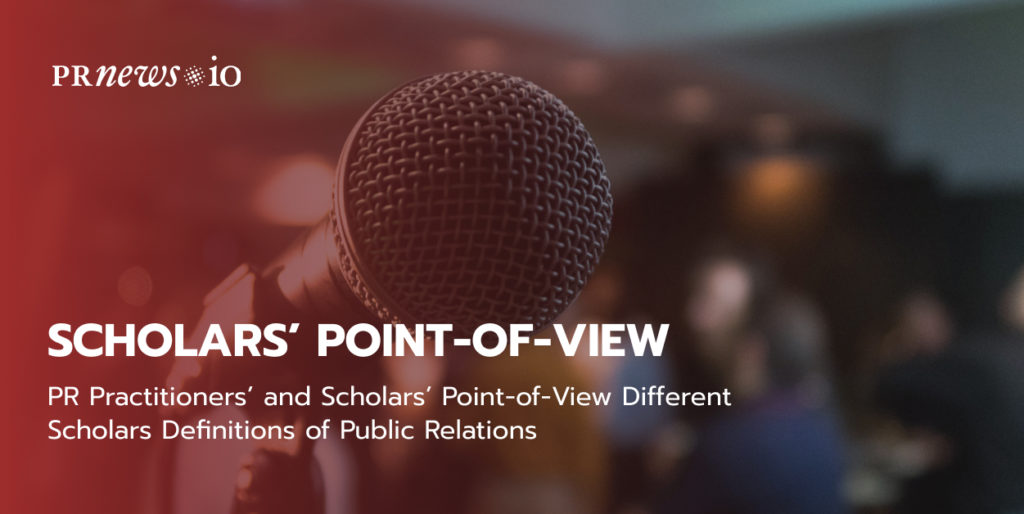 Scholars' Definitions of Public Relations
Academic researchers and scholars study the subject of public relations and theorize this science. Often their theories can improve the PR industry or how practitioners think about communication strategy. Let's look at the different definitions of public relations from known scholars in the field and then I'll mention some definitions from PR practitioners. 
Remember, scholars are usually professors who have spent their careers focused on learning a subject such as public relations. One of such professors is James Grunig. He's an academic theorist, well-known for his models of public relations. Grunig and his colleague Hunt defined public relations as the management of communication. 
To learn and understand another definition of PR you have to know the four-step process in public relations (find out about it here). Definition of Dr. Bettye A. Grable, professor at Florida A&M University, refers to the multi-phased process, including research and evaluation. These definitions cover an important role in the management function, but then these definitions are focused on the strategic use of public relations.
Next, Craig E. Aronoff, Otis W. Baskin, and Dan L. Lattimore wrote a working definition of public relations in their book. Every brand should have a mission, something that the company wants to be appreciated for or be about. Often, companies have core values that are part of the brand's ideology or how the company's management sees the world. This definition also notes that there are both internal and external publics that the brands should be communicating with.
Lastly, these professors use the terminology, to promote the exchange of influence and understanding. That's a mutually beneficial communication that public relations are all about. For example, Simon Moore wanted to try and categorize key terms among different scholars' definitions of public relations. He outlines six components of the PR: management function, relationships between an organization and its public, analysis, and evaluation via research, management counseling, implementation and execution of a planned program of action communication and evaluation through research, and finally, the performance of goodwill. These categories by Simon are very similar to the four-step process. 
Content Marketing Platform
100,000+ media publications;
get backlinks to your product;
scale work with content distribution.
We can see common elements. The idea is that the PR process is held in four steps. They are research, objective planning, programming or communication methods, and after all, its evaluation. In a similar effort, Dennis L. Wilcox, San Jose State University. Glen T. Cameron, University of Missouri. Philip H. Ault, South Bend Tribune, proposes the essential components of the field of public relations. They included deliberate, planned, performance, public interest, two-way communication, and management function there. The part about public interest draws attention that we as PR professionals should always have the best interest of the public in mind.
I want to finalize this part of the article with Averill Elizabeth Gordon's definition. This definition comes at the practice of public relations a little bit differently, highlighting that PR is a process and it is ongoing and variable. It also takes responsibility for the PR practitioners. This definition includes the notion that public relations shape news and content. PR practitioners and professionals hold a lot of responsibility for influencing public opinion.
As other fields like marketing and advertising continue to intrude on public relations, not having discussed the definition of the field only makes the industry more vulnerable. A clear definition used industry-wide would distinguish boundaries and fend off critics. Public relations have different qualities and features that distinguish it from other similar fields. Communication is strategic when it follows the organization's mission, vision, values, and when it is able to improve the strategic positioning and competitiveness among competitors.
PR Practitioners' Definitions of Public Relations
Here are five definitions of public relations from experienced PR practitioners. The list starts with the Public Relations Society of America (PRSA). As a professional public relations association, PRSA's definition has to be a starting point:
Public relations helps an organization and its audience understand and adapt mutually to each other. Public Relations broadly applies to companies as a collective group, not just a business; and publics encompass a range of different stakeholders. – PRSA.
Typically, PR has concentrated on cultivation the media and celebrities, who have the reach and reliability, to tell the stories of an agency's clients. And even in the new media digital era, PR is still about building relationships with the people who can convey that third-party endorsement. That person just may surprise you because it could be anybody! Toby Bloomberg – Bloomberg Marketing/Diva Marketing
Public relations communicates the news, can impact the news, receives the news, and react to the news for a company via the media. It's the art and science of communicating to the right audience in the right voice. PR is the communication hub of an organization. It influences and creates a company's image, reputation, company's perception, and culture. PR connects a company and its public via direct messages or editorial media including online content, broadcast, radio, video, or social media platforms. Before social media, a company had one voice; now social media covers many voices that contribute to a company's image, reputation, brand perception, and public community. Lisa Buyer – The Buyer Group
Public Relations once called "free of charge" media is the component of the marketing communications tactics where a marketer creates messages and sends them to media for distribution. The result is content incorporated within a third-party channel providing an air of authenticity. Additionally, public relations is the engagement with the media to ensure the intent of the marketers' message is received. Brian Kelly
Integrated marketing and PR are concentrated on multichannel messages that make a difference, as well as generate a profit in ways that matter to its target audience. Michele Price – Women In Business Radio.
Summary
Despite which definition of public relations you choose, several factors are permanent. PR is part of a brand's overall marketing and communications strategy. PR is critical in helping to interact with an organization's different audiences across media platforms including third parties and social media platforms. Public relations must defend the organization's reputation and offer crisis management where necessary.
What definitions of public relations do you agree with? Please feel free to add your definition in the comments below.