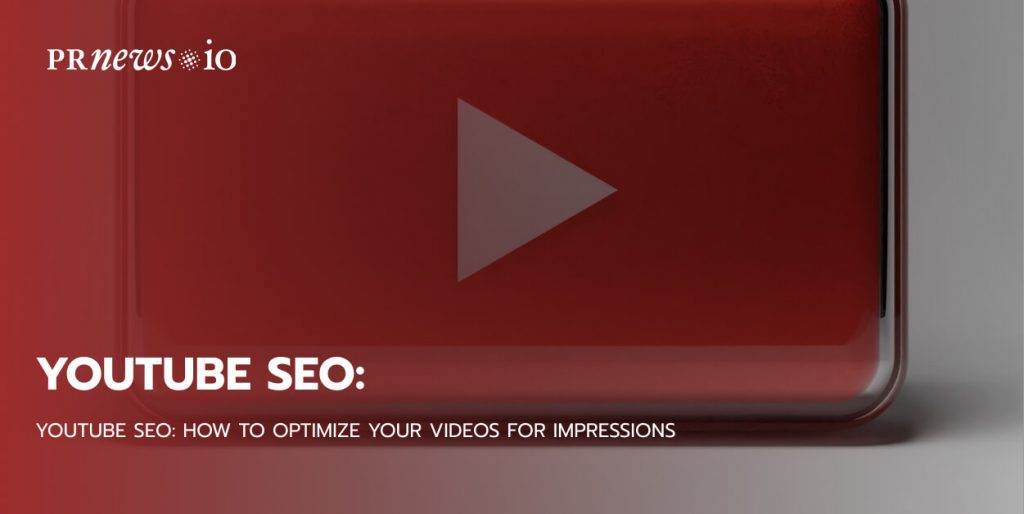 Ever wondered why one picture gains millions of views while the other barely reaches ten views? They all started with zero views. Every single one. The difference in popularity is behind the best practices for YouTube SEO.
Boosting your reach and increasing impressions isn't easy. Ask anyone who has ever tried to do that. The good news is that it is possible. Like any other search engine, it has a specific algorithm you need to follow to get exposure. What works for Google and Bing in terms of SEO, won't work for YouTube, for example.
Today, you will see how to make some best practices work for you. If you want people to see your content, push it. Learn how to get your content high up on the SERPs.
YouTube SEO: How Does It Work?
As the second largest search engine with 5 billion videos streamed per day, YouTube is much like Google's SEO practices. Yet, there are things you need to 'respect' to give users the best content that they are looking for. To make things easier, let's break the algorithm into two groups: technical and human.
The technical aspect of filmed content consists of description, title, meta, and tags, while the human side involves watch time, click rate, and user engagement. As you see, YouTube SEO is under your control. For example, you control the quality of the clip you create. As such, you add descriptions and metadata.
Now that you are aware of this data, let's see how to nail these tactics to get more impressions.
YouTube SEO: 7 Tactics to Follow to Optimize the Channel
#1 Keyword Hunt
The hunt for the right keyword is common for traditional SEO. With it, you mark the beginning of channel optimization.
Experts also encourage the use of questions as keywords. How-to instructions are the number three questions that bubble to the top after music and news.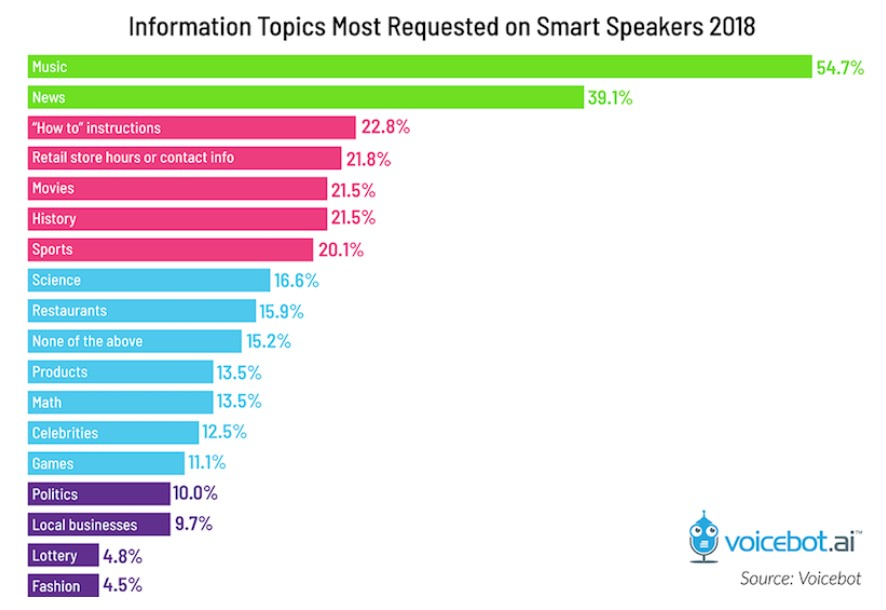 When was the last time you asked your smart device about the news? Your audience does it regularly. They tailor their search by asking questions.
Thus, do it with autocomplete search feature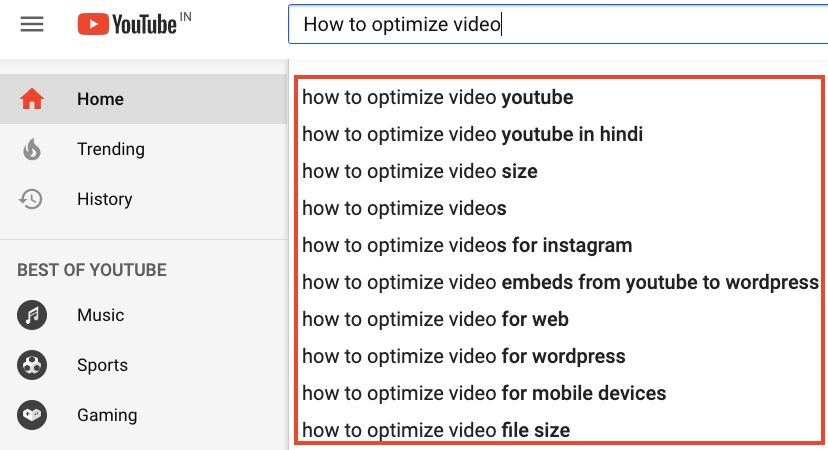 or Google.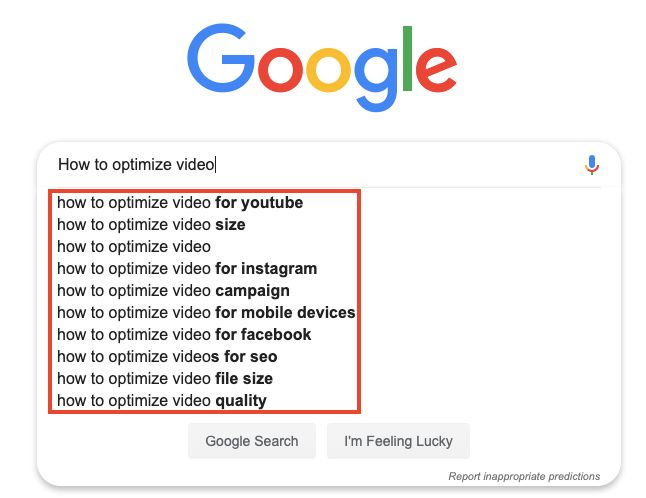 Now, check both results for search volume, more suggestions, and competitors' performance. Use the tools that help you generate the list. Ideally, pick high-traffic driving keywords with video results on Google. You win when it is less competitive.
Once you are ready with a keyword or phrase for your video, ensure it is included in the title and metadata. For an audio file, the keyword should appear in captions and transcripts. That is vital.
Ideally, the title should begin with the keyword. The description, which can be at least 200-250 words, also needs to include the keyword. It depends, but the keyword used 2-4 times is possible.
Next, come tags. They help communicate the key message of your film. Add as many tags as you wish, but do not go too high. Five-ten tags are enough. So, check these points for keys.
#2 Add an Attractive Thumbnail
Do not use the thumbnails that the channel sets for you. It is the first impression of your video and can add up to 15% to your click-rate. Often, the images YouTube provides are low resolution and do not attract clicks.

The cover photo you place represents your video. So do your homework. Take the time to create your own visually appealing thumbnails that increase that click-through rate.
Best practices for creating an attractive thumbnail:
increase the saturation/contrast by 30%;
reduce the blur;
decrease the brightness;
describe the topic;
make it readable.
#3 Use Timestamps
With it, you break your content into chapters to better direct viewers to what they want to see. Also, it makes it easier for search engines like Google to segment it. The channel picks these segments or links to help users to jump to various chapters of your content. In turn, Google serves them in its search engine results as chosen search keywords.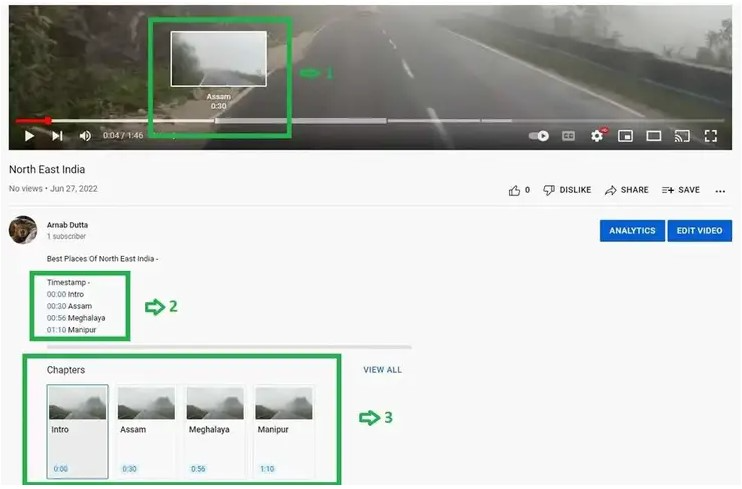 Your film should have at least three timestamps. And the minimum length for each chapter is ten seconds. This way you:
attract more focused traffic;
makes your channel more user-friendly;
helps YouTube rank your content higher.
Do you know that users would likely purchase after watching a clip? As much as 85%. Thus, including related links in the description is the way to go.
Also, adding annotations in the form of clickable buttons that pop up in the film will encourage users to interact. Let it appear at the right time. Otherwise, it will annoy users.
Often get overlooked, hashtags can bring in many views. Play around with the amount, but the first three will do the trick.

#5 Do not Overlook Closed Captions
Do you feel more comfortable when learning visually? Many of us do. And closed captions can help your audience to understand your message easier.
Closed captions can be enabled when needed to describe the speech and actions in real-time. The good thing is that they help boost the impressions. How? By adding keywords to them. Think of it as extra lines of content that add relevance to your video. You decide how to enable it.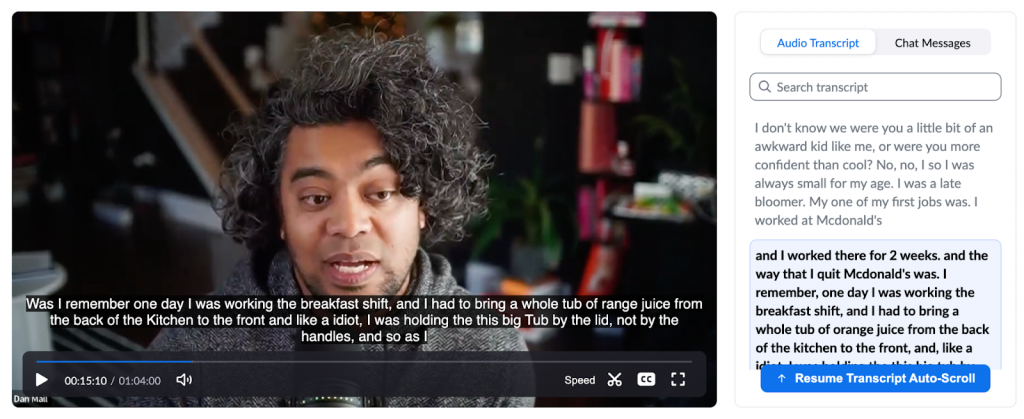 #6 Have a Clear CTA
The right CTA at the end of your video can be game-changing. Either ask viewers to subscribe to your channel, like your piece, or follow you on social media. It might be the most effective section of your video.
#7 Quality Over Quantity
A quality copy starts with an engaging script. Yeah, many creators are tempted to skip that point. However, engaging and high-quality copy has no 'ums', 'ahs', or 'where was I?' at all. And the first 30 seconds are the most crucial for attracting users. Or lose 33 percent of those.
Search beforehand. Find ideas for content from handy tools that generate them based on searches and competition.
A good quality means that a viewer will stay around for a long time. More people might even subscribe to your news.
In Conclusion
YouTube is a competitive place to share your content, even if you are a rookie with zero experience. With 122 million daily active users, there is still room for you to take your niche. Ranking your motion pictures higher in the search bar is also possible. Yes, it takes time and accuracy, but the game is worth the candles.
So, if you are serious about coming up with top pictures for your audience in the first place, then these seven YouTube SEO tactics would be the perfect place to start.